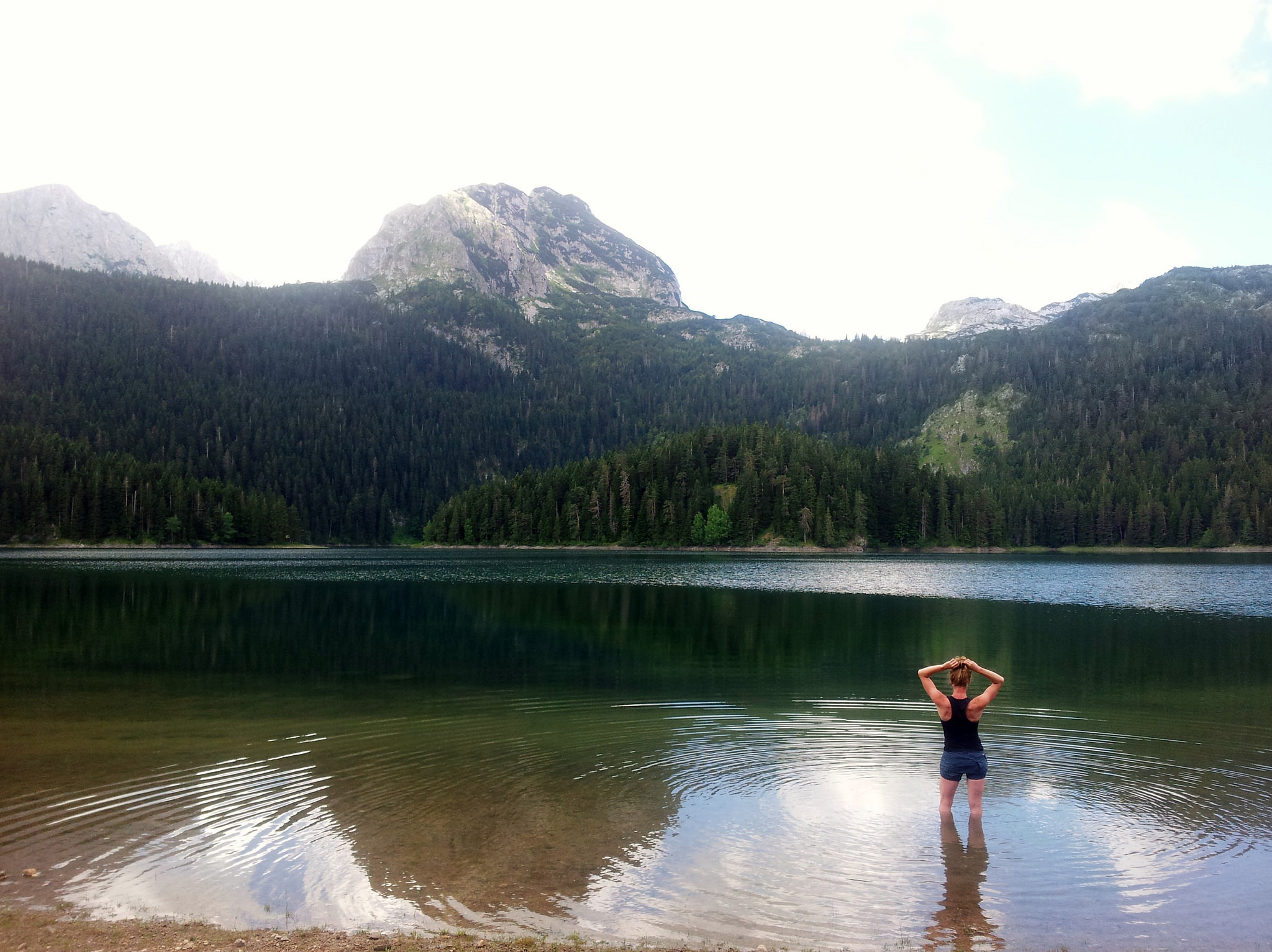 Žablak is a base-camp for hikers and bikers who are planning to visit Durmitor NP. Several trips and tours are offered by local travel agencies, but you can also find yourself a map and explore the area on your own. Or with a group, like the scouts from Belgium I met on the campsite.
For me Žabljak was a place to rest, fill up my backpack with food and get some writing and WiFi time. When I came back to Kamp Ivan Do from a coffee-writing-more coffee session at Crno Jezero, a group of Belgium scouts had taken over the big pick-nick table in the middle of the field.
The minute I arrived, heavy rain with loud thunders just started and forced me to run to the only shelter on the campsite, the big pick-nick table (which had a roof).
It was interesting to watch the process of packing and preparing of these teenagers. Since they were from Vlaanderen, I understood everything they said and I knew where they were going. The same route I planned to hike the next day…
Durmitor is big and there are many different hiking paths, but only Žabljak is crowded during the summer. Tourists from all over the world find their way to this little town which has more restaurants and B&B's than normal houses. Strangely those people were not in the mountains.
The beautiful dark forest was desolated, but even higher up where you find the wide views over the dry karst landscape, I was still completely on my own… How can this be?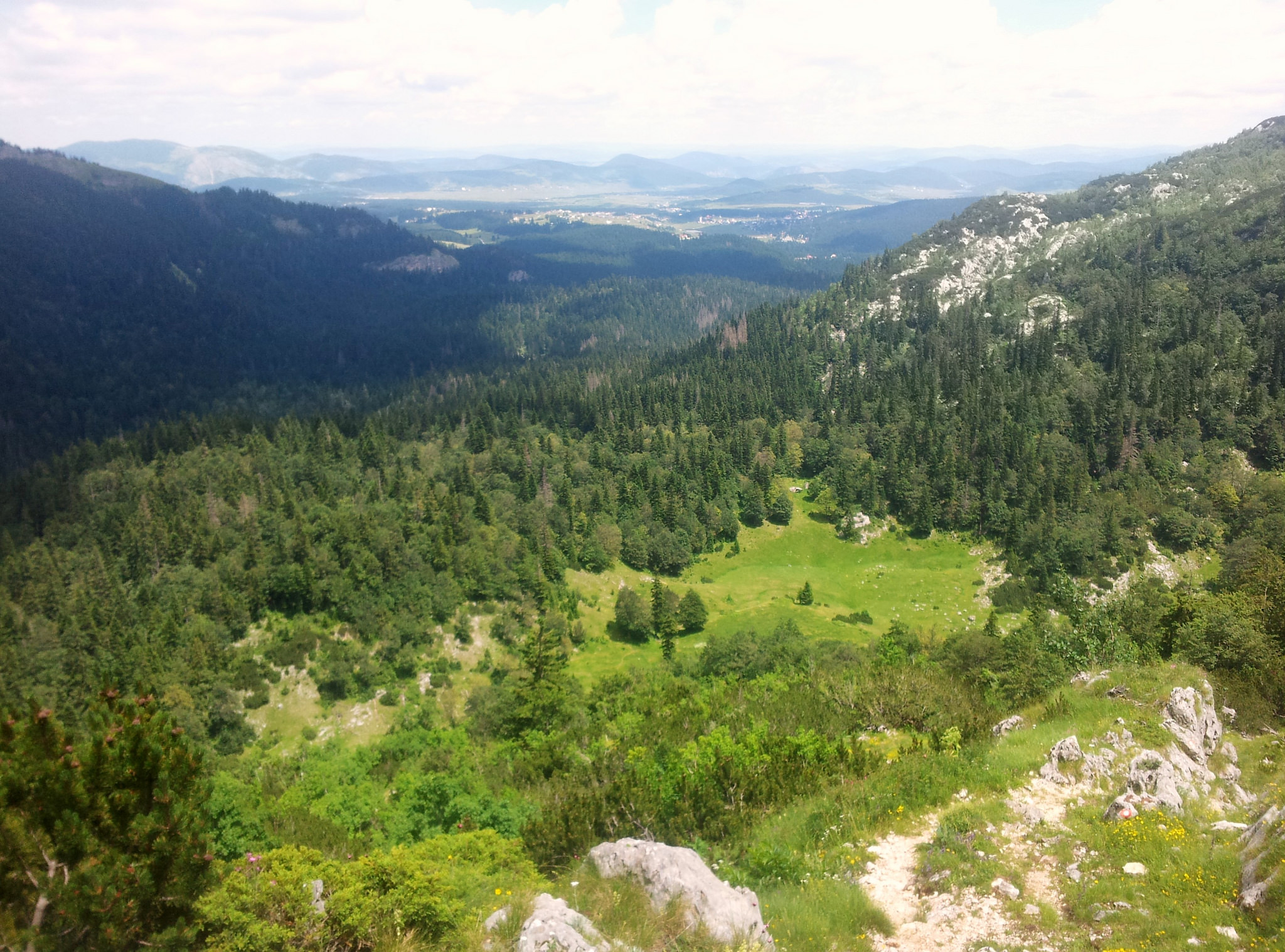 View on Crepulj Poljana and Žabljak
Of course it's easier to visit the lake, maybe walk around it and then drive up to a view-point. Or if it's not too far up, hike to a peak. That's exactly what I did last year.
Many travelers came from the coast, compared to that area, Žabljak is quiet and peaceful. Well, the mountains were even more quiet. Except the two chamois and a film crew, I didn't see anybody.
In the end of the afternoon I arrived at Planinarski dom Škrka close to Škrčko jezero. A simple mountain hut, surrounded by steep, white rock faces. Further up I could see the route I hiked last year to Prutaš, a beautiful peak. The friendly park ranger Stefan showed me a place to camp and I could use whatever I needed. Sweet!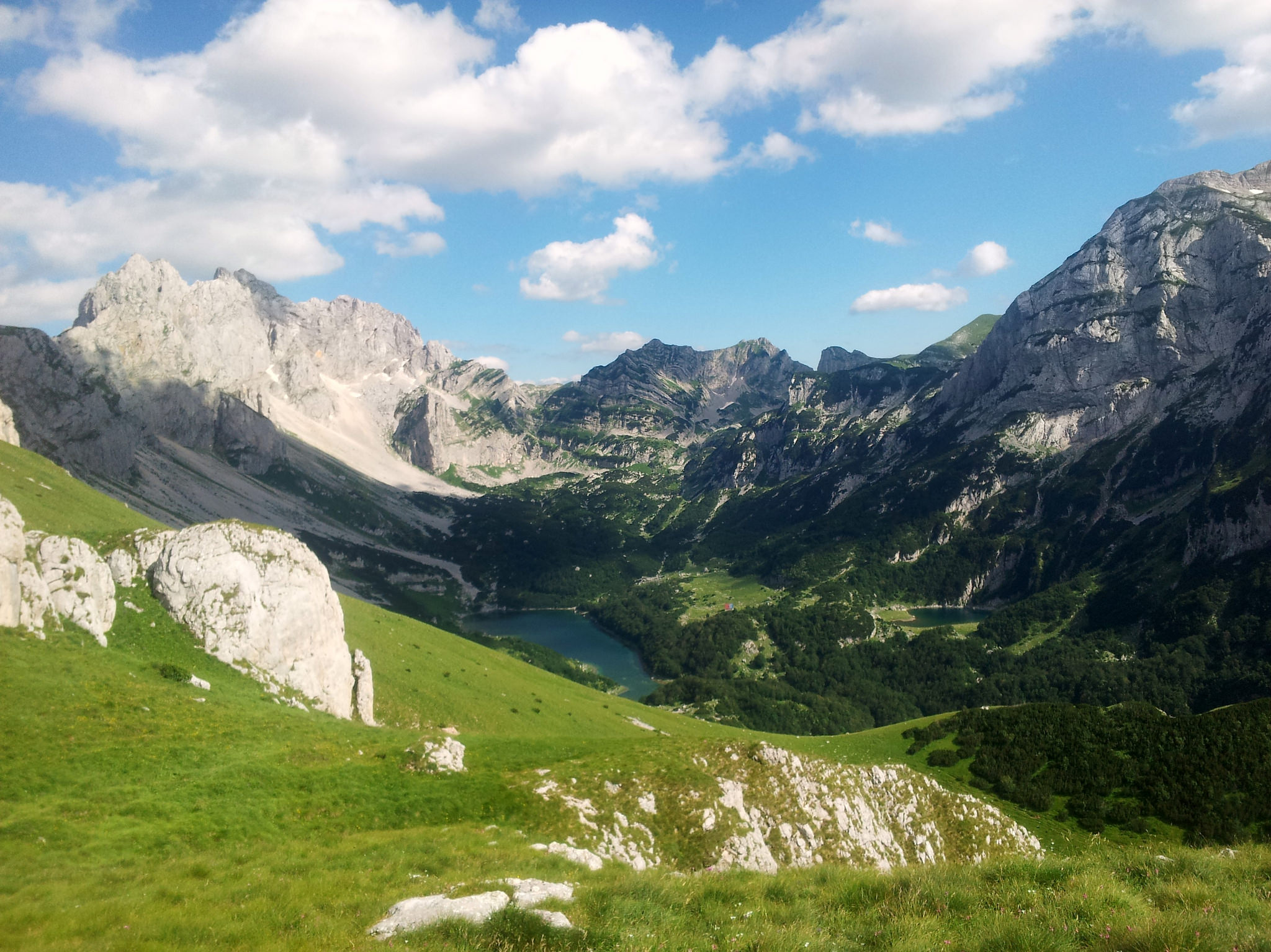 Škrčko Jezero, Durmitor
Although I spend a few days resting in Žabljak, I needed a break and have some "alone-time". This was a perfect place for that. Until … other people arrived. A group of nine young hikers, teenagers. Scouts from Belgium, the third group of scouts I met in Durmitor!
Ah well, the good thing about groups is that they are too busy with themselves to mingle with other travelers. The bad thing is that they take over "your" pick-nick table. I tried to ignore the music and not listen to the conversations, but that's hard when it's in your own language. Short after, more of their friends came and more and more. In the end they were with fifty of them. Unbelievable.
Don't get me wrong, I think it's great that young people go to the mountains and explore areas like the Balkans. I just don't like the noise and the garbage they leave behind. And the fact that I had to sit on the ground :(.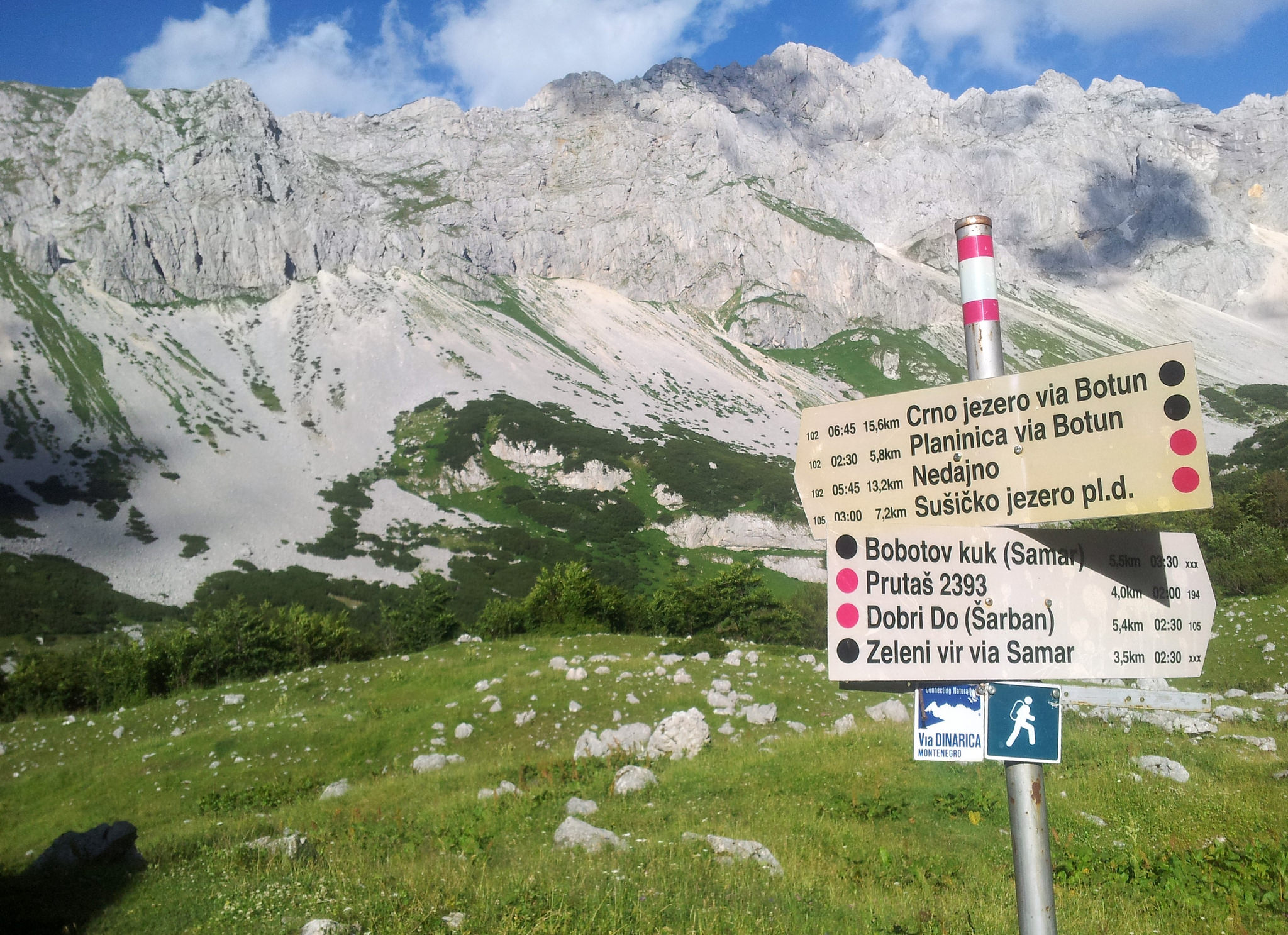 @Planinarski Dom Škrka
From Planinarski dom Škrka it was only four hours to Bobotov Kuk, the highest mountain in Montenegro. It is not on the White Trail, but it might be fun to go up without my heavy bag and spend another night at Škrka jezero, I thought.
I was in doubt, just like I was with Maja Jezerce. It's great to have an amazing view and maybe it's also great to be a countries highest point.
I had time and the weather was good, but I also don't care so much about being on a peak. I enjoy mountain passes and hiking through enormous mountain ranges just as much. At the same time it felt stupid not to go. So what is it actually about for me? Do I have to prove something? Am I afraid to miss out the most beautiful spots?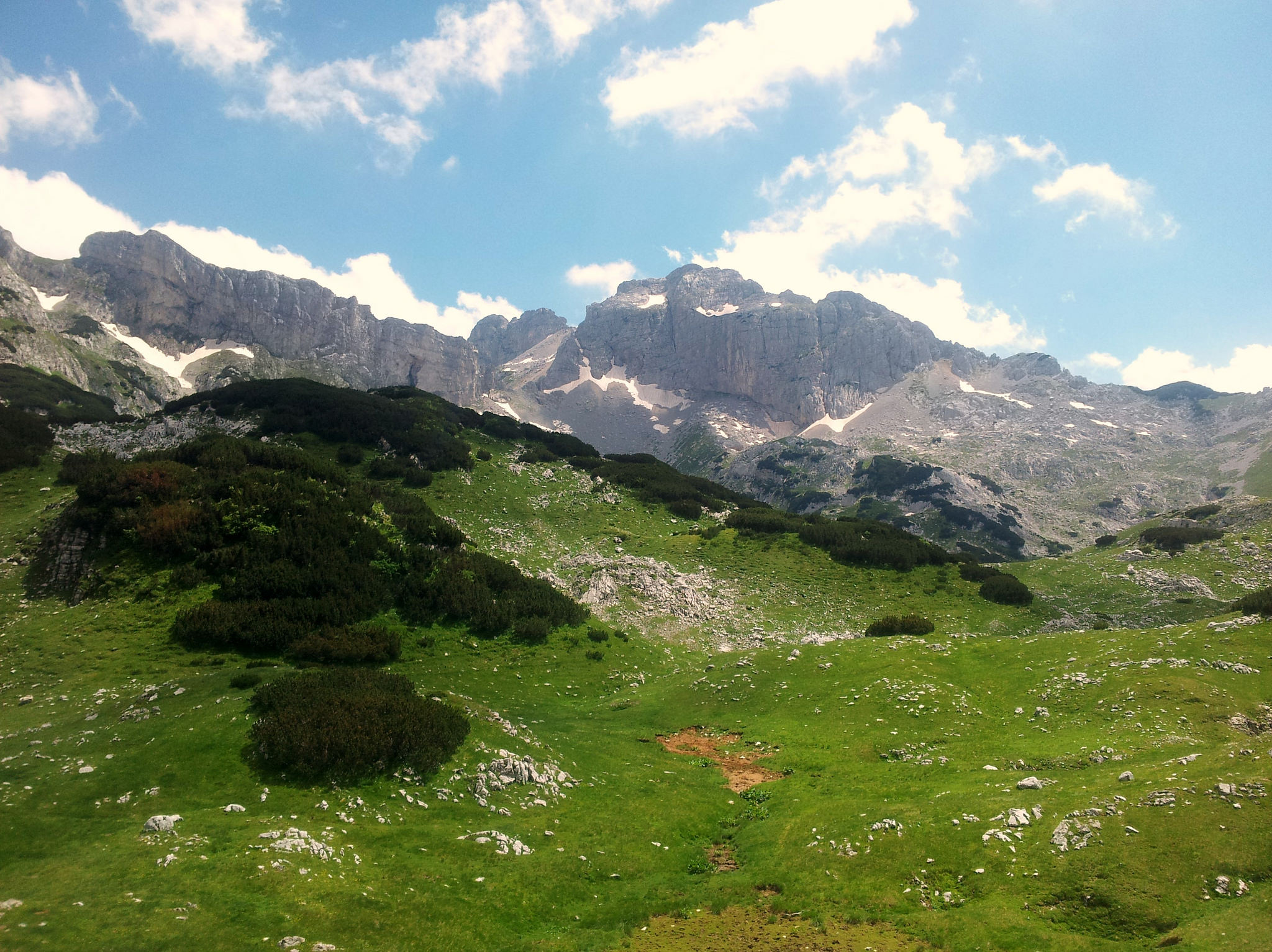 Durmitor NP, Bobotov Kuk
When I heard the Belgium scouts talking about their base-camp in Nikšić, I asked with how many they were. 120!! And all of them were climbing Bobotov Kuk!
Haha, decision made. I continued on the Via Dinarica to Nedajno. I could not handle another night with teenagers. I'm getting old. Especially because they called me "mevrouw", lady.
I didn't regret it at all. Every step in Durmitor NP is beautiful. Behind every mountain there is a spectacular view. I will come back and do the peaks. For now, being here is good enough for me.