Under the project Improvement of accessibility of Via Dinarica trails in Bosnia and Herzegovina and further affirmation of Via Dinarica brand, Terra Dinarica is seeking for individual-consultant services to provide tehnical assistance for identifying and assessing tourism stakeholders and resources along the Via Dinarica White trail in Kosovo* and Albania.
The aim is to provide follow-up on development activities on the White, Green and Blue Trails; to provide best practice and know – how on Via Dinarica trail assessment in Kosovo* and Albania; to promote and make visible all above mentioned through Via Dinarica web platform (OA - Outdooractive), and to gain Leading Quality Trail (LQT) – Best of Europe certificate for White Trail in BiH. The project builds on existing Project Via Dinarica: Assessment and Capacity Development (Phase II) and through previous projects funded by UNDP.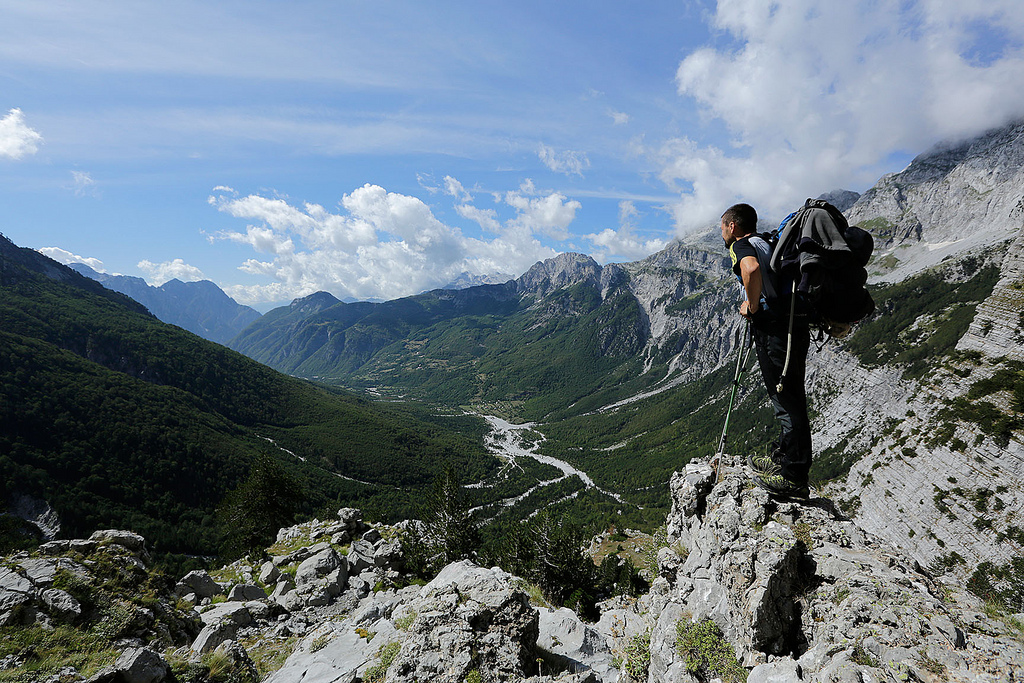 Kosovo* and Albania have begun to become an attractive adventure tourism destination. With the highest mountains of the Dinaric Alps, these two countries have to be fully integrated into the Via Dinarica White Trail. Even though, both countries have many trails that are marked and connected to Via Dinarica, there are still gaps along the trail as well as proposed variants. In order to integrate both Kosovo* and Albania trails into the Via Dinarica trail platform, the good practice and expertise will be obtained, and assessments conducted by adventure tourism expert. Therefore 200 km of new trails have to be GPS marked with at least 30 accommodation facilities recorded, as well as other points of interest.
In order to achieve above mentioned, the adventure tourism expert have the following
tasks and responsibilities:
- Conduct desk studies to gather information on existing trails and capacities;
- Identify businesses and service providers operating along the trail;
- Conduct a series of structured and semi-structured interviews with companies, existing and potential customers, local and international tourists;
- Conduct comparisons and analysis of existing capacities and adventure tourism potential in the respected areas;
- Conduct field visits in order to gather GPS data, conduct assessment of trails conditions, identify attractions and service providers operating along the trail and evaluate their current capacities and offer;
- Assist on inclusion of new trails, tours, points of interests, offers, and services to mountain tourism markets via Via Dinarica web platform.
Timeframe for implementation:
- Kosovo assessment by the end of November 2019
- Albania assessment by the end of July 2020
Profile of Expert(s)
- Good knowledge of the topics required for the Assessment;
- Previous work experience in outdoor adventure activities;
- Good health and fitness;
- Experience in trail assessment and development;
- Experience in managing GPS data;
- Good computer skills;
- Good knowledge of English;
- Experience with GIS software platforms is an advantage.
Budget
Max 10.000USD including transport, accommodation, and other costs.
Please send by email (
This email address is being protected from spambots. You need JavaScript enabled to view it.
) your technical and financial offer in line with the requirements of this ToR by no later than 30thAug at 16:00 hrs. On the basis of the above requirements, the consultants shall submit an updated CV, pro-invoice in the form of the offer, valid certificates, and copy of the ID Card.
The relevant documents are available for download below:
TOR for Kosovo/Albania tourism expert
Invitation to Quote - Consultant Services Kosovo/Albania
*This designation is without prejudice to positions on status, and is in line with UNSCR 1244/1999 and the ICJ Opinion on the Kosovo declaration of independence.
desno{source}
{/source}
{source}
{/source}
{source}
{/source}
{source}
{/source}
{source}
{/source}
{source}
{/source}
{source}
{/source}
{source}
{/source}
{source}
{/source}
{source}
{/source}