Adopt a Trail Program
Do you or your company consider yourselves to be socially responsible? Are you looking for a tangible, effective and affordable way to give back to local communities in a sustainable manner that will make a lasting impact?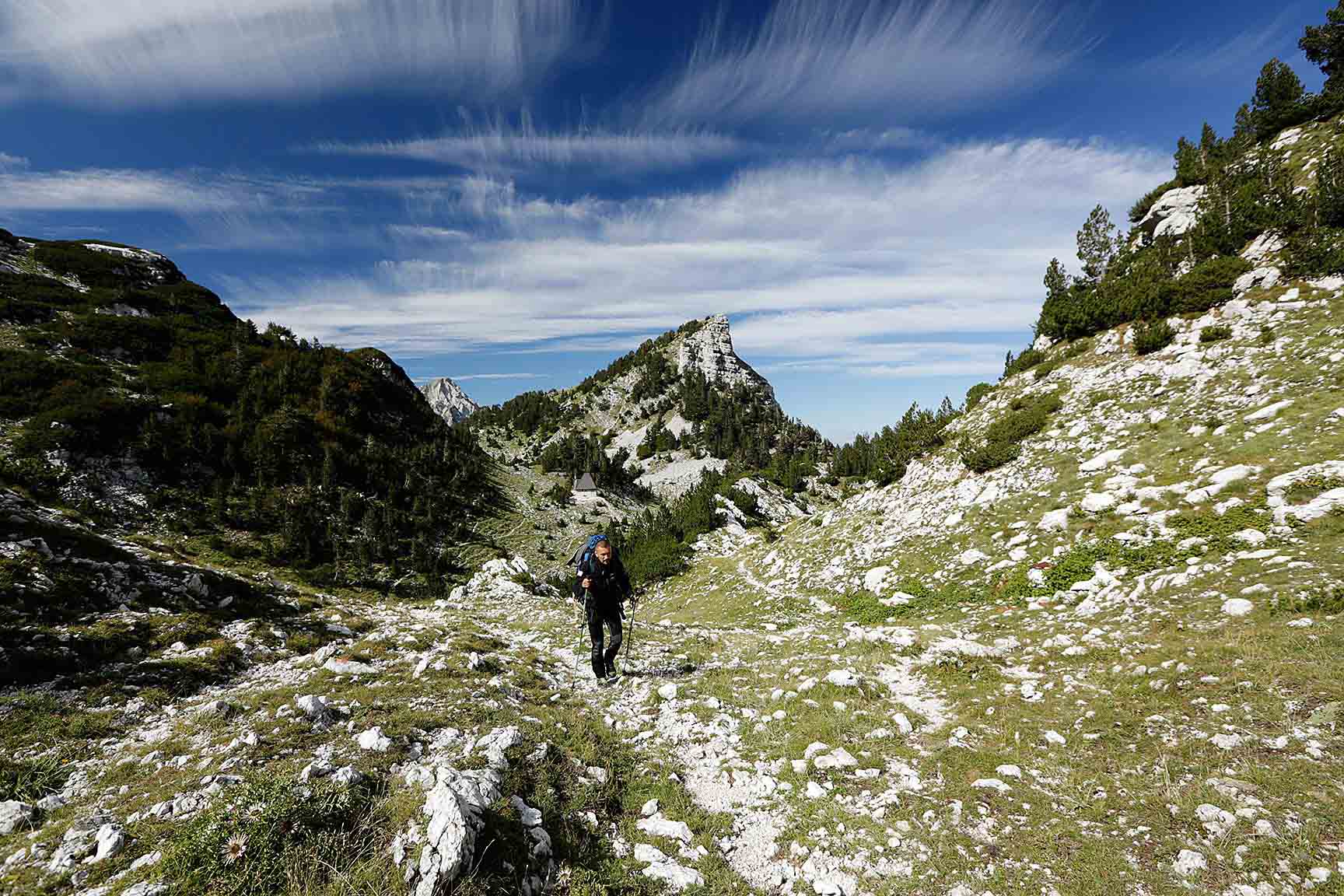 The Via Dinarica is a mega-trail that extends through the entire Dinaric Alps from Slovenia to Albania. National Geographic has named it as one of the best new destinations in the world for 2017. We want to make sure that the Via Dinarica lives up to its name! If you or your company consider yourselves to be socially responsible and looking for a tangible, effective and affordable way to give back to local communities that will make a lasting impact, our program might be something for you. The Via Dinarica needs your help to sustain as one of the key locomotives to the development the Dinaric Alps region. In order to promote sustainability and support the local communities benefitting from the Via Dinarica, the trail needs to be maintained and prepared for every season to ensure safety and access to visitors and domestic hikers alike. This difficult work is usually conducted by selfless volunteers from various hiking clubs throughout the region. More often than not they have to supply their own tools and materials to keep the trails in good shape. We're aiming to help them do their volunteer work even better.
With the generous support of UNDP and USAID in Bosnia and Herzegovina as well as the EU, GIZ and local institutions in other countries, most of the hiking trails have been marked and signposts placed. However, maintenance of trail infrastructure remains an open issue in most places.
Maintenance and preparation of the trails is a serious responsibility. Every spring the trails need to be cleared of branches and rocks, landslides or wash-off need fixing, and markings refreshed. Sometimes signposts are damaged by weather or animals and need replacing. Unfortunately, trees with trail markers are occasionally cut down by loggers. All these issues need to be fixed promptly.
Most hikers and tourists are not aware how much work stands behind properly maintained trails in popular hiking destinations. Most places have institutional support or mechanisms in place to ensure the safety and enjoyment of hikers. Our region struggles with resources to keep up this type of support…and that's why we've developed this concept to create a sustainable support system that is beneficial to all.
So, how can you help?
You, as an individual or socially responsible company, can also take a part in maintaining the Via Dinarica trails and the Via Dinarica initiative by adopting a section of the trail. You can also adopt a shelter or support the work of the Via Dinarica support center.
How to adopt a trail?
Maintenance of the trail and accompanying infrastructure costs about 60 euros per kilometer per year. Simply pick a number of non-adopted kilometers of the trail to financially support Via Dinarica for a year, OR in order to adopt a section, just click the link ADOPT A TRAIL from the selected Via Dinarica section.
How do you know that trail will actually be maintained?
In order to guarantee accountability and reliability for your assistance we will send each sponsor a short report each year on the activities along your adopted section of the trail. Also, any registered individual on the trail.viadinarica.com site can rate and leave a comment and/or describe the current conditions at the trail. Inspected spots can be marked on the map and photos uploaded to the site. These reviews cannot be controlled by site administrators and are placed on the heading photo on each trail description as seen below:
The reviews are published automatically on the Via Dinarica site, but also on several other channels of the Outdooractive platform, the largest outdoor portal in Europe. When someone reports on a trail conditions, the Via Dinarica support centre is alerted by e-mail. Local volunteers will be informed to check on reported condition and provide feedback. The report will not be removed from the site, but followed by the response from the field. This ensures that the entire history of interventions will be always be visible on the site. It is a highly transparent and efficient system!
How would people know that you have adopted the trail and supported Via Dinarica?
Those who adopt a section of the trail will be listed on the supporters' page and among the partners.
Those companies and individuals supporting maintenance of sections and stages enjoy following benefits:
1. On-site plaques (15x 20 cm) with the name and/or logo of the sponsor with desired inscriptions will be place on the trail on signposts or other location on at least each fourth kilometer along particular section.
2. The trail description includes remarks about and link to sponsors website (if applicable). In case the sponsor adopts an entire stage of the Via Dinarica trail, the author's avatar can be replaced with the sponsors logo.
3. Number of photos from the trail are stamped by adopter's logo and inscription supported by.
4. All sponsors are listed as partners and are included in the stories and blogs section to the particular section of the trail that you adopted.
How many people walk along this trails and who will actually see it? How about visits to viadinarica.com site?
Although many aspects of the project and the trail are still under development, the Via Dinarica popularity has been on the rise. During our first year in 2016 our content was displayed through our partners network, Outdooractive.com, more than 5,5 million times. Small print-out booklets and GPS tracks were downloaded over 5000 times.
The Via Dinarica has been listed among the top destinations in Europe and the world by several well-known publications. The Guardian included Via Dinarica tour among the 10 best holidays in Europe. Vogue recommends the Mountain Travel Sobek journey along the Via Dinarica as a top honeymoon trip, but also as the one of 9 destinations every woman should visit in 2017. Lonely Planet has regularly written about us and the German Geo lists Via Dinarica as a top trend destination. The most prestige recognition, however, was inclusion of Via Dinarica among the best travel destinations for 2017 by National Geographic Traveler. So our visibility and popularity continue to increase which makes it more important than ever to make sure we live up to the high quality expectations of international guests.
OK. All of this is nice, but why should you support it?
The Via Dinarica is more than just a trail. It is a one of a kind product that connects communities and pristine nature that represents the backbone of one the last European wilderness corridors. It is a hope for a better tomorrow for the people living in rural communities all along Dinaric Alps and a positive experience for every hiker, tourist or adventurer undertaking this challenge and taking that message home with them.
Here is the list of the Via Dinarica trail sections in Bosnia and Herzegovina available for "adoption":
---
For more information about adopt-a- trail program, please e-mail to This email address is being protected from spambots. You need JavaScript enabled to view it. or call +387 62 393 393.