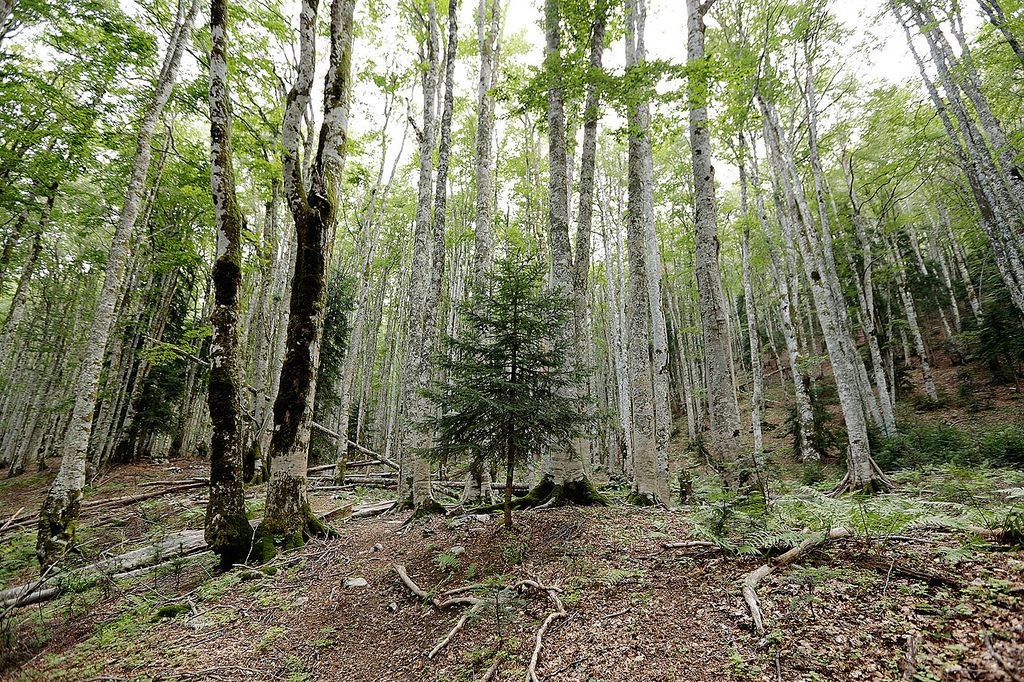 The first lap of Walking the Via Dinarica has been completed. In just under two months we ascended on 23 mountain summits, visited more than 30 mountain lakes, rafted rivers, mountain biked in national parks, and negotiated canyon walls in 6 countries. We also managed to climb couple of routes and even participated in mountain running race in Slovenia.

We overnighted in 10 mountain shelters and 15 lodges. On our mountain journey from Albania to Slovenia, we found the most interesting and challenging spots on Via Dinarica's main white trail, while also tackling some of the Blue line along the Croatian coast.

The most remarkable experience of Walking the Via Dinarica, however, has been about meeting a plethora of good and honorable people who live in, along, and around the Dinaric Alps and are, naturally, connected to them.

As team leader, I wish to thank all our partners and friends who helped us to successfully accomplish this part of the project.

In geographical order :)

A big, warm and genuine thanks to…

Braco Babic experience and knowledge was invaluable in nailing down the details of the Via Dinarica journey. Thanks for sharing Braco.

«Oxfam Italia» and «Vis» in Albania who helped us with useful information and hosted our team in Vermosh, Albania. Their guide Tonino Pllumaj assisted us in Vermosh and Gusinje.

Catherine Bohne i Alfred Selimaj (http://www.journeytovalbona.com) who introduced us to the beautiful valley of Valbona and traditional life there. They selflessly shared all they know about this corner of Bjeshket e Nemuna.

Klaydi Lishi, without who it would be difficult to find our way in Tethe. Klaydi is largely responsible for us feeling like home and why we discovered the most significant sights of Theth.

The Director of National Park «Prokletije», Enes Dreskovic, who was our host on the Montenegrin side of Accursed Mountains. He dedicated all of his time, from morning to late evening, to squeeze us in our tight schedule. It would be near impossible to navigate all of the corners of this spectacular range which Enes presented to us with unhidden enthusiasm.

Viktor Subotic of UNDP Montenegro who secured mountain guidance for us and coordinated our journey through Montenegro.

Duško Raketić, who was more than our guide. He was our host, advisor and partner who helped us to see and record the most beautiful parts of Komovi, Bjelasica and Durmitor and to meet many honourable people within the Montenegrin section of the Via Dinarica.

Brane Babović, who is truly a symbol of Montenegrin hospitality. Brane became our friend, quite literally overnight. He welcomed us as if we were his closest relatives and shared with us all what he had even though we were just two complete strangers in the night. Furthermore, his good spirit followed us all the way to Bjelasica as we carried his blessings to his cousins and friends on other sides of the mountains.

The staff of katun "Vranjak" for the unforgettable break in unforgettable surroundings …and for the best cheese J

The Dakic family and Savo Obradovic from Zabljak, for hosting us and taking care of arranging for us a glimpse of the traditions and customs of the people from Durmitor.

Savo and Milenka from Grabač.

Mirjana Radović and tourist village household «Radović» from Tjenitšte (http://radovicsutjeska.freshcreator.com/), which was our base for Maglic and Zelengora ascents. Mirjana also helped us with useful information and advice on movement in National park "Sutjeska".

Mountaineering Club "Zeljeznicar" from Sarajevo, who hosted us before and after Treskavica tour.

Nersid Masleša from Lukomira, whose restaurant we indecently occupied for our filming needs J.

Kasim Džajić, «Neretva rafting» team and staff of «Plaža Džajića buk», who waited for us, made sure that we didn't freeze and sent a new raft …just for us J. The gastronomic offer and service that followed our adventure has marked this team as probable the best tourist offer on Via Dinarica.

Dragan Stojanović from Konjic by whose merit we reached Prenj on time.

Father Stjepanu Petru Krasiću for his time and patience he had for us.

The young ladies from the folklore group "Croat Unity" from Rama and to the staff of Etno-village "Remici" at Mejnik.

Ismet i Žuti, owners of «No man's land» at Prokosko lake for warm mattresses and cosy ambient they arranged for us.

Besim Muminović (MC «Koprivnica) i Armin Gazić (Scorpio) for their hospitality and unforgettable sport climbing experience at caves near Bugojno.

Stana and Zoran-Soko Kovljenic form Nuglasica for warm welcomes, patience and friendship, and especially for contributing to the development of mountaineering on Dinara and Sator mountains.

Dorijan Klasnic, head of Mountain Guide Service of Croatian Mountaineering Association, for his excellent organization and support to Via Dinarica idea in Croatia.

Croatian Mountain Rescue Service and its Head Vinko Prizmic for useful information and topographic maps we used for planning and negotiating mountain trails of Via Dinarica in Croatia.

Mountain guide stations from Split, Sibenik, Zadar, Lika, Zagreb and Rijeka and particularly to our guides Vinci, Viktor, Marjan, Gojko, Ivan, Davor and Bozo.

Mountaineering clubs "Extreme" from Makarska, "Mosor" from Split and "Promina" from Drnis for their hospitality.

Maja Grozdanic for organization and coordination of all tours, activities, meetings and visits and for her great company above all.

Marija Jurčević of UNDP Croatia for support, organization and development of Via Dinarica idea…and for all the laughs

Valentina and Ana Marija for friendship and contacts with Via Dinarica community.

Alan Caplar for generously sharing his great knowledge of Croatian mountains with us, for his support and contribution to development of Via Dinarica idea and for guidance and great company.

To directors and rangers of Nature Park "Biokovo" for arranging such a cosy and warm atmosphere on such a rainy and cold day on Biokovo.

Zlatko Marasović, director of National Park "Paklenica" for his hospitality and support.

Ivan Crnković-Pavenka, the administrator of bear sanctuary in Kutarevo for his patience and lectures we are always going to remember.

The Popovic family from Crni Lug for which we are still not sure if they are real or we dreamed about them.

Sandi Nobergoj and Mountaineering Club "Podnanos, and to Stojan and Joze from Podnanos for their hospitality, support and useful information, as well as for letting us attend the "Gorski Tek na Nanos" and taking care for us.

Slavko and Janja Škoberne, caretakers of Koča na Snežniku for a warm welcome, patience and useful information.

Jernej Jež for his support, guiding and knowledge sharing, as well as for Sneznik summit which was fantastic ending of our Walking the Via Dinarica journey.

I think we can all say with confidence that…honey, this is the beginning of a beautiful thing.

Thanks. Hvala. Falimenderit.
---