Zelengora, translated as Green Mountain, is, as one might guess, the greenest mountain in Bosnia and Herzegovina . It is also the natural barrier between Bosnia and Herzegovina's climatic regions, where the Mediterranean and Continental climates meet. It is at the heart of the Via Dinarica's White Trail. The vast green slopes are dotted by glacial lakes known as 'mountain eyes.' Of the dozen or so lakes, all of which are all located between 1,380 and 1650m above sea level, Donje Bare certainly ranks among the most special. Not only was it our starting point for a recent hike in
Sutjeska National Park
but it was, and is, a memorial to the fallen Partisans who fended off a larger and stronger German army during the Second World War. It was here, at this pristine watering hole for the park's abundant wildlife, that Tito had a hunting villa built.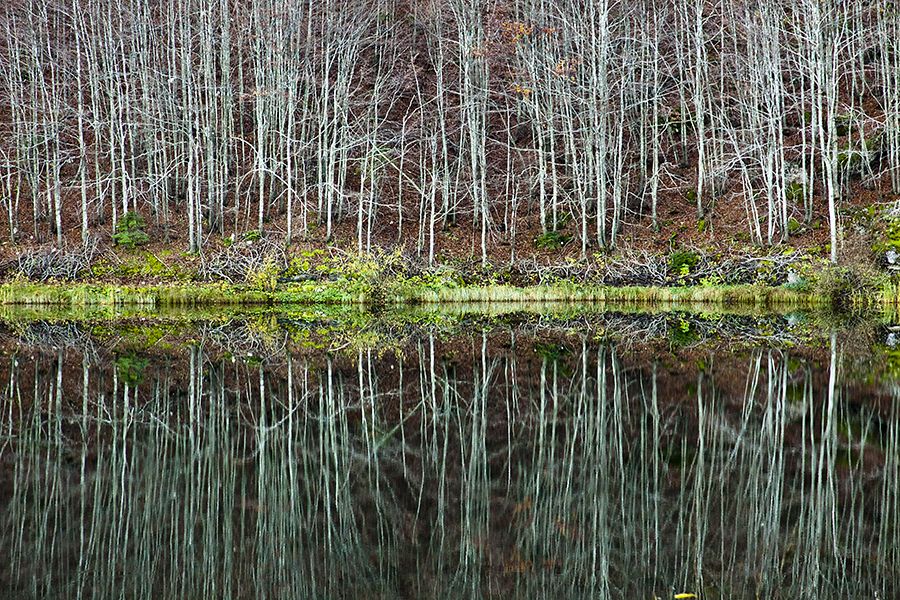 (© 2015 Olja Latinović, Via Dinarica)
The Terra Dinarica team, together with colleagues from the Visočica Mountain Association, recently walked the standard and recommended hiking tour for recreationists and beginner mountaineers which leads from Donje Bare lake, across Uglješa's Peak (1,859m) through a nearby rock creek and thick deciduous forest, all the way back to Donje Bare lake. Although the route is suitable for beginners, hiking is not recommended during winter unless you are an experienced mountaineer, as Zelengora is covered with deep snow which does not melt even well into mid-spring. From Uglješa's Peak, one can see Bosnia and Herzegovina's highest peak, Mt. Maglić (2,386m), as well as the towering peaks of Volujak and Treskavica and the Treskavac massif. In the distance are the vast expanses of the uninhabited wilderness towards the Herzegovina region, including Lebršnik mountains 150 million year-old Mezazoic rock faces and the Čemerno mountain pass., Montenegro's Durmitor National Park and even neighboring Tara NP in Serbia can be seen from here. The most beautiful views, however, are saved for one of the last primeval forests in Europe – the nearby Perućica Forest. Local legend has is that the Emperor's Forest, Zelengora's own version of primeval forests, was devastated during the Austro-Hungarian Empires short reign in Bosnia and Herzegovina in order to help build the canals of Venice. Although this story may be hard to verify, one can still see the remains of the Emperor's Forest on Zelengora.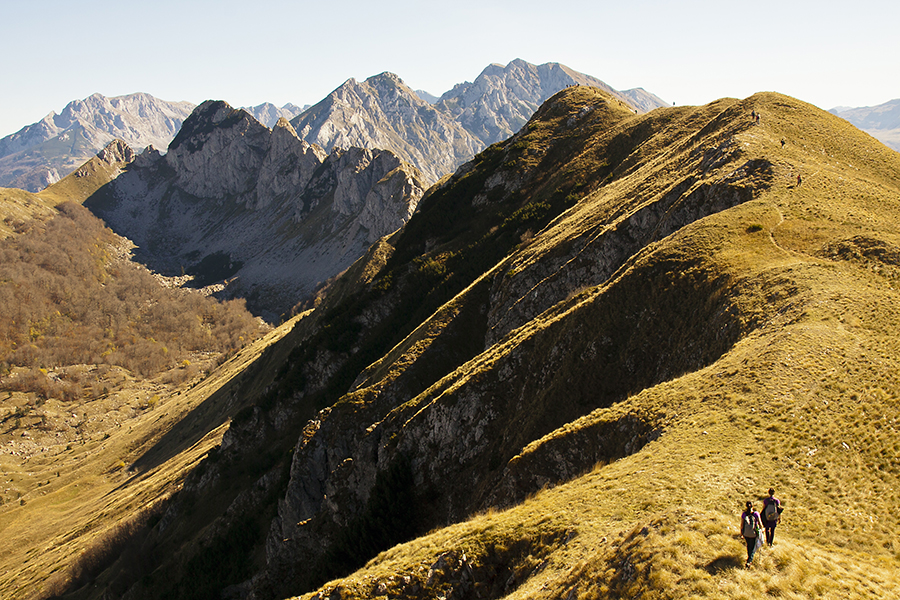 (© 2015 Olja Latinović, Via Dinarica)

We were accompanied on our day long hike by Magi, Stefan and Olja's six year old daughter. With great effort, she managed to wake up at 4 am and walk the whole eight hours, which is about par for this particular route. So there are no excuses for all of you grown-ups not to visit this sacred mountain, considered by many the most beautiful in all of Bosnia and Herzegovina.

If you need a bit more incentive, then perhaps the fact that there are more than 2600 flower and herb species on Zelengora, which is, by some accounts, more than the entire Pyrennes, might entice you. In the isolated highlands of Zelengora, it is common to walk upon the bosanska čekinjuša (Bosnian bristle), bosanski kaćun (Bosnian Orchis), ilirska krčagovina (Illyrian Jug herb), dinarska večernica (Dinaric Evening Star), and endemic the herb – uskolisni zvončac (Fern-Leaf bellflower), which is found only in the Sutjeska River Canyon, which divides Zelengora from Maglić and Volujak mountains. Despite its reputation for its stunning alpine meadows, Zelengora is also known for its rich forests of mainly beech, oak and spruce. One can and will, however, wander upon a fir and pine or even a few wild cherry, yew and the very rare Gluhač Mapple trees. The Green Mountain is rich in wildlife – from various lizards and frogs to golden eagles, peregrine falcons, and owls. It is no stranger to Europe most rare viper, the planinski šargan (Vipera ursinii) also known locally as žutokrug or the yellow circle (seen in photo) . Since the wilderness of Zelengora stretches from Foca and Kalinovik all the way to Gacko to the southeast, there is more than enough room for large mammals, including brown bear, wolf, wild boar, deer and healthy chamois population.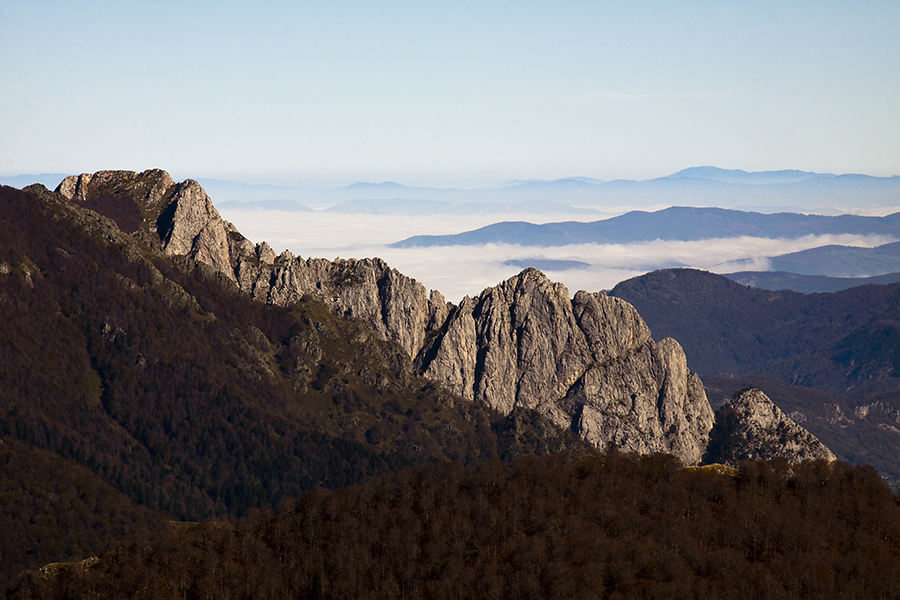 (© 2015 Olja Latinović, Via Dinarica)
Although Sutjeska National Park is known regionally for its WWII memorials honoring the Battle of Sutjeska, it is less-known as one of the most intact tracts of true European wilderness. Today Sutjeska faces perhaps its greatest battle that has gone largely unchecked. There are plans to build dams on the rivers Hrčavka and Sutjeska, inside the boundaries of the National Park, which can have devastating effects on the eco-system and the potential extinction of endemic plants and wild animals from that region. Đorđije Milanović, an expert in flora and fauna, argues that "According to the present-day level of exploration, the flora of flowering plants in NP Sutjeska (within approx. 160 square km) counts more than 1800 different species. For example, that is around four times more than the complete flora of Iceland, which has an area 650 times larger than Sutjeska, or almost as the complete flora of Poland. "This is a proof for concern to local authorities that Sutjeska National Park, and indeed all of Zelengora, belongs to the family of Europe's most precious natural heritage sites.

The tiny "Rana dalmatina"(the frog from the picture), will most likely survive the disaster called money-hungry men. You can see her on the way to Uglješa's Peak, just above the Gornje Bare Lake. The creeks are potable, the forests are scented, and the air is fresh and intoxicating. Let us hope that Sutjeska can survive this final battle.
---
{source}
<script type="text/javascript" src="https://trail.viadinarica.com/en/tour/mountain-hike/via-dinarica-bh-w-11-via-lelija-and-zelengora-mountain-to-sutjeska-national/17303001/tour2go"></script><p><a title="Europe's largest outdoor platform" href="http://www.outdooractive.com/" target="_blank">part of outdooractive</a></p>
{/source}{source}<script type="text/javascript" src="https://trail.viadinarica.com/en/tour/hiking-trail/via-dinarica-bh-w-12-donje-bare-via-suha-and-prijevor-to-trnovako-lake/17303012/tour2go"></script><p><a title="Europe's largest outdoor platform" href="http://www.outdooractive.com/" target="_blank">part of outdooractive</a></p>{/source}