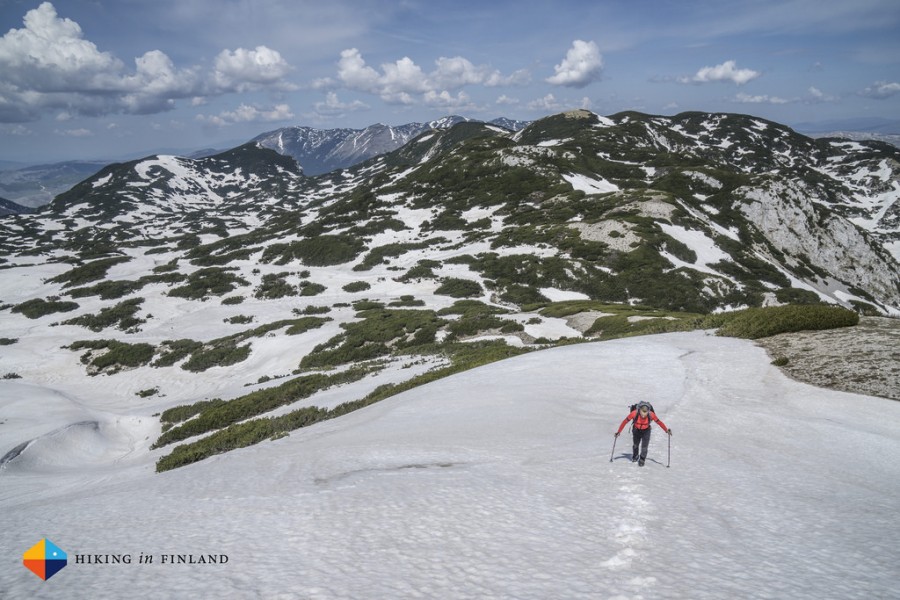 Is it the idea of connecting seven countries via humanities simplest activity, walking? Or something else? Reason enough for me to pack my backpack, book a flight to Sarajevo and investigate.

"What are your expectations of this trip?" Tim asked me after he picked me up at the airport in Sarajevo. "Well", I started, "I don't have any. I never expect anything when I go on a research trip, and let the region show me what it has to offer. It's only fair and more adventurous, too." But Bosnia and Herzegovina has impressed me, very positively. It's a beautiful country with warm, welcoming people, delicious food, and the views are quite decent, too. In the following series of trip reports I'll walk you through the Bosnia & Herzegovina part of the Via Dinarica Trail, and will answer questions in the final post where I also will give more information on the trail.




Sarajevo

"Coffee?" Sure. As an European Finn I seldom say no to coffee, and the coffee in Bosnia & Herzegovina is superb, especially when brewed in the traditional way. Besides, I was up since 4 am and already had three different flights so something to keep me awake in the sweltering heat of this bustling city was always welcome. We had good coffee and then a stroll through the old part of Sarajevo, which was gorgeous with small, narrow streets lined with stalls, open air Cafés, Restaurants where delicious smells wafted from the open windows, and lots of people. Mosques stood next to Churches, and the peaceful co-existence of the religions in this country is certainly something the world could learn.

Later in the afternoon I meet the rest of the Terra Dinarica team, Olja, Stefan and Kenan, who would be my Guide over the next five days. We had a tasty dinner high above Sarajevo, before Kenan dropped me off at my Hostel for the night. "Pick up is at 5 am" he said with a smile, and so I turned in after a quick shower to get some sleep before the Alarm would wake me up yet again so early.

Risovac to Diva Grabovica

This 27,6 km section started at a ski slope a couple of hours drive south west of Sarajevo. Already on the way there we passed with the car scenery which would make any backpacker and climber very happy indeed, with a Mini El Cap and lush, green valleys which would make for fine hiking. Here at the Risovac ski centre Kenan and me shoulder our backpacks, said bye to Tim who'd meet us at the other side, and set off.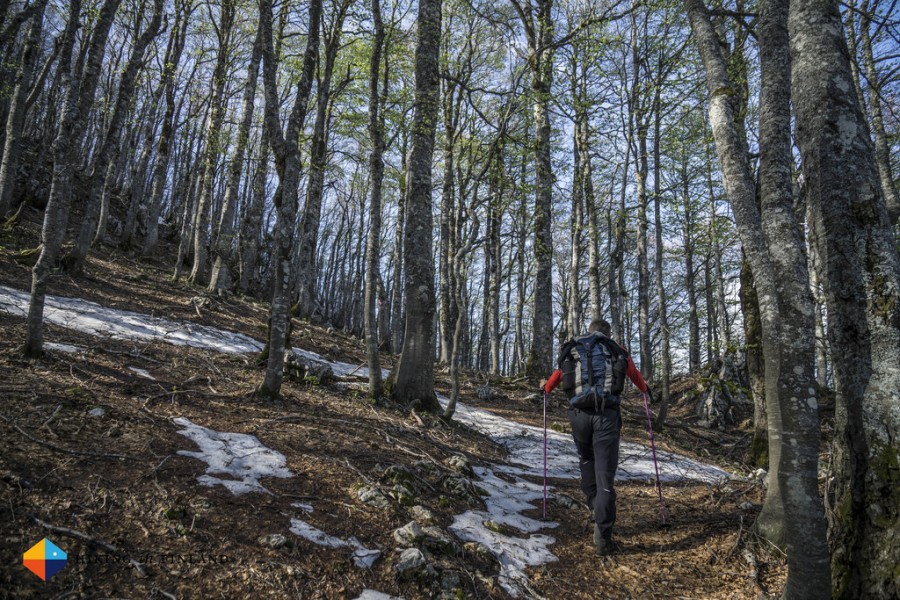 We quickly reach the top of the ski slope and turned into the forest, where patches of snow still lined the trail. It didn't take us long to be so high that the trail was under the snow, and I was pondering if my Arc'teryx Acrux² FL GTX shoes would be up to the task (They were, and great on the snow indeed). Where the trail skirts the mountain on the south/ west side, the snow was happily gone, but also walking on the snow was fine – it was still fairly compact with just a thin, mushy layer on top which gave good grip.

The weather was great – so warm that I quickly shed layers and hiked in my T-Shirt. Kenan tells me about the mountain we traverse, the sights, where the Via Dinarica passes here and local lore. He's also a good model and doesn't protest when I let him walk several sections twice to get the right shot, but even with all the chatting and taking photos we make good speed and soon see the summit we're aiming for today, the Great Vilinac Summit. The trail towards it sneaks through patches of low-growing shrubbery, and spring crocuses are piercing their white and violet heads already through the ground there where the snow has melted.

The summit is snow-free and after signing the summit book we sit and have a drink. The view is fantastic and we're lucky with the weather. But we arranged to have lunch at a mountain hut a bit further along the trail, and so we soon shoulder our light packs again and head onwards to the Tise Mountain Hut. It's a bit off the trail and we descent for ten minutes, but already from a distance it looks like it is closed. As we stand in front of the locked doors we're certain that we won't be eating lunch here, a good thing we have some snacks with us and that the bench and table have a scenic view to enjoy. We go for a look to find the water spring nearby, but it is still buried under a meter of snow, and so we just continue.




We follow the trailmarkers – a red circle with a white dot in the middle – for a while, until we're back on the snow. While it allows us to make short-cuts it's also a bit more strenuous to walk on it, and of course it also soaks your shoes and socks. But it's warm & sunny, so not a problem, merely a slight inconvenience. We're high up and descent and ascend just a little for several kilometres, until it is time for the big 1.600 m descent to the Diva Grabovica valley. The views which open up before us are breath-taking, but you have to stop to enjoy then, as the descent is steep on a trail which is often just a mere foot wide, if it's not entirely covered under the snow.




Ahead of us we also can see Prenj, the mountain range we will be traversing in the next two days. Soon enough we reach the tree line and lush green beech trees with fresh, young leaves make the walking in the warm weather more pleasant. From afar we already saw a rustic cabin – the former Kings Hunting Cabin – and we made a little detour to visit it. It was pretty from the outside, with wooden shingles on the face of the building, but the inside was mouldy, dark and not welcoming. Also the garbage which was left wasn't a nice sight, and so we continued further down.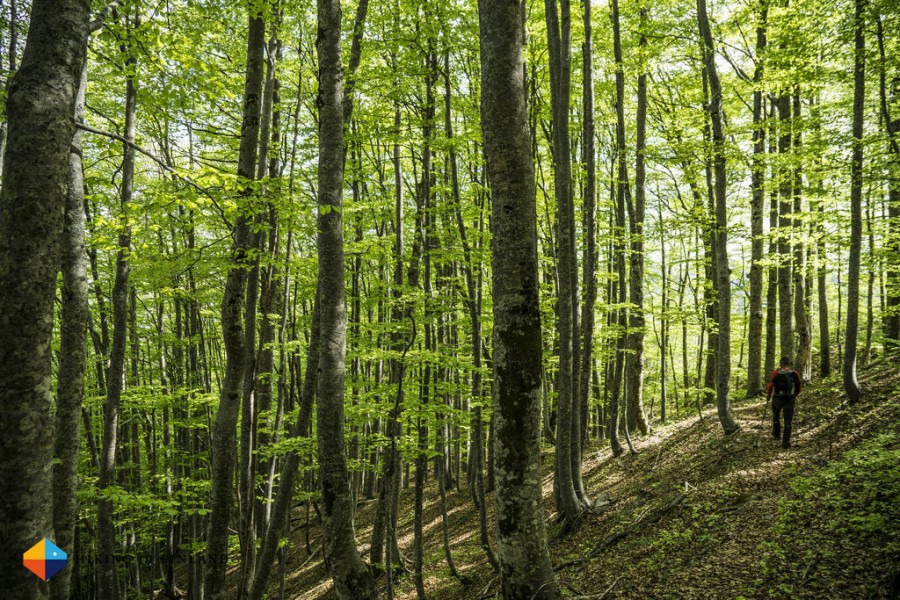 We heard voices already further up the mountain, and as we happened on the 2nd hut – which was in much better shape – we meet Tim and friends of Kenan, who did the Evil's Creek Route (scroll down to see their photos!), a trail which has some climbing along steel wires (a bit like like a Via Ferrata) and were now also on the way back down. We decided to go check out the Look out point and have a cup of coffee all together, and it was a nice place to rest and drink some good Bosnian coffee.

On the way to the valley the trail soon became a gorgeous green tunnel which smelled so wonderful, it was unbelievable. Colourful flowers, buzzing insects, colourful butterflies and bubbling wells we found the further we descended the trail, and as we finally broke out of the dense green forest a magnificent panorama opened up before us. A colourful little meadow stood in full flowers, while the sun was hiding behind big, dramatic grey clouds, throwing a few rays on the mountains we just left behind. It was such a perfect place that I'd loved to have put my tarp up right there, but we still had a few hundred meters to descent and move onwards, so we left the meadow behind and hiked on.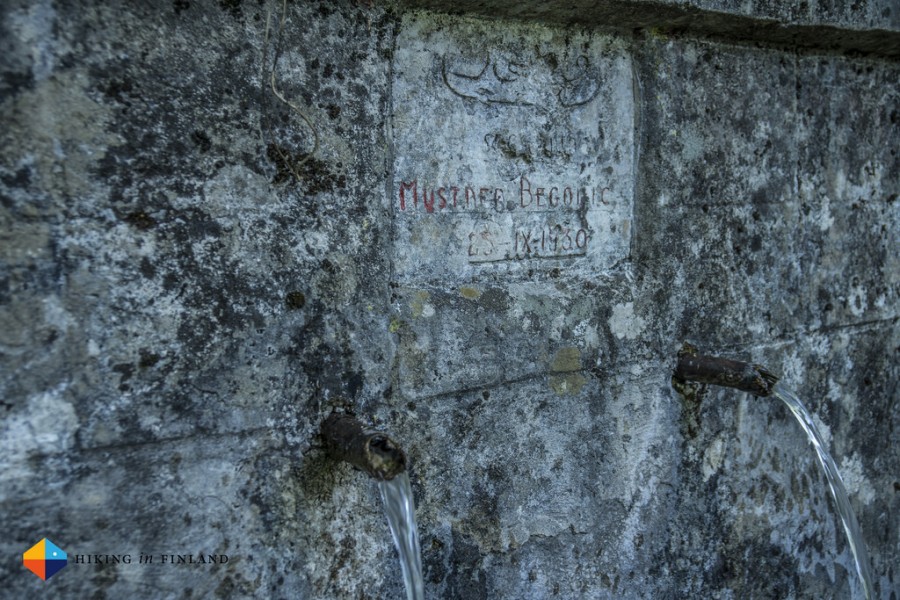 At the car we threw our packs into the car and drove towards the next Restaurant, where we enjoyed a dinner of lamb and a local beer before Tim brought us to Prenj. It was night as we arrived the start of the trail, and after a quick repack for the next two days we set off. I was completely destroyed as we started to hike, but pushed on. While I was planning to sleep in my bivy outside instead of the Medjuprenje Mountain Hut where we were headed, after I saw a few Scorpions on the trail and Kenan told me about the Black Widows Spiders which can be encountered here I decided that the hut it would be. It was close to 23 o'clock as we stumbled into the Medjuprenje Mountain Hut, where other friends of Kenan right away offered us a Rakija, and after a zip of this tasty fruit brandy I headed up to roll out my quilt and call it a night. To be continued.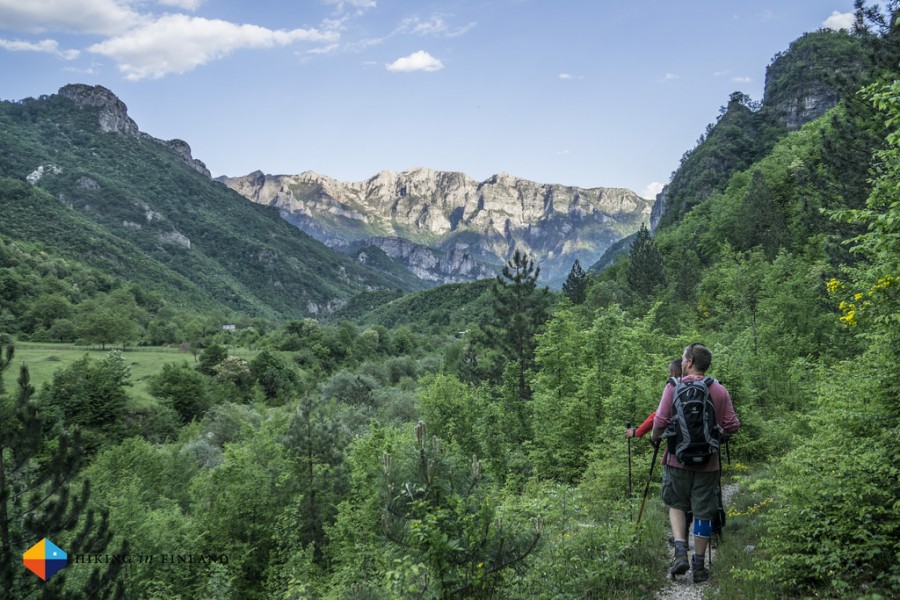 Blog by Hendrik Morkel Jul 2nd, 2015 Bosnia and Herzegovina
Day 2 – Next stage – Hiking mountain Prenj
---