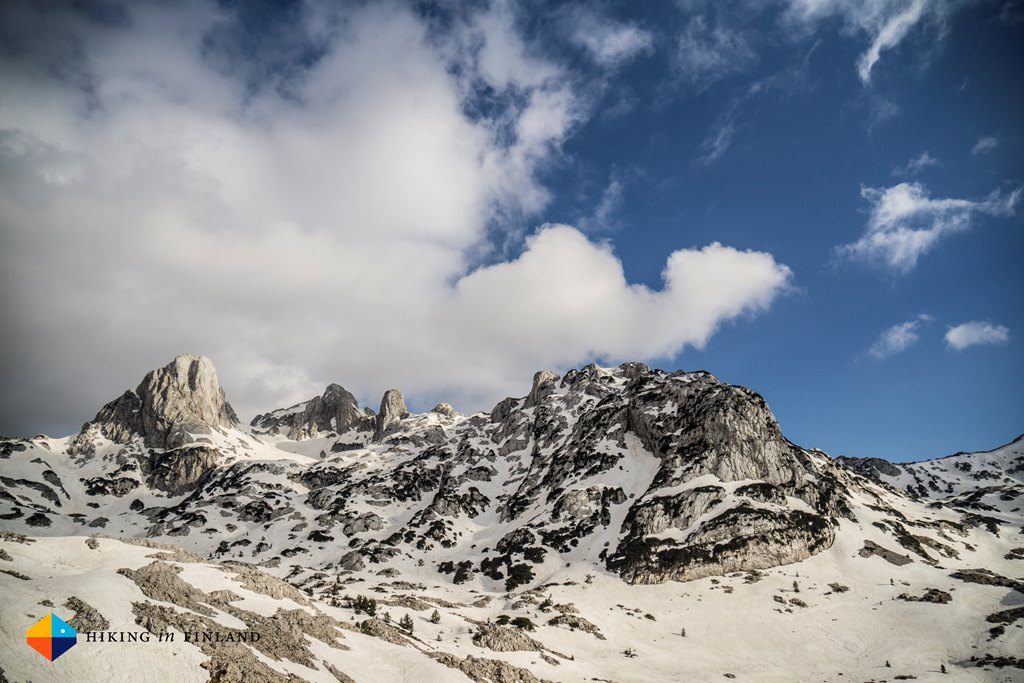 In the first part of my Via Dinarica trip report I told you about my expectations for this hike (none). Getting lost on the trail certainly wasn't on my list.

Day 2

"Where am I? Who is up at this hour where the world doesn't exist yet?"

Ah ja, I'm at the Medjuprenje Mountain Hut, up on Prenj, on the Via Dinarica in Bosnia and Herzegovina. My name is Hendrik and that tiny backpack is mine. Yeah, systems booting, coffee required before we can get up and start hiking.

Black gold is served steaming hot by Kenan's friends & again I ponder about the weight & taste benefits of carrying real coffee to the mountains. Also the breakfast Kenan has for me is great: Joghurt & Müsli, where the yoghurt is dehydrated and stirred up by adding water. Good stuff, and after everything is eaten and packed up we leave the hut and move up into the fog.




The trail is well marked and takes us through trees which are ready for spring, but yet hold back their green leafs. The higher we get the lower the vegetation becomes and the shorter the view. But Prenj, the mountain we're on, is Kenan's favourite and he knows it well. We follow markers and cairns, bushwack through the shrubbery and then take a "Shortcut". I love shortcuts, especially in this weather.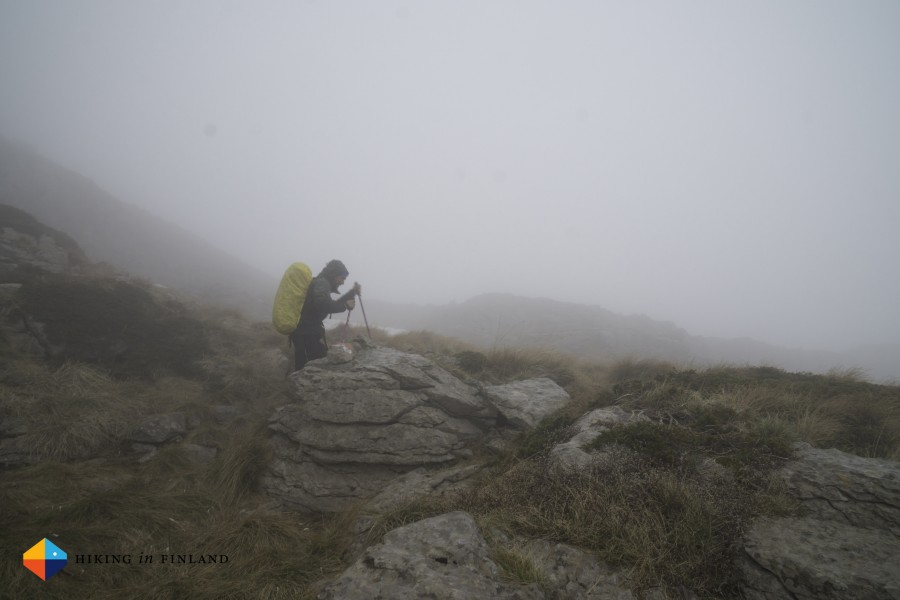 Ah no, not here. Lets go that way.

Grey & white & grey

Can you see where we are?

Nope, don't you have a compass?

Ah yeah, true!

Alright, this way.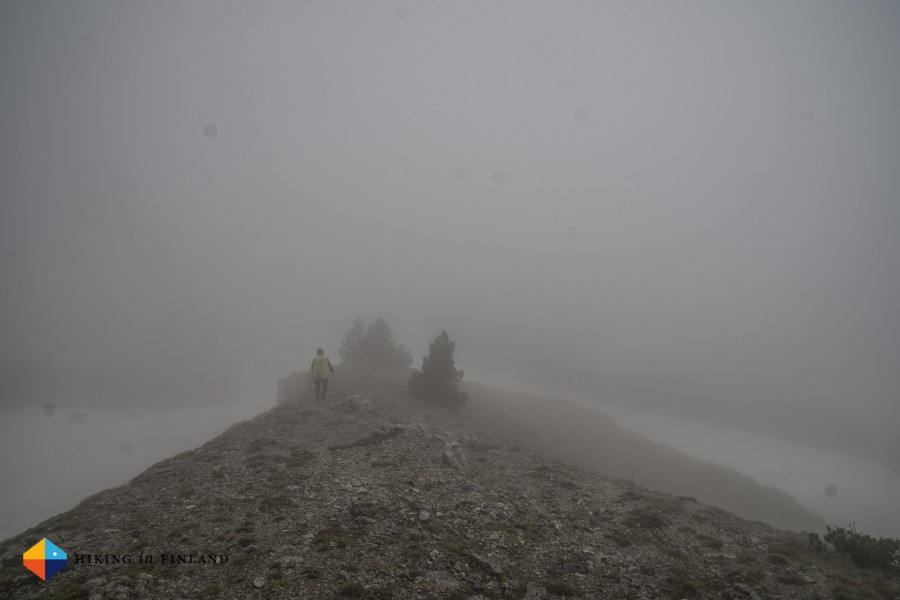 At one point we dropped down a bit in elevation and ended up ascending an 60°+ snow slope, without crampons or ice axes, in approach shoes. To say I was a bit freaked out would be putting it kindly, as underneath me it went down a couple of hundred meters and a slip would have ended in a coffin. But hey. Type 2 fun. Makes for a good story right now, doesn't it?

Kenan navigated us just great back to the track, and then it was smooth hiking over snow fields and talus. After a while Kenan knew exactly where we were and started again telling me the names of the summits that surrounded us as we walked down on a high plateau. Snow disappeared, the brown grass trail being pierced by purple crocuses and slowly turning to brown dirt to green meadows.




We traverse the high plateau and the troubles of getting a bit lost earlier are forgotten. We're set to meet Tim and the Terra Dinarica Team as well as some guests from the USA down in the valley, and are relieved to see that we're the first to the meeting point.


After walking mostly on snow the day before and this morning it is nice to have green grass and sunshine. We drop our packs, I get out of my shoes, and we walk around in the valley, towards the others who are just arriving. Food is shared, photos are snapped, and the beauty around us is celebrated by long, lonely stares, "Ahhh"s and "Ohhh"s and "Wow"s. And it is pretty, this valley. Otiš and Zelena Glava stand proudly at the end of the valley, a miniature Fitz Roy Range. We did plan to climb Otiš the next day, but seeing it is in full alpine conditions and our lack of alpine gear makes me decide against an ascent. I also wasn't up for a 14 hour day, though it certainly would have made a great story & experience. So we will just hike comfortably across Prenj and arrive early at our destination the next day – a good decision as we'd see the tomorrow.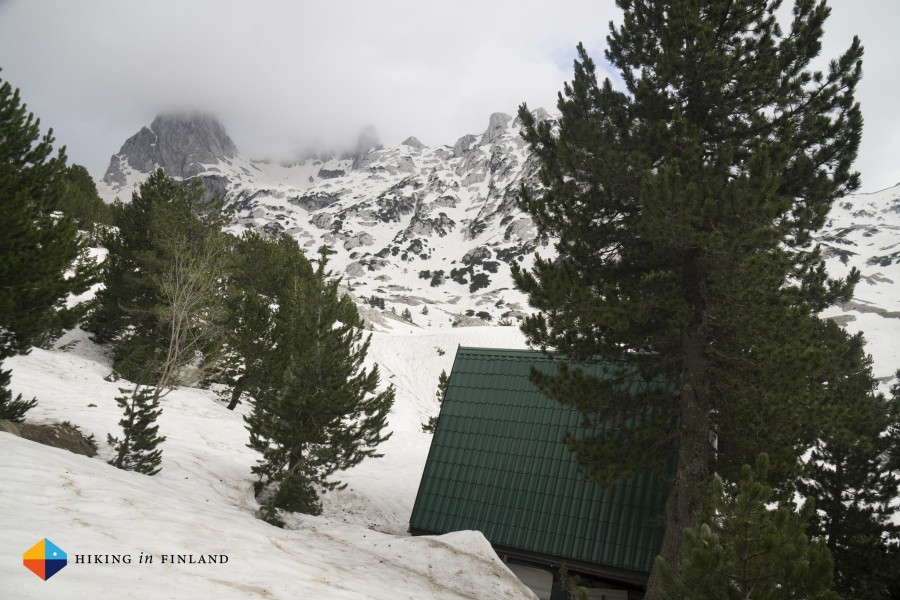 After a lengthy late lunch we part with our friends and head back up the mountain, though our destination is not far. The Vrutak hut is less than 30 minutes up from the valley and luxurious hut by any standard. Clean at a prime location its nice to know we will sleep in such a nice hut tonight. I grab my tripod and head out to photograph the sunset and blue hour while Kenan prepares our dinner.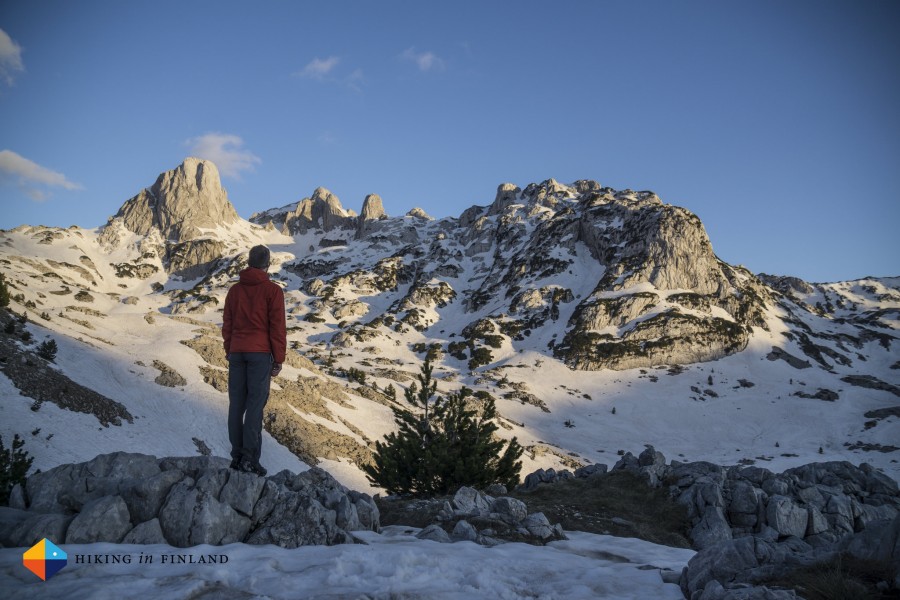 With a big smile I come back in after the sun is gone and the first stars dot the sky. Kenan has prepared a delicious goulash, and I share a Finnish dessert with him to celebrate this adventurous day. We sit for a while and talk, but both of us are tired and soon turn in. Tomorrow would be "easy and relaxed"…

Posted by Hendrik Morkel Sep 7th, 2015 Bosnia and Herzegovina
Day 3 – Next stage – Hiking to Boracko lake
---