The Via Dinarica connects seven countries, and on my final day on the trail I will hike into Montenegro and climb Maglić, the highest peak of Bosnia & Herzegovina.

Day 5

Early mornings were the norm on the Via Dinarica for me, and this final day was not different. At six in the morning I was up and soon I was sitting with my friends Olja, Kenan and Tim at the breakfast table. It might be hard to imagine, but the breakfast at the Restaurant & Pension Umoljani Bjelašnica was even better than the dinner the previous evening: Local cheeses and honey, tasty warm bread, ham and marmalades – and all of it locally made. Add in a great coffee and you have the energy for a long day.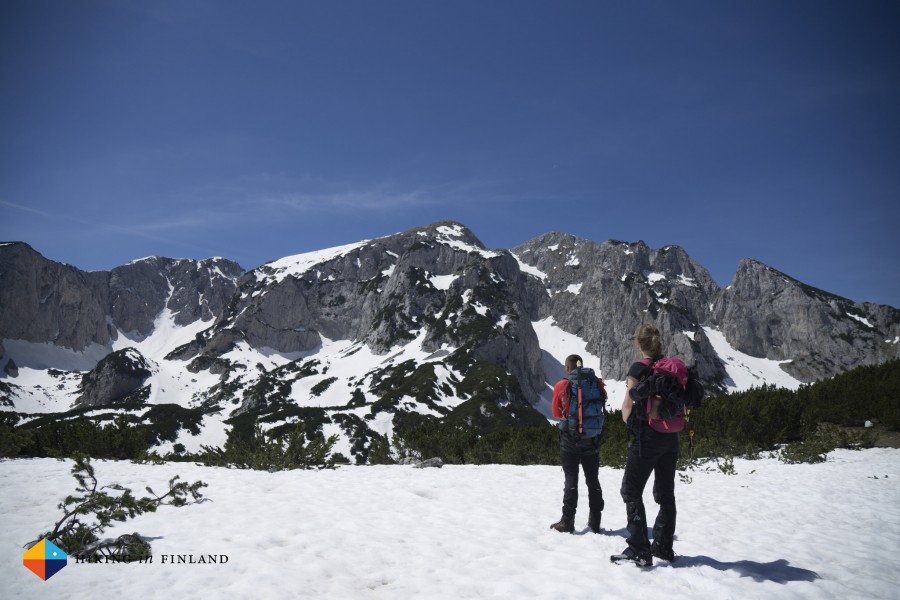 Before we would be climbing up Maglić we had a two hour car ride in front of us. I tried to nap as much as possible, but the stupendously beautiful scenery made that difficult. We drove through deep canyons next to raging rivers on narrow roads, and all of it looked just so gorgeous that one could have spent a fine day exploring little paths off the road. The views got wider & wider and after one and half hours we passed the first signs for the Sutjeska National Park, the oldest National Park in Bosnia and Herzegovina and home to a large waterfall and a primeval forest. We drove up into the park, parked the car, packed up – crampons, harness, helmet and ice axe come along – and started to hike.
The trail takes us through the forest, and soon we hike again on snow. Kenan leads the way and here and there we see the trail markers on rocks & trees, and while the ground is covered in snow it is warm and the trees have already the first green leafs. After about an hour Kenan remarks that we must be in Montenegro now, and in front of us towers Maglić.




The views are superb and we can see far into Montenegro, while we walk again over short stretches of grass & past crocuses. It does not take long and we're again on snow, but now it's the steep kind. We put the harnesses on, take the ice axe in hand and start off. While Kenan and Olja wear mountaineering boots I have my Arc'teryx Acrux² FL GTX Approach Shoes on, and while the crampons in my pack would fit on them I decide to go on without. The shoes have shown me on this trip that they are great on snow, so I decide I rather be fast & nimble without crampons.

After the first snow field we continue on a steep path which is secured a bit with a Via Ferrata cable in places, but the going is easy so the cable is largely ignored by us. Then we arrive at a 70° chute which is covered in snow, and here I decide it would be smart to rope up. Olja and Kenan agree, and a few minutes later I cross the chute first. After that it is again a mix of dry, steep paths and snow fields up to the summit ridge, where we arrive around three hours after we left the car.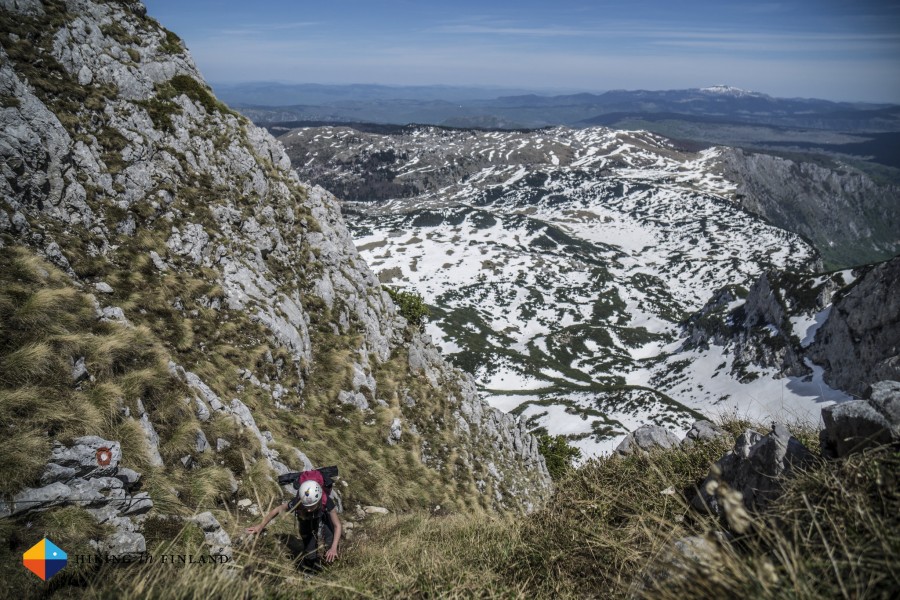 From here it is an easy stroll to the summit of Maglić & some 20 minutes later we stand at the post and high five each other.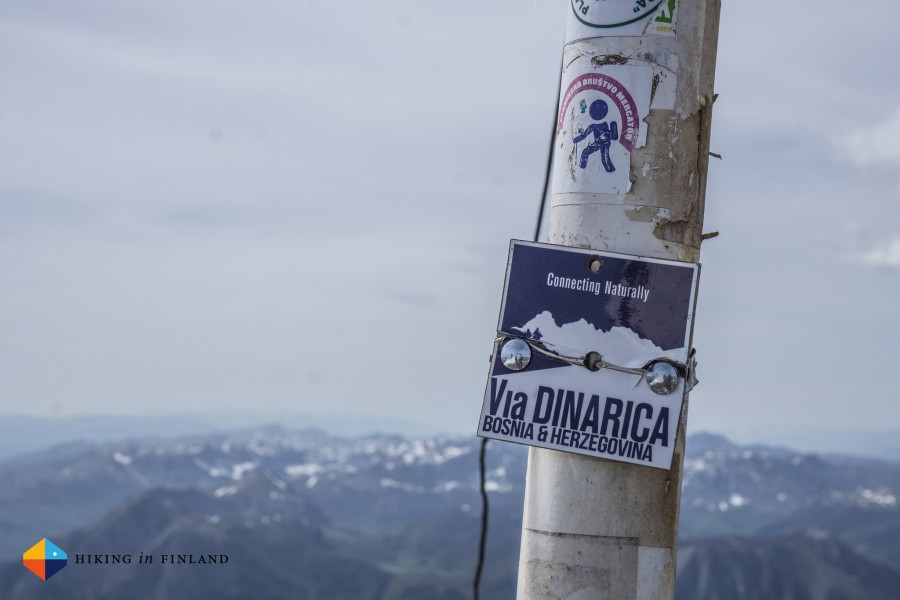 We put on insulation layers, get food & drinks out and take in the view while enjoying the fine weather. The warm sun makes it comfortable to sit up on the summit and we spend quite a while up there to photograph, sign the summit register and eat. I then pack up and steal away in front of Kenan and Olja to shoot a few wide angle shots of the two on the summit.




The two catch up with me, we rope up again for the descent and then it's down, down, down. Descending snow slopes in approach shoes is possible but it is more comfortable in mountaineering boots I can now tell you. A mere 3 meters before the end of the snow slope I slip and manage to self-arrest, but the damage is done: Kenan smiles at me and lets me know that "I told you approach shoes are no good".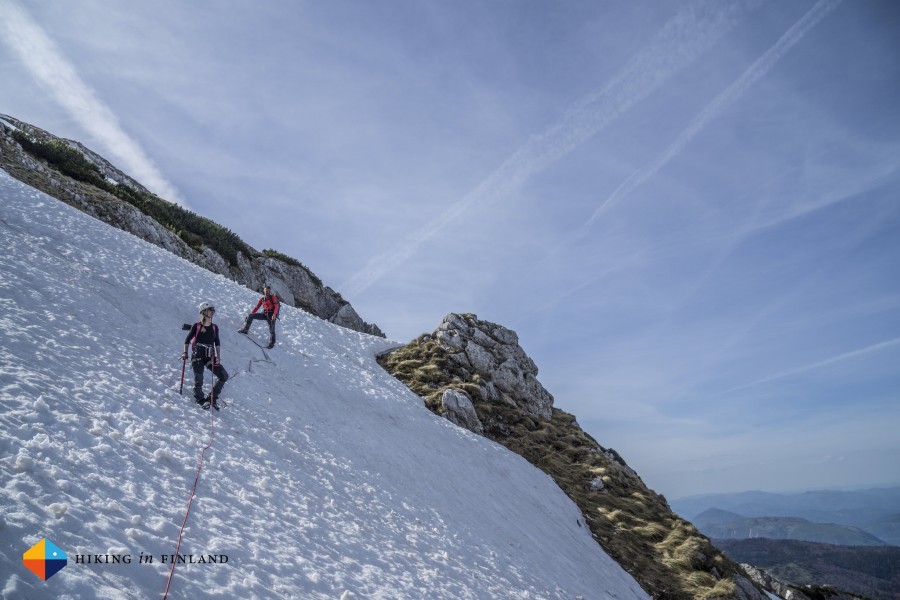 After that we cross the chute again and then are going back to the car as fast as we can. We're all hungry and thirsty – the sun has been shining the whole day again. On the way back to Sarajevo we stop at a nice road side restaurant where we eat a tasty dinner before we need to continue to Sarajevo, where we arrive late in the evening And so another fine day on the Via Dinarica went by.

Posted by Hendrik Morkel Nov 2nd, 2015 Bosnia and Herzegovina
---