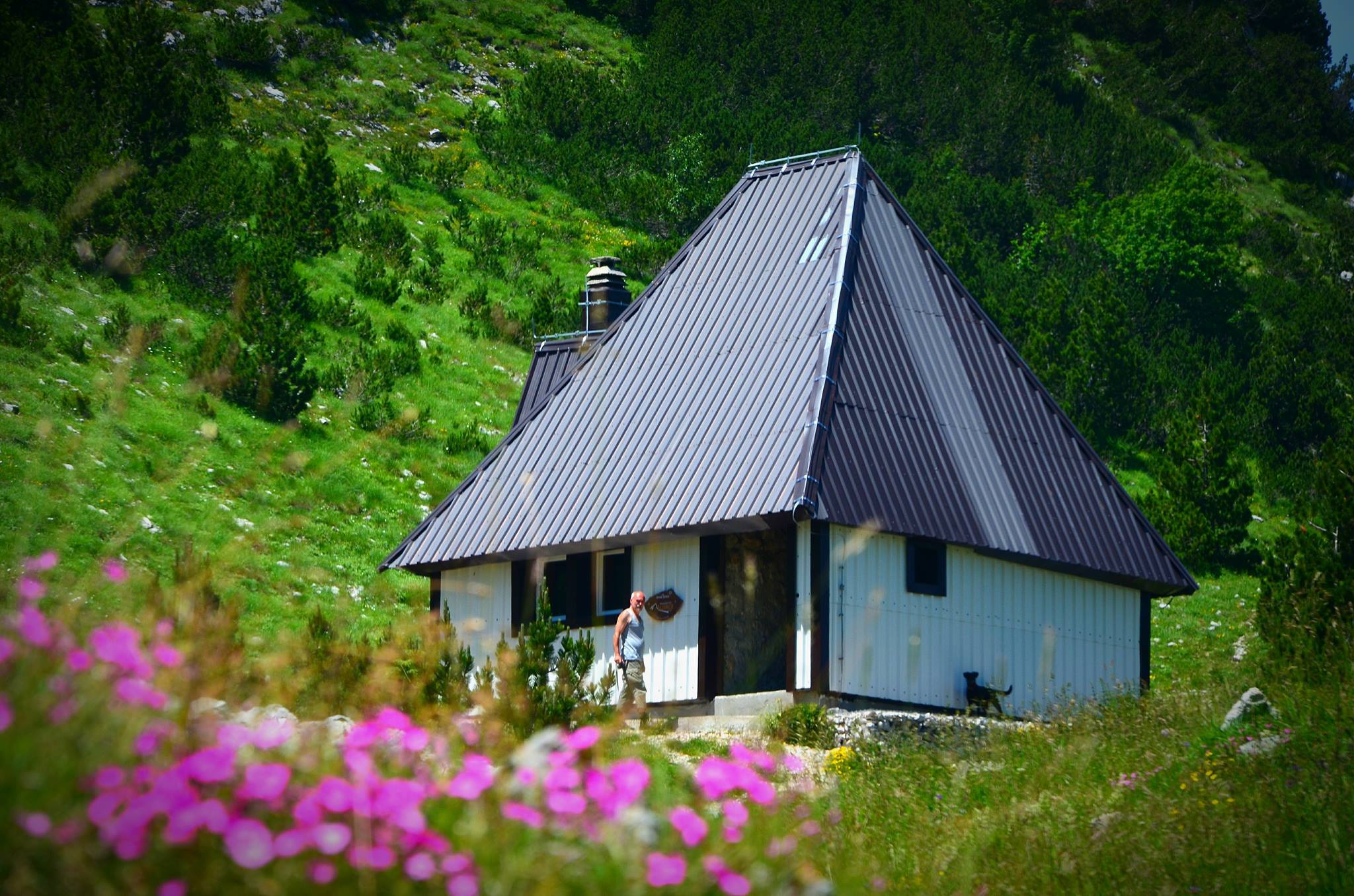 After a resupply and a zero I left the town of Jablanica for Prenj mountains. Usually the hike out of town isn't the most scenic one. This one's pretty OK. First there's the broken bridge over the Neretva, then the tunnel where the train used to run the through and then there's an uphill hike with scenic views over the Neretva.

Here the GPS-track is a little bit off. Just follow the markers and the trail these will lead you to the village of Ravna and along a spring. In Ravna I was welcomed by not so friendly barking dogs, all they do is barking since they're on a leash… After Ravna the trail is new and it slowly gets steep. If it's or has been heavily raining and you're hiking on trailrunners it might be wiser to do a detour. Alternative is to walk towards Glogosnica and take a forest road up to Catrnja (about 2-3 hours). All is marked.

The spring after Ravna, mentioned on the GPS track I did not see. This left me with just enough water for the remainder of the day. As mentioned this trail is new meaning slow hike while looking for the markers and the trail and loosing it easily when not paying attention.

Milanova koliba
Arriving at the shelter I was happy to find a cistern full of ice-cold water. Milanova is a run down shelter, a new one, called Međuprenje, is being build next to it, but a key is needed for that one.
This is also where I slept, outside since the weather was, again, really nice. I should have put better thought into hanging my foodbag: a Puh bit through it and attacked my cheese.

To Vrutak

The next morning weather had changed and I hiked up a field of rocks in the mist. Again slow hiking. After this I followed old signs that led me into evil bushes of dwarf pines. It's best to follow the GPS and track/sign to Cetina. After returning on the right trail I discovered I had lost my phone. And after backtracking for a bit I considered it truly lost. Bad move for a blogger…

At this time the fog had moved and again warm it was and finally I got to see the stunning mountains I'd been hiking through.



I found the trail to hut Vrutak quite strenuous: there's markings, there's old trail, there's new trail, there's no trail, there's lots of rocks… Navigating through it cost me a lot of energy, probably also since I was hiking alone and wanted to be sure not to wander offtrail.

At this locked hut Vrutak (no water access) I met three young Croatian hikers. I was pretty tired and feeling a bit down because of losing my phone and hiking at such a slow pace. They eventually went on hiking to another hut and I invited me to come along.

This hut turned out to be over half an hour offtrail and several hundreds of meters downhill. But Jezerce is a brand new and beautiful hut with fresh water coming from a nearby spring.


I later found out that from this hut there's trails running back to the Via Dinarica, so the next day I didn't have to backtrack all the way. Starting at Vrutak is also where the trails are trails again. Here hiking is like hiking on a red carpet. And the next morning I hiked a nice and fast hike to Ruiste. Along the way I refilled my waterbottles at a nice looking well. In Ruiste the people at the charming motel didn't speak any foreign language, they did call a taxi for me which drove me back to Mostar. Awakening in the morning at a charming mountain hut, shopping at Mepas Mall that same afternoon – only at the Via Dinarica.

More pictures on Instagram. Support my adventures and buy me a carbonated and sugary soda pop.

This blog has been written on trail and on a mobile phone.
---