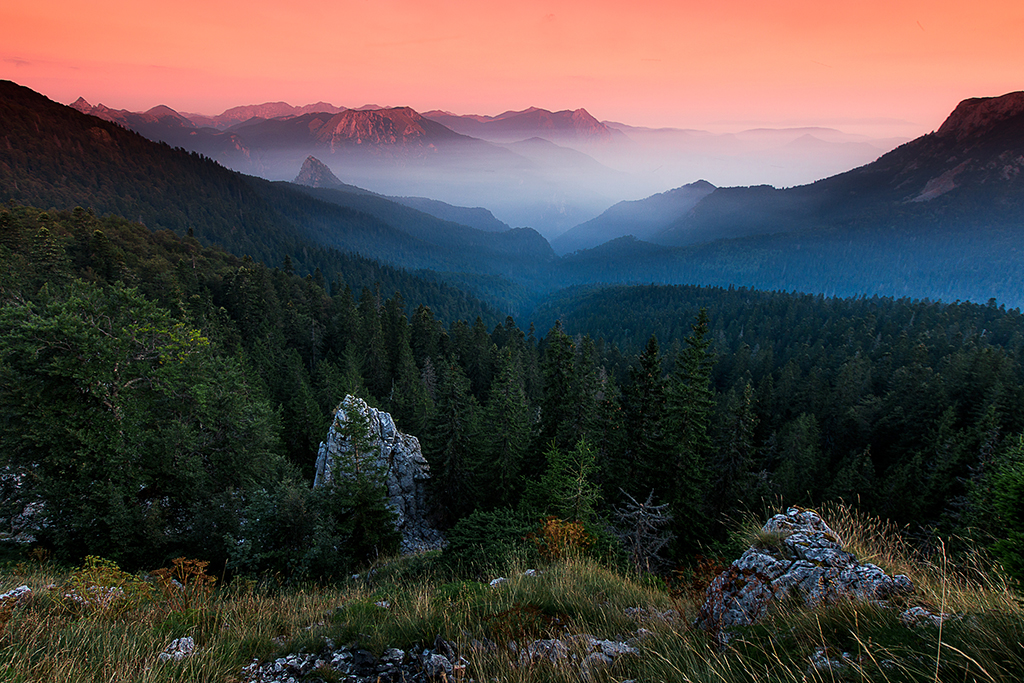 It's a fast hike down from Donje Bare to the road. It seems like a lot of maintenance work has been done on the last few km's to the road (thank you!).
Thinking about omelet and kafa I don't mind hiking the asphalt road to Tjentiŝte. Even though calories and protein are waiting for me I cannot resist hiking up the enormous monument just before the
hotel Mladost
. At the hotel I totally ignore Kenan, who happens to be out here too (not wearing my glasses and thinking about omelet and kafa…hmmmmm). Just outside of Tjentište, in Popov Most, I stay at
Household Radović.
This is a good spot for a zero. Mira, the owner, bought me resupplies which saved me carrying a lot of weight through from Kalinovik.
Leaving Tjentiŝte
The road walk back to the trail is a few km's from here, the hike's not too bad, there's some good views and even though there's traffic, it's OK to walk. After the road walk there's a 4×4 road, where I actually surprised, if I'm correct, a mountain goat. The climb up to Prijevor is over a fine trail (I believe recent work has been done here too). Than there's the first view on Maglić. This is the place were other hikers and tourists park their cars and today it's busy!
The trail to Trnovačko Lake is like a red carpet and this thru-hiker is speeding! The lake is really, really, really touristic. I get why: within a two hour walk from the car one gets stunning Alpine views and the experience of being out in the wild.
After meeting Ranger Milos and paying the park- and camping fee, I decide to leave this tourist trap. This is way beyond my comfort zone. On an old map I have seen a camping spot up the saddle, somewhere near a spring. I'm not sure if it is still allowed to bivouac here (camping is only allowed at designated areas). But, for once, I decide to act like an oblivious tourist and to not find out if it's OK. So, after an early supper I hike up from the lake to the saddle and leave it to the loud tourists. The spring I find (it's just after the crossing, there's a sign). The camping spot I do not find. Well, it's too late to change anything about that, now. I find myself a spot for bivouac and try to leave as little as trace as possible.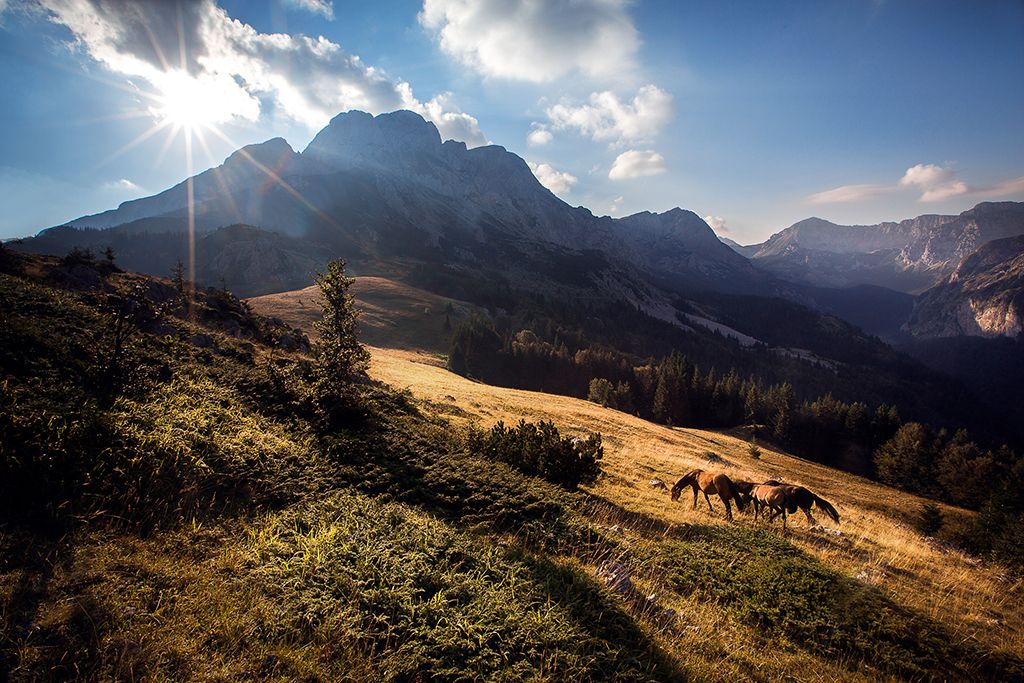 The only way is up…

The next morning I only bring what I need for hiking up Maglić, all other gear I leave at the bivouac. There's no need for carrying extra weight if I'm returning here. Maglić (and Bosnia and Herzegovina) are kind to me: I get to hike it with a clear blue sky. Yeah! This is the best way to say goodbye!

…and down…

After Maglić it's time to leave impressive Bosnia and Herzegovina and hike down into Montenegro. And down it is! Today is a warm day, there's fields full of zooming bees feasting on the flowers and there are, again, awesome views (there's also a few springs on the way down).

Mratinje

Then getting back into civilization, also means hitting an asphalt road. The upside: lots of springs along the road. At Piva I take a long break to seek shelter from the heat and to eat an early dinner (here's a camping spot and a mum and here son were swimming out here).

…and up again…

It's too early to stop hiking and I'm in for a challenge: climbing Piva canyon is going to be today's dessert. Not after more road walking (about 5 km)…

The trail out of the canyon is pretty steep and there's lots of weeds growing. This probably isn't a wise hike with a heavy backpack or in rainy weather. But I guess I like hiking this one uphill better than downhill… At two thirds of the climb it gets way better, here the trail follows something that seems to be an old unused forest road.

Up the canyon there are, to my surprise, farms (they're not on my gps maps). I find myself a spot along the trail. It seems to been a car track too. A bivouac this visible is not what I like, but I'm tired and all I want to do is lay down…

Note: Between the Mratinje and the houses up the canyon there's no water. Just up the canyon there are more secluded spots for bivouac.

More pictures on Instagram. Support my adventures and buy me a carbonated and sugary soda pop.

This blog has been written on trail and on a mobile phone.
---