Walking past her house, an old lady asks if I'd like kafu? Yes, please! She doesn't speak any foreign language, but we do manage to have a entertaining chat. We even find out that she also met fellow Dutch and Via Dinarica-hiker Eva.

After the good and strong coffee a long road walk waits. Upon this plain there's no water-sources (ask for it at one the houses) and it's exposed out here. There's also little traffic. The hike isn't bad, the views are good but it's warm and long. Luckily for me a car came driving by, it's driver stopped and offered me a ride. It was only 7 km, but that's about 1.5 hour walking. Yeah!




When I got out of the car I, clumsy me, stepped on my hip-belt buckle, crushing it between my foot and the asphalt. OK, breath in, breath out… Tourist town Žabljak is only two days hiking, I might be able to fix it over there, there's worse places to end up with a broken buckle.

In Nedajno there's a café next to road/trail; they serve good, tasty, local food and they also rent out rooms. After eating a big meal and cake for dessert it's time to hike the last few road walk km's down the canyon and to the hut.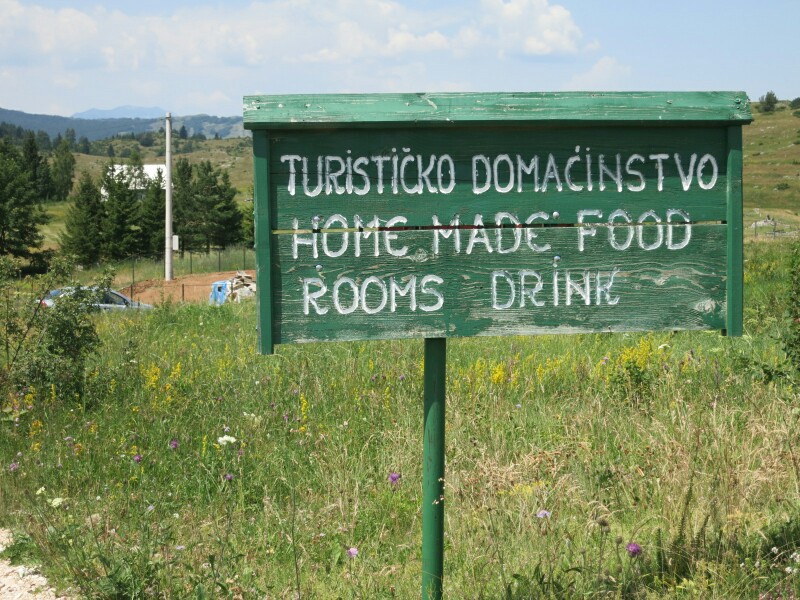 At the hut there's a watersource and spots for camping. I, however, take a long break and wait for the heat to go by. From here it's a three hour walk up to the next hut at Skrcko jezero. This hike starts on flat grounds, making the first half a fast and easy walk. The second half of the hike is uphill and offers stunning views on the Durmitor mountains.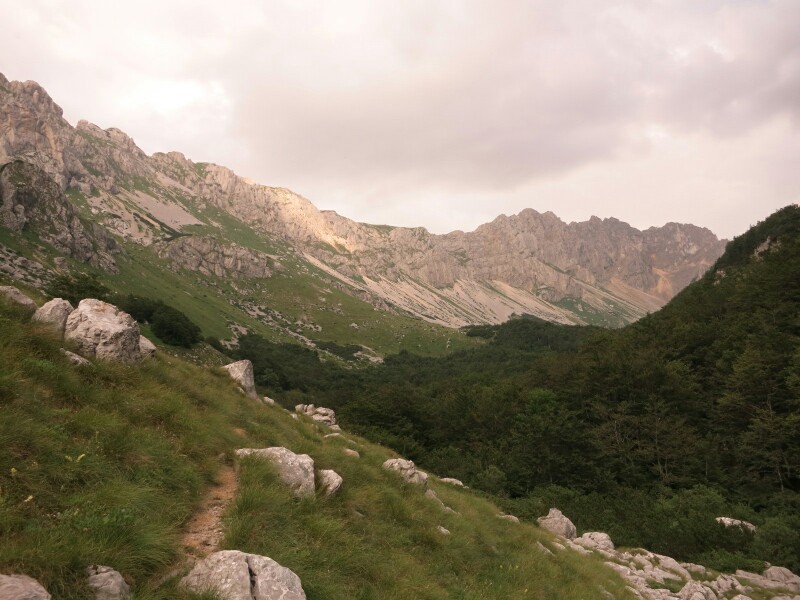 At the lake and the hut it's pretty busy, and hikers keep arriving. After paying the park fee I set up my tarp at the small lake. I even put in my earplugs, which I never do sleeping under my tarp, to block out the noise of the other visitors.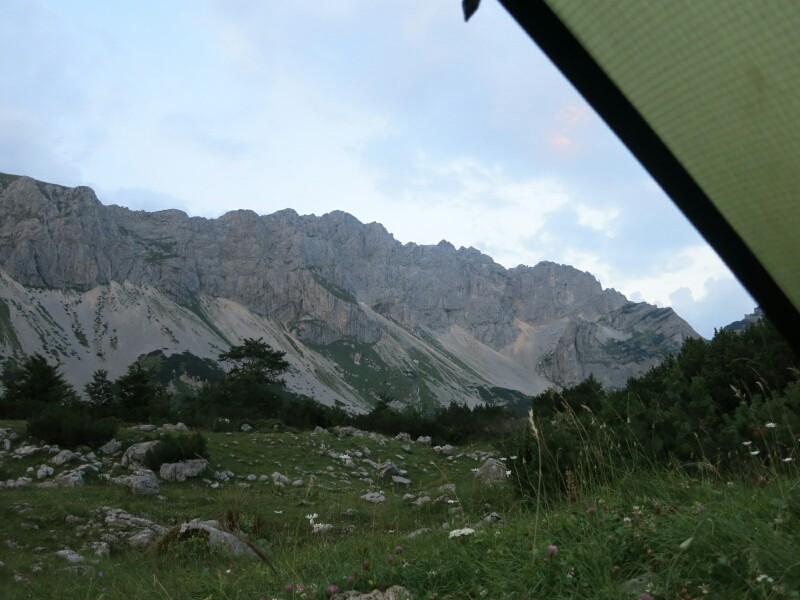 Bobotov Kuk

Today I leave the Via Dinarica; climbing the almost highest peak of Montenegro isn't included in the Via Dinarica-package. This is a small detour, you'll find it on the Durmitor maps.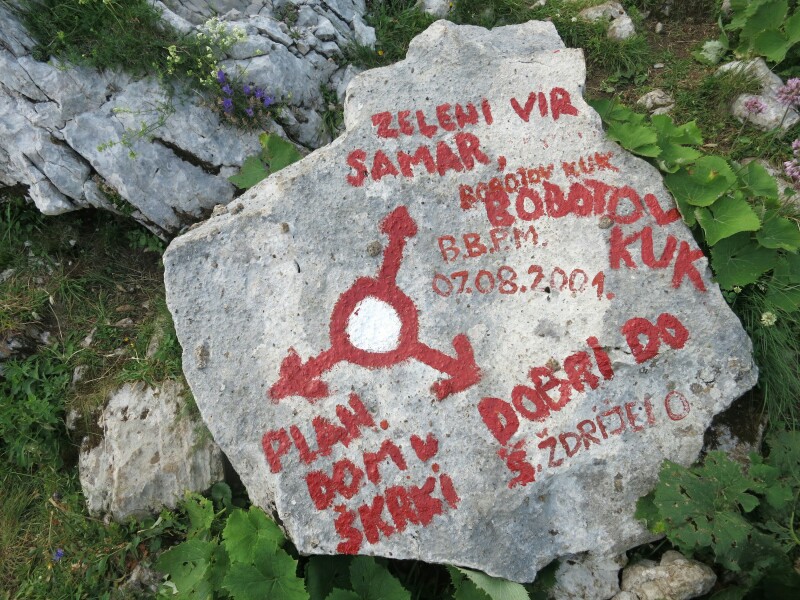 In the cool, early morning the climb out of this valley isn't too hard. Unless you, like me, loose the marked trail. Two hours later, getting to know a group of Montegran hikers and one guy from Serbia and a very wise lesson learned I'm back on track.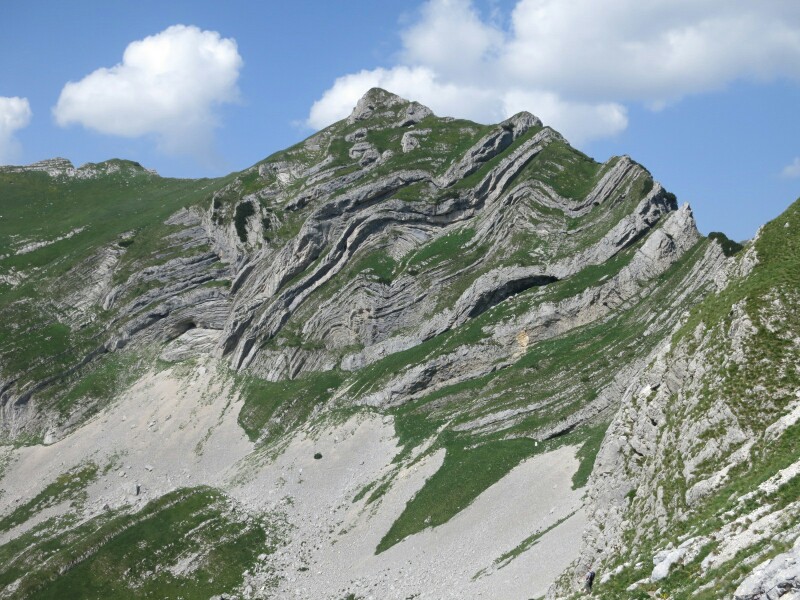 With two precious morning hours lost I speed up as much as possible. There are already clouds building up in the sky and I do not want to end up hiking downhill in rain- or thunderstorm. At the saddle, just under to climb up to the peak, I leave the gear and extra weight I don't need hiking up. Even though the trail is fine, this is outside my comfort zone. Everywhere I look I see… ehm… downhill.. steep…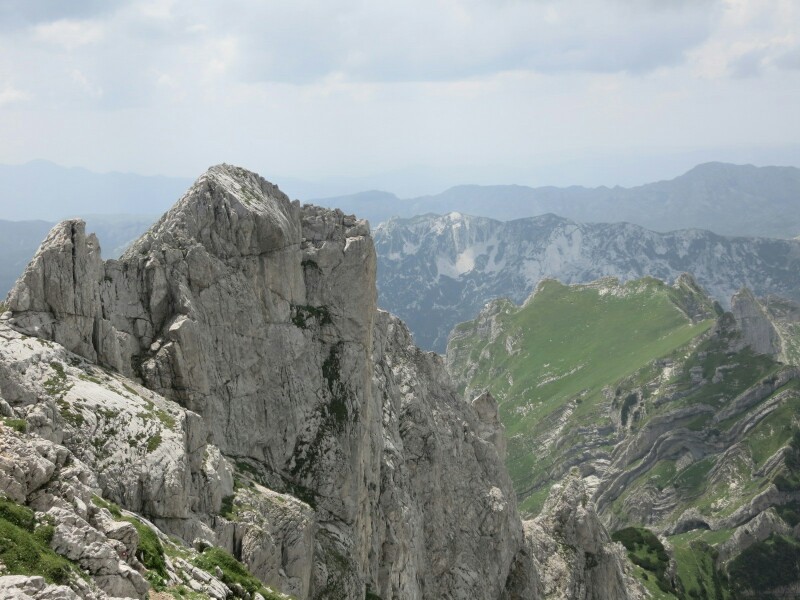 But, hey, I've come this far, I'm not turning around! So I turn off my comfort zone for the climb up Bobotov Kuk. At the top the spectacular views are a reward, but after taking a few pictures I head down again. First of all to get it over with and second because the clouds are turning dark and a storm is building.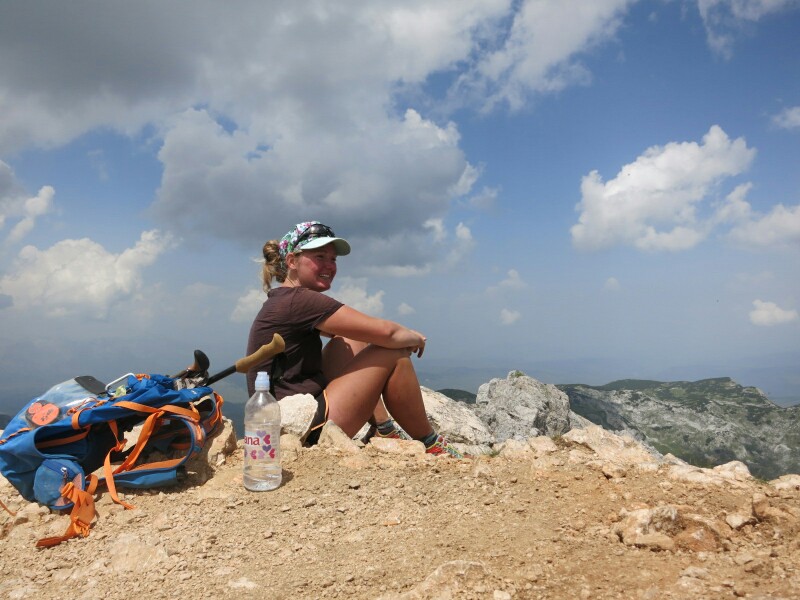 Back at the saddle I collect my gear and than the downhill walk starts. A little down the saddle there's supposed to be a spring. A sign has been painted on two big rocks, but I have a hard time finding it. After standing still and listening I hear water running. The spring is no more than a small trickle. Someone left a piece of plastic which speeds filling up my bottle, thank you!

The hike down starts with gravel, than fields of rocks and an occasional snow field. This I wouldn't want to hike with a heavy backpack. Again I speed up as much as possible; now I hear thunder in the air. Down at the Katun beer and soda pop are sold, but these I skip because of weather. It's party time!

Thunder and lightning, just far enough to not get uncomfortable. The party is completed with a long, big hail- and rainstorm. Now the trail turns into a muddy river. The next hour or so I just hike. Slow and steady so I don't slip. Finally the rain stops and I arrive at the parking lot just outside of Žabljak. I hike a fast 2.5 km into town and check in at the first hotel I run into. Now I deserve a real shower!

Žabljak

Žabljak is the place for hikers and tourists who head out into Durmitor NP. It's busy! I had a hard time finding a place to sleep the second night I stayed here. The hotel I checked in at the first night had only a room available for one night and I was to tired and cold to head out and find something else. The hostel only had rooms available for two or more nights…There's a very small ski shop which sells some backpacks and clothing. I could not find a gas canister (they only ones for sale are buta gaz). I guess my food situation is getting interesting in a few days…

I bought a cheap backpack at a butik and cut off the buckle to replace the broken one. In the grocery store it's crazy busy but it sells a good variety of hiker foods. And… there's an Internet café! The local kids are hanging out and playing games here and because of a thunderstorm electricity went out a few times. But it made me happy and I managed to do a lot of work on my blog.

More pictures on Instagram. Support my adventures and buy me a strong cup of coffee.

This blog has been written on trail and on a mobile phone.
---