This stage starts with morning mists leading through katuns and along grazing livestock. Up until Šiško jezero there are a lot of springs along the trail. I hiked it carrying only 0.5 liters of water. The trail leads 270 degrees around the lake but there's a 90 degree shortcut available.
The road after the lake is an unpaved and exposed road. This is also where some tourists in jeeps (on safari) drive by. In the meantime the blazing hot Balkan sun came out and because I got thirsty and wanted to take a break in the shade I stayed on the road just after the crossing at Jusin Brijeg. Along this road there are a few springs and there is views on Biogradska Jezero and I guess the hike is a little shorter and faster than the hike via the trail.
Katun Vranjak
Because I need to slow down my hike, waiting for my border crossing permit, and because of my hiker hunger, I decide to stay at
katun Vranjak
. They rent small and slightly bigger cabins, there's a shower (solar warmth) and they serve homemade (and loaded with calories) food and drinks.
Close to the katun there's also a mountain hut. Walking by the outside of the hut seemed also a good place to stay with a veranda, tables and benches and a spring. Since Vranjak is accessible by car and Biogradska Gora is a famous National Park there are quite some tourists out here.
Trešnjevik
After Vranjak the trail mostly follows unpaved roads. The views are nice and, again, there are a lot of springs! At Treŝnjevik there are two café's serving drinks and food. I tried hitching to the town of Andrijevica for a bit (no
autobus
up here), but there's little traffic out here and the few cars driving by were tourists (and they don't take hitchers).
As was trying to call a taxi, two Dutch friends came driving by and the recognized my backpack laying at the crossing, they gave me a ride into town.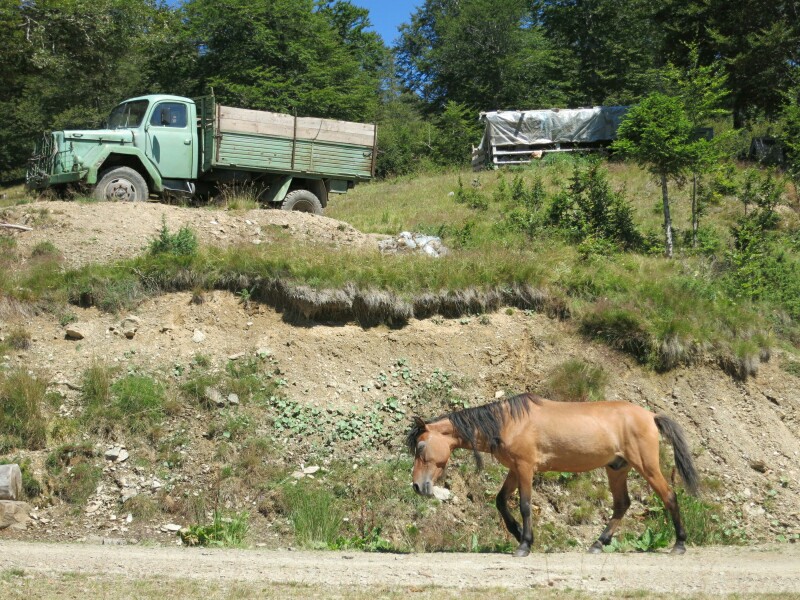 Andrijevica
In Adrijevica I spent a day waiting for my permit. There' s not much going on there, just as I like trail towns to be. There's
the decent hotel Komovi
, a few small grocery stores and some café's. The hotel has a guest PC on which I'm doing work in my blog, making a backup of my data… and planning plan B. if I don't get the border crossing permit in time (I don't want to wait for much longer).
At Biogradska Gora NP there's *****cell phone reception.
More pictures on Instagram. Support my adventures and buy me a carbonated and sugary soda pop.

This blog has been written on trail and on a mobile phone.
---