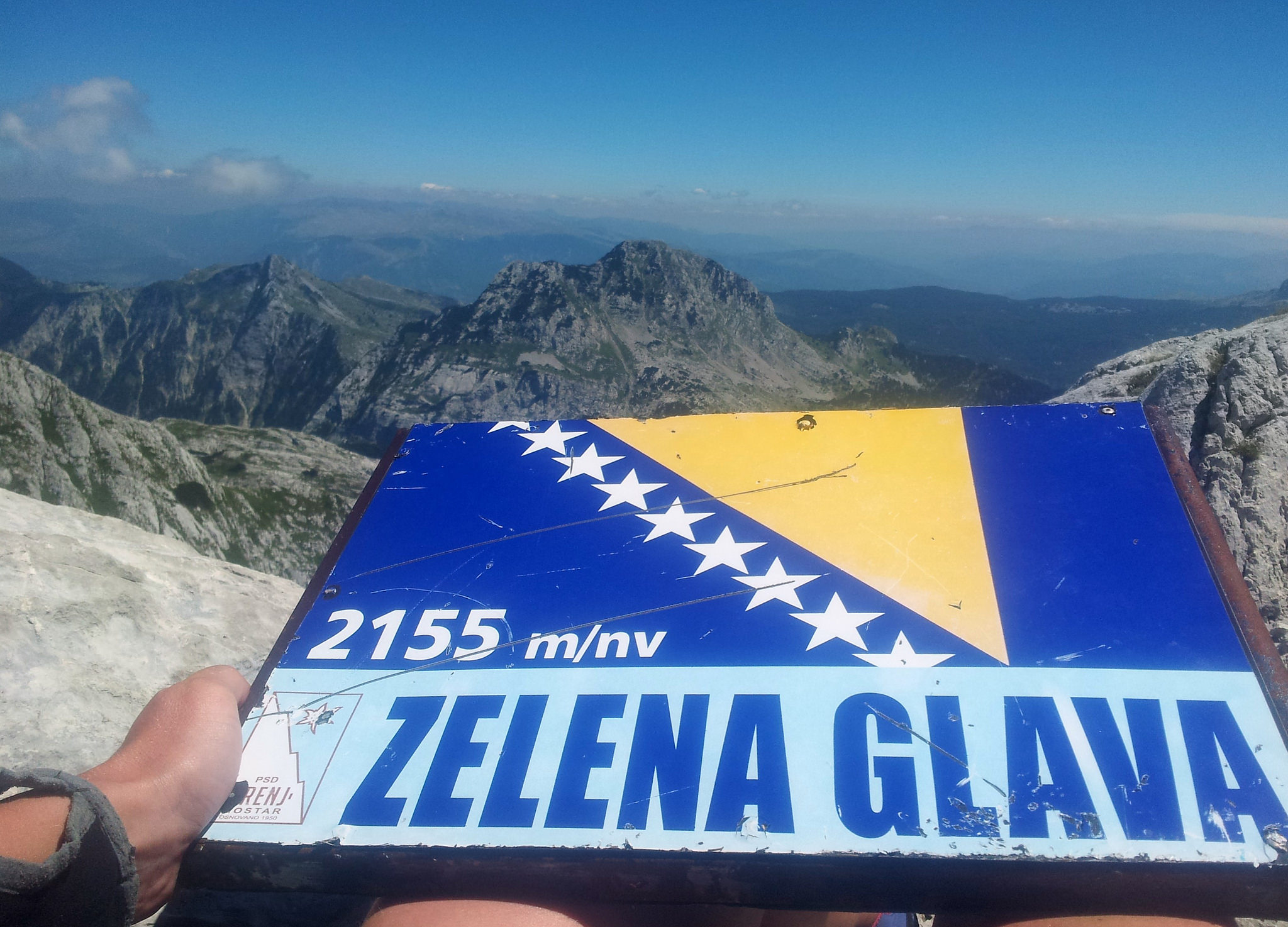 Although nature does not know borders, borders are often formed by nature. Mountains, rivers and seas are natural borders between different regions, countries or continents. Within these borders, people seem to develop their own characteristic way of living full of local traditions and old customs.
Along the Via Dinarica I crossed many borders. Some were natural, some were cultural and some were just lines on a map. Lines that create countries.
It did surprise me that hiking through Bosnia and Herzegovina (BiH) felt so different from Montenegro. Different landscape, different mountain-rhythm, different weather and yes, different lives and lifestyles. I even got the impression that the way people express themselves differs from country to country.
The sweetes picknick table on the trail, with on one side Maglić and on the other Sutjeska NP. Fantastic!
In Bosnia and Herzegovina it goes up and down. Everything goes up and down. Day in day out. It's diverse and intense. Each mountain range has its own micro-climate with its own unpredictable features. Big contrasts. They are unpolished, rough, wild and pure. On Čvrsnica I had flashbacks to the Pyrenees, the forest at the foot of Treskavica reminded me of Berdorf while Prenj has more of an Alpine vibe. Vran is a character on its own. Dry, exposed and misleadingly steep. And Bjelašnica is cute and dangerous at the same time…
Hiking the Via Dinarica in BiH felt like a ride in a roller coaster. A big storm of impressions and emotions, but when the ride is over, you want to stay for the next round…
I had enough for today, not knowing that this was just the beginning….

Here I still like the Rakitnica Canyon…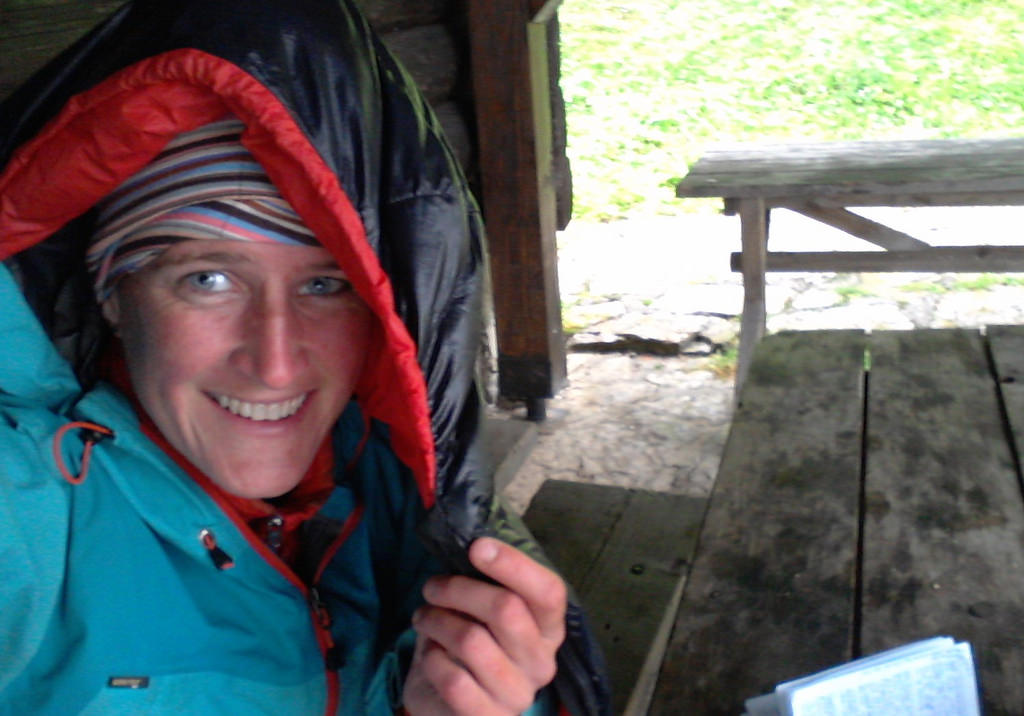 Waiting out the bad weather at Donje Bare… Pompiedom…

Misty peak on Zelengora… It's really a peak. Really!
To this day the Balkans and especially Bosnia Herzegovina is unknown territory for many people. It remains a blind spot within Europe and the outdoor community. It is still associated with war and poverty instead of the beautiful, wild and untamed nature and mountains. From the Montenegran border to Croatian border the trail goes along BiH's magnificent massifs and National Parks. Perućica, Sutjeska, Zelengora, Treskavica, Visočica, Bjelašnica, Rakitnica, Prenj, Čvrsnica, Blidinje, Vran and Svinjar.

I cannot deny the scars of the past are still well visible in some areas. You will surely see houses in ruins, abandoned villages and warning signs for landmines, but the BiH nowadays is anything but a bleak and unsafe place to be. I have experienced exactly the opposite.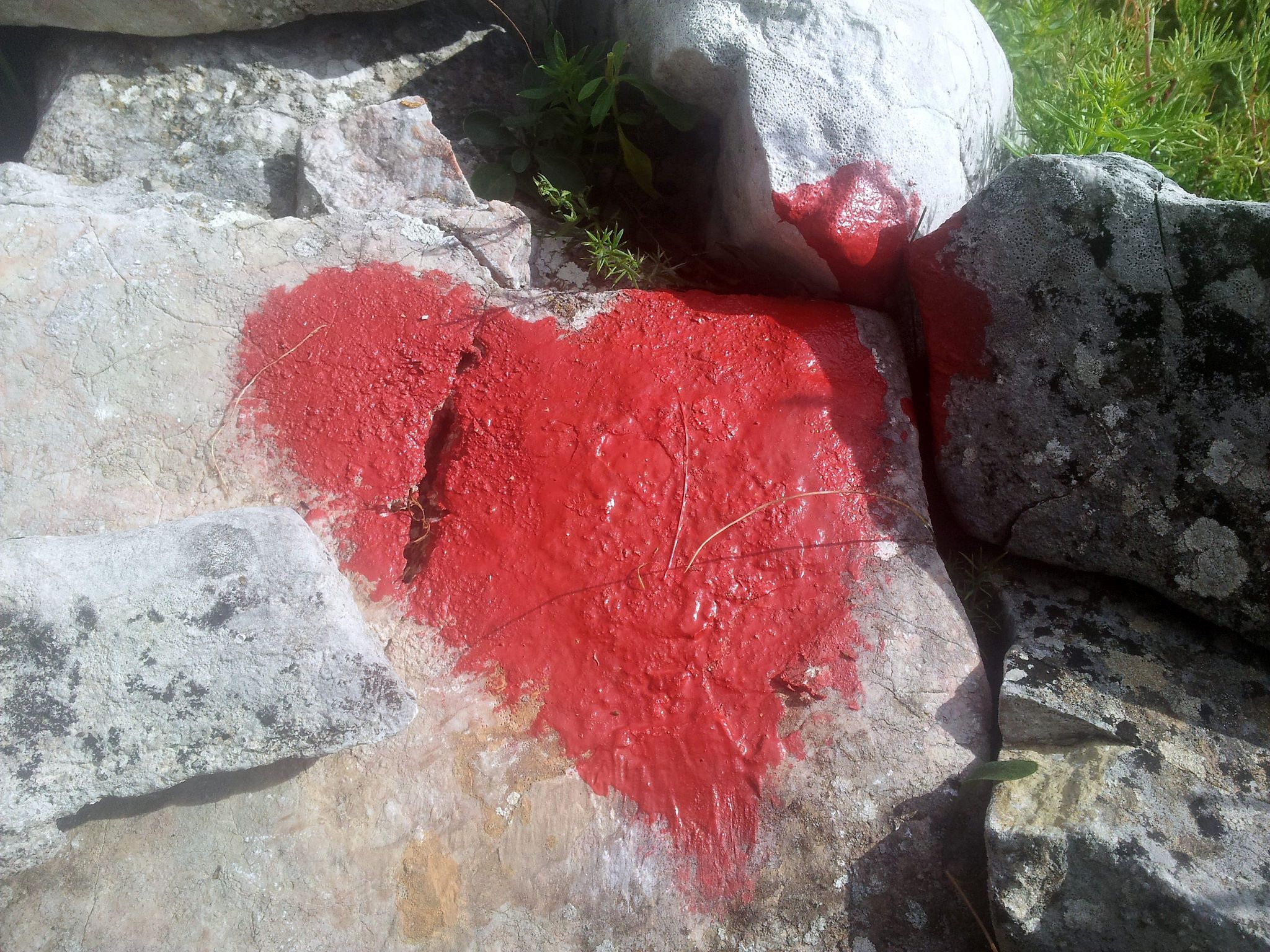 Love on the trail ?





The sweetest and oldes lady on the Via Dinarica!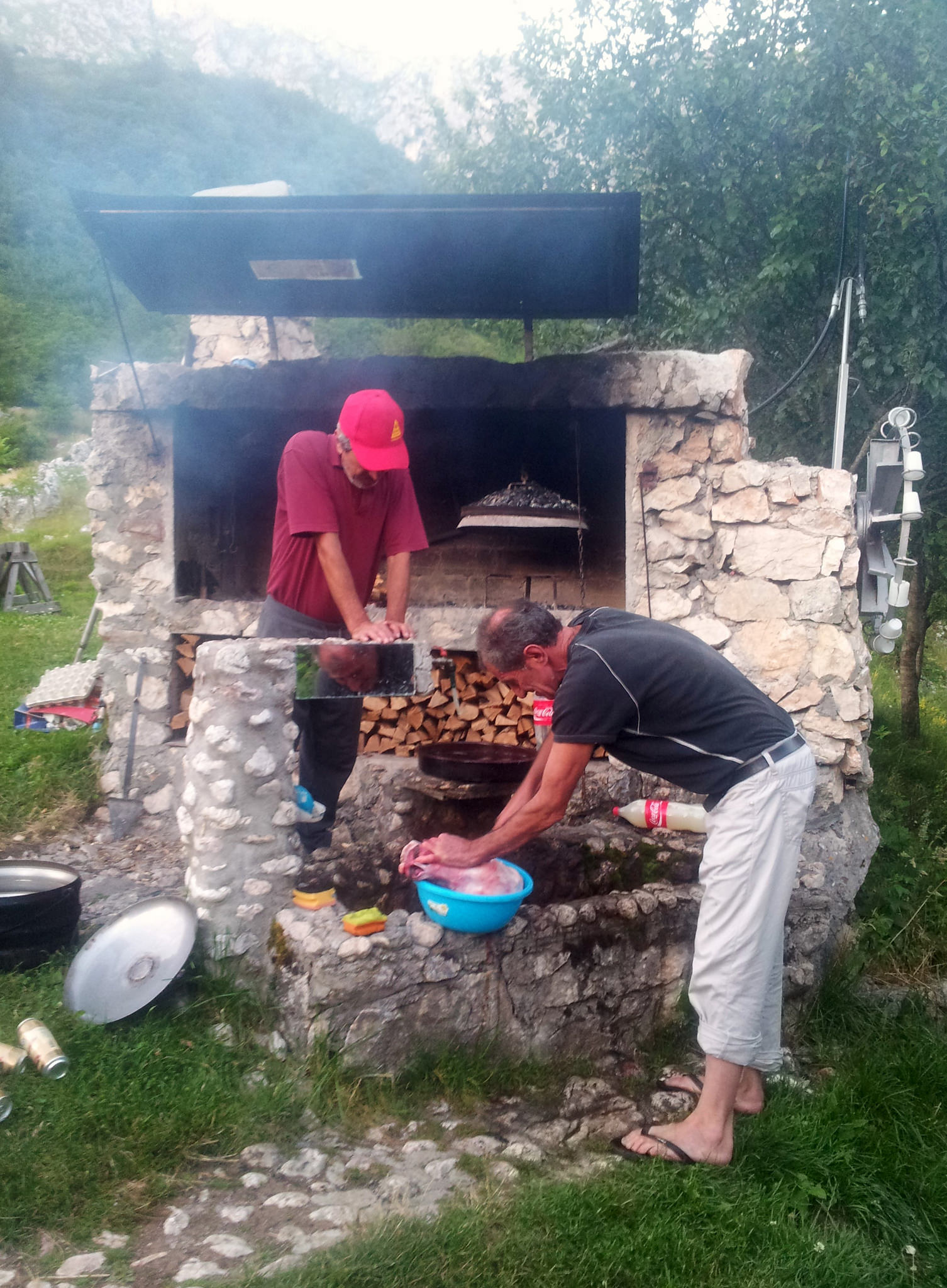 Preparing a traditional Bosnian dish… That's why they're cleaning a cowshead…
Zelengora Once I crossed the border, the landscape changed. A beautiful well marked trail through the Perućica primeval forest and Sutjeska National Park was on the agenda for the next two days. Zelengora on the other hand was a bit of a search. Stunning nature, but poor marked. Besides mountains, there are loads of lakes along the Via Dinarica. At Orlovačko jezero (lake) I bumped into a group of 8 men who were about to have a feast meal. Of course I would like to join, which hiker says no to food?
Treskavica Kalinovik was the next town. What can I say, it's a place that breaths the history of the last war.. Like I said before, in Bosnia and Herzegovina it goes up and down. Everything. In nature I saw and felt harmony, because of those contrasts. Because of the ups&downs. One day you hike up all day long, the next you cross the mountain range and the day after that you descend to the next town. The mountains are untamed, you never know what to expect, but every single step and all climbing and searching is definitely worth to enjoy. About searching for the route, the difficulty is the lack of consistency. Most parts are full of signposts, marks and hiking paths. Ok, not like the Alps, but that's the beauty of this trail, it's wild, not a hiking highway. In BiH there absolutely is a trail, but on many places it could be improved. What I found confusing is that the GPS track not exactly matches the path that is marked. In that case, I choose the path, but another confusing thing is that it quite often happens that the marks suddenly stop. Right in front a dwarfpine forest for example. At that point you have to find your own way around or bushwhack yourself through.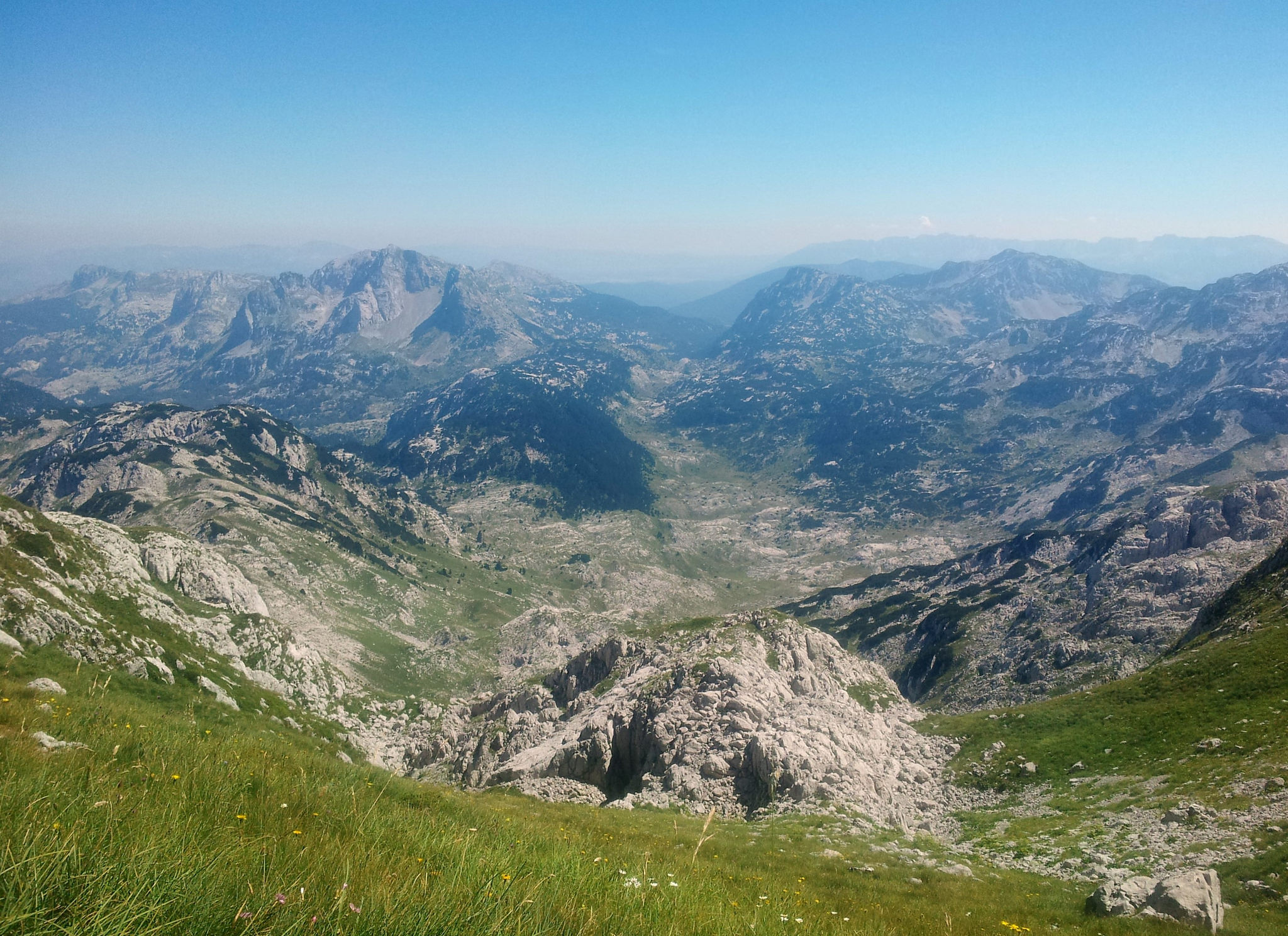 Prenj
Most of the times it turns out fine and it is fun to navigate through the landscape instead of following a line on your GPS all day long. And sometimes you'll get stuck. Or maybe you don't, but I did. At the end of the Rakitnica canyon, I took a short cut. There was no path, no sign of the marks and I did not know if the trail on my GPS was the right way or not (previous experiences learned me not automatically trust the track)… I choose wrong. Thorny bushes tried to eat me, the weather changed and I was out of water. My friends, who were waiting for me at Boračko Jezero had no idea how to get closer to me and called the mountain rescue service (GSS). ˝Sit and wait. Don't move.˝ No discussion, so I did. For 5 hours. I still had a good signal with my phone and I knew exactly where I was. Other than a few scratches I felt fine, but I was afraid to make the situation worse if I would move. By the time it was getting dark I started to feel uncomfortable, what if they don't find me? And I wish I didn't listen. But they found me. ˝Where are your boots?˝ was the first thing my GSS hero said. ˝Where is the water?˝ I replied. ˝I don't have..˝ was the answer to both questions… I survived, it got me a great story and I learned a bit more about myself and how things are handled in the BiH. Polako, Polako…
Čvrsnica I promised myself that I wouldn't hurry, that it wasn't a race. I did not HAVE to, but I COULD do anything. So I fully embraced the Balkans and all the beautifully, weird situations. I took my time and I said yes. Yes to the invitation of the eight crazy men to join them at their feast meal, yes to the persistent man who wanted to carry my bag, yes to the company of strangers who crossed my path and I said yes to the solitude that every now and then blurred all other emotions. By saying yes, embracing and letting go, I learned that time is the most precious thing for me. Time to look around, to breath, feel and experience. To think and to write. To connect. Time to walk it my way. Time to meet Bosnia and Herzegovina
Ridge hiking along the Rakitnica Canyon This is what I hiked, so it includes all the wrong turns I took AND the parts where I lost the trail… But I thought it might be useful in order to see where future Via Dinarica hikers might pay a bit more attention ;).
Visit my page for more stories, photos, news :)
---