Via Dinarica climbs over Dinara, highest peak of Croatia, and then descends to the valley of Cetina and later joins with pilgrim route of Our Lady of Sinj till Bosnia and Herecegovina (I heard there will be some changes to route and will lead via mountains next year). Since we first saw this on the map we started to flirt with the idea of alternative hike via mountains. We really like hiking up in the hills and staying at high elevation if possible. And there are really beautiful mountains on the borders. So we started researching options and found trail, also called Put Oluje (relates to military operation from 1995 - Operation Storm). I don't like idea of war related naming, so we prefer to call this just Troglav and Kamešnica hike. There is not much information about this, but it appears on OSM maps and there is an organized hike every year by a mountaineering club Dinaridi. Thanks to them there are beautiful huts on the trail, open for anyone, most of them with water cisterns (very important!). Still, I was bit concerned about this hike. It is crossing state borders, there are still suspected mine areas and it is quite remote so not many people go there. For me, it was definitely an adventure.
In Knin we resupplied for 7 days as there is no option to get any food.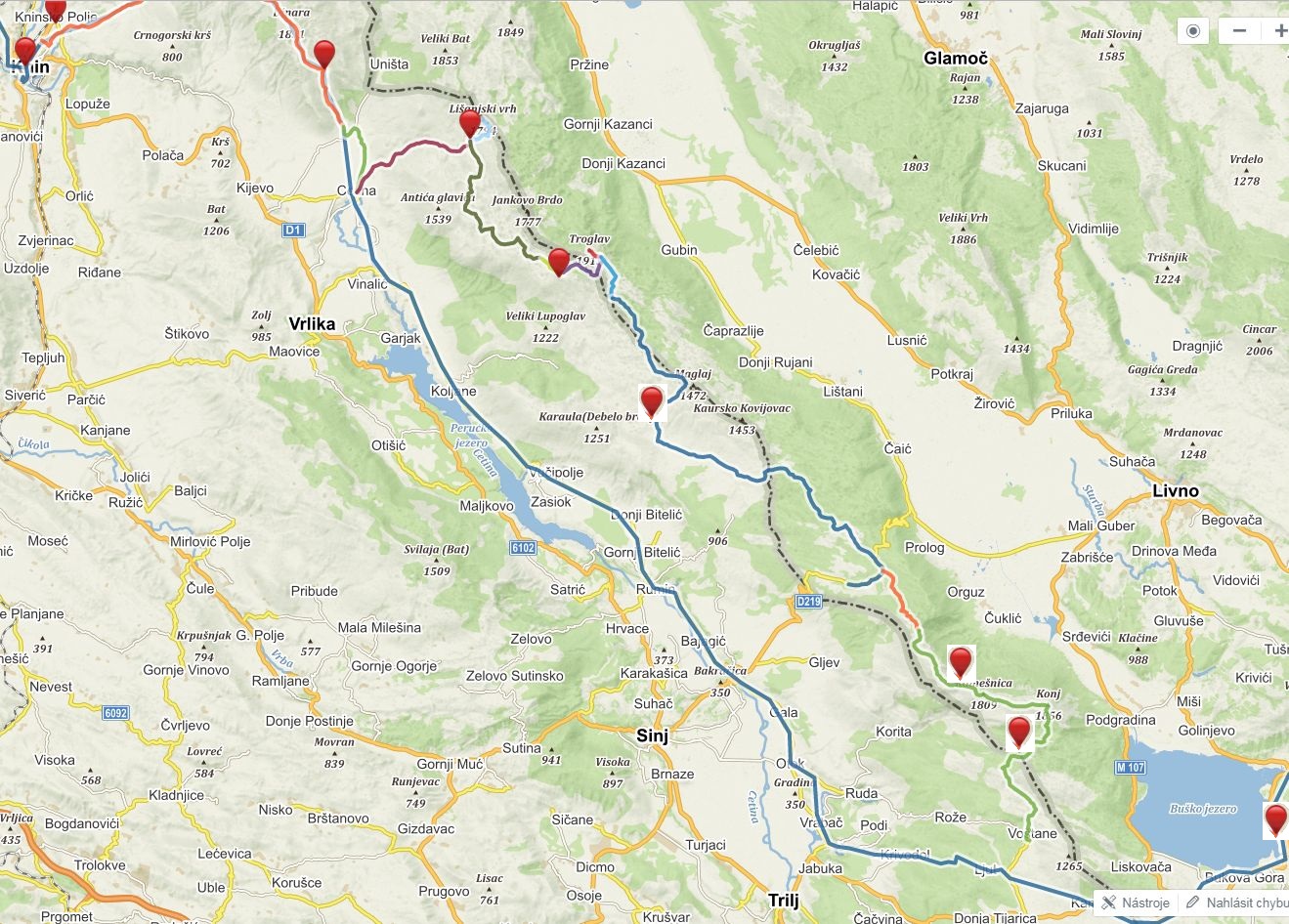 Blue line - official Via Dinarica going via valley Colorful line, red points - alternative we hiked via mountains
Dinara
We climbed from Knin to Brezovac much faster than expected so after lunch break at the hut we decided to continue to Dinara and sleep at Martinova košara. The hut was not very appealing to me, but it had great water source so we decided to pitch a tent outside. Just after we started cooking dinner, lovely dog (husky) came to visit us. He and his master invited us to their kuča and vrt (house and garden). He has lovely house not far from the trail and comes to Martinova košara for water as it is much better than water at his place. Young guy, in his early 20s, repaired old family property and now uses as weekend house. It was very welcome alternative for sleeping in a tent and we tasted from his dinner - delicious.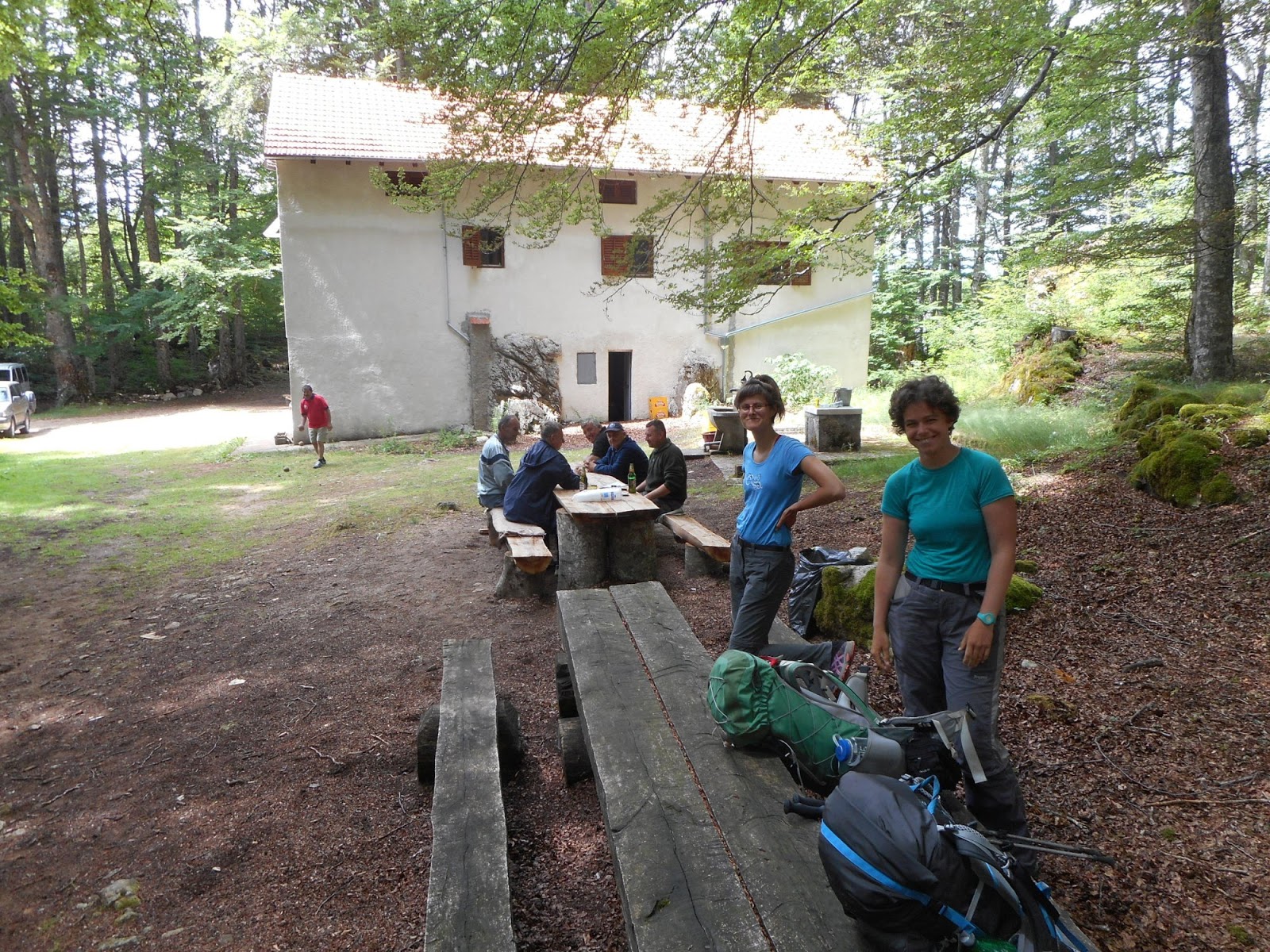 Brezovac was full. We got there beer, radler, mineral water and invitation for dinner.
Yummy strawberries everywhere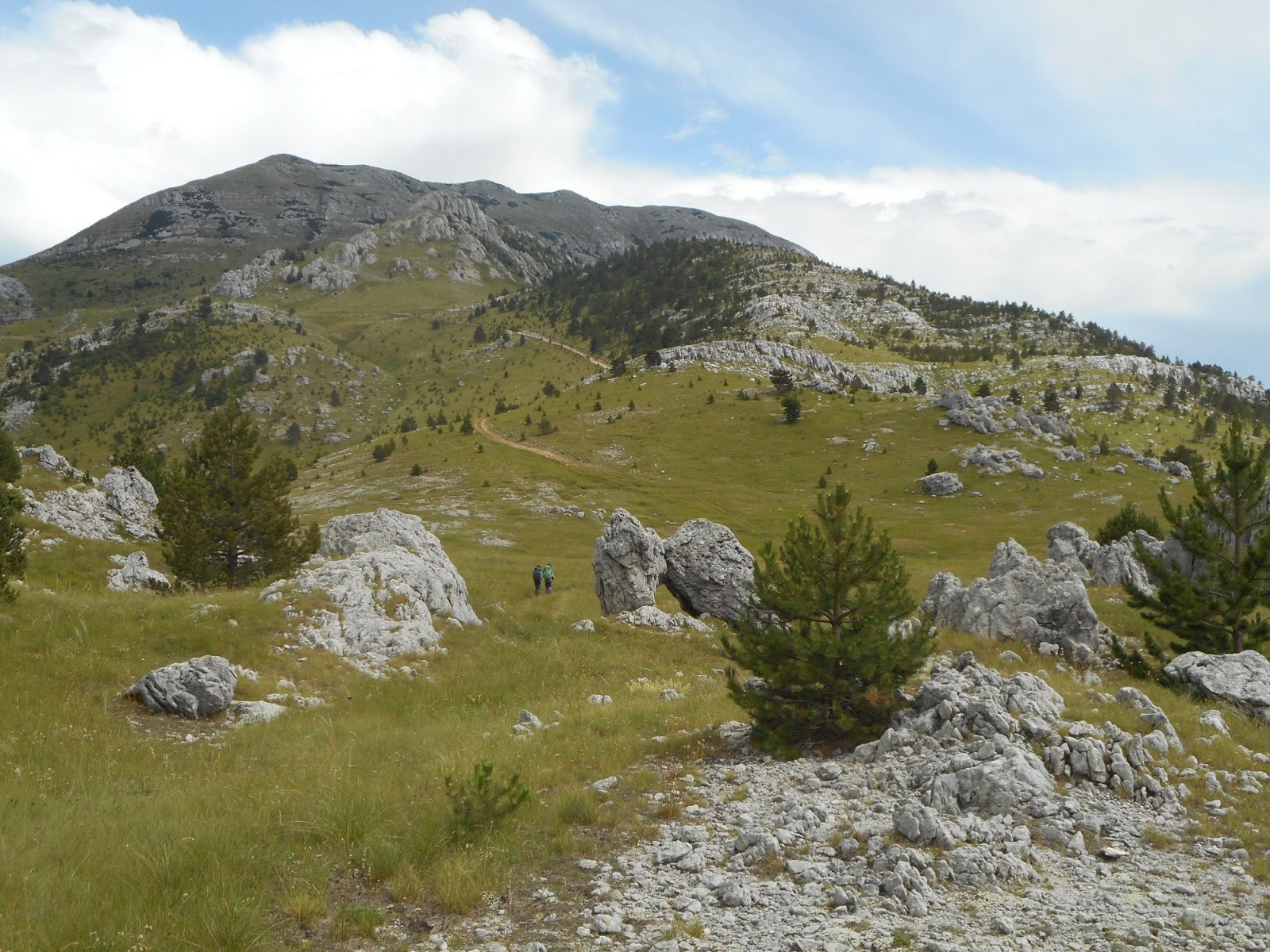 Climb to Dinara
At the top of Dinara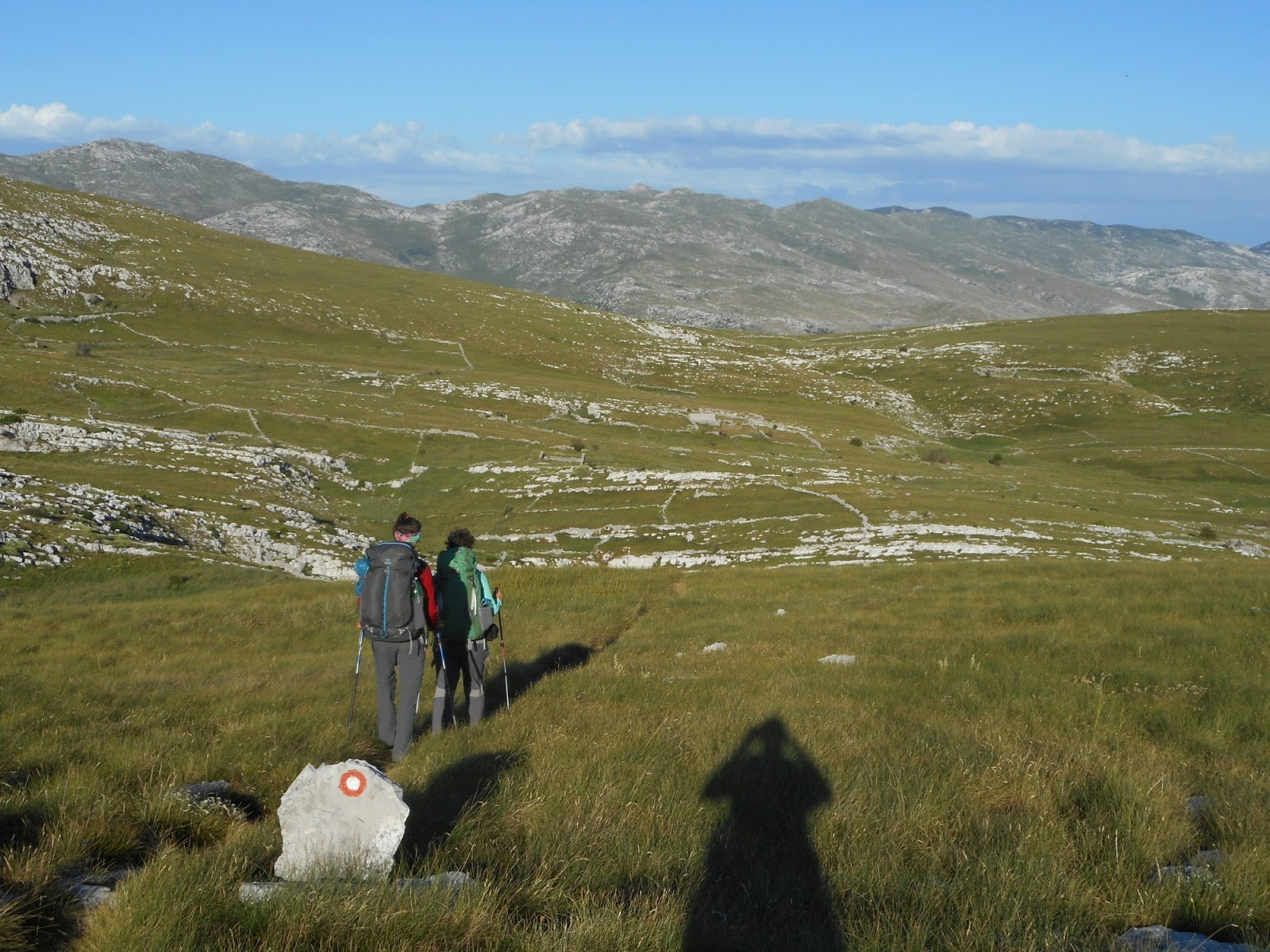 Almost at Martinova košara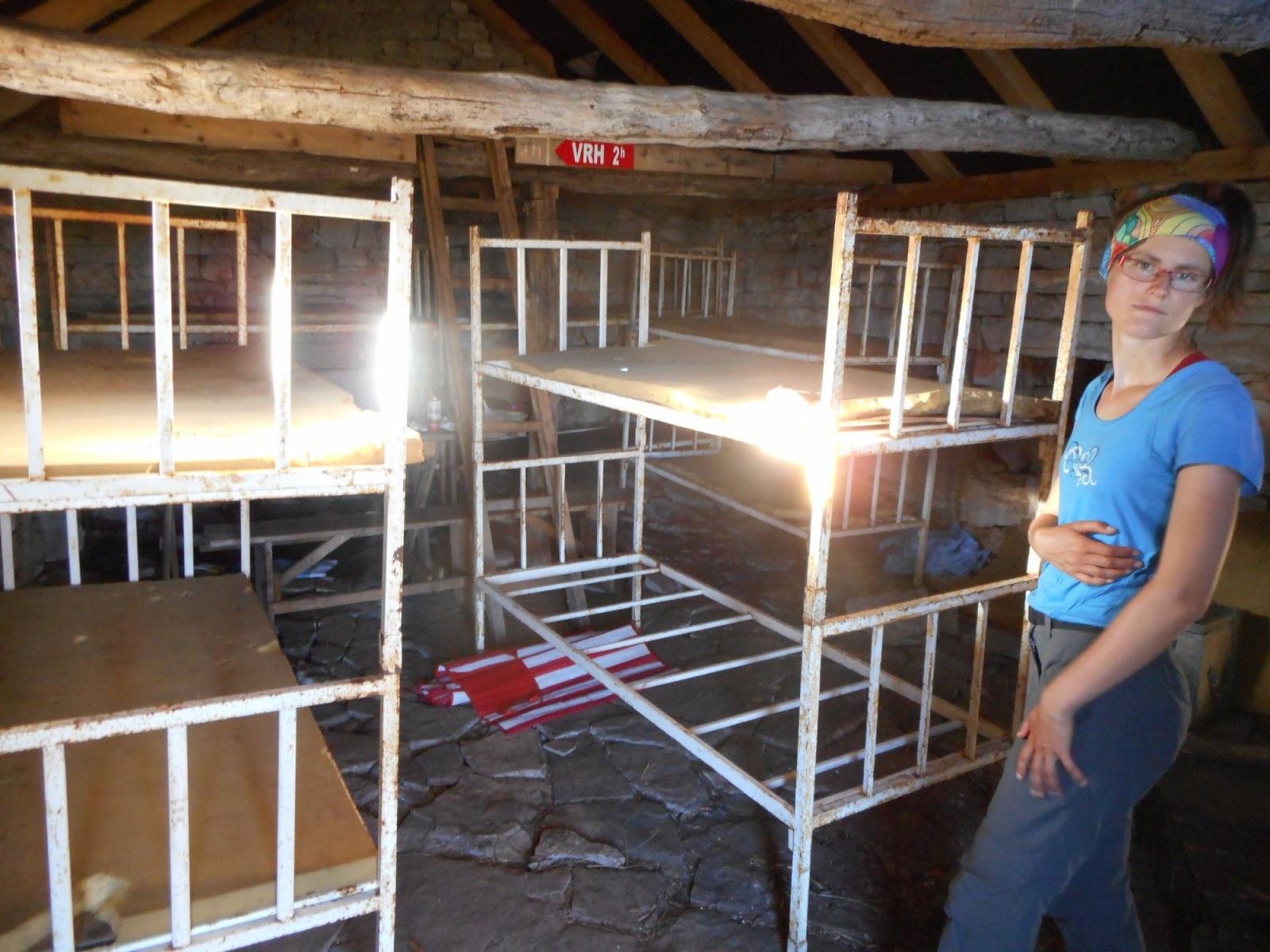 Nor me neither Katka like the interior of the hut
Luks, lovely puppy which tried to help us with cooking/eating dinner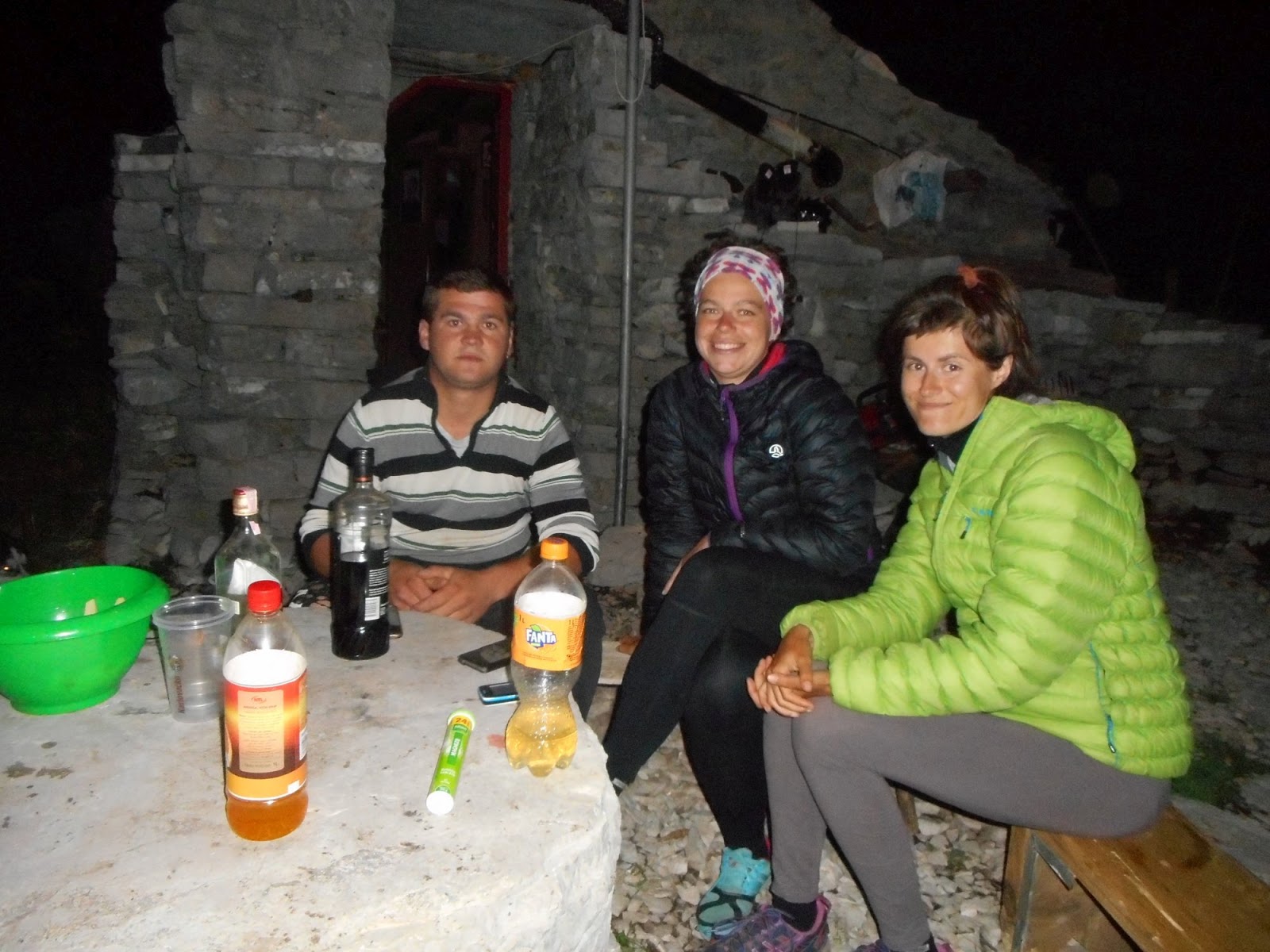 Evening at Nikola's place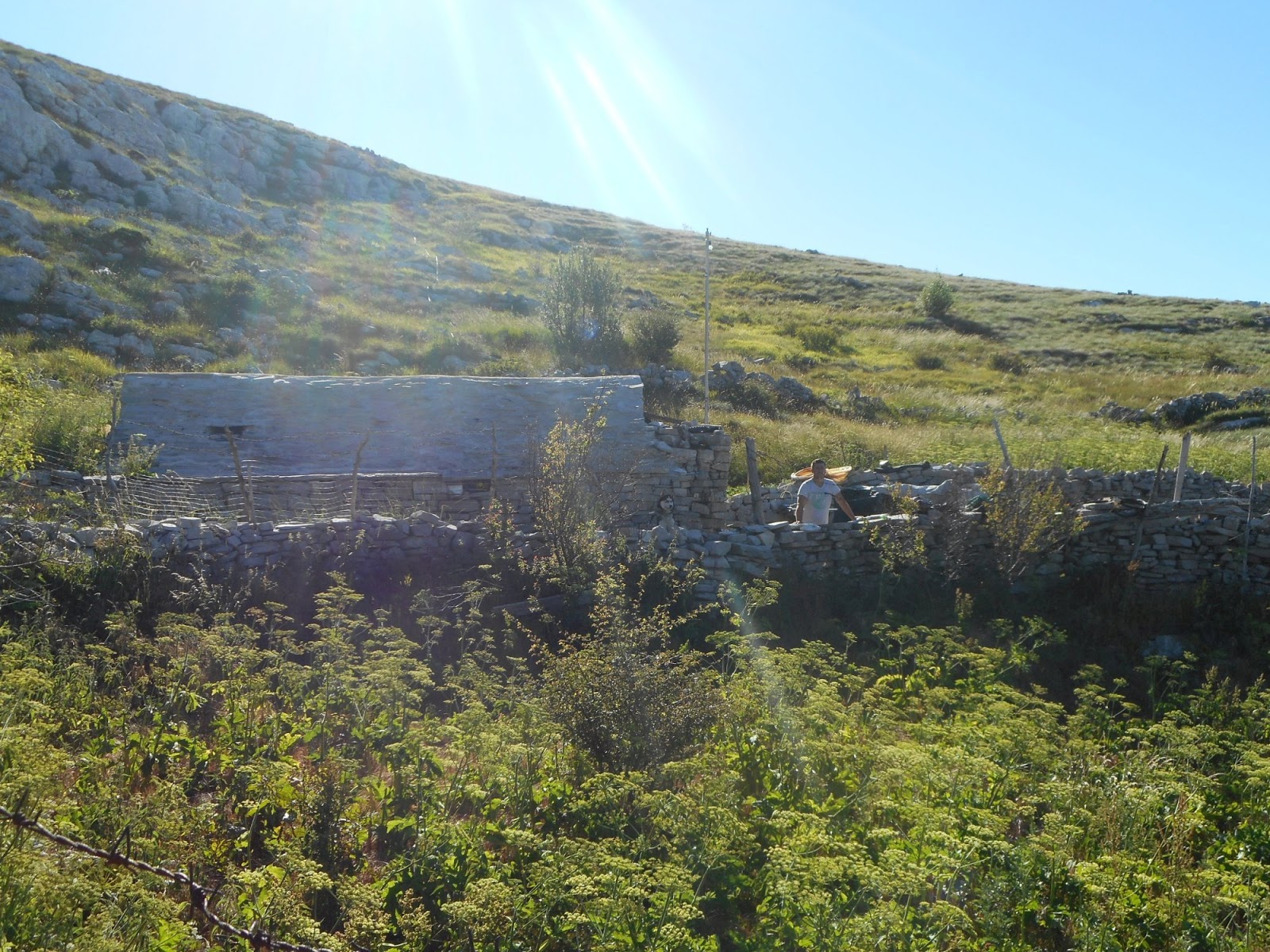 Thank you very much for your hospitality
Source of Cetina
Descend down to Glavaš and Cetina was easy, although we struggled a bit on the section Glavaš Cetina. Easy terrain, but no visible trail nor markings and very very hot. We looked forward to Cetina source and it didn't disappoint us. Magical place, where water springs from underground in form of 100 vertical shaft or maybe more? There are still places waiting to be explored and this fascinates me here in Balkan. We gave up the idea of swimming in this place, the water was freezing cold. Besides, I would be scared to death to swim in such deep place, which is actually a cave. As all the trees have been cut here (to have better view of this natural gem), we walked a little bit along the river to find cool place for relax. It was busy with local people enjoying lovely weather and cooling drinks in the water. After I practiced my Croatian with two men, they were impressed with our hike (Slovak people do not go often here, Czech people much more), we received a tasty piece of freshly grilled pršut from them.

We planned to hike to hut Rupe in the late afternoon, developing storm has forced us pack earlier. Climb is quite ok, but as the storm gets closer, we rather hide at the door of one of the ruined housed. Hiking amongst lightning is not my favourite. Rupe hut was a lovely place to sleep in, with some rain water and beautiful view, especially when sun came out after the storm.
Glavaš, old fortress on descend from Dinara
Kilogram of bacon, just enough for 3 people for 7 days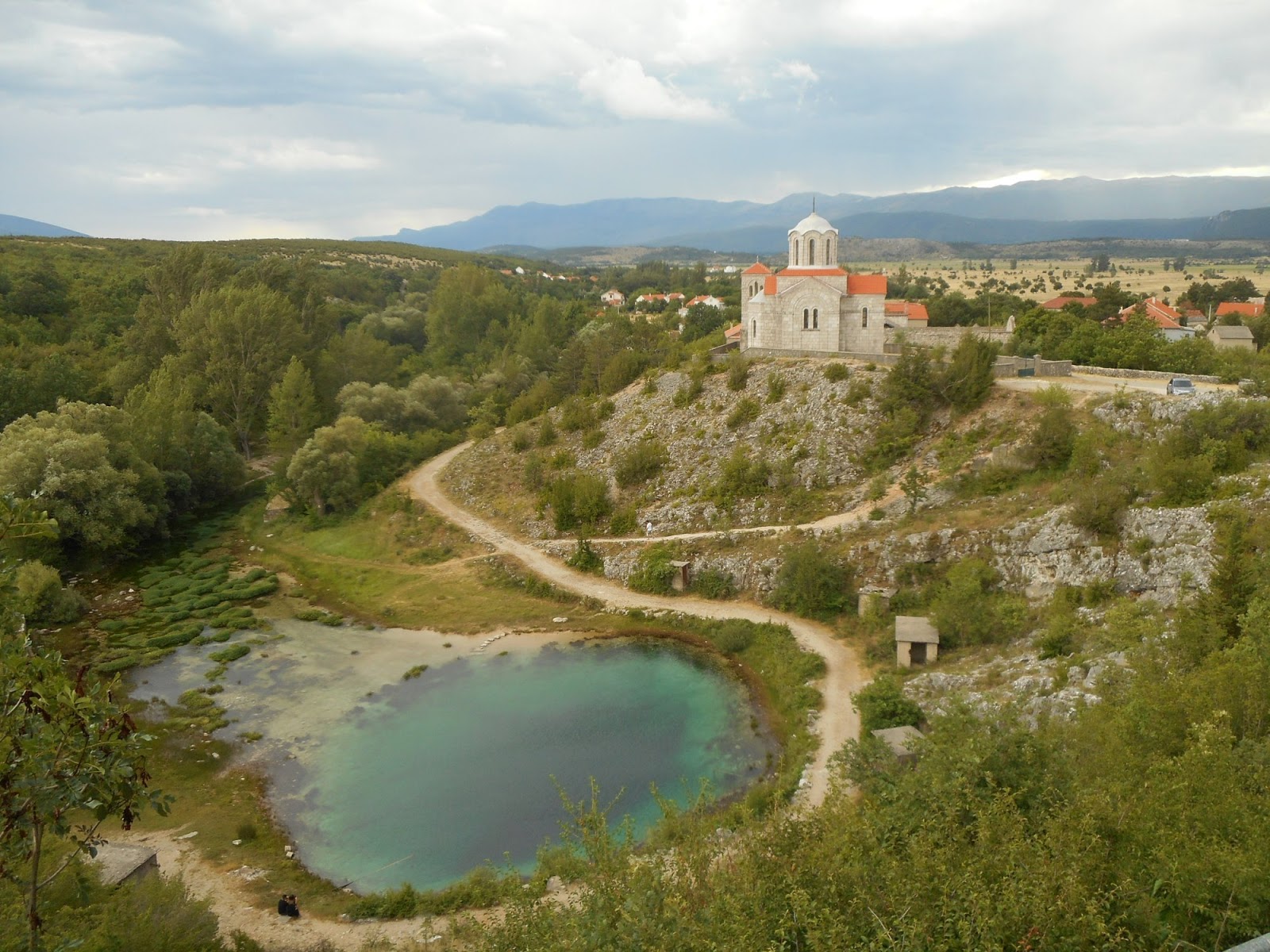 Magic Cetina source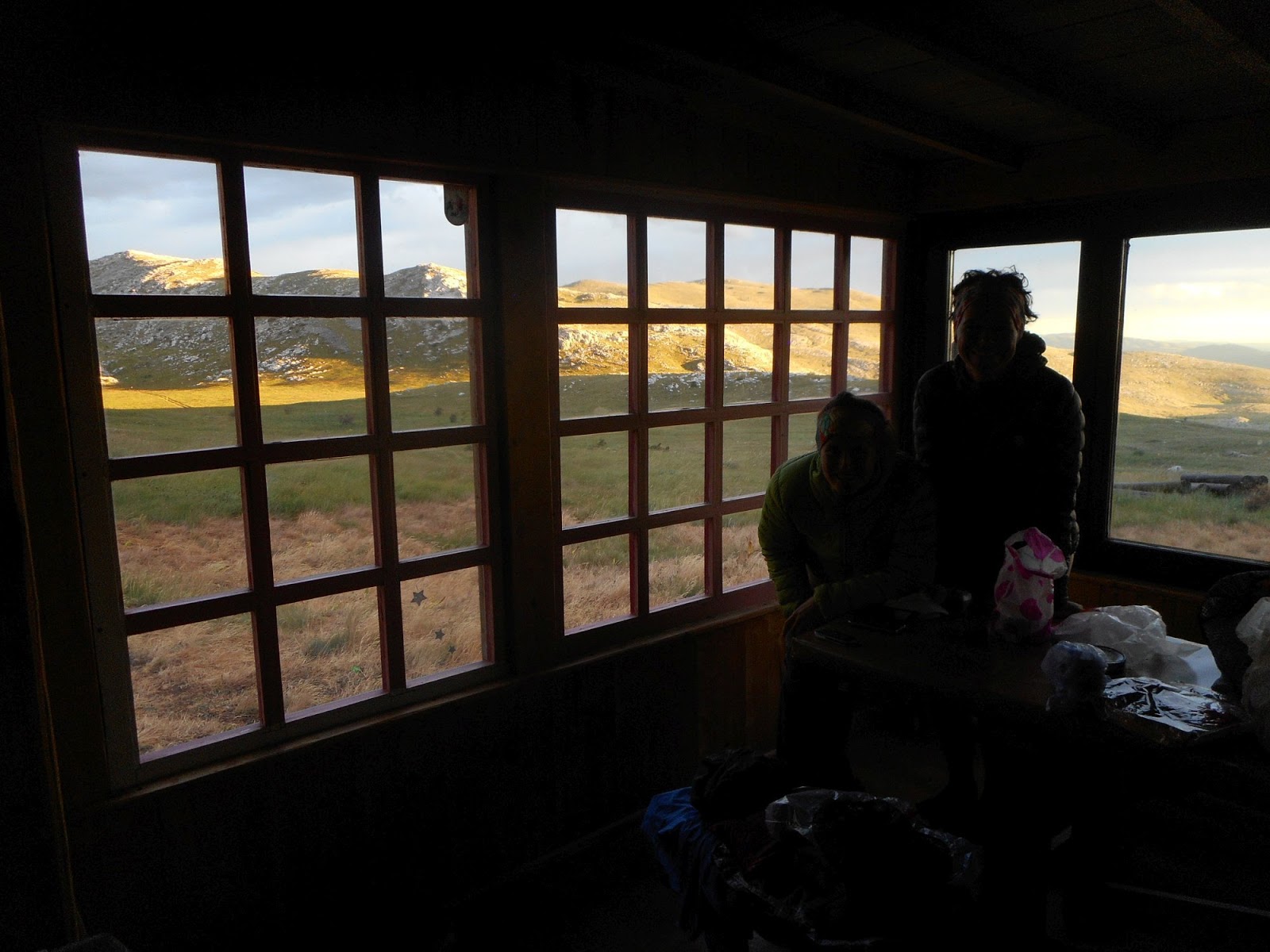 Rupe, lovely hut, enjoying the view after storm
Pume
First time on this trip when we have to put on wet clothes plus strong wind, time for jackets. Due to strong wind we decide to hike more or less directly to another hut, Pume. We will leave Troglav for tomorrow, Kubo is very sad about skipping ridge walk from Jankovo Brdo to Troglav, so we at least hike Velika Duvjakuša instead of road. Pume hut is hut De Luxe. Water, gas, electricity, nice sitting with views - even of the sea. We decide to stay here although it is still early, but in such wind there is no point to continue. And it would be sin to skip this lovely hut.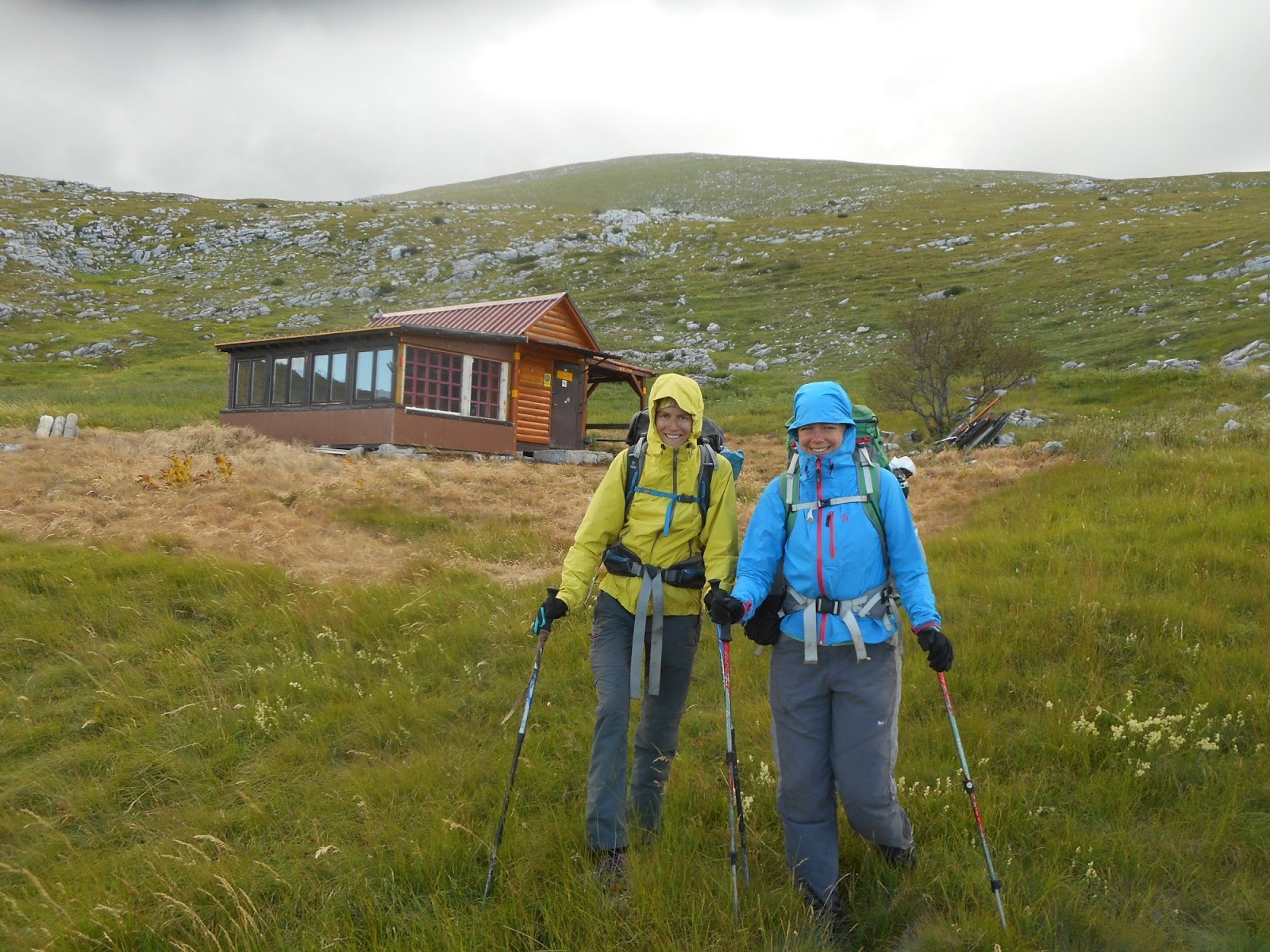 Leaving Rupe in strong wind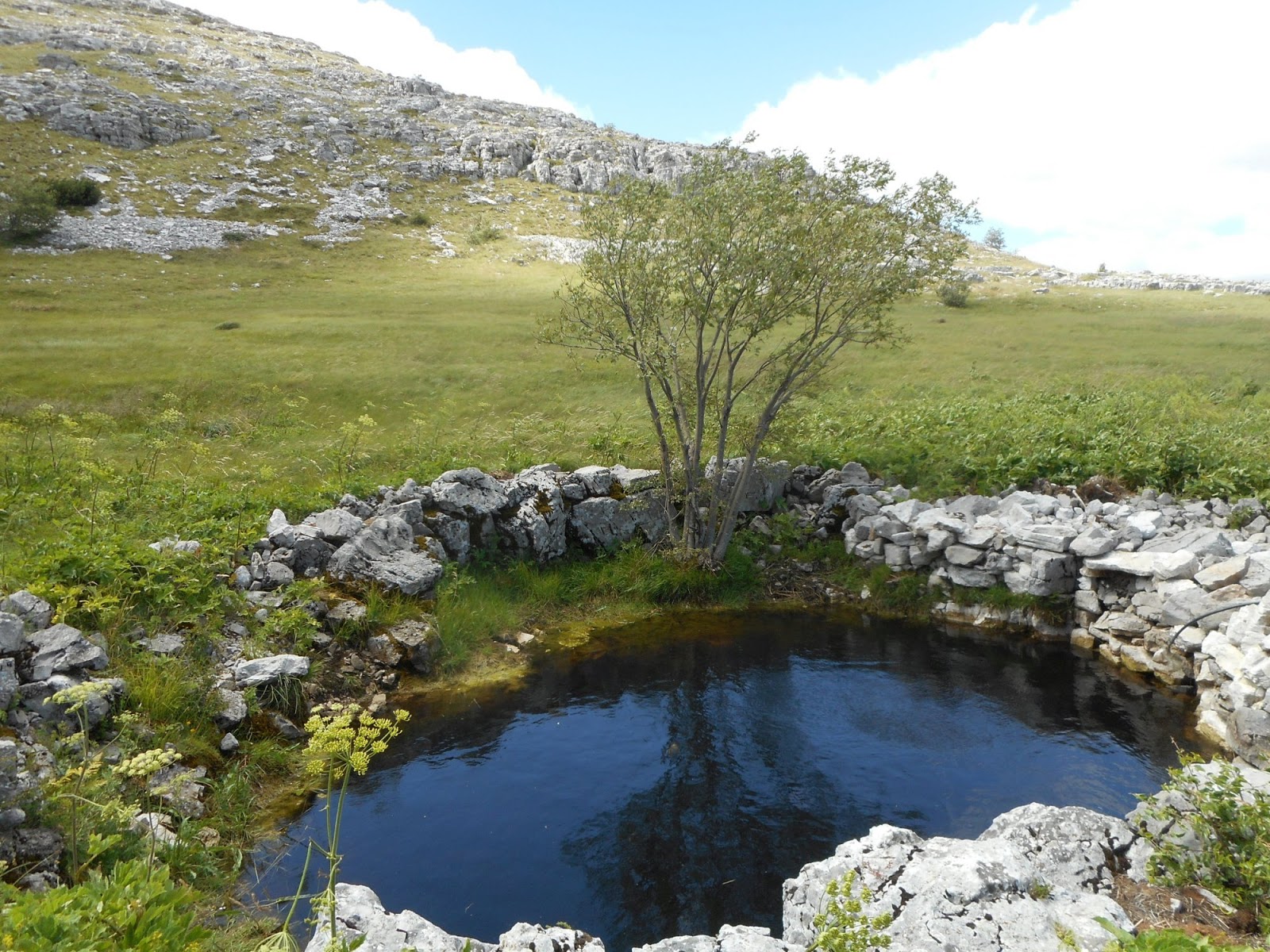 Marin Bunar, the only natural water source, tasted like herbal tea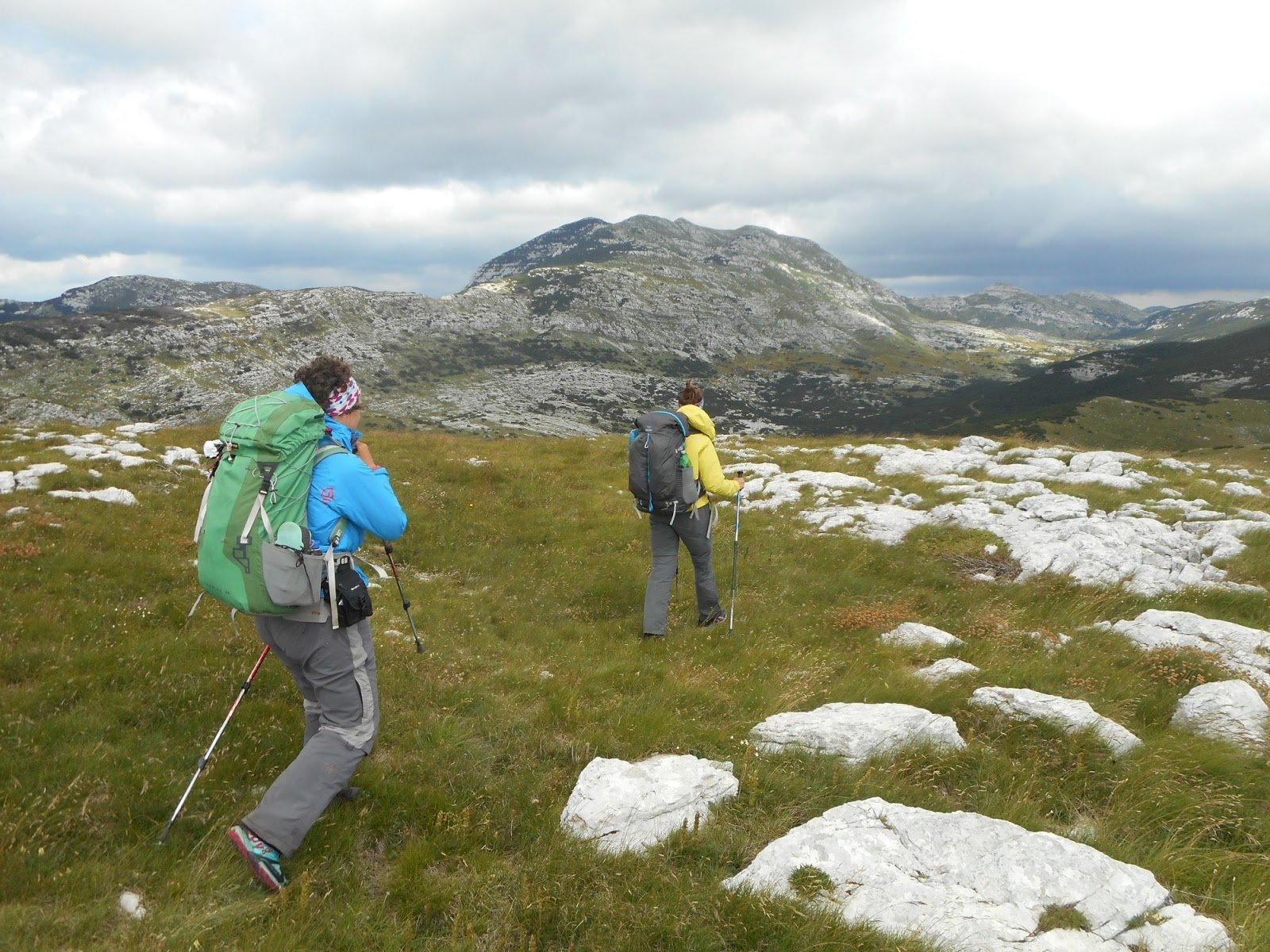 Hike to Velika Divjakusa. Ridge from Jankovo Brdo to Troglav in background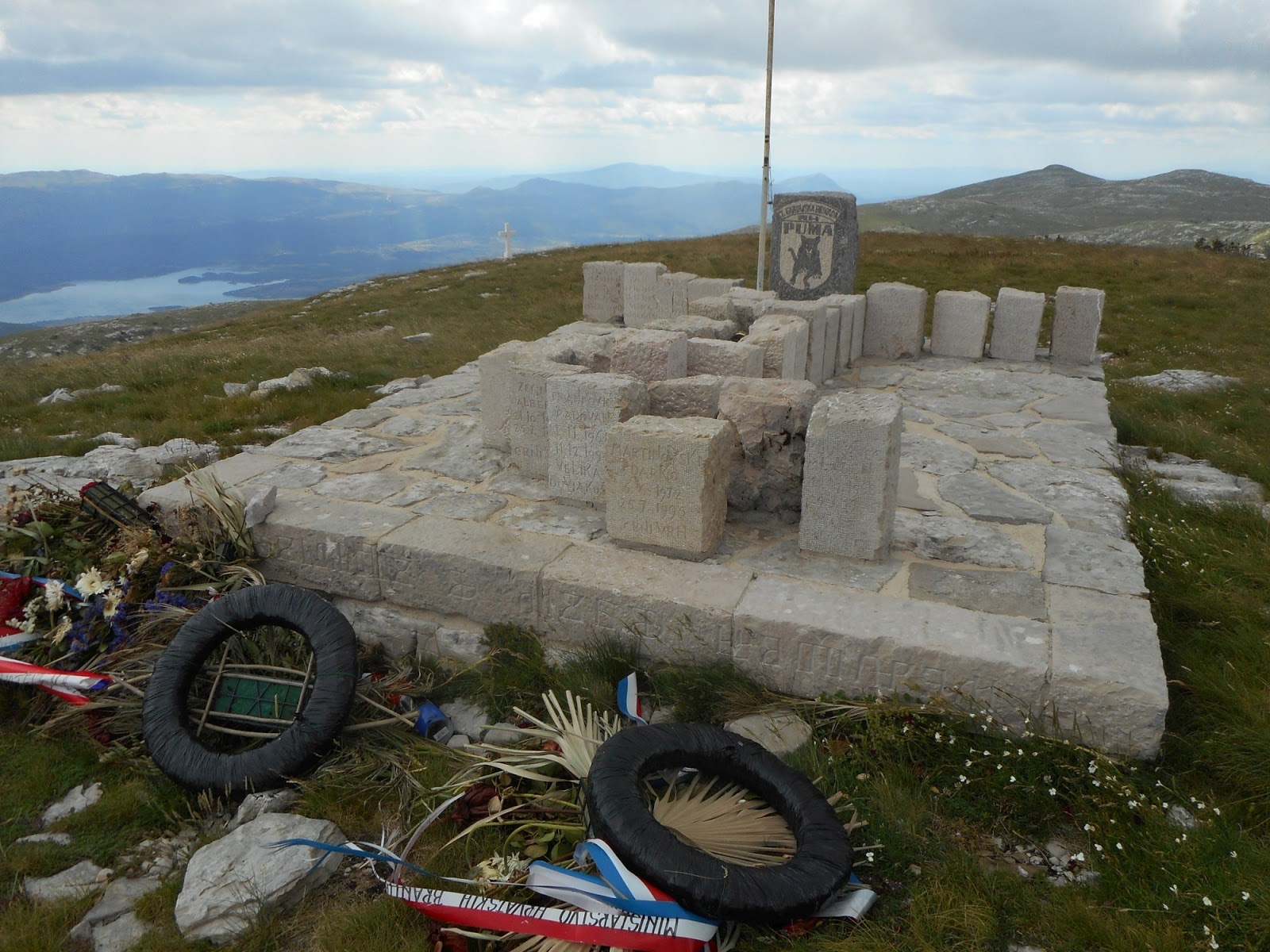 Memorial on Velika Divjakusa
Hut De Luxe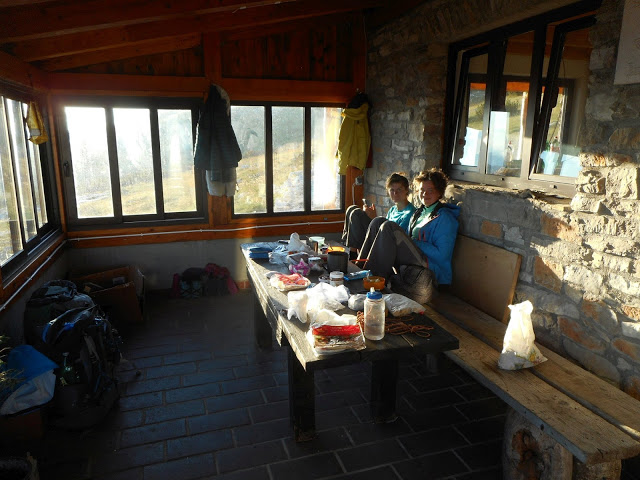 Relaxing at the hut. It had even very good cell reception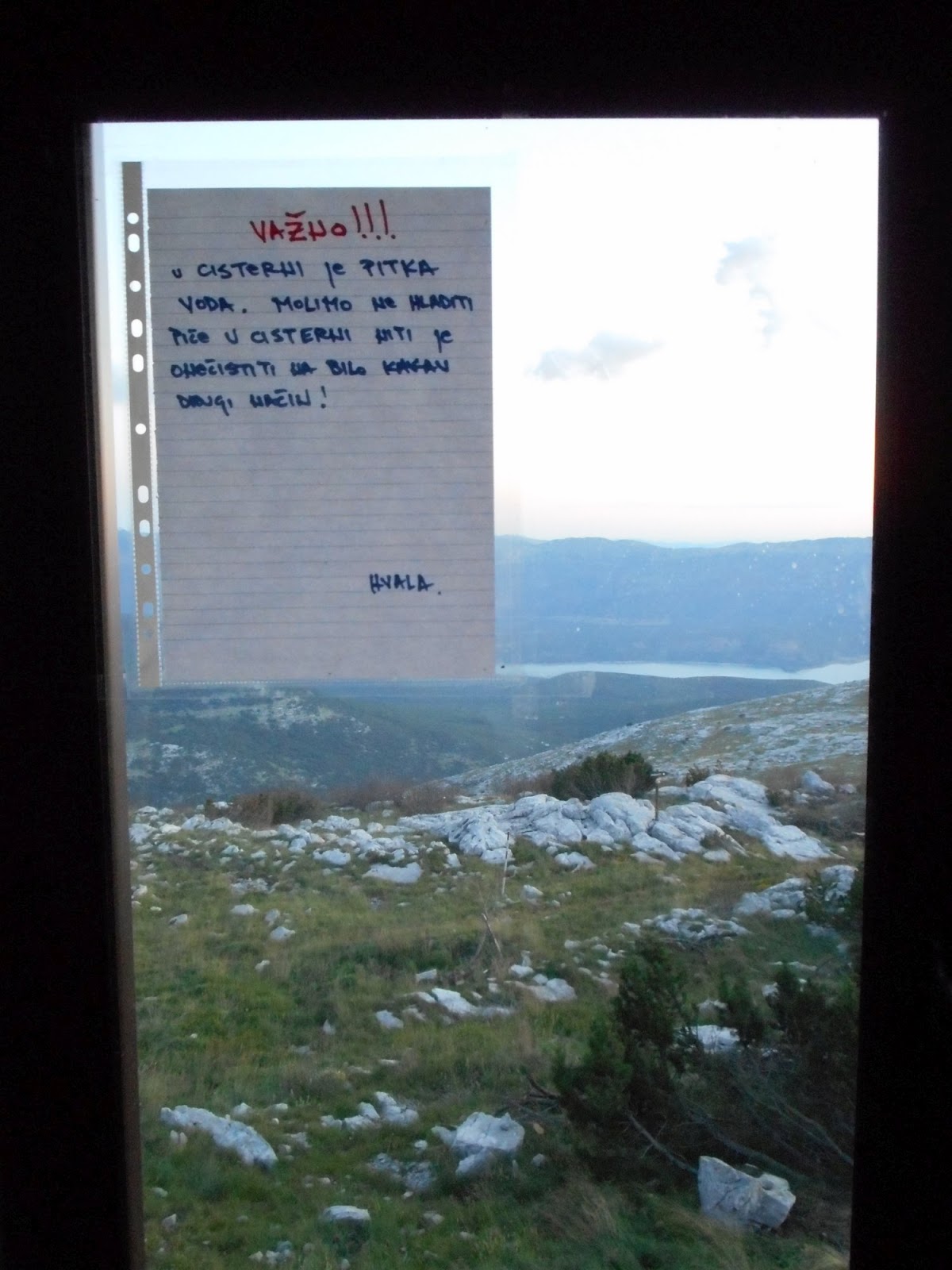 For Slovak and Czech speakers - Ne hladiti piče
Troglav
Next day we start by hiking Troglav. From the hut/road it is very short climb. Surprisingly, there is a wind shadow just on the top thanks to the steep slopes from the BiH side. Then we have choice - hike the road or trail. Problem - mine area. As we need to stick to the road or trail,I prefer the road, as it is more easy to follow. I don't have good experience with trails. I was bit nervous about this, and it felt very strange to be in place where not so long ago people were putting landmines. I felt disappointed and angry, why are people so bad and stupid? We rather decided to skip ascend to Maglaj as there was no visible trail and I was afraid to go there just following gps. We were in landmine area. Sv. Jakov hut was closed, but there was water and nice sheltered benches, ideal for night. After the sunset the wind changed its direction and we were not sheltered anymore.We planned early start as tomorrow would be very long day.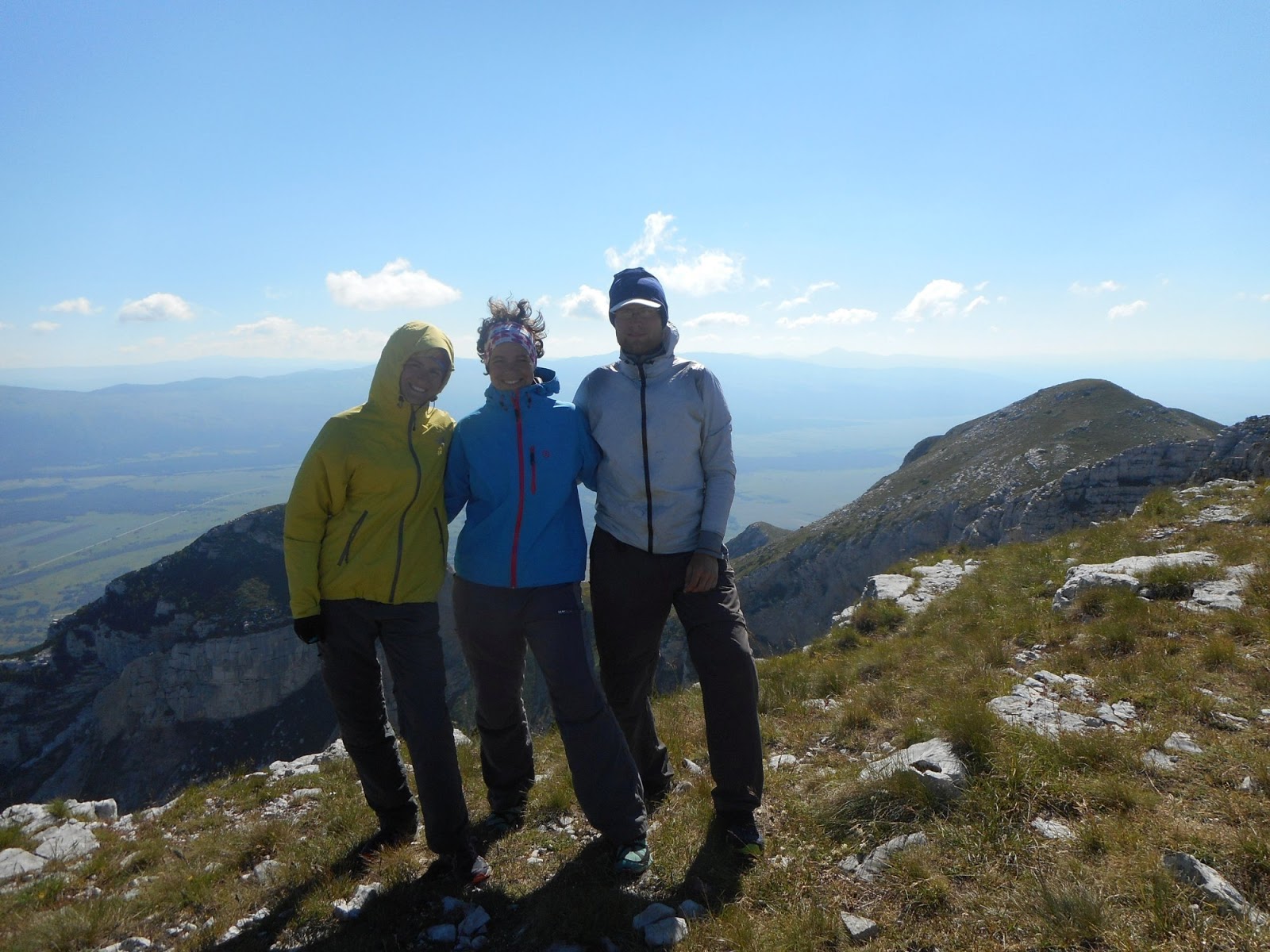 Troglav

Pano from Troglav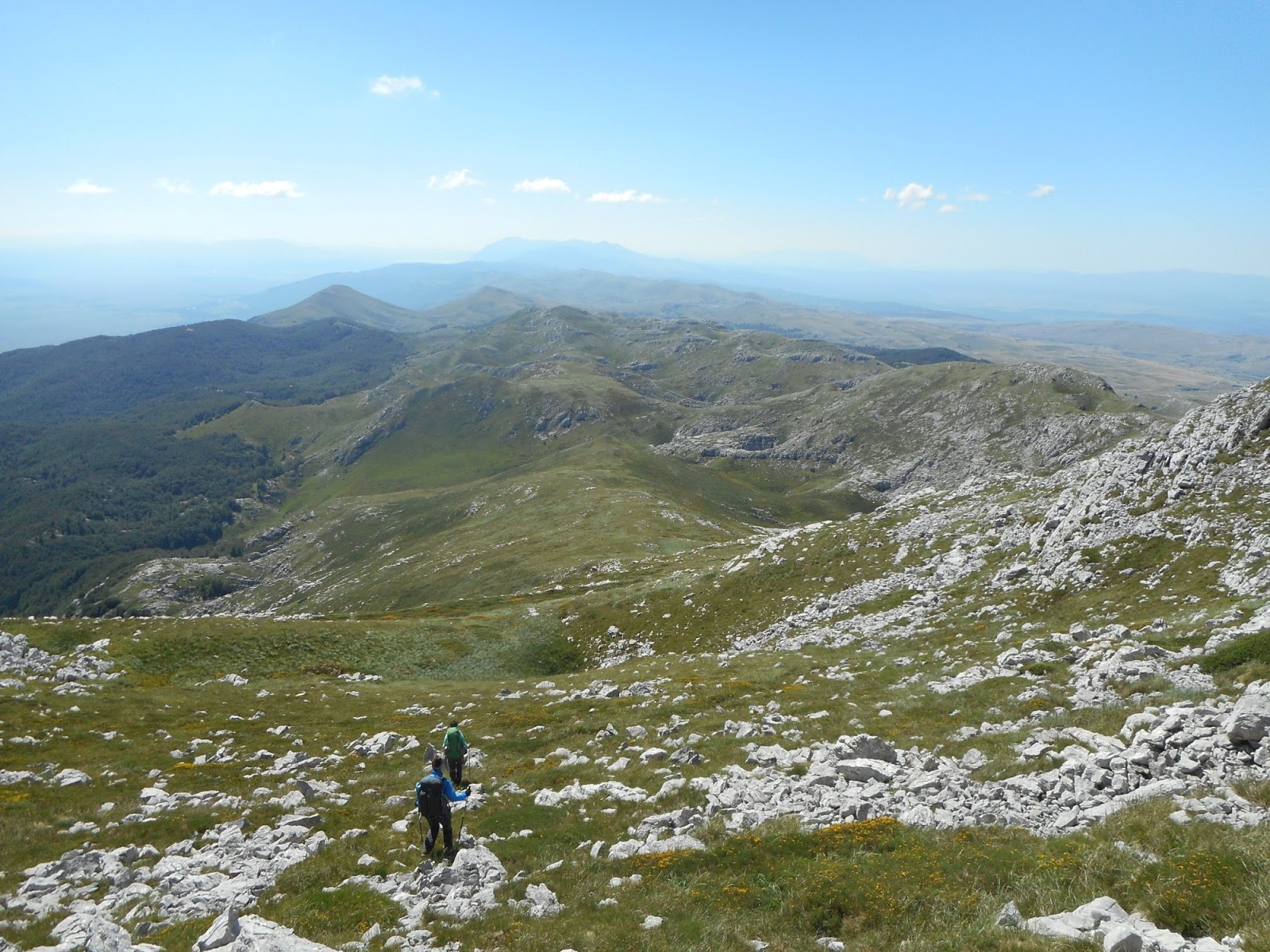 Descending from Troglav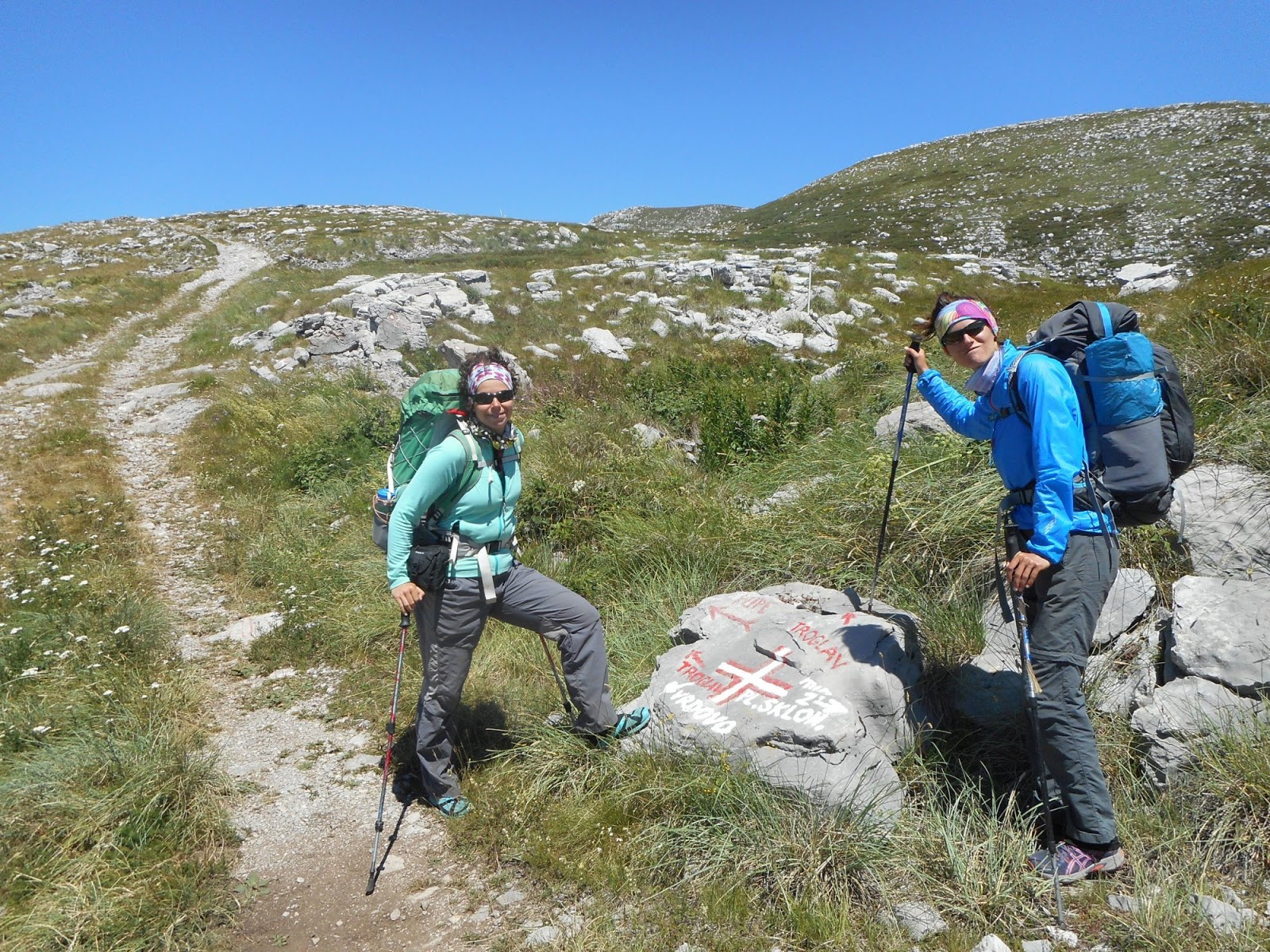 Difficult decision, road or trail?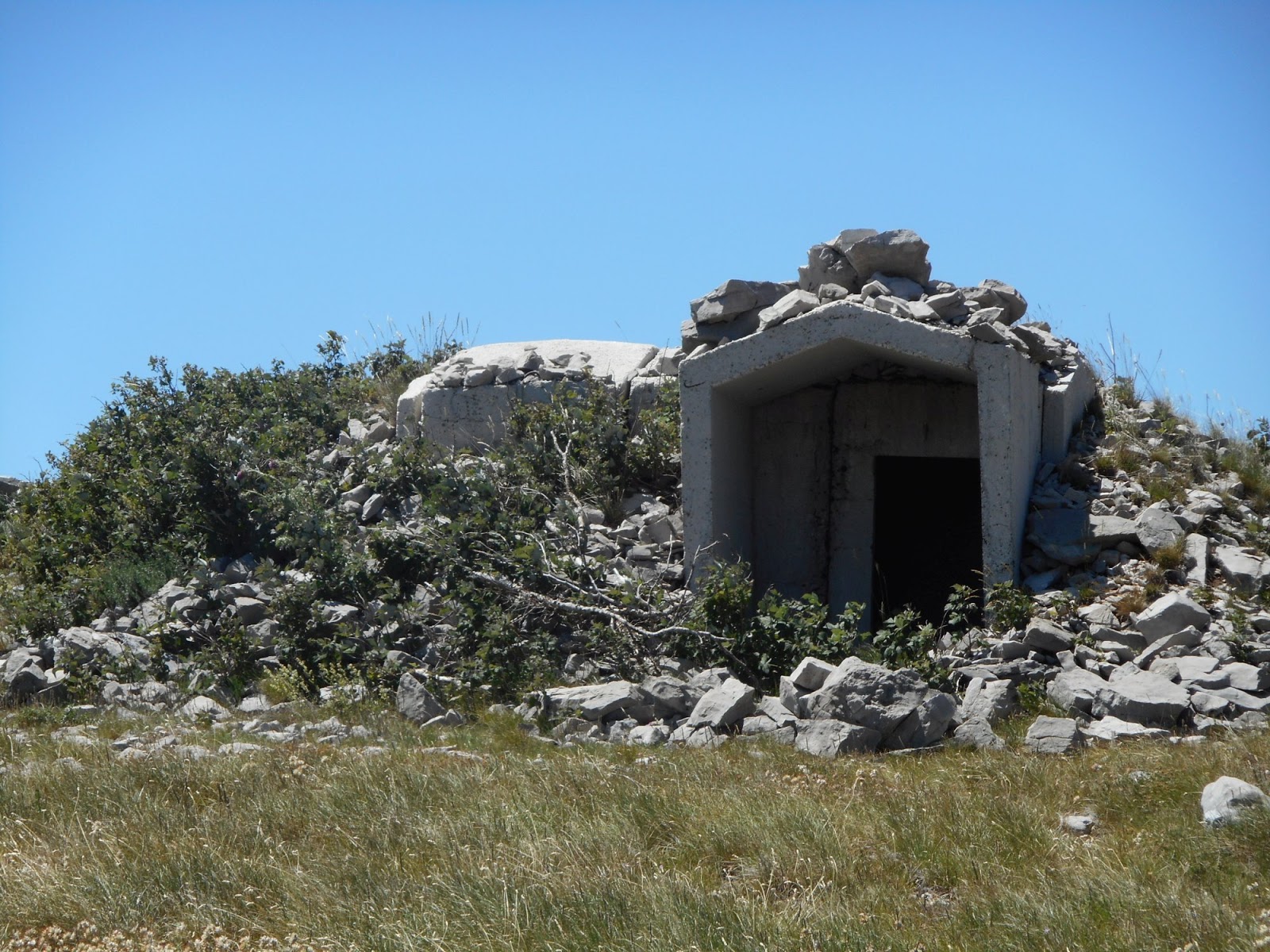 Military barrack at beginning of mine field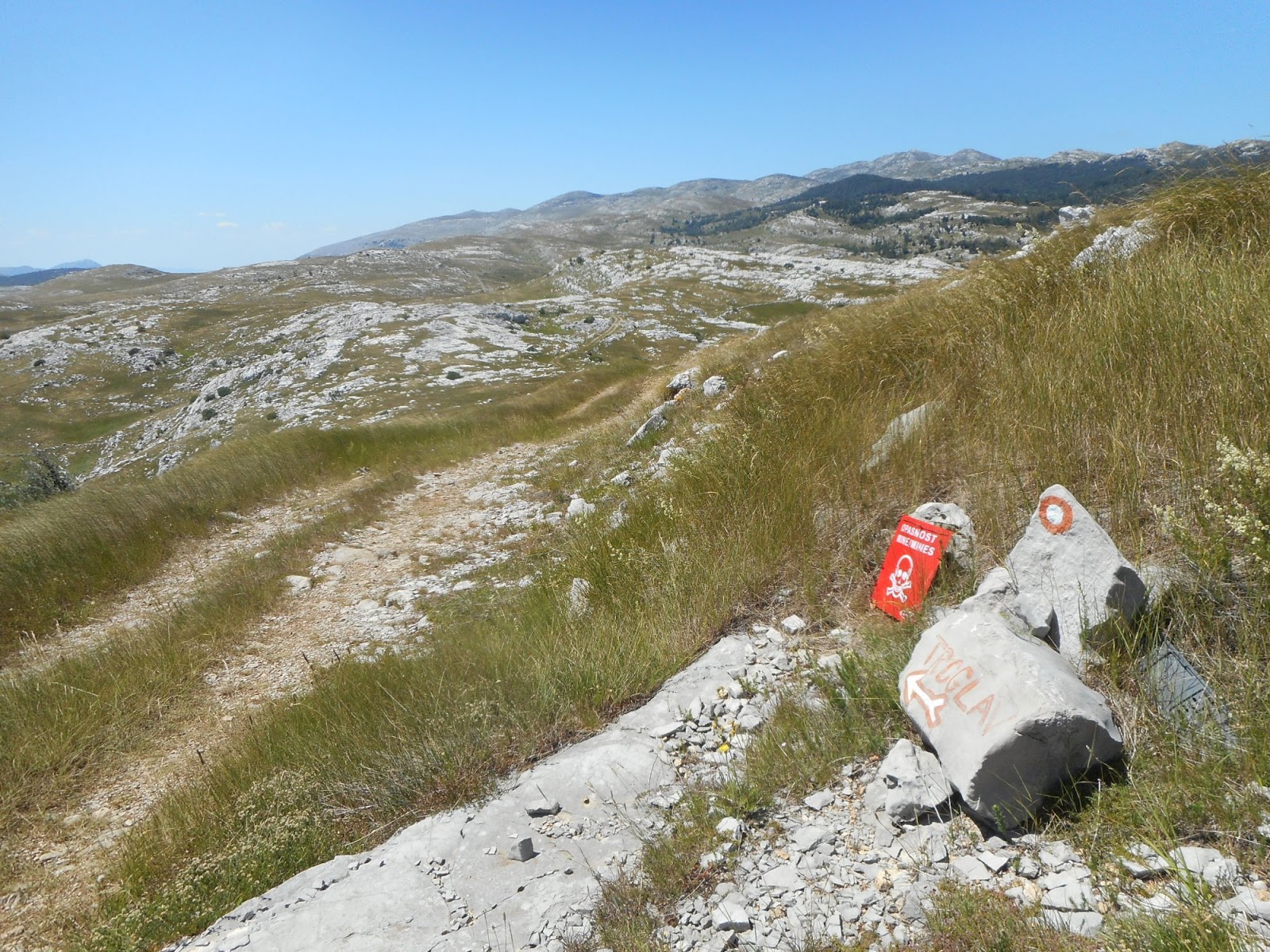 Opasnost, mine. Strange feeling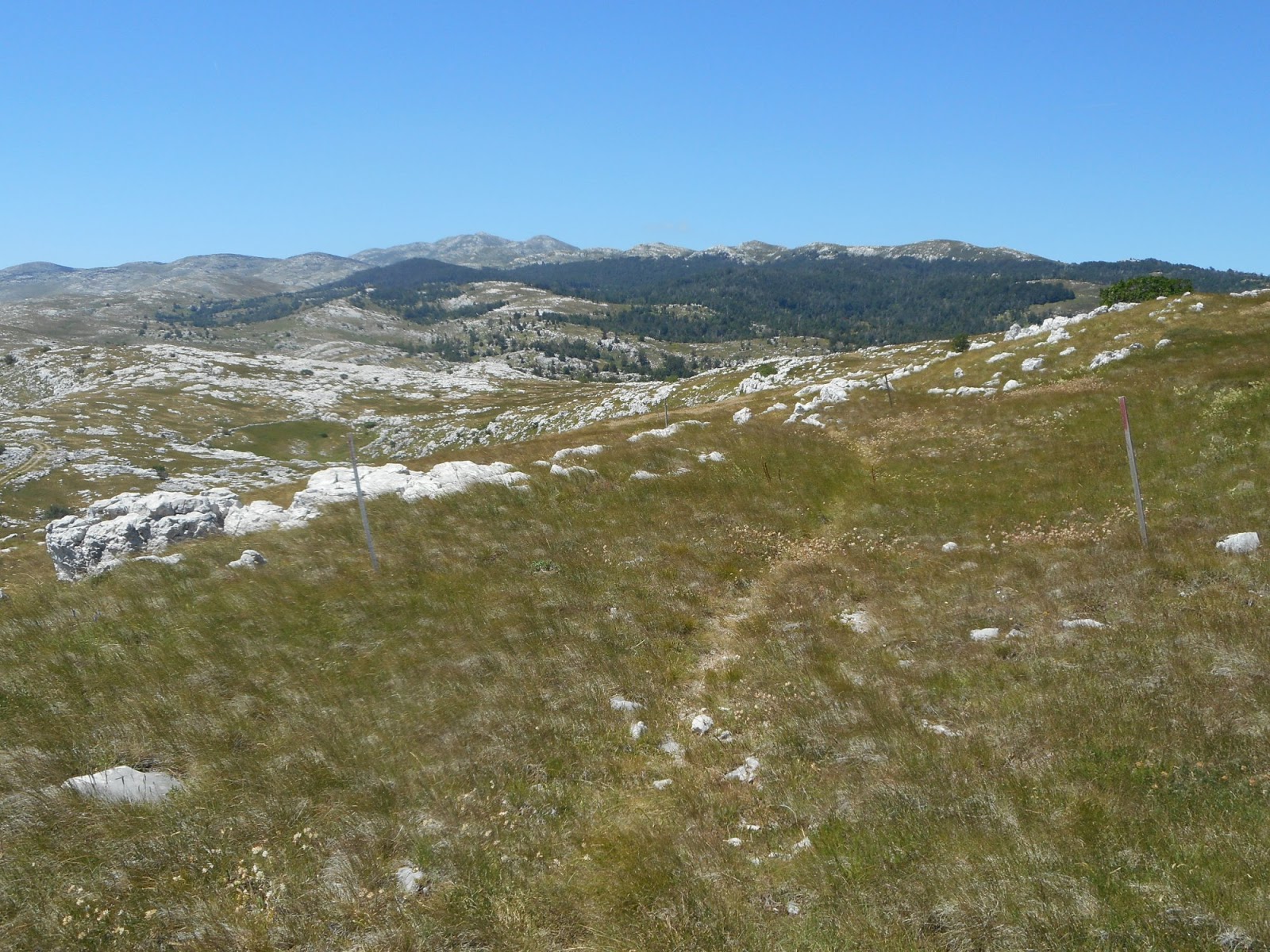 Mine area, trail is cleared. Safe trail corridor was marked, but I was still happy with our decision to hike the road
Our camping spot at Sv. Jakov
Mračna pećina, Kurtagić dolac, Bunarić
Hiking already at 6 am, our record, we knew it will be long day and wanted to avoid heat. First crossing the plain with sheep and then up the hill to the border with BiH. A lot of markings, some very old, some new, but trail almost no visible at all. Relying on GPS, but when GPS differed from markings, we had to pay very close attention to finding them. Three pairs of eyes were very helpful, but still we experienced few situations when we lost them and had to backtrack a lot. Everything in burning heat. Our first stop - Mračna pećina, accessible cave with excellent water. Very good spot for lunch break, escape from heat with cold water.

Then we continued, again losing and finding markings till we crossed the road just under pass Vaganj and started climb to Kurtagić dolac. We passed by not very nice well with water, but didn't refil (mistake). At the top we found ruins of old hut and after another half an hour we reached new hut Edo Retelj in picturesque area of Kurtagić dolac. But there was no water in the tank. We tried to explore area with spring shown on map, but it was nothing just a hole with a lot of green plants. I believe there is some water there, few meters under, one just needs to dig. It was almost 6 pm, so we had to decide quickly. Continue via ridge to Bunarić (bunar means water well/spring) where should be some water. Almost 3 hours of hiking, but it was the best hike. Sun was slowly going down, beautiful trail, views and little bit of tension - will there be water? What do we do if there is nothing? We had cca 1 litre of water for all of us. Timing was right, we reached the hut just when it got dark. And there was water, at 1600 meters above sea level. Lovely small bunar with perfect cold water. Best drink ever. We hiked almost 15 hours, it was much longer as we expected (we didn't even dare to think we would go to Bunarić). So we enjoyed evening and slept in next day till 9 am as we had very short day ahead of us. We basically slept just under Kamešnica.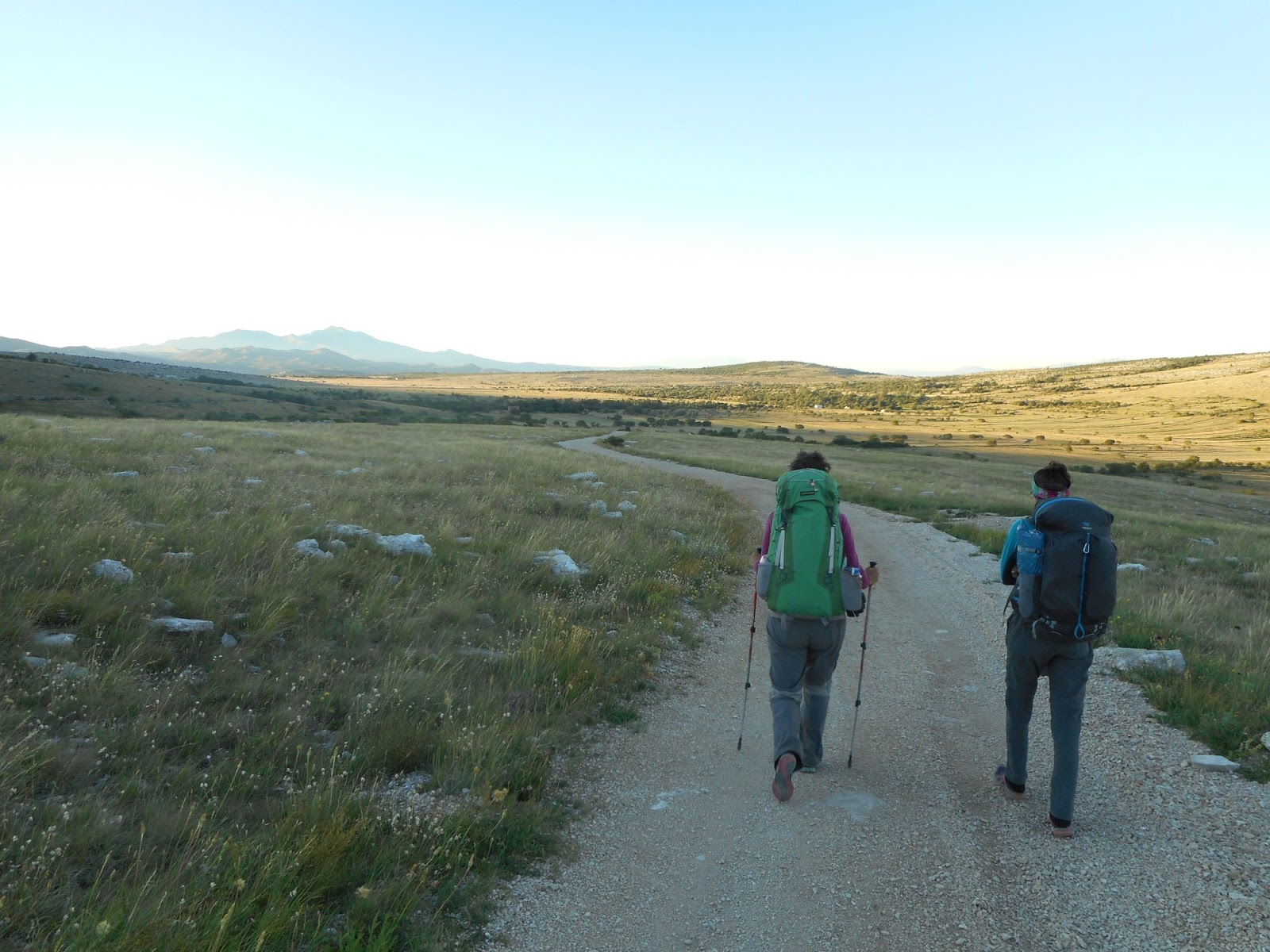 Long plain to cross, Kamešnica in the background. We had no idea we will sleep under that hill the same day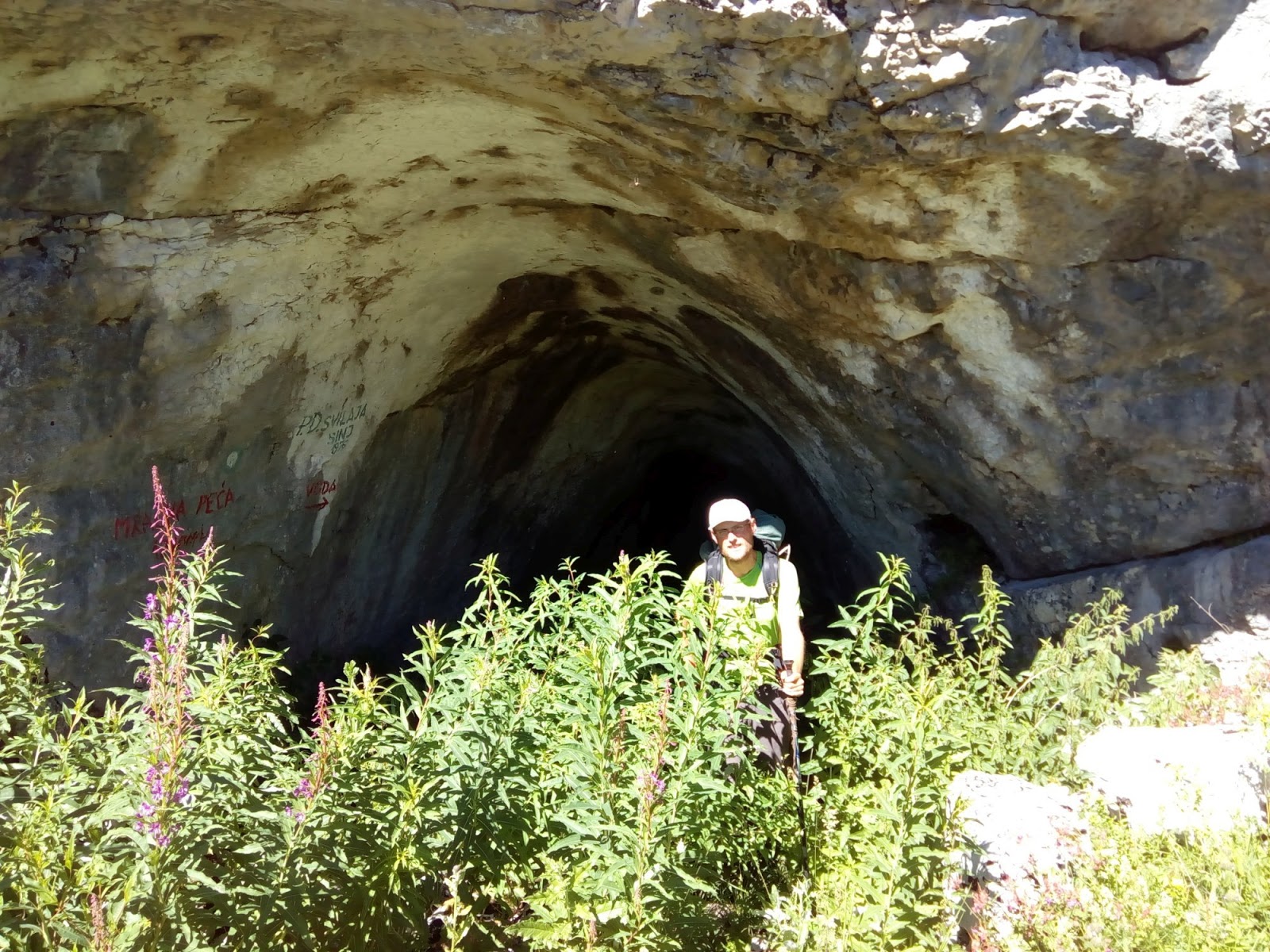 Mračna pećina, accessible cave, great place for relax in hot weather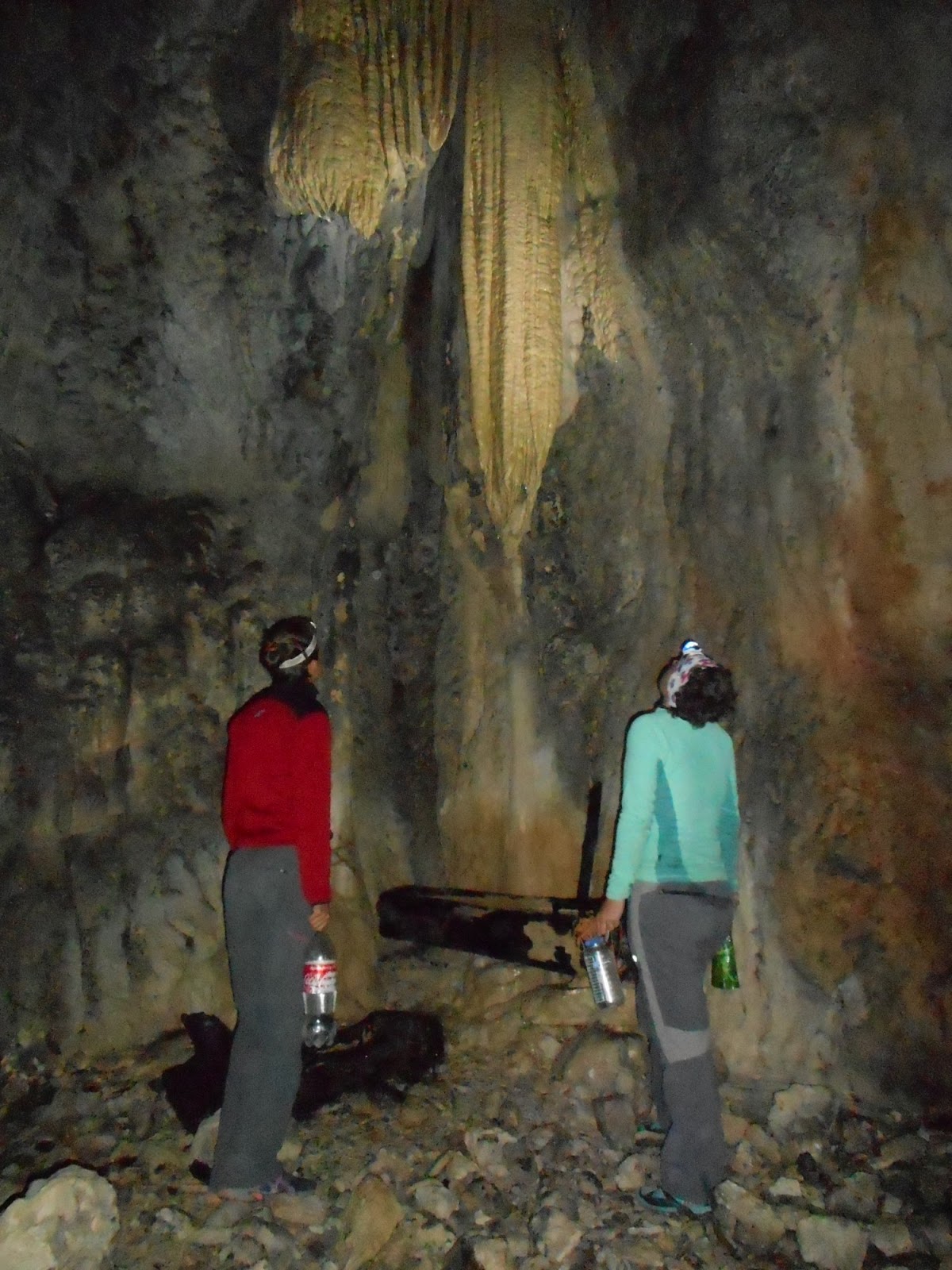 Cool tasty water from the cave. Full of calcium?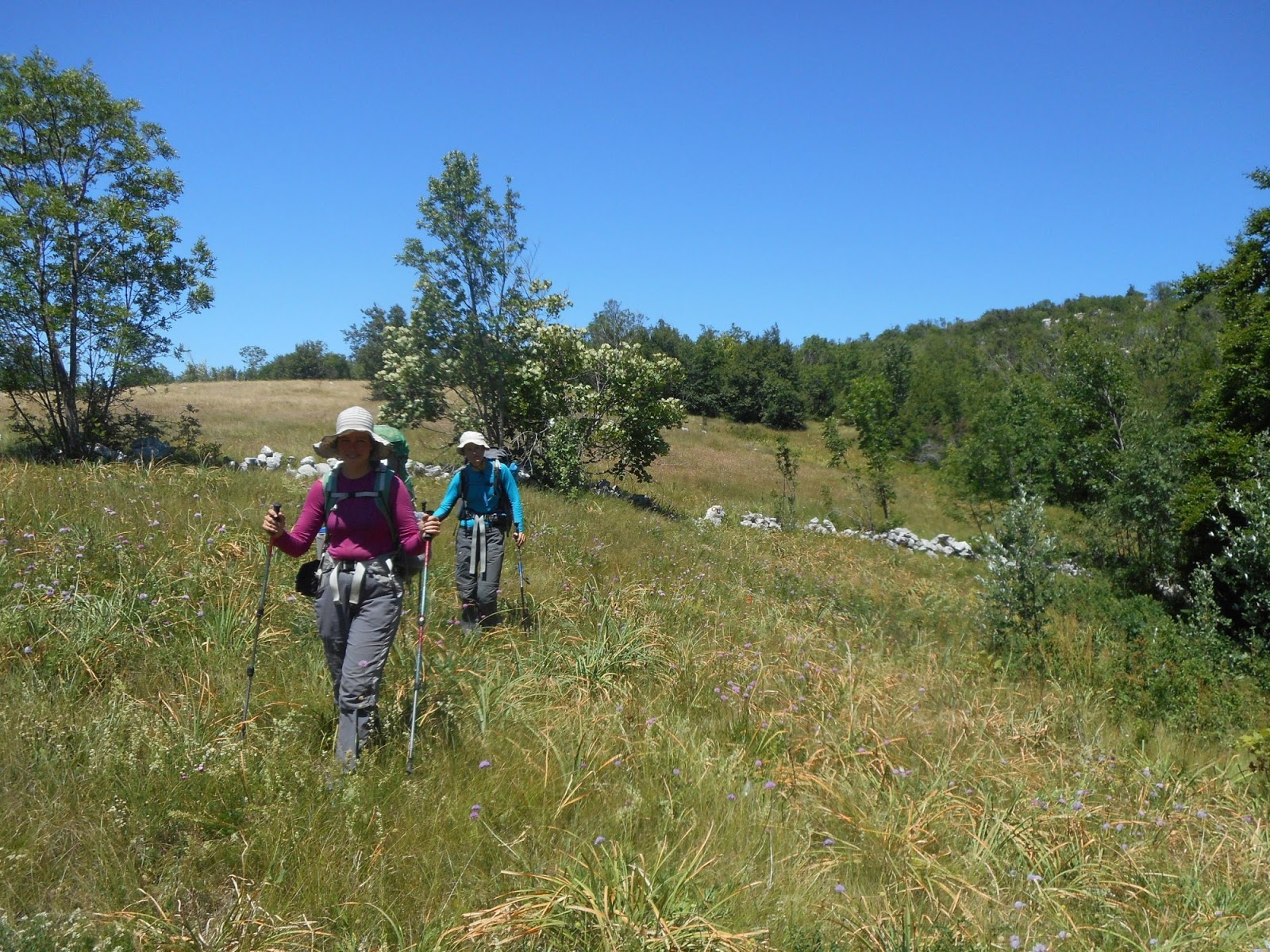 Nothing resembling trail, thanks for the markings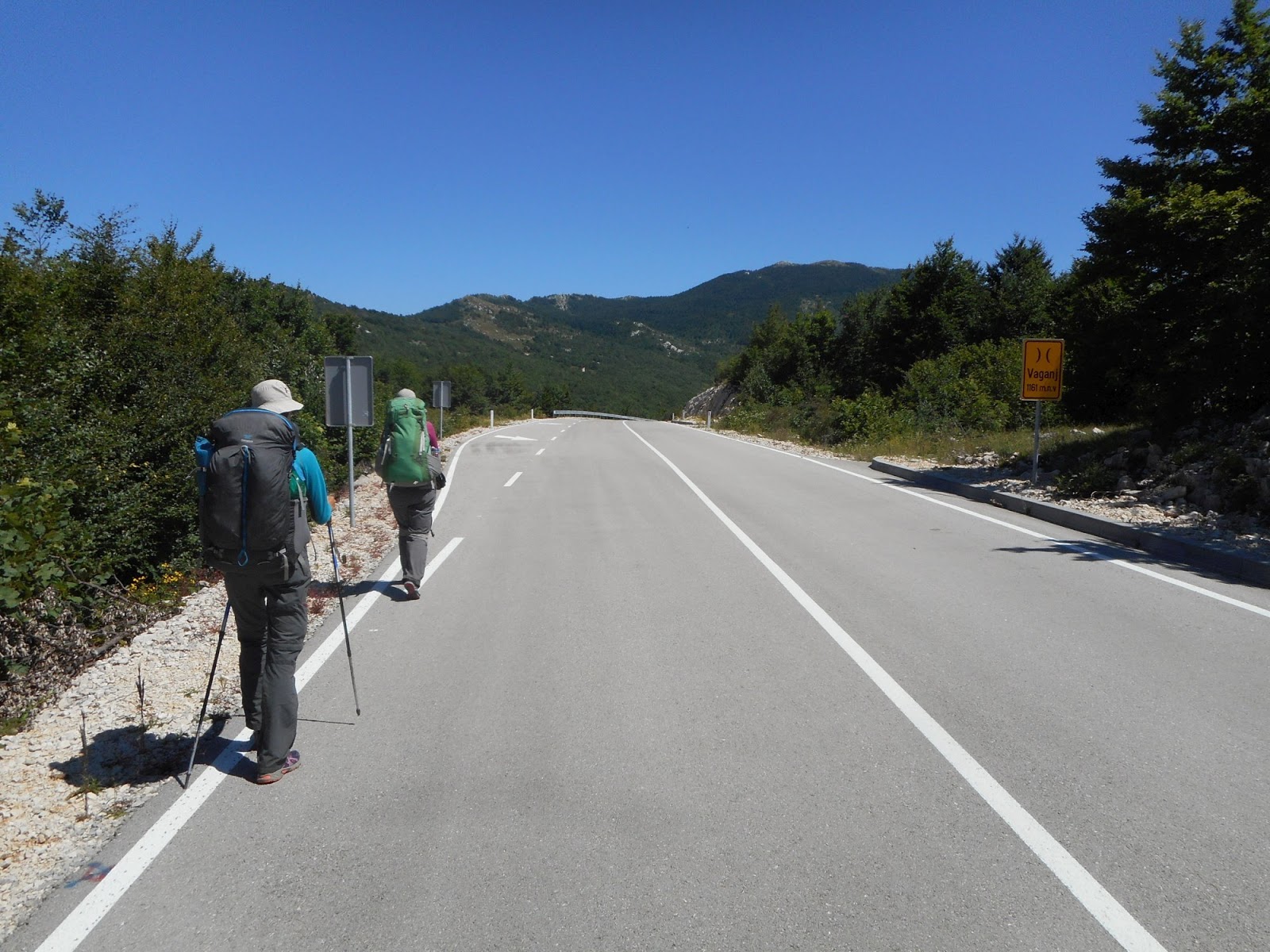 Vaganj pass, road leads to local border crossing point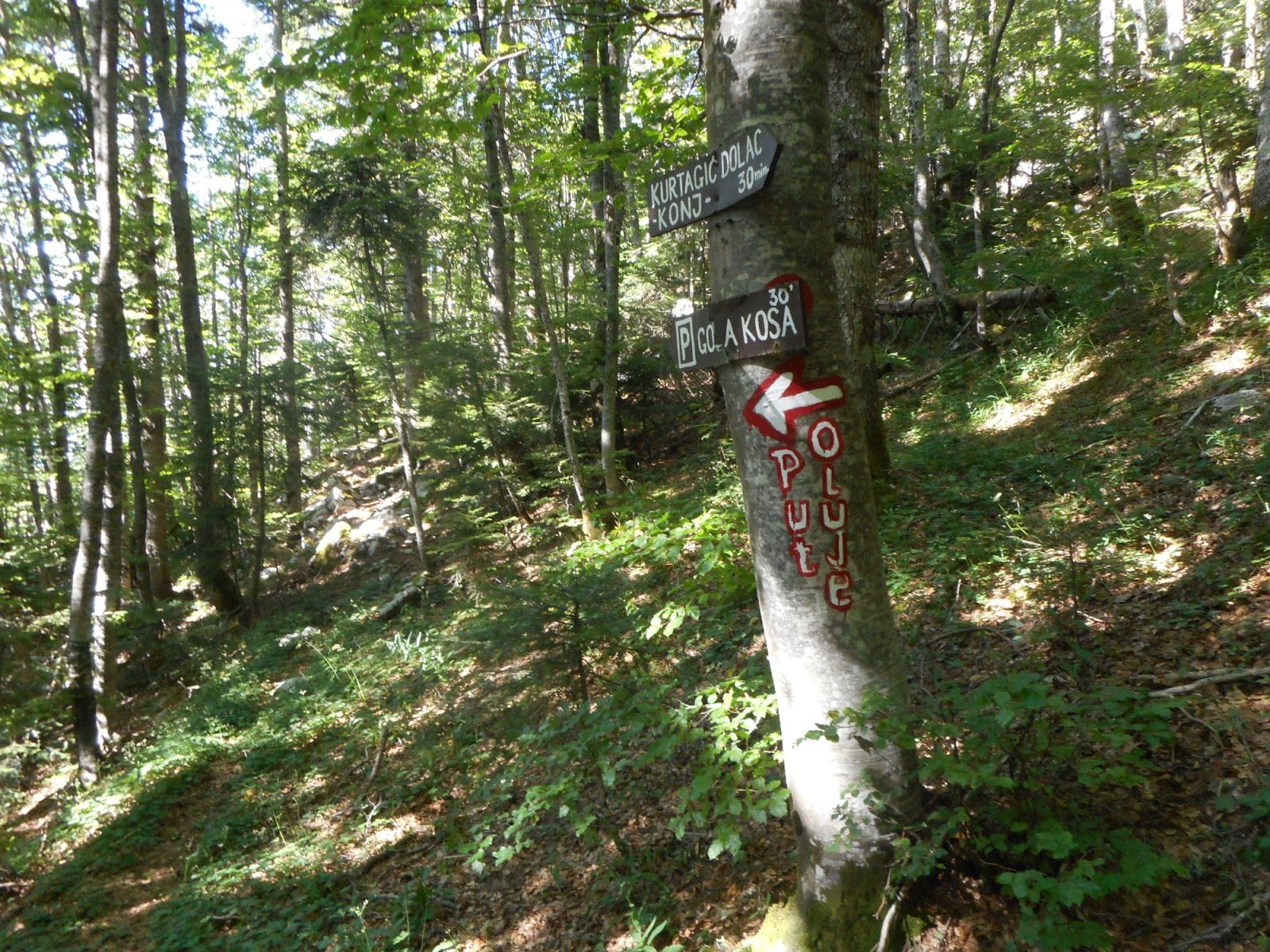 Markings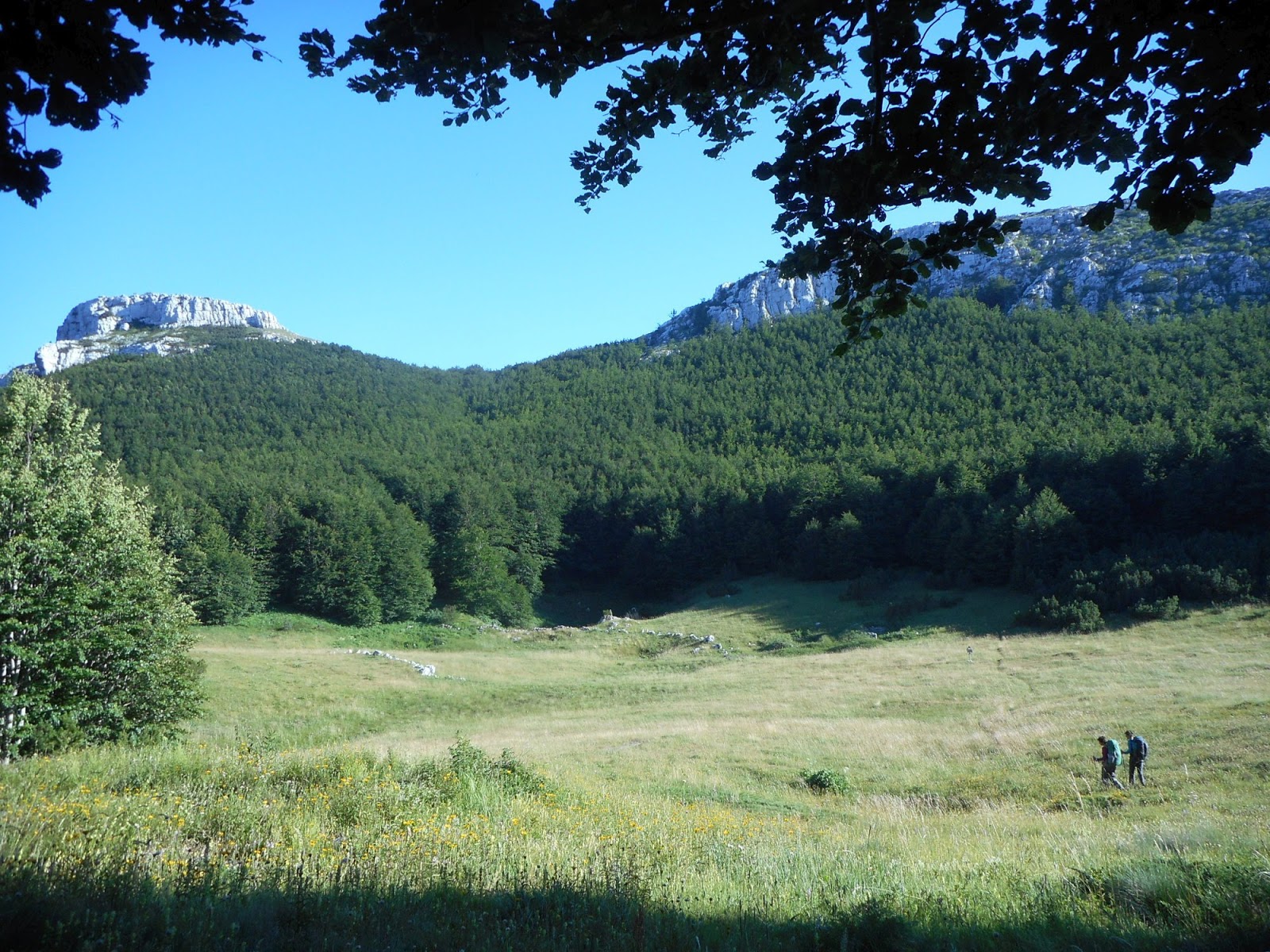 Wonderful Kurtagić dolac, but without water. We have to hike another 2,5 hours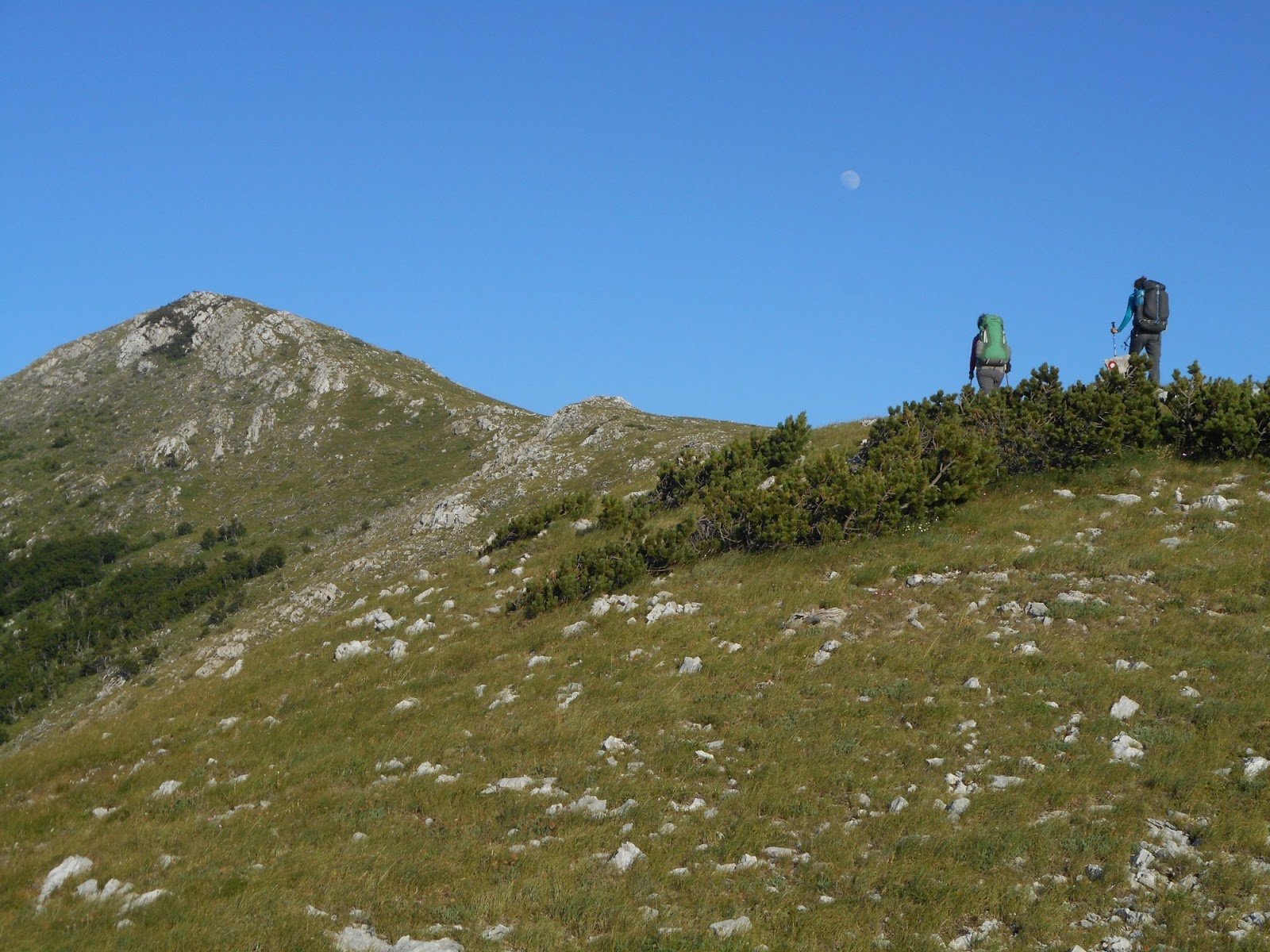 One of the best hikes, ridge walk to Bunarić, Kamešnica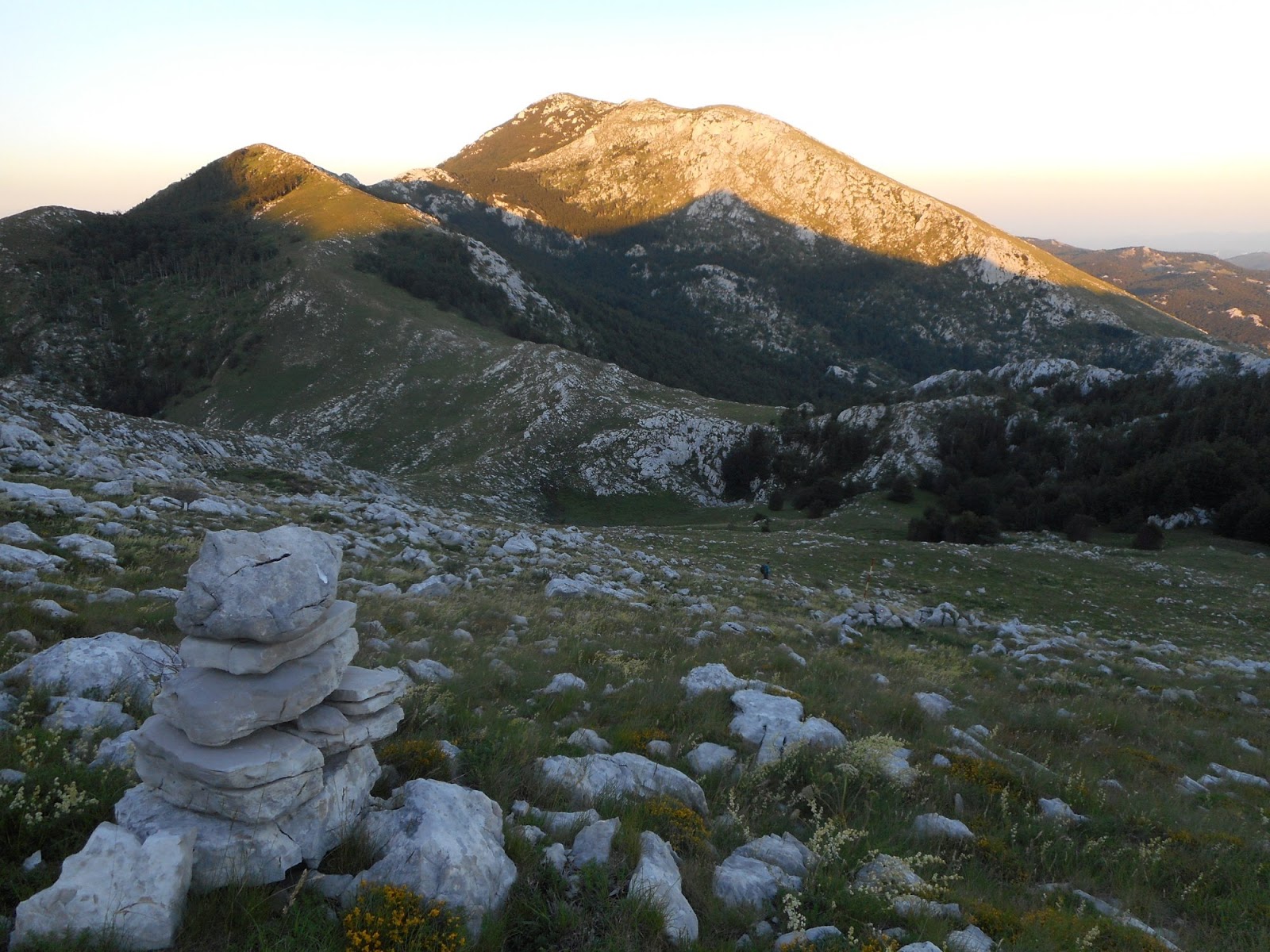 Descent before ascent to Bunarić. Kamešnica in the the last sun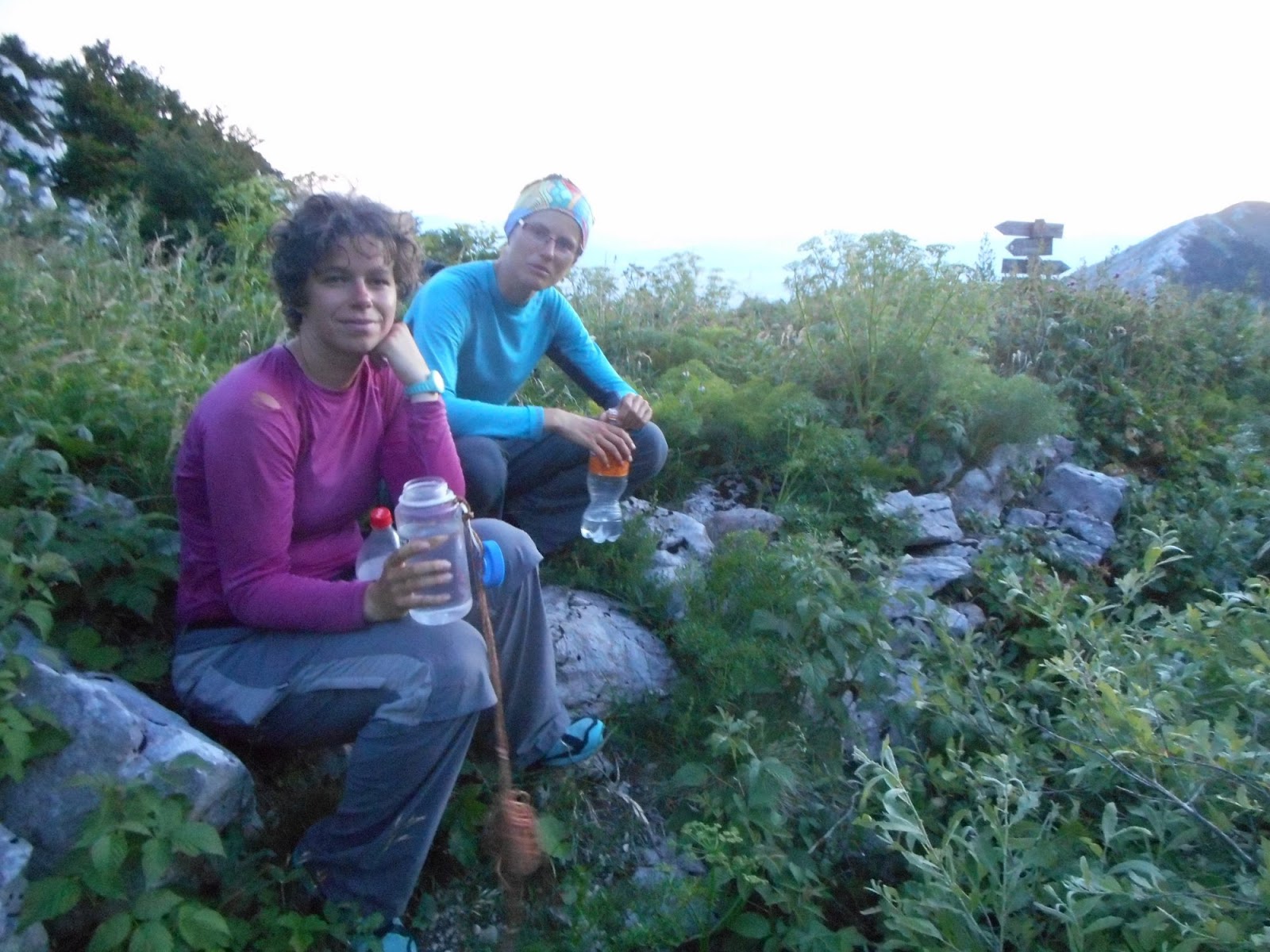 So happy to find water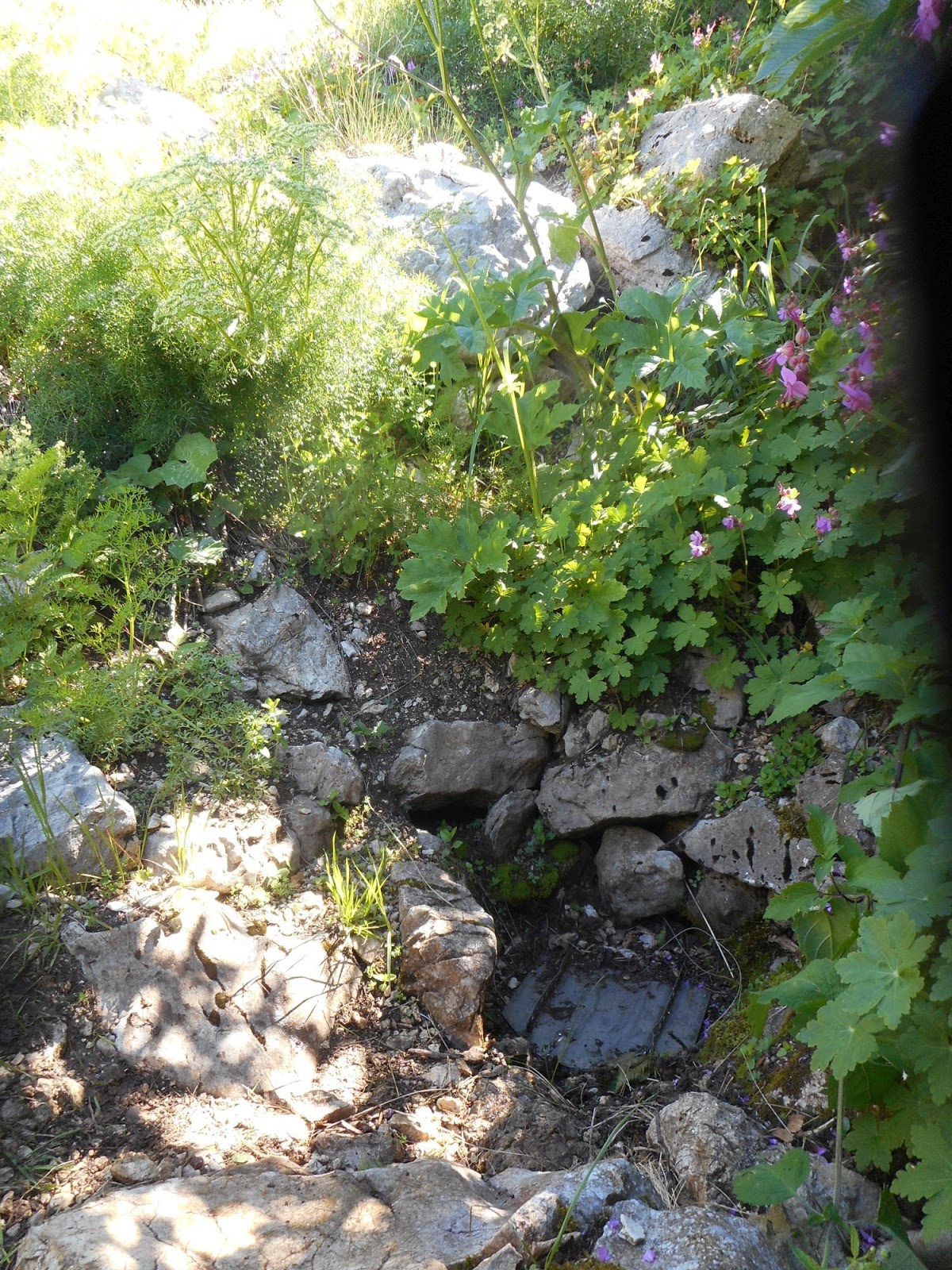 Bunar that saved us. Thank you!
Kamešnica
Deserved relax at the hut in the morning before we hike the last section of these mountains. Kamešnica and Konj, with views of large valley in BiH and Buško jezero. We dream of swimming there. Descending towards Croatian side and our last hut before we leave (now officially) Croatia. Sv. Mihovil is a recently built hut with water reservoir. Short day, but there is no point to continue.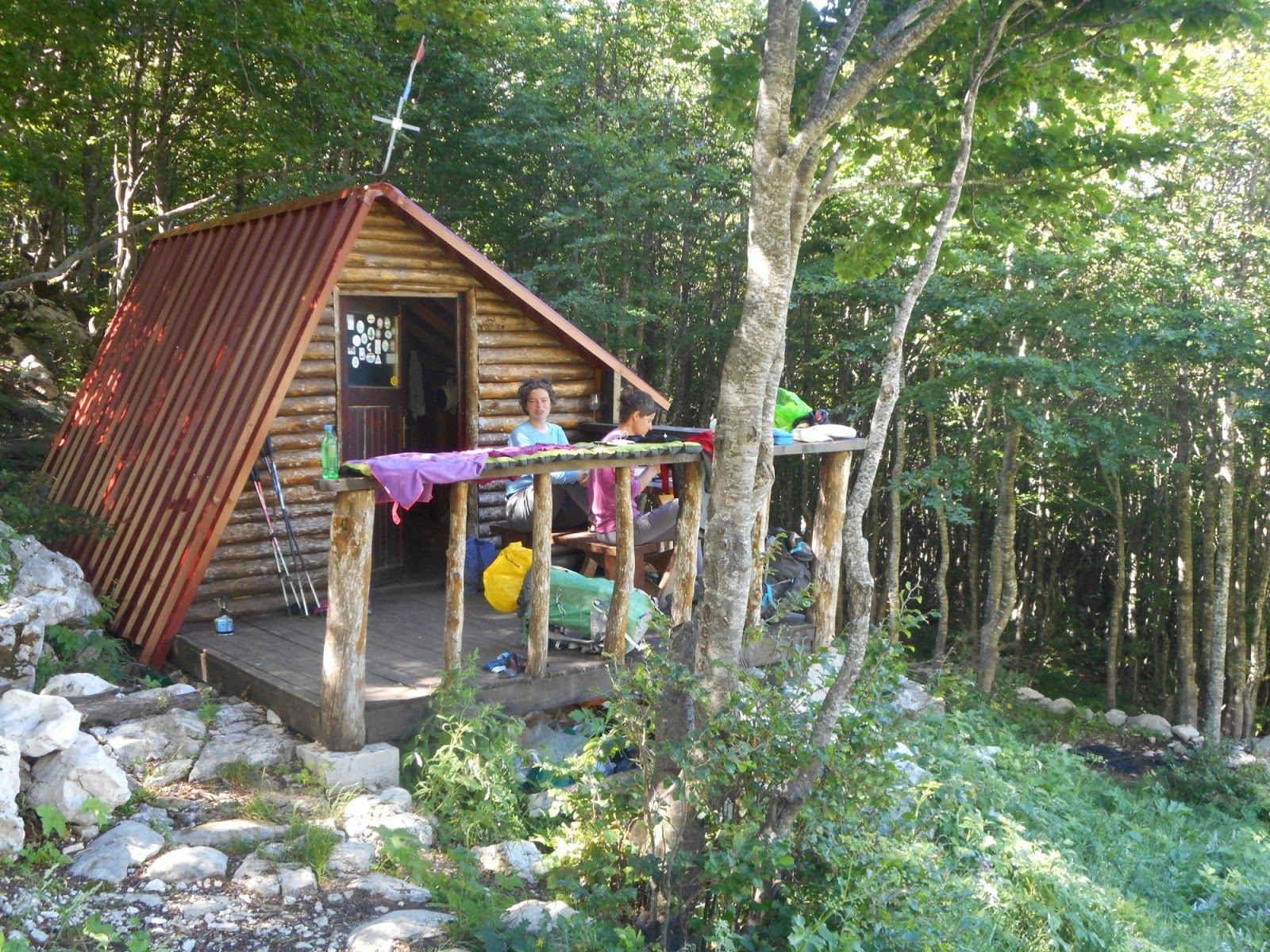 Bunarić hut, morning relax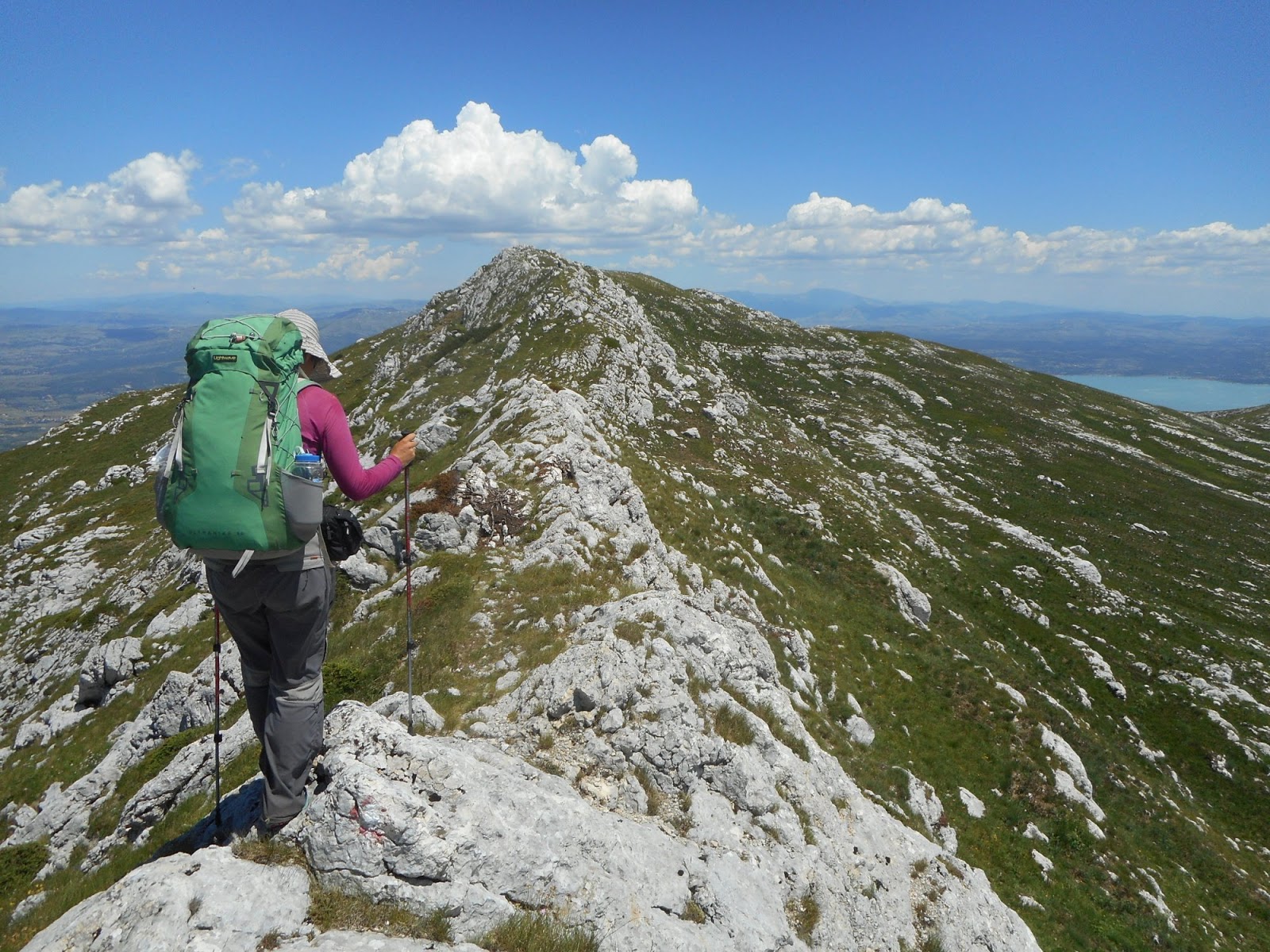 Hiking ridge towards Konj, Buško jezero on the right

Looking back at our ridge, BiH on the right, Croatia on the left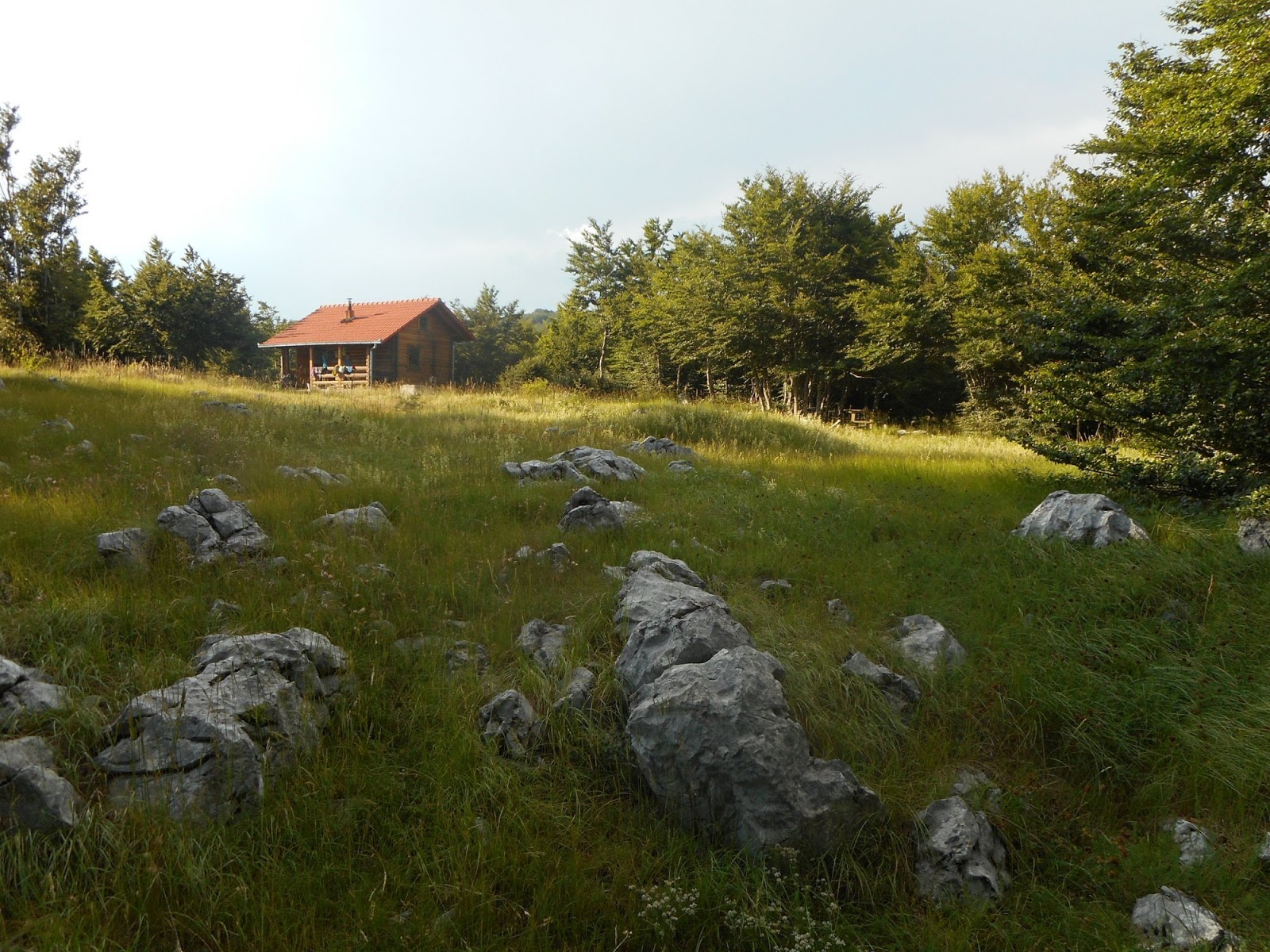 Sv Mihovil hut, our last hut in Croatia
Kamensko, Buško jezero
Fast descend from the hut to Voštane, famous for making pršut. We hope to buy some there, but the factory had no shop. Soon we rejoined Via Dinarica on the pilgrim route of Our Lady of Sinj and hiked to Kamensko. First real food after Knin, tasty food at the bar. We opted to hike via major border crossing Kamensko, it was fun to be walking there among cars. In BiH trail leads through more civilized areas so you can expect some shops, restaurants. Buško jezero was great for swimming. We checked Monastery of St Elijah (accommodation was too expensive for us, but had free wifi available outdoors). Wild camping at the other side was also good option for us.

This was place were Tomáš, Katka's boyfriend, picked us up by car and next day we headed to family reunion in Zadar, Croatia. We spent there almost week (finally holiday at sea) and then returned back to Buško jezero to hit the trail again.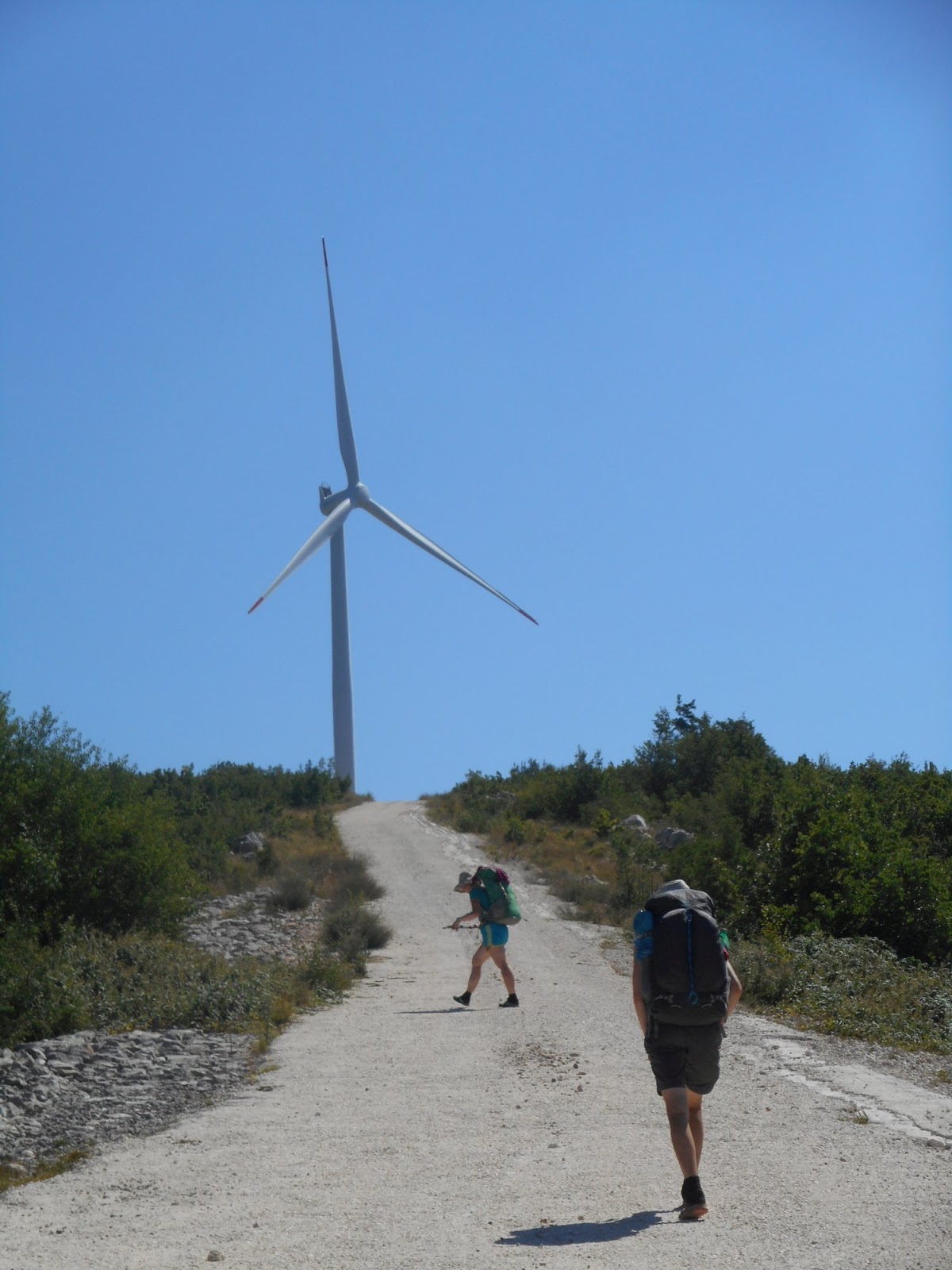 Back on Via Dinarica. Too much sun on exposed road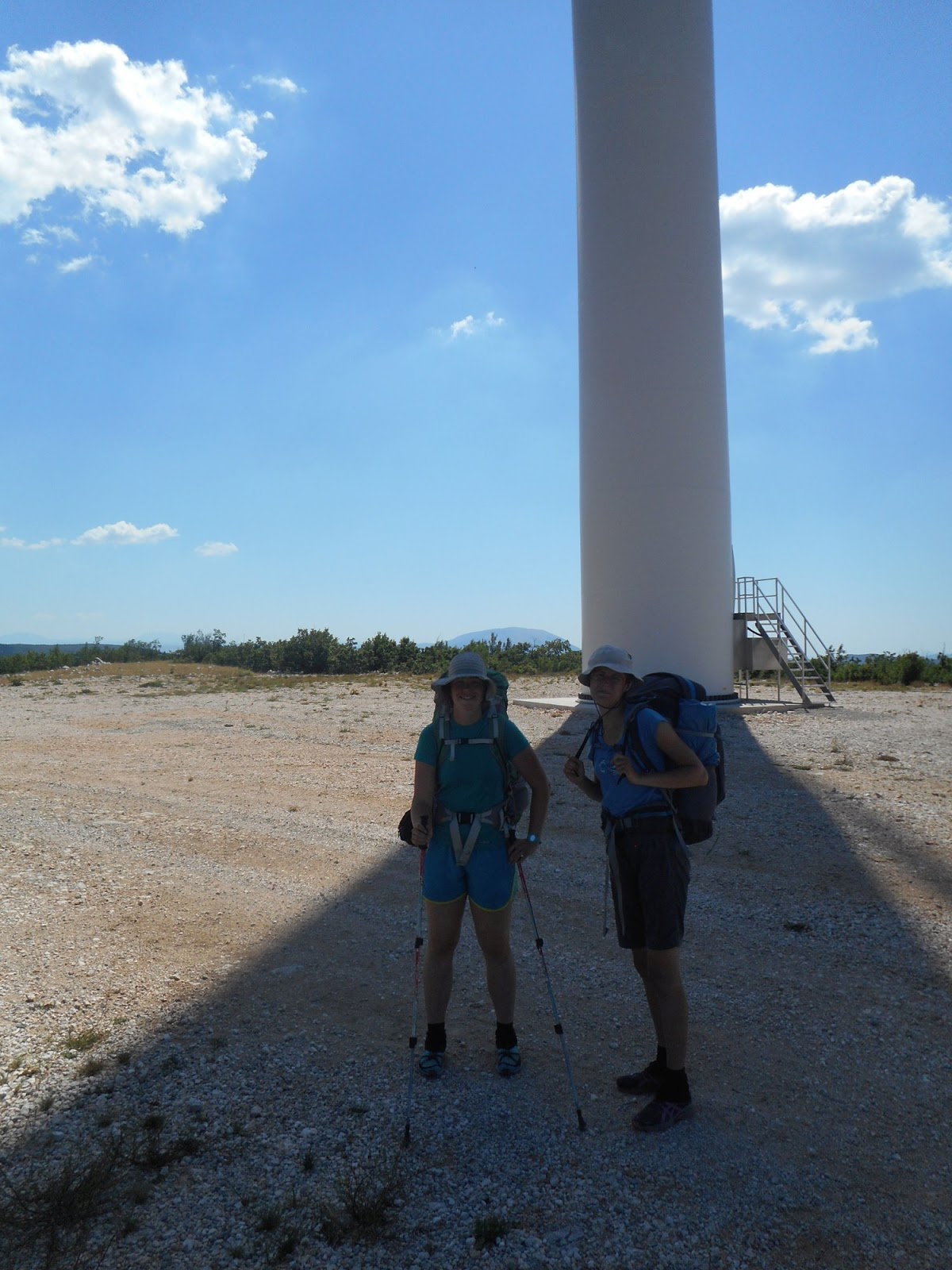 Some shade, thank you windmill
Dreams come true. Yesterday just a dream, today reality. Swimming in Buško jezero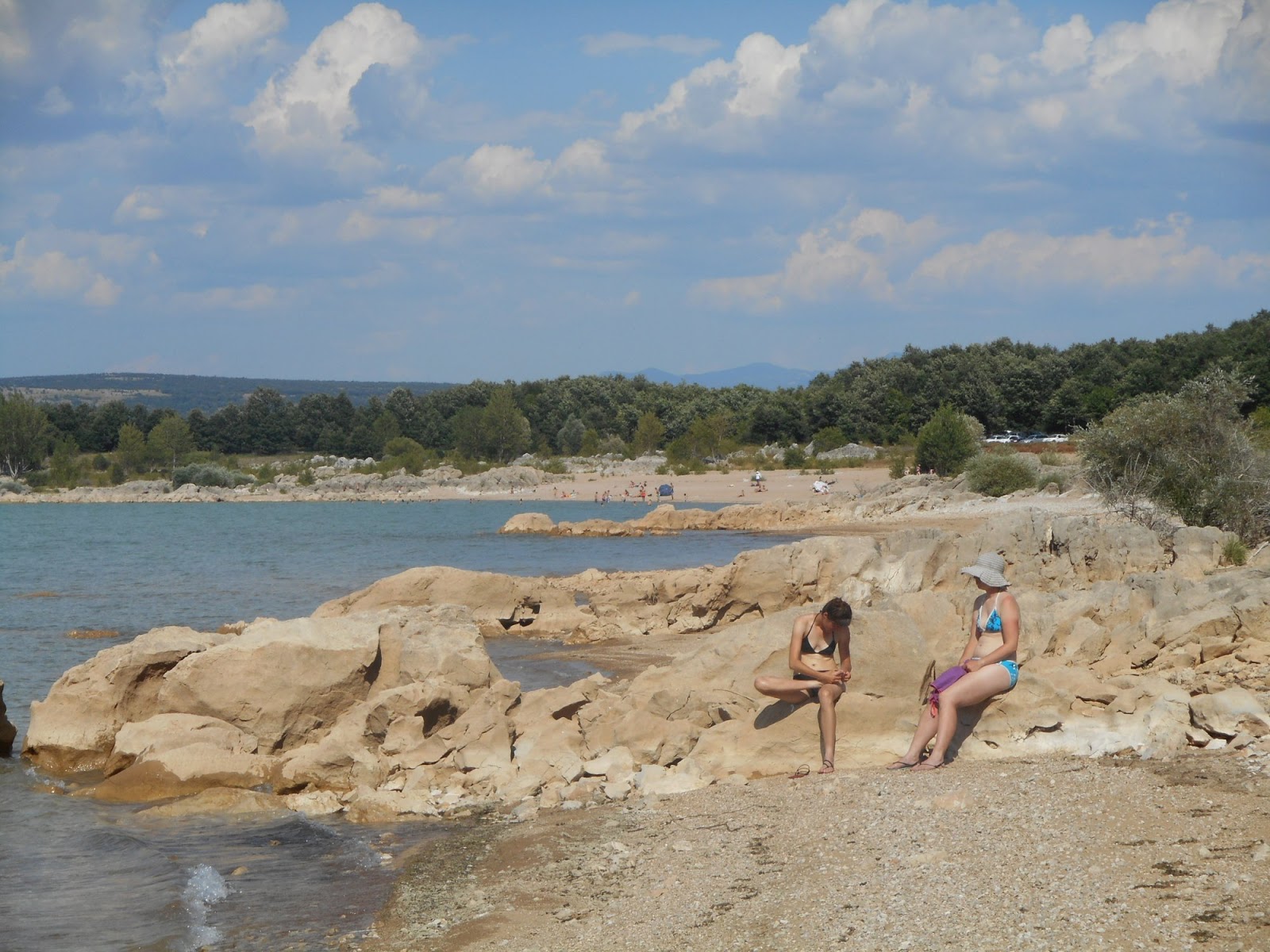 Popular place for local people.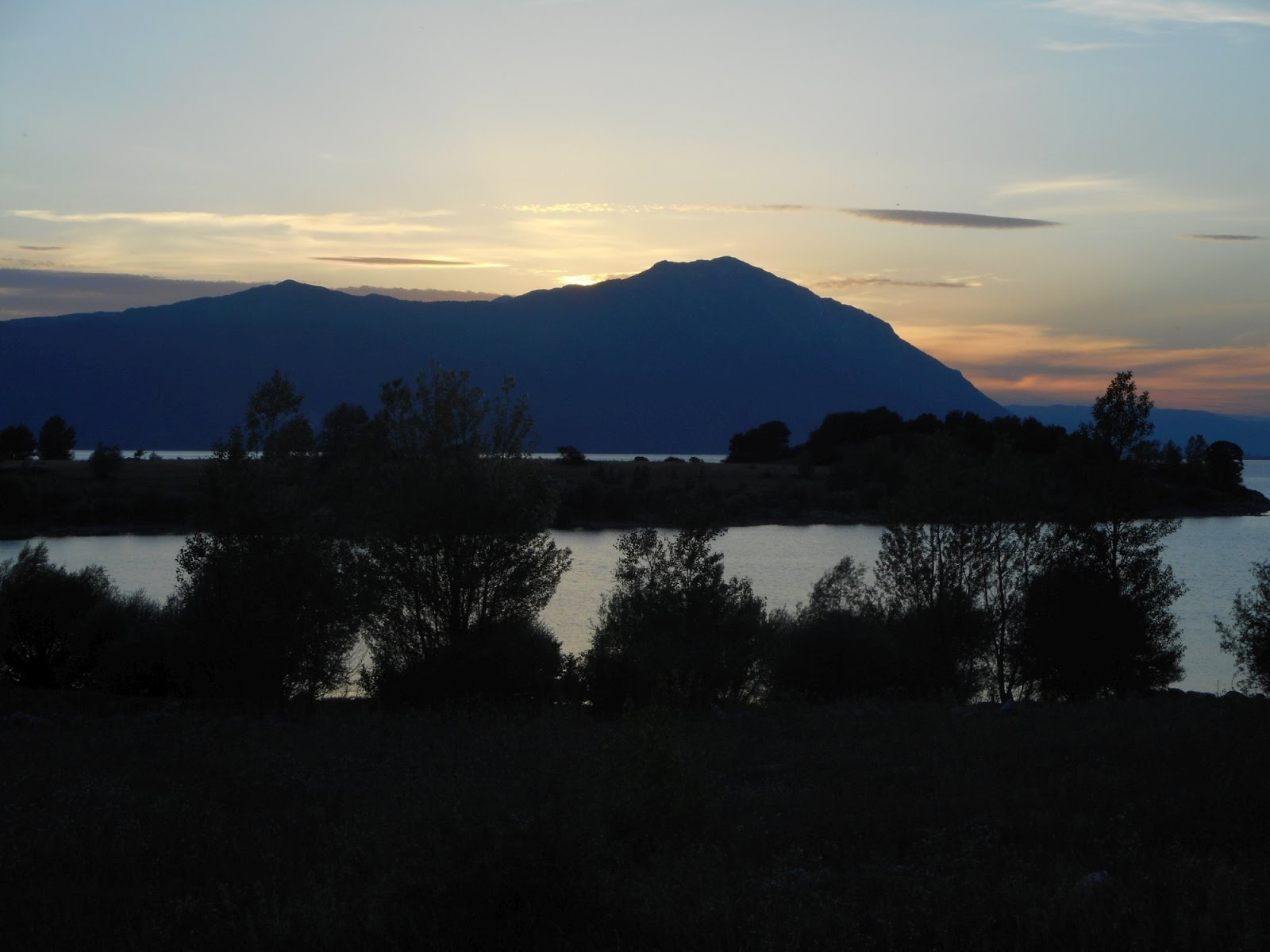 Sun setting behind Konj. Yesterday we were standing up there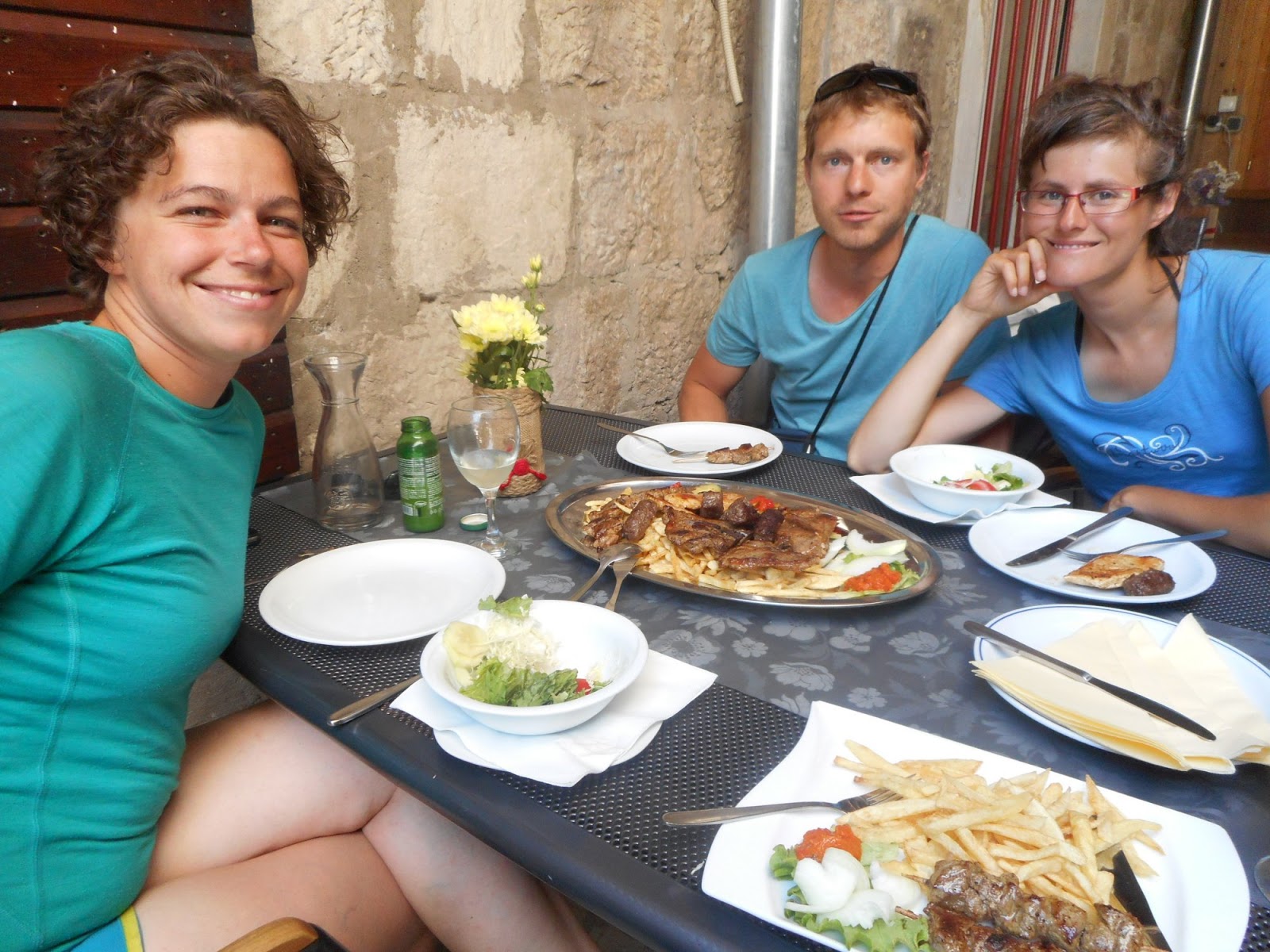 Meeting with Tomáš. We enjoy having car and eating out. Heading to sea for a week break from trail.
Recovering at sea. Healthy mud from Nin to heal our bodies
Written by Lenka Syrovatkova