Drežnica is a small place, but a place rich in history - a witness to the demise of various empires, conquerors, hajduks, and all others who dared to set foot in this areas. Drežnica escorted them all to the history books whilst staying proud, wildly beautiful and unavailable to those seeking to win her by force.
The Drezga herb (crummock - Sium sisarum) thrives in water-abundant lands for its growth, and Drežnica, our little Herzegovinan emerald, got its name from this herb. It is located along the Drežanka River, whose canyon - one of the deepest canyons in Europe - cutsthrough the mountains of Čvrsnica and Čabulja, some 20 km north of Mostar, and 100 km south of Sarajevo. The Drežanka is a clear, ice-cold and clean mountain river, which flows into the Neretva river upstream from Mostar, just below the slopes of the Prenj mountain. It brings life and much needed modest incomes to local fish breeders.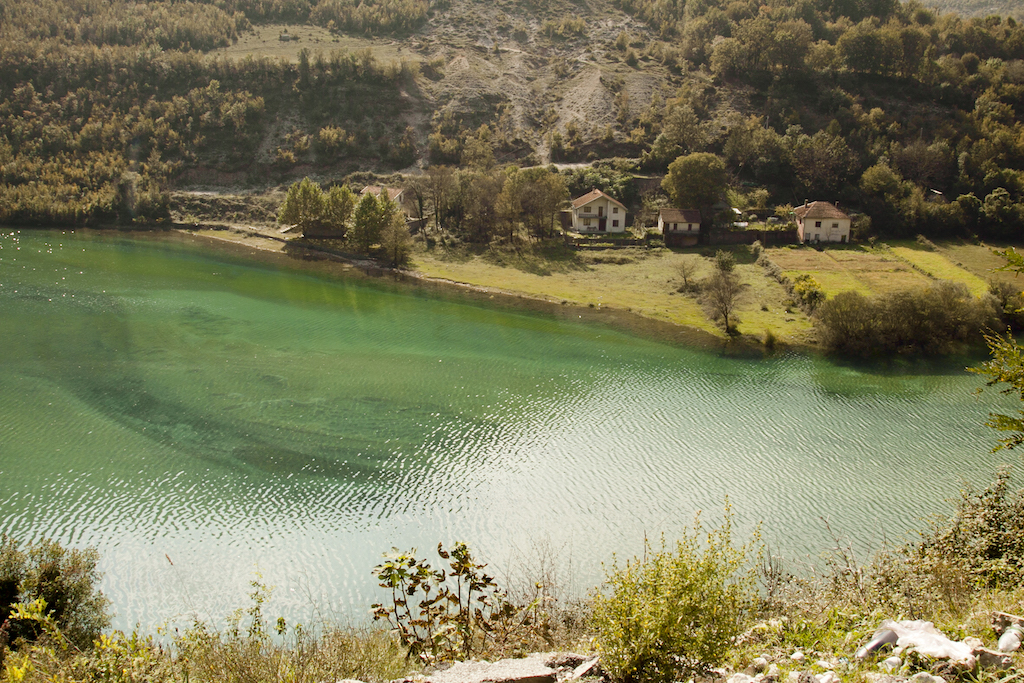 Dreznica is not only rich in natural heritage but has a fascinating history. After the Ottomans conquered Bosnia, the people of Drežnica were granted a special status, becoming privileged citizens of the Empire because of their skills in catching and training hawks for hunting for the emperors in Istanbul. Since then, the surname Sokolović (bos. soko - hawk) is very common among the people of Drežnica. They were even exempt from paying taxes, forced upon all citizens of the Ottoman Empire, perhaps partially because of their hawks taming skills and most certainly due to their tough, self reliant temperament which, above all, demands freedom and independence from anyone or anything – a trail most likely inherited from the rocky mountains that have carved out the raw beauty of Drežnica.
It's unique geographical position and isolation allowed for the centuries-old preservation of authentic traditions and customs of different ethnic groups living in this area making it a vital asset to Europe's cultural heritage. The people of Drežnica are dedicated in preserving this heritage, led by community leader Ramiz Alić. The community have managed to withstand the economic pressure to not abandon this village, partially because of Mr Alić's vision and efforts towards the sustainable development of the area by creating an eco center in Drežnica. The future eco-center will be located on the bank of the Neretva River , just beside a stećci necropolis and a centuries-old remains of a basilica-style church. Eco tourism represent a sustainable alternative to the reckless destruction of Bosnia-Herzegovinia's natural and culture heritage.
Today Drežnica is home to around 2200 inhabitants, with 618 households.. Some of these households offer accommodation to local and international visitors, which are genuinely, delighted with this place. One of the most interesting spots are the nomad houses above Drežnica, where local herders keep their sheep over the summer grazing period. A handful of these primitive shacks are preserved in their authentic form and are available for a rustic, medieval mountain accommodation experience. Details about these accommodations can be found on the Via Dinarica website, as Drežnica is one of the most important arteries of the Via Dinarica White Trail. This small place bridges rather than divides Čvrsnica, Čabulja and Prenj mountains, as well as the Drežanjka and Neretva Rivers. Seeing and feeling that connection will change you. It is soulfood at its finest. We'll be visiting Drežnica again soon to inform you on other places of interest such as Drežnica waterfall, local rock climbing sites, nomad houses, the medieval stećci tombstones, and whatever other secrets this valley will uncover for us. Stay tuned for more updates!