Krvavac (bos. "krv" - blood) is the second highest peak of Mt. Bjelašnica, towering 2062 meters above sea level. In order to reach Krvavac, one is confronted with many obstacles - from dragons and bears to the deep gorges and steep slopes which characterize this vast and wild part of Bjelašnica.

The journey starts in small settlement of Umoljani.

"Hello householder, how can I reach the dragon?" a friend of mine asked a local villager while he was collecting hay.

"How do you mean dragon?" the villager replied.

"Well, you know, the one from the rock above the village," my friend explained through his cars open window.

"It's not a dragon," snapped the villager, continuing to collect his hay.

"Then what is it?" my friend asked with disparage.

"Well, a lizard," said the villager, not even looking at my friend.

"Oh, yeah, and what's the difference between a dragon and your 'lizard', please?" he nervously replied.

"What do you mean 'what's the difference?'"

While skillfully handling the hayfork, he suddenly turned to my friend and shouted, "dragons fly, lizards crawl, my poor friend!" He continued collecting his hay, leaving my friend's jaws open down to the floor.

This was how we began our hike to Krvavac, arguing with a local over the definition of the villages mythical icon. The village is a 40 minute drive away from Sarajevo. The road leads you past Maršal Hotel on Mt. Bjelašnica, passing by Bijele Vode, the mountain lodge owned and operated by the Mountaineering Club Željezničar, and carrying on through Šabići village on Mt. Bjelašnica before heading uphill at the head of the Rakitnica Canyon, one of Europe's least explored gems.


The story about the "dragon" (or is it a lizard?) and Umoljani is well-known amongst the locals: a monster came from the Rakitnica Canyon terrorizing the local people. They managed to escape, the legend goes, and ran to a nearby hill, praying to the skies for protection. The dragon was then petrified in the rock forever. Legend aside, one can honestly see a dragon figure in the rock. Rural legends do no harm for tourism either. Judging by the increasing number of B&B's and restaurants opening in Umoljani over the past few years, it is obvious that visitors are coming. In this small place, you can find one of the oldest mosques in Bosnia, which is under state protection. Even though nobody knows when exactly it was built, many guess that it dates from the XV century. Except for the mosque, this mountain village also hides a beautiful stećci (medieval tombstones) necropolis. Umoljani is a true witness to history and a guardian of highland traditions, perched in high and isolated place, which is also a starting point for a hike and climb up to Krvavac Peak.

Above Umoljani is the Gradina summer pasture - our next stop and crossroad: on the left one can go to Studen Potok, a fascinating place which looks just like the Windows wallpaper. It even caught the eye of NatGEO who published a short story and a photo of this place. To the right one can go towards Crveni Klanac (Red Gorge), Dugo Polje (Long Field) and Krvavac, or even further on towards Lukomir, a magical village on the ridge above the Rakitnica Canyon. On Gradina, we were accompanied by two dogs - a small goofy one, who like to put his nose where it doesn't belong and a huge tornjak shepherd dog, who was our guardian to and from the peak.

From Gradina, we continue towards Crveni Klanac, the natural pass through the mountains, which is "red" during spring and summer because of the specific color of the soil and rocks. We pass the gorge quickly - some on tour skis, some on their feet - and continued towards Dugo Polje, the genuine desert of Mt. Bjelašnica, planted in between massive rocky mountain massifs. Dugo Polje is really a "calm before the storm" as Bjelašnica's high and menacing peaks are waiting above.

We took a rest on Dugo Polje and prepared ourselves for the next climb, which leads to Greda. While we climb, I suddenly spot a bunch of scattered feathers and our little goofy dog wallowing on that place. That dog even got a name on the way up - Geronimo, and by wallowing in the poor eaten birds' remains, he wanted to show us he is a great hunting dog. Well, Geronimo might be a good hunter on mountaineers' food remains, but he couldn't trick us by pretending to be someone else.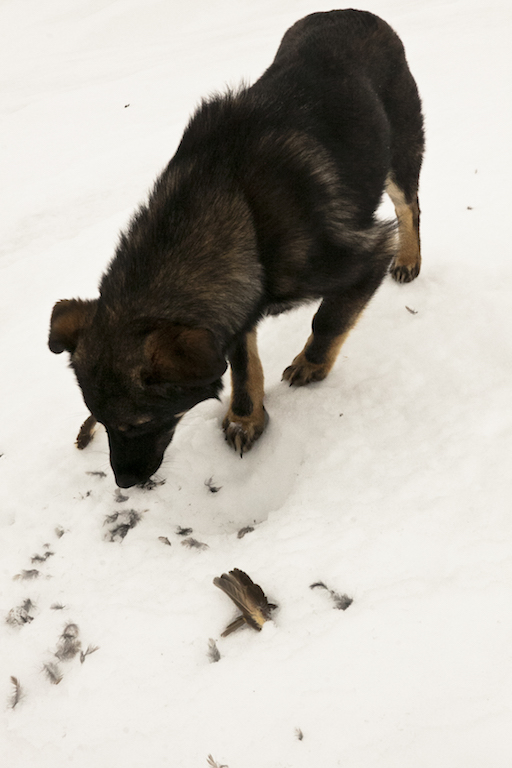 We took a short brake just before Greda and enjoyed a sight on an abyss, showing itself right in front of us only few steps away. We go to the left, climbing Greda and making our way through the snow for the older members of our small group, who decided to join us despite being 60+ years old. They said it's better to do this hike than to read black chronicle or feed already fat Sarajevo pigeons. After successfully climbing Greda, we reach the final ascent. The snow is 2 meters deep, the juniper is well covered beneath us, but the snow's crust is surprisingly solid, not letting us slip through it. We suddenly see an unknown yellow ball in the sky. It breaks through the clouds and gives a post-apocalypse impression, the way the sun would shine after a nuclear war from an 80's film. That small yellow ball burned my face and scorched my lips after walking for several hours. Despite the cold, I felt like I had just come out of an oven. You can't see or feel it burning you, but be rest assured that it is.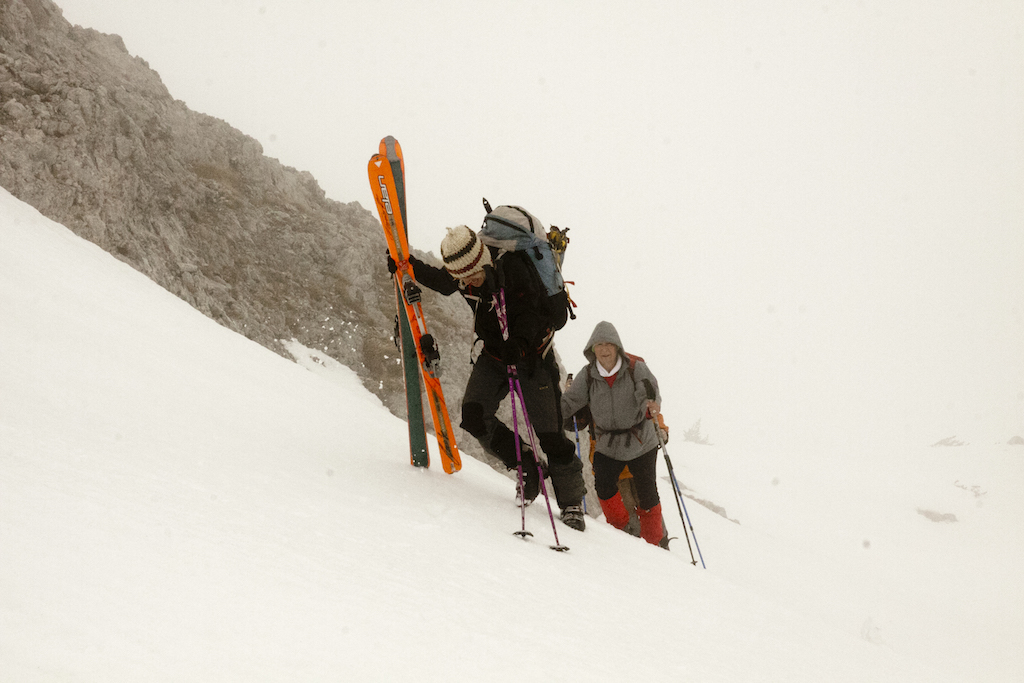 A bear's tracks are visible below the peak. It is unusual to see them here and at this time of year. A friend said he hadn't seen them just a few days before, so the traces are definitely fresh. Judging by the traces' size, our beloved "teddy bear" is a huge brown bear. We laugh and joke about it but are all secretly hoping we won't meet him today. It crossed my mind that perhaps Krvavac was named for the blood spilled by those who encountered that huge guardian of the mountain. It gave me the creeps. But I shook that thought off, rubbing snow against my face to come to my senses and continued walking towards the peak. At 2000 meters a man can think of many stupid and silly things due to the lack of oxygen.

Krvavac.

It was extremely windy and cold on the peak. But when you crouch behind a drift, it's comfy enough to even take off your jacket. I was sorry that weather was so bad - dark and gloomy - but it was glamourous anyway. We could not enjoy the beautiful views that Krvavac offers when the sun is shining but the cold united our little group. We had a quick coffee and brunch and then decided to go back to Umoljani - the place where it all started.

I mustn't forget to mention that this great hike was organized by the Mountain Club Željezničar team from Sarajevo. For more information about them please visit www.pdzeljeznicar.ba. The tour Umoljani - Gradina - Crveni Klanac - Dugo Polje - Greda - Krvavac is around four hours long in winter conditions. It is also located on the White Trail of the Via Dinarica. It is recommended for more experienced hikers and mountaineers in good condition because of the high ascents. It's better to not even ponder to wander Bjelašnica's outback without experienced mountain guides!