At the end of the month I like to look back on what I've done and where I've been. On how I felt and what was on my mind. It turned out that my Instagram pictures actually give a pretty good impression. So, I decided to put them together in a blog post. Her is September.
Slovenia
This is the view from Javornik mountain, they build a lookout tower on top so you can actually see something. I love the forest, but when I hike up to a peak, I want a view! This one I like.
View from Javornik
I wanted to share a photo of Predjamski Grad, the end of my Via Alpina trek, but halfway a long boring macadam road down, I found a real nice hiking path to Sv. Lovrenc Gora, where I planned to camp. So, here's the view from this sweet peak. And here is the start of the next part of my journey: the Via Dinarica Green Trail. Green Trail? Yes! For Slovenia I created a route that's basically a combination of local (mountain) hiking trails, trailrun tracks, thematic hiking routes and a bit of my own previous hikes here. I'm super excited. Even though I skipped Predjama where I more or less ended last year, it feels like I'm "back". Back in the Dinarides and back on "a" Via Dinarica.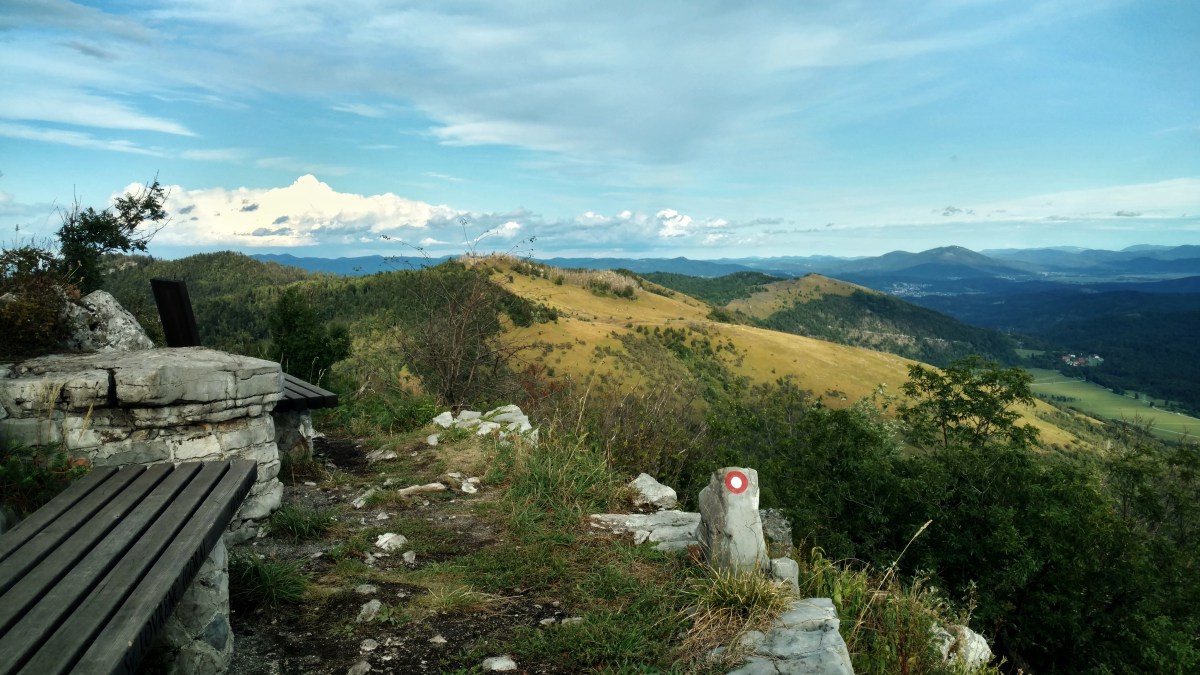 Sveti Lovrenc Gora
Confession: hills make me happy too, especially running down the green grassy ones.
This is Slovenia, there's a church on e-ve-ry hill And what's also funny, people RUN up mostly before breakfast or after dinner, ring the church bell and run down. Really. It doesn't matter that there's a girl camping next to the church, that bell has to be ringed… Dobro jutro!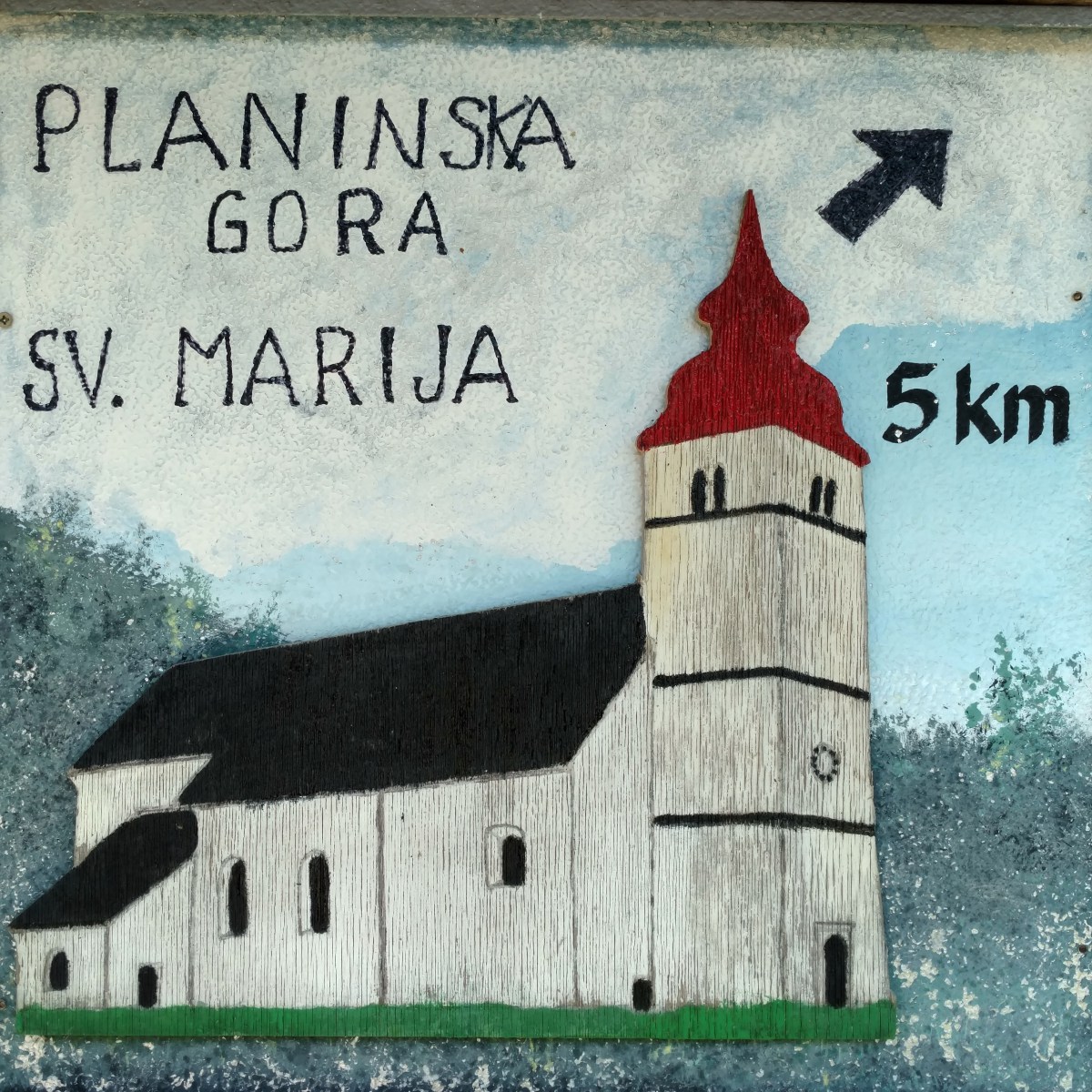 5K up
This is a lake. Cerkniško jezero. And I'm camping on the bottom. Beautiful!
Although I know that it takes at least four rainy days for the water to rise to a certain level and then at least four more days for the water to fill this enormous lake… I kind of couldn't get the flood stream visions out if my mind.
The next day when I walked across the lake, I found traces of a bear. Yes, there are bears around here. Lots of them.
In the village on other side, a man showed me photos of two sheep that were killed last night. "This town is dangerous at night. Many bears." I'm usually not afraid of bears, I believe that they won't bother people, but I noticed that some people try to scare me.
Why?! If it's not for the realistic fears, it's the fantasy-flood-stream-fears that rub me from my sleep.
So please, let's stop scaring each other! Stop the stupid (well meant) warnings that are just a product of your own fears rather than useful advice. And please stop comparing me with a sheep. Really.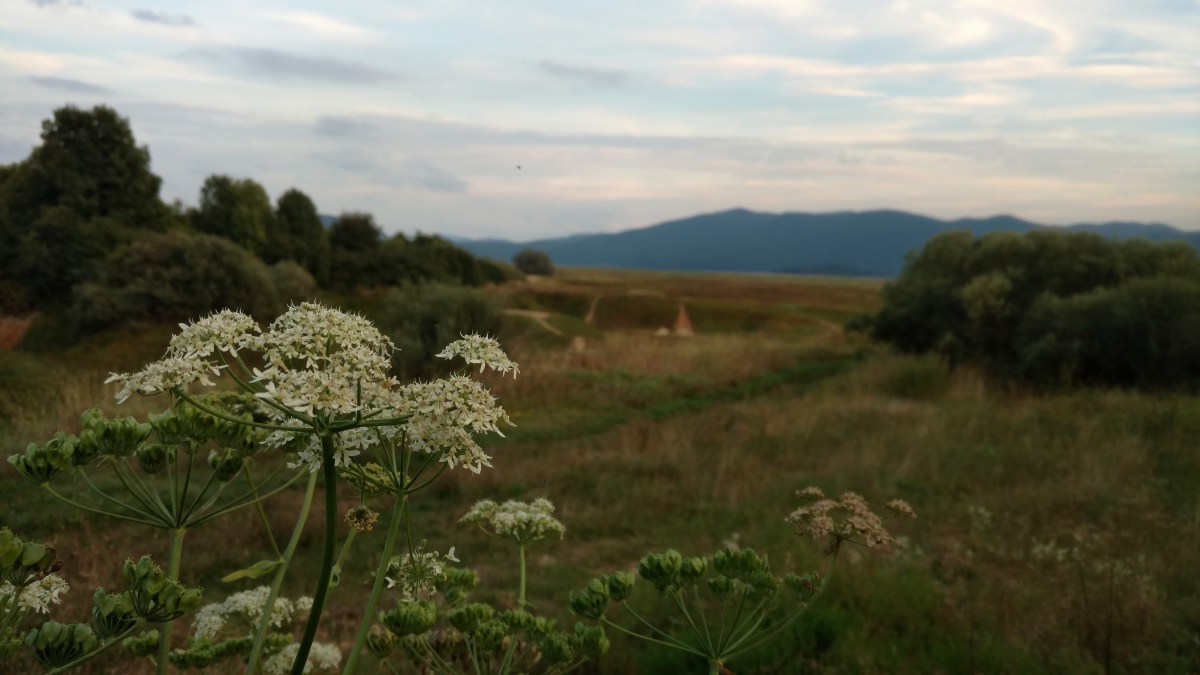 Cerkniško jezero
I'm back in Loška Dolina, the green heart under mount Snežnik. It's a relatively unknown region, but last year it kind of stole my heart. Some say it's less developed, that they're behind. I think they have just the right pace. It's a region where people used to work on the land. Men in the forest, women in the garden. This changed over the years, big city jobs pay better, but still you can feel and see that people live differently. More relaxed. Old grannies are watering the flowers while the old men sitting together with a cup of something. They wave and smile with a heartwarming twinkle in their eyes.
Of course I'm generalising ánd romanticising, but hey, this is what I feel. And hey, look at this photo… Need to say more?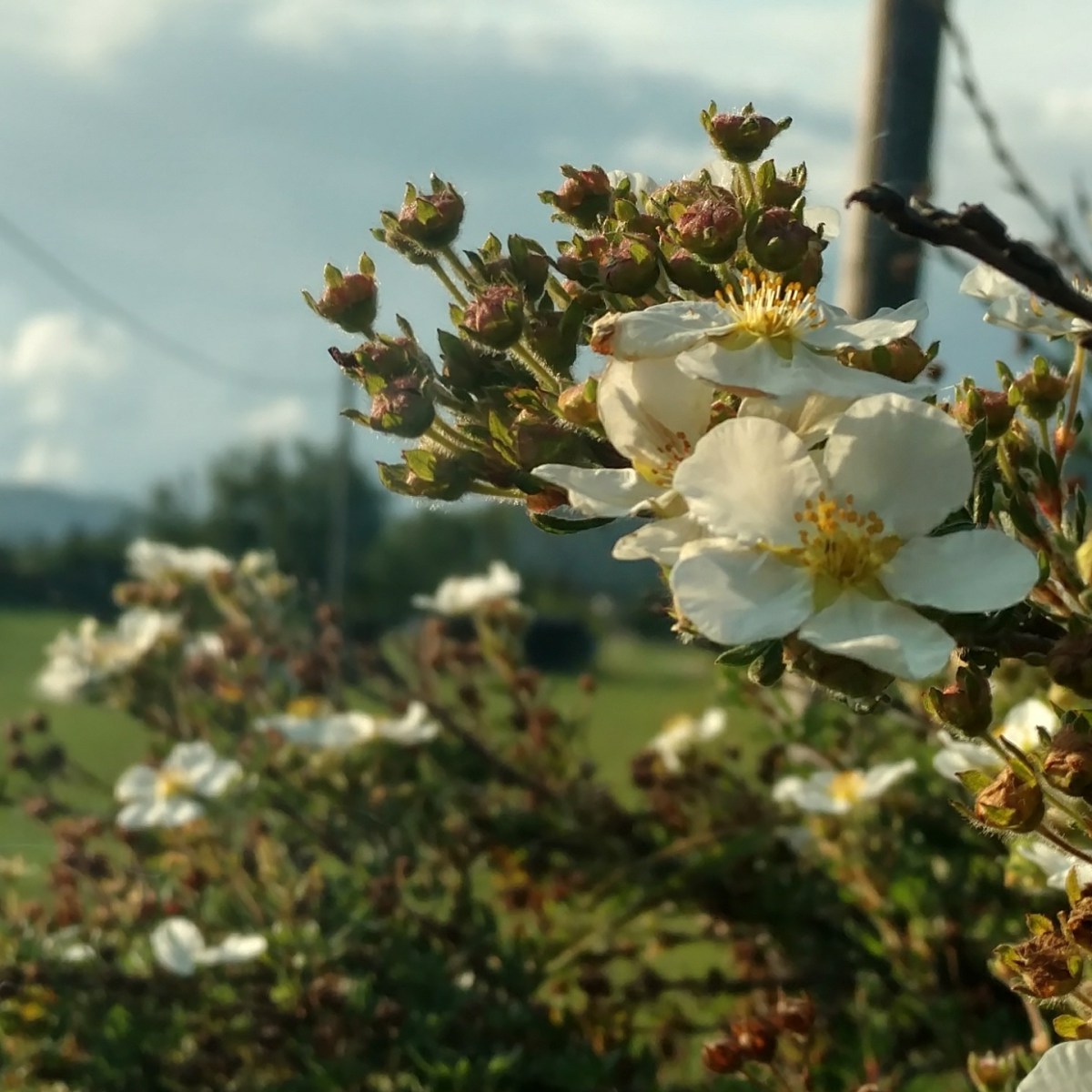 Vrhnika pri Ložu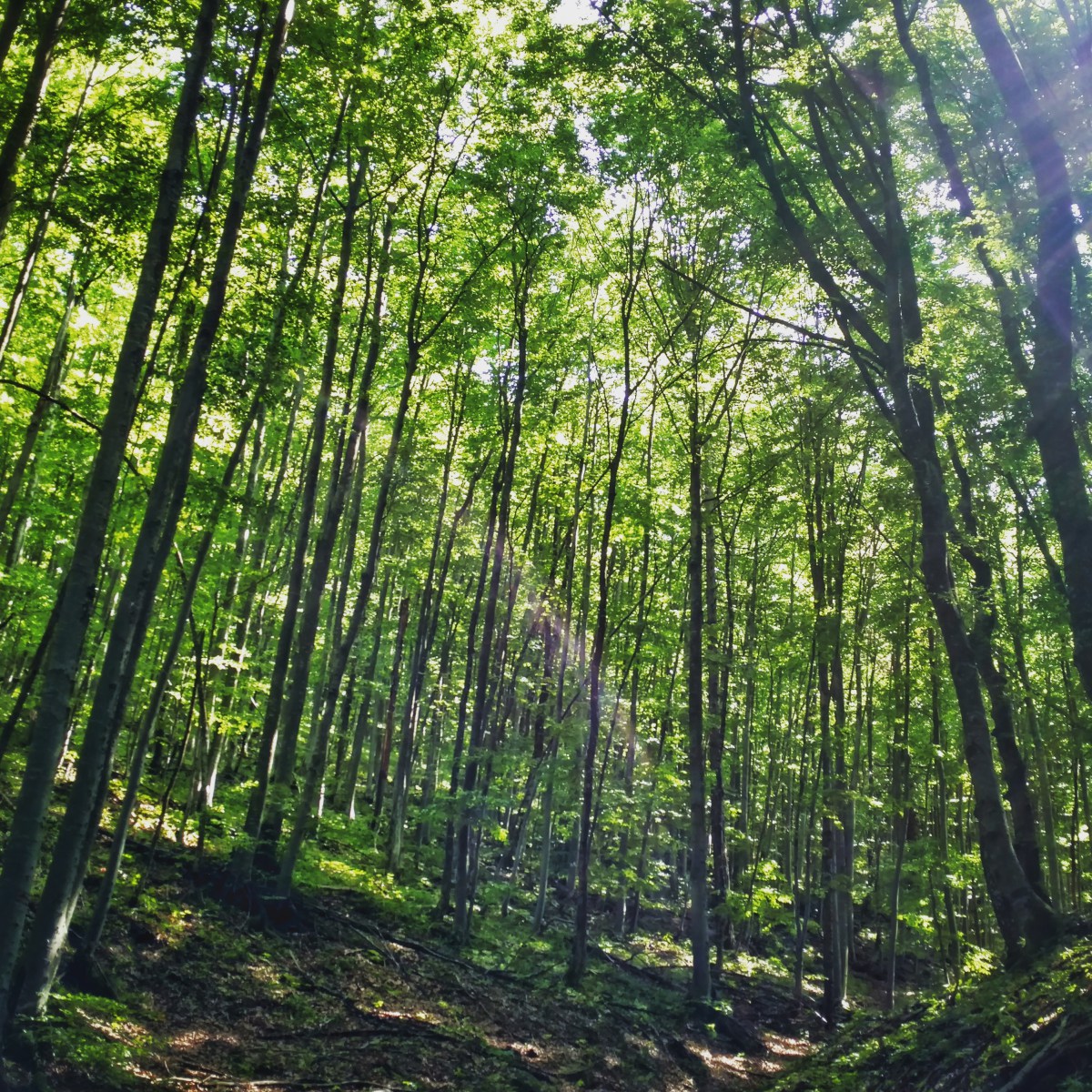 My view for the next few days, hiking through Loški Potok and Kočevje.
Croatia
Next country, Croatia. I can't believe it. I have to say it out loud. "I walked from Amsterdam all the way to Croatia." And repeat it. "I walked from Amsterdam all the way to Croatia." It feels amazing.
Little less amazing was the lady with the plastic gloves at the border checkpoint. For over an hour she's been busy taking e-ve-ry item out of my backpack, asking me what it was. "Polenta, bouillon, oatmeal with cocos, paracetamol, E-reader, emergency blanket, solar charger, …" Welcome in Croatia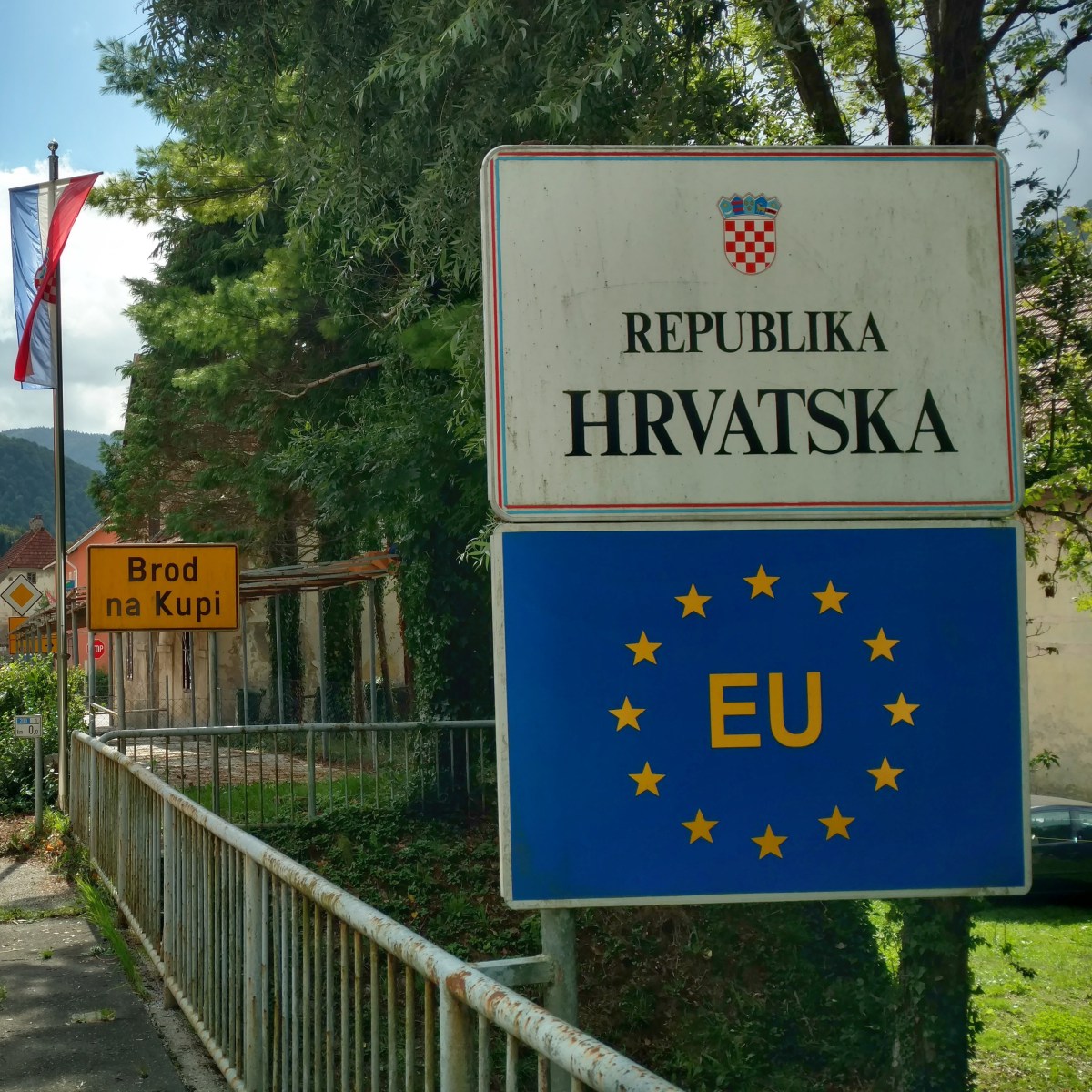 Another border
All of the sudden the summer stopped. Apparently it has been very hot and dry when I was in the Alps. Now it's cold and wet. Just like last time when I was in Gorski Kotar. "You should come during the summer," yes I know and I certainly will. Because it is beautiful here. And pretty wild. A bit rough though. I'm impressed by those forests, they're endless. Again the trees starting to turn orange. And red and yellow. I'm all alone. I mean, no other hikers. It's kind of magical. The clouds, the trees. So quiet.
Gorski Kotar
My home for tonight: Planinarska Kuća Javorovo Kosa, 1000 m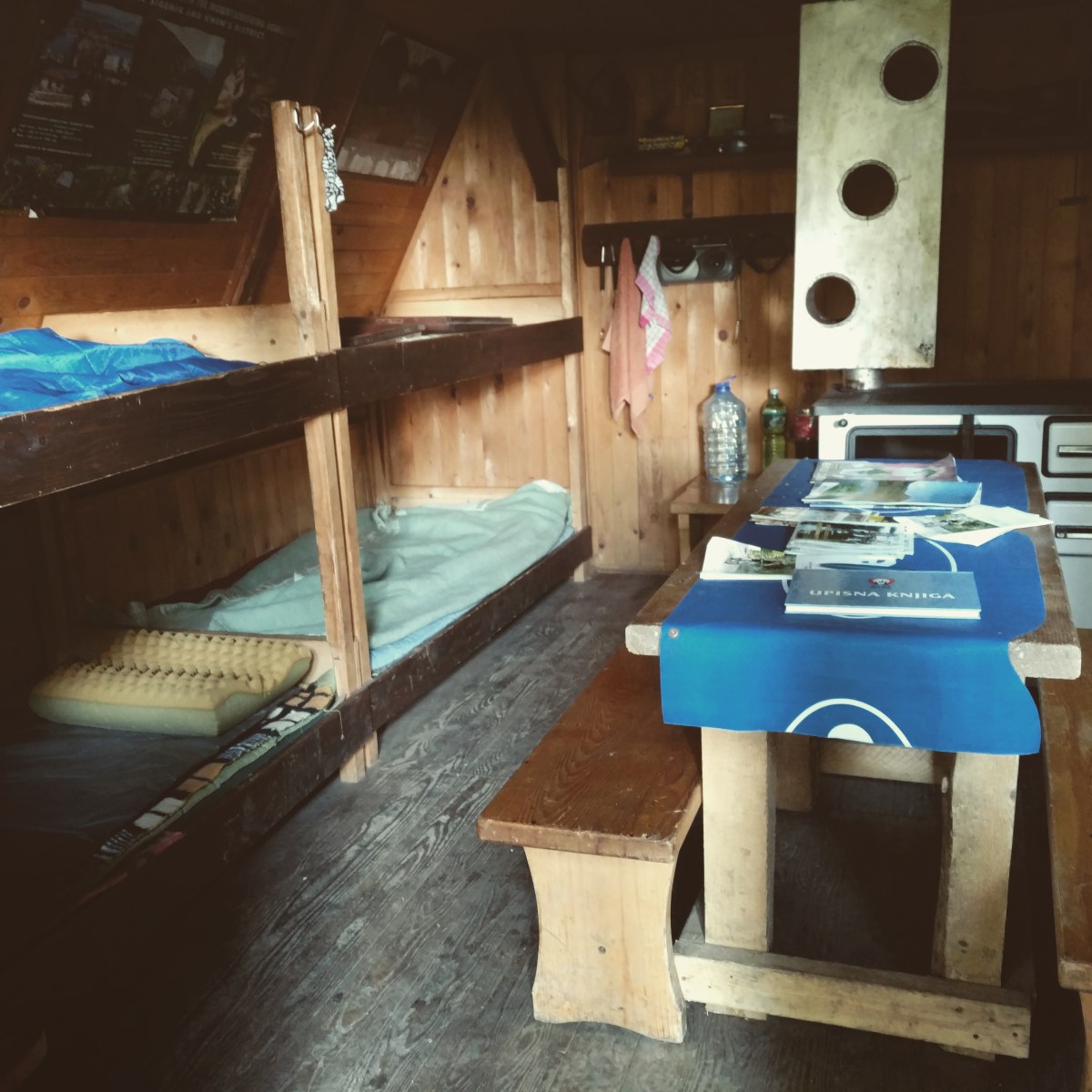 Planinarsko društvo: Višnjevica Ravna Gora
For now, the Via Dinarica Green Trail in Croatia has a few road sections. They suggest to take a bike, but I have no clue how to organise that ánd I have to admit that I don't mind a few paved parts. You see a different side of the region. I mean the forest is great and the views from the mountains are brilliant, but walking through the villages in the valleys gives you a different perspective. In every possible way.
Karolinaroad from Ravna Gora to Vrbovsko
Look I got a real follower! Hiking five days with Elise through Croatia.
It's a very very autumny day on a trail full of mushrooms. I like
"We're almost there… No really, it can't be far…" First hiking day together was a long and interesting one. According to my GPS we were almost there, according to the signpost it was still 3.45 hour! How on earth can 5K take almost 4 hours?! "I think we can do it in two." I was wrong. Hiking turned into climbing. Although that's the sport that brought us together, scrambling up slippery rocks at the end of the day is slightly different than rocking plastic in the gym. #justonemorestep
Hiking Kle
Sunny selfie series ️️ Klek, MalaKapel & Plitvice lakes – Via Dinarica Green Trail through Croatia
A perfect start of the the day: waiting for the sun to dry your tent while making coffee when your hiking buddy slowly wakes up (and takes a beautiful photo).
Sabljaci jezero
Some places are just undescribable beautiful. And undescribable popular. Everybody knows about the Plitvice lakes and everybody goes there. That was a reason for me not to go, plus that I've been there before. Until I realized that Elise, my hiking buddy who flew all the way from Amsterdam to Zagreb to join me for less than a week, had to see this place. We hiked 75 kilometers on the Via Dinarica Green Trail, saw mountains, forests, fields, rocks, rivers and even a lake, but no waterfalls… Since we were only 40km away from Plitvice National Park, we decided to put up our thumbs and got ourselves a ride. I'm so happy we did!
"Aren't your feet getting wet?" Uhmm, yes they do. But they also get dry… Very fast. And no, I don't have cold feet. It's funny, my feet are often the warmest part of my body. In the evening when cooking a meal, I'm often wearing my downjacket, buff, gloves while my feet are still naked. Also, instead of wearing socks during cold nights, I have to open my sleeping bag at the bottom so I can put my feet outside. Strange, but true. Walking barefoot or barefootstyle makes you use every single muscle in your feet, which means they get strong, but also warm.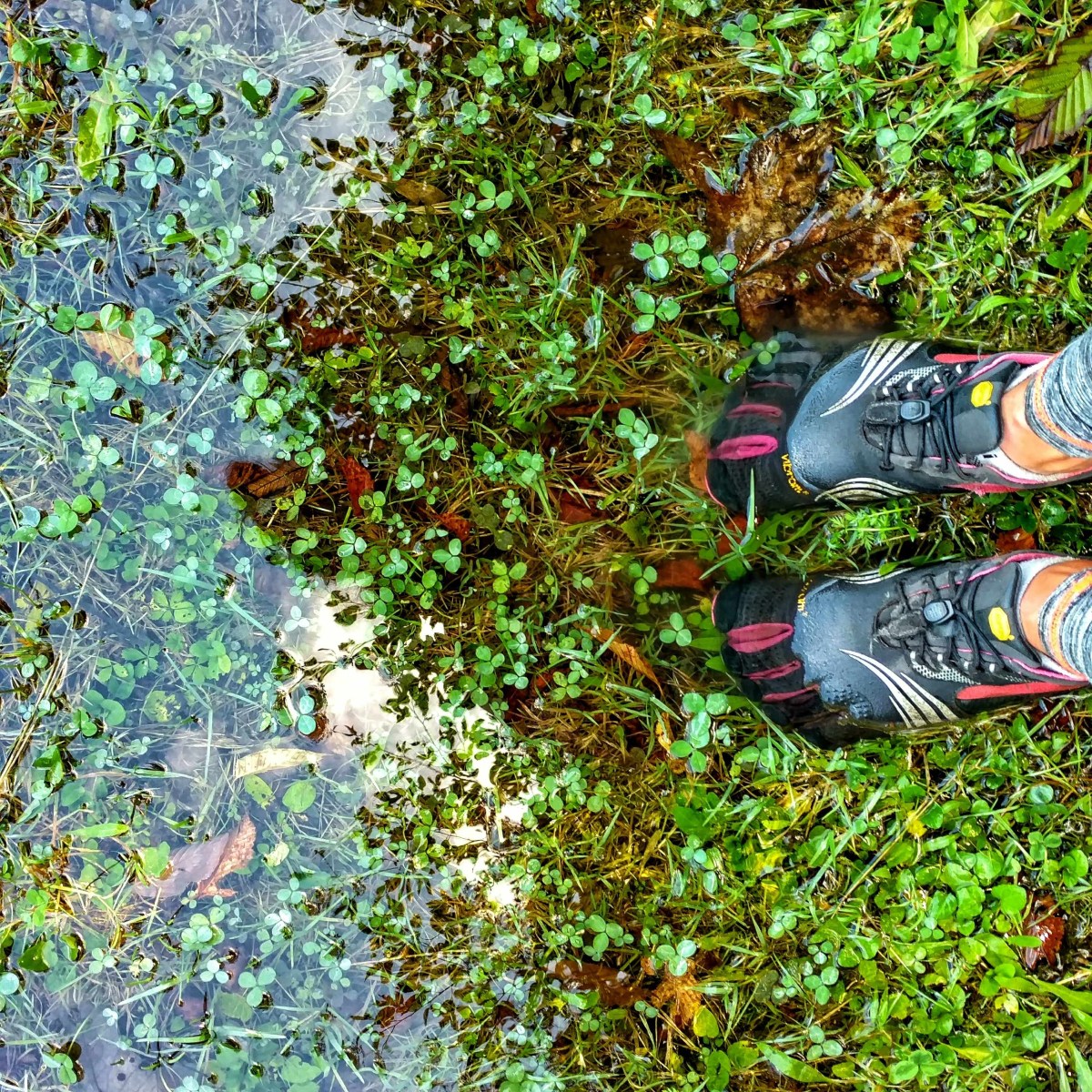 FiveFingers under water
Bosnia and Herzegovina
A rainy, but colourful start in Bosnia and Herzegovina. This is Bihać, from here I'm gonna find my way through BiH towards Sarajevo. It's the last part of my journey, perhaps the most challenging one. For some stretches I found hiking trails, but in order to reach the beautiful spots, I have to hike along roads. This is no fun with the dogs and crazy cardrivers. I don't know how I'm gonna do it, but I'm sure I'll find my way.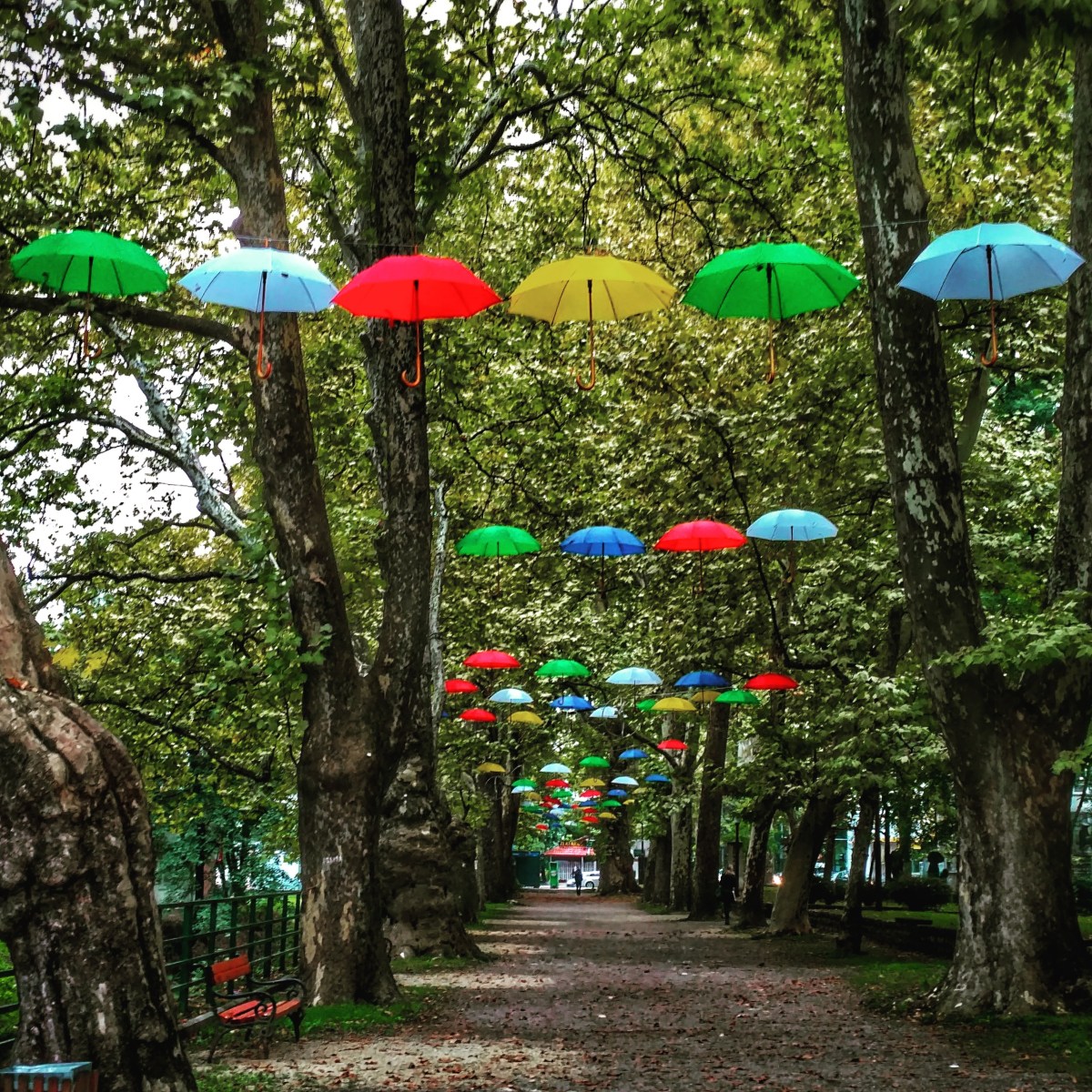 Bihać umbrella lane
Wherever I come, first thing I get are a pair of slippers/pantoffels. Impossible to get cold feet over here
Papuča
Aren't these flowers a bit late? Or early…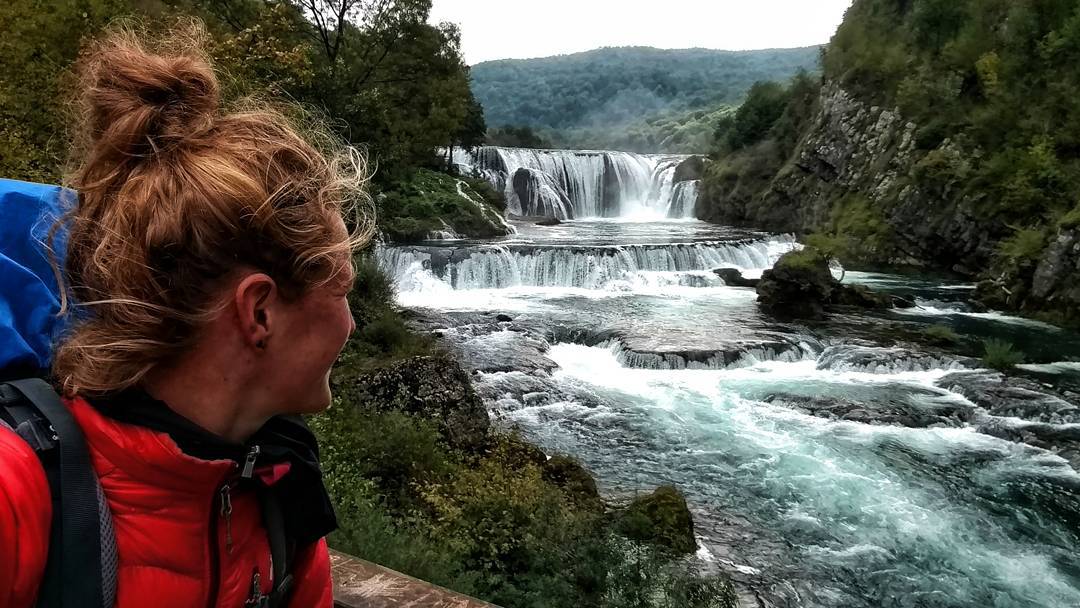 Štrbački Buk, people who stare at stuff
"Up and down, hiking in BiH, it's a rollercoaster of impressions and emotions, I can hardly keep up with them. But when the ride is over, you want to stay for the next round." I wrote that about a year ago and it is still true. I'm happy to scroll through my photos and see so many nice places I want to share, I can hardly choose. But I would like to show not only the shiny Instagrammable moments, I use Instagram to show my journey in stills. The whole journey.
And to be completely honest, I kind of have a hard time. The last week has been difficult in order to find my way. I sort of know where I want to go, but the problem is that I want to go on foot. That's not a common thing to do, I know, but here it often seems impossible. Sometimes there's only a big road and I can tell you, these are no fun. Smelly, noisy and boring, but most of all dangerous for hikers. My biggest fear are the dogs. And they know that, I know, but really, they're super scary when they're hanging around in groups, next to the road. I'm tired off being afraid. It's only been one week and that's not enough to give up. I believe it will get better, in a way I get used to it, I just need some time to adjust. AND I need to spend just as much time hiking in nature!
Roadhike
And when you think you had enough of it, of all of it, you find a place like this… The evening sun is my favourite, evening sun and a nice, quiet river is even better
Una river, Ripač