At the end of the month I like to look back on what I've done and where I've been. On how I felt and what was on my mind. It turned out that my Instagram pictures actually give a pretty good impression. So, I decided to put them together in a blog post. Here's October.
Bosnia and Herzegovina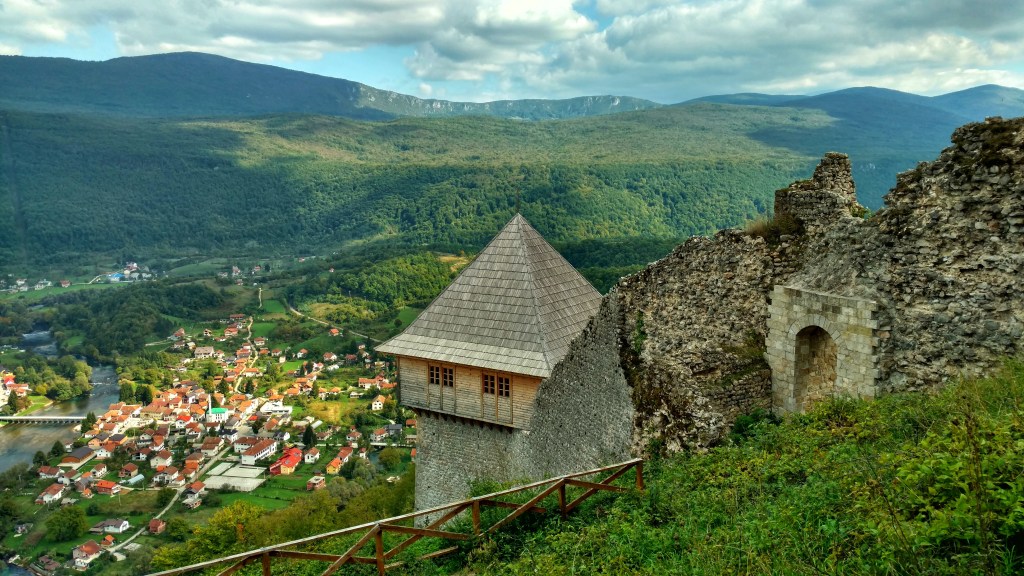 Kulen Vakuf view from castle Ostrovica
I treated myself to a backpackless hike, oh what a pleasure. The village down there is Kulen Vakuf. During the Ottoman empire there were two castles on each side of this little town. Now there are two ruins. Nevertheless worth a visit, even if only for the view.
Early morning on the trail, hiking from Kulen Vakuf to Vrtoče.
I spend the night in a hunters lodge full of hunters who had to get up at 5.30. Luckily they made coffee for me as well ánd assured me that if I stayed on the road, there was no way anyone would shoot me. Maybe it sounds stupid when you look at the road on this picture, but in Kulen Vakuf I was told that it's dangerous to get up here (all by myself), that there are bears, wolves, boars and…. hunters.

I listened to those people, appreciate their concerns, but went my own way. And look how beautiful it is up here. I'm so glad I went and I'm so glad I met those hunters, because they gave me the other side of the story. Because of them I had a totally fearless, super pleasant hike.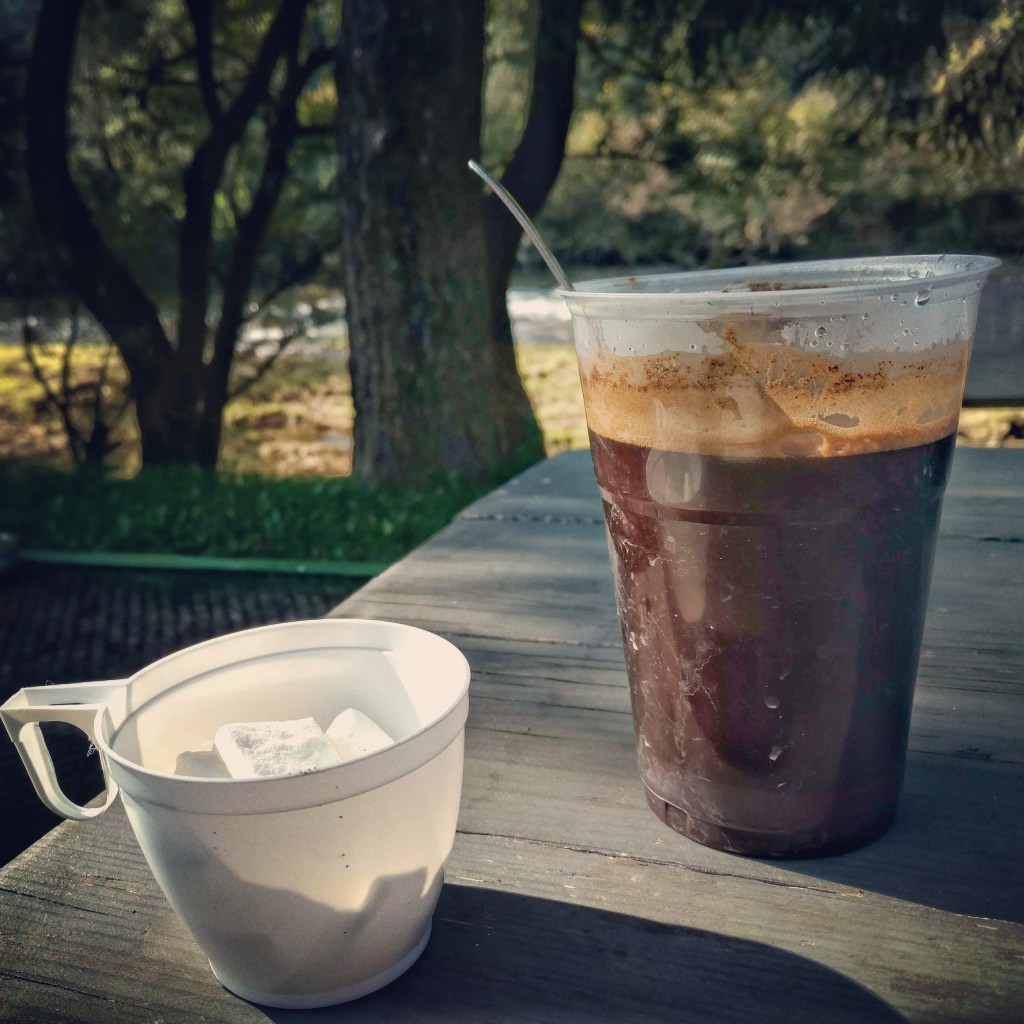 Bosnian coffee?
This is what happens if they think you're from the US: Bosnian coffee, American size…
This is the view from Šibovi, a small village somewhere between Podrašnica (Zelenkovac) and Jajce: Another colourful day in the forest.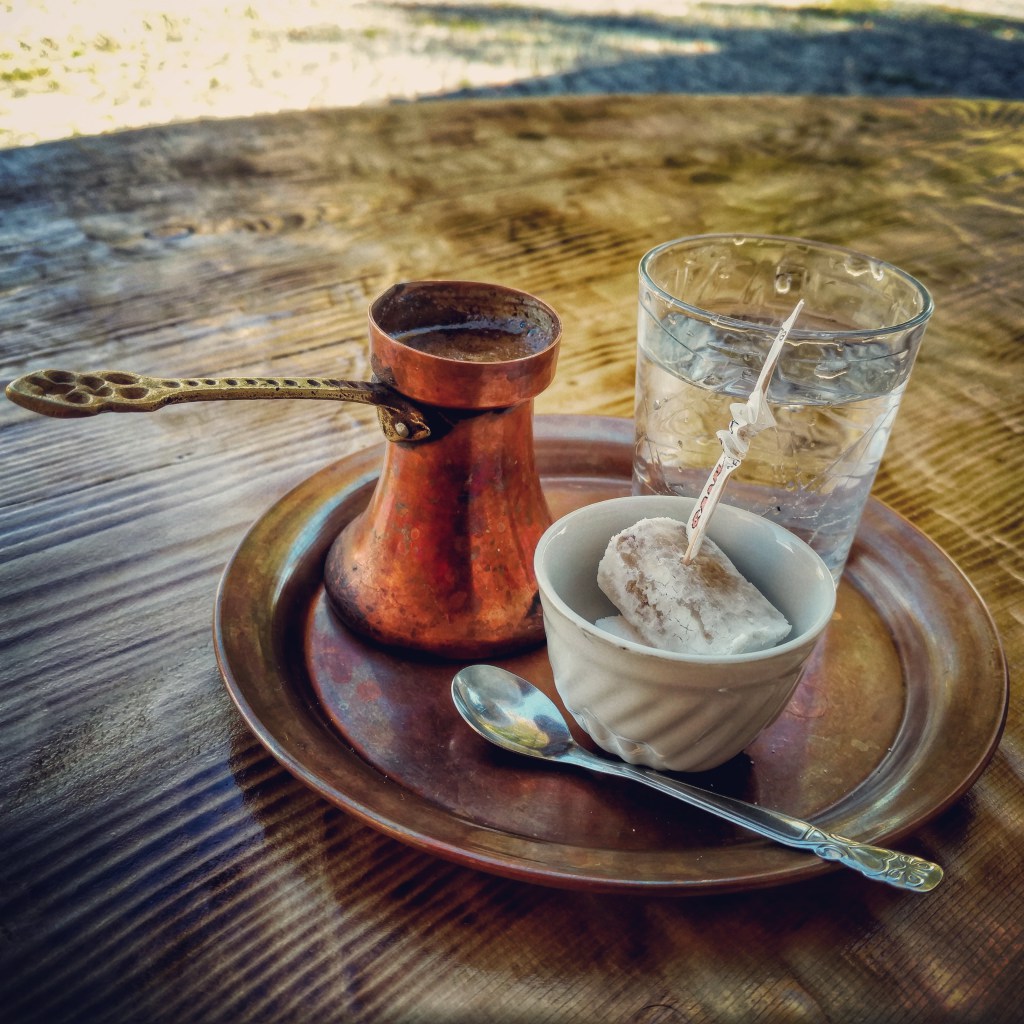 Bosanska kafa
And here we have the real Bosnian coffee, I like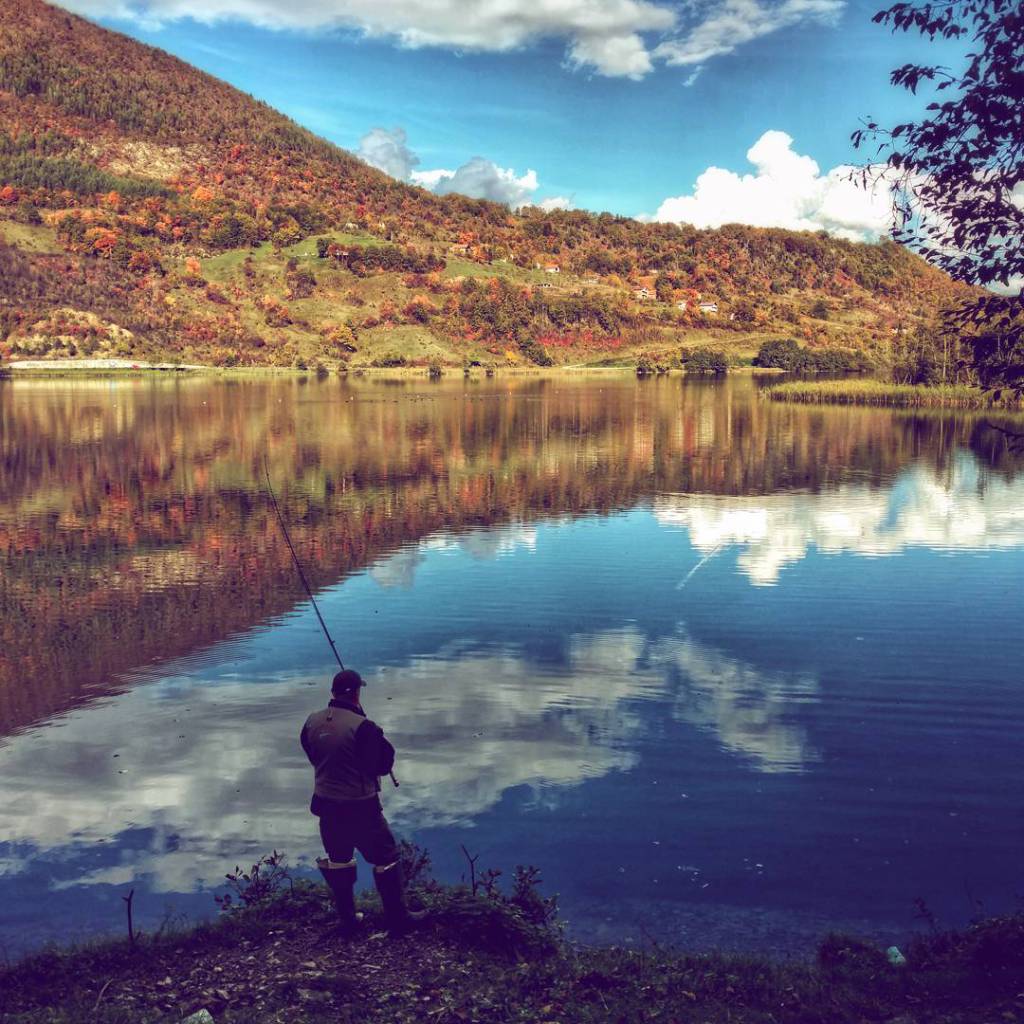 Veliko Plivsko jezero
Last few days I've seen many fishermen and I'm kind getting it, I think. Perhaps it's not just about catching fish… I mean when you think it, a fisherman is often alone at the most beautiful, quiet places. They bring all they need and then spend a few hours or days there. Catching fish. Or not. Sounds good to me!
Bears on the road…
New old pants, new old shoes & some shit on the road. I prepared myself for the last part of my journey, for the winter. Therefore I picked up some warm clothes, a warm sleeping bag, my bearbell and a pair of shoes. New old shoes. And guess what happened… The temperature is going up! Good weather, non stop. The snow on Vlašić is probably melting, nevertheless, I'm prepared! No "bears" on the road for me. Just a some shit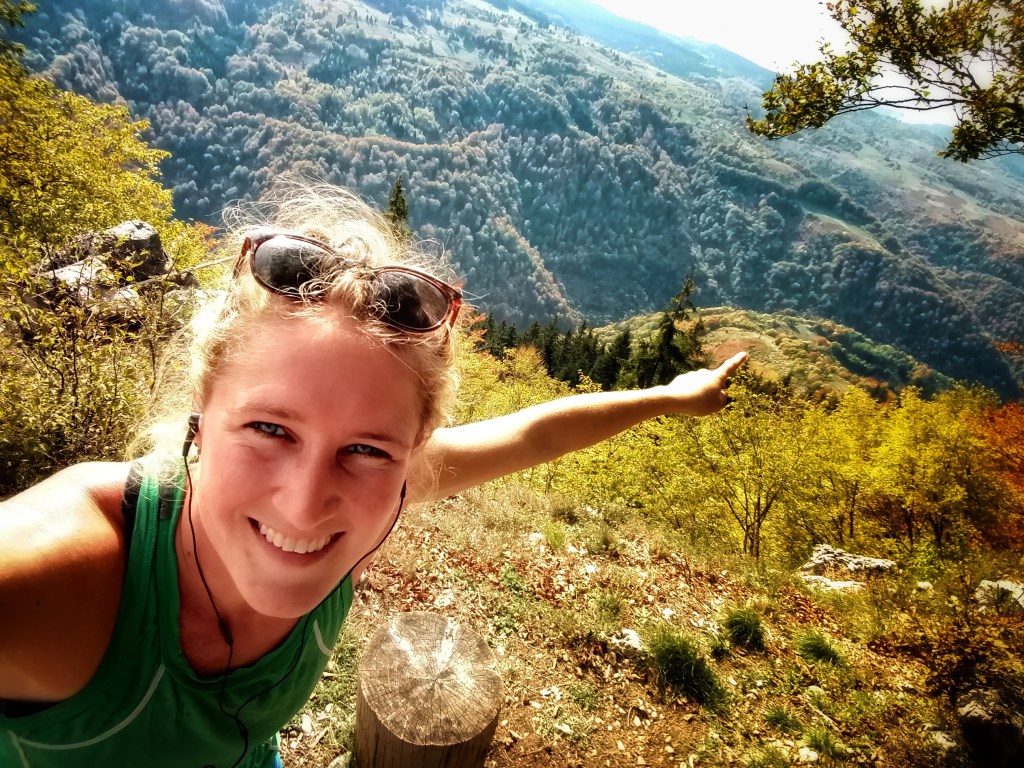 Čuperovica
From Jajce I followed a small road up through some small villages. Through the forest, through more villages, more forest until I found a good place to camp. The next day I wanted to hike from Čuperovica to Smet, a supposed to be beautiful hikingtrail. Only I had to reach the trailhead…

My GPS had no clue, there were no signposts and the people I met offered me a ride back to town. "No thanks, I'm going to the mountains. (Da, sama!!)" After one more hour through the forest, I reached an open field with a trail that lead me to this viewpoint. Oh yes, I'm back. Back in the mountains and look, that's where I came from. Happy and proud that I found my way.
Smetovi mountain, this supposed to be beautiful hikingtrail IS super beautiful!
On my way up to Vlašić. This is really an amazing mountain. It's sweet, it's grassy, but there are cliffs and rocks as well. The city down there is Travnik, it should be worth visiting, but Vlašić changed my mind. I want mountains. I choose mountains. This is where I feel happy. So, I'm gonna cross this beauty and try to find my way to Sarajevo through the mountains instead of going all the way down.

Vlašić mountain, I like
More Vlašić
There is this typical mist or smog which covers the valleys. I'm not sure if it's actually pollution or a mountain-thing. Or a combination. It is beautiful from above, but I remember Sarajevo during the winter and that's no fun for sure. Luckily there is a solution: go up into the mountains
Lisac mountain, Good night
For real
Tvrtkovac peak
Today I'm not alone, I got a guide (long story) to bring me to Tvrtkovac, a peak close to Pepelari where I camped. After this peak I had to do it on my own. Do another six hours on a sort of marked trail. Despite the very detailed (Bosnian) description of the route, I managed to loose the track within half an hour. Stupid thing is that I know exactly where I took a wrong turn, but I was too stubborn to go back. As a result, I scrambled down the mountain, arrived in a village which I was supposed to pass by from above and hiked 20 kilometers on macadam roads… BUT I made it to Ponijeri and I had a great day
Perun planina
Meet Perun. I named this cute dog after the mountain we hiked. For one day Perun joined me, or actually followed me. First I thought he (or she) would go back at a certain point, but he didn't. I went up, he went up. I walked through the snow, he did. I ate pita, he did. When I stopped to put on warmer clothes, I saw him shaking. He's still young and I wasn't sure if he could find the way back. I didn't know what to do, so I kept on going. I crossed Perun mountain, he did.

When we arrived in Vareš, I realized that I couldn't take him with me for the rest of my trip. I went to a gas station to warm up and think of what to do. Perun was not allowed to come in. Poor, cold Perun. I asked the guy who worked there what to do. He just laughed. He tried to chase Perun away. Perun kept on coming back. He locked Perun in the bathroom, Perun waited.

Ow and now comes the terrible part. The terrible part is that I left Perun in the cold. I left this cute little dog in the bathroom. Honestly when I think of it, I feel so cruel. It hurts. I know I wasn't able to take care of him, but I also know that I didn't do everything I could to help him.

Maybe he walked back. Maybe the guy from the gas station took him home… The next day I went back to the gas station, I had to check if Perun was still there. I had to ask the guy what happened after I left. Bad luck. The gas station was closed. Perun was gone.

The end. I'm sorry. I'm so so sorry.
Roman bridge on Orlja river
fter rain & snow comes sunshine. Oh yes. With a friend from Vareš I explored Zvijezda. My goal was to find a way to Olovo, his goal was to find this old Roman bridge. We both succeeded ánd had a great time!
Happy to find a džezva in an open mountain hut
Not so happy to see this…
It's one of the many many many garbage dumps I came across. I simply don't understand, especially because almost everyone I met praises selfgrown food. "No pesticides" or "alles natur". Also, a lot of people go into the forest to pick mushrooms, rosehips, berries and so on. They make fantastic food, they make amazing food! How come that leaving or dumping garbage is not considered as a threat for their food? And how come that people are always blaming the "fucked up country" for all the mess instead of start picking up trash? I simply don't understand. Perhaps I'm from a different world.

Actually the more I think of it, the more I realise that I'm exactly the same. As in, I complain but don't take any responsibility. I don't pick up trash neither. I don't dump garbage, but I dump a photo and passively wait… Hoping that awareness will show up eventually.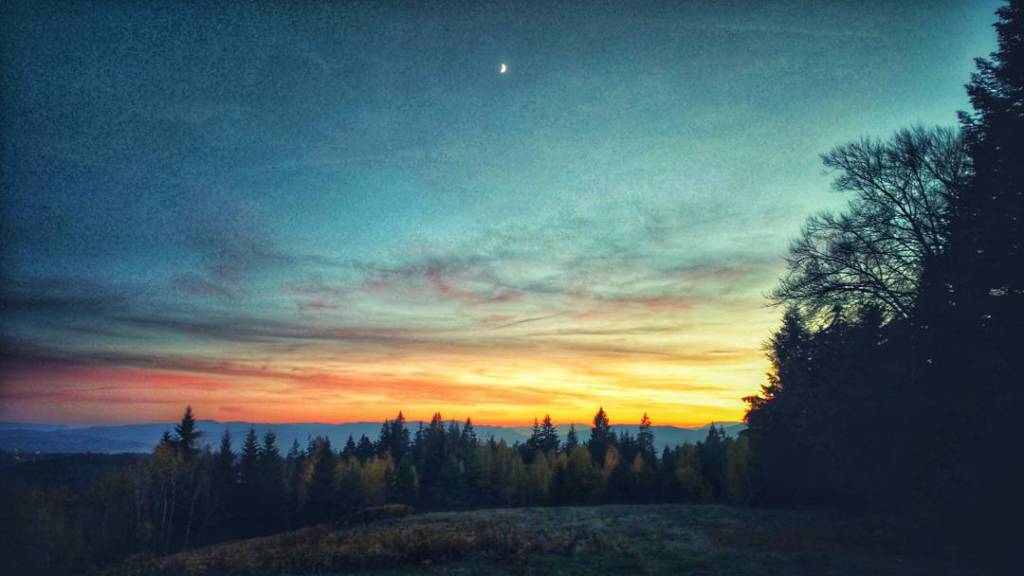 This is how I like the night laku noć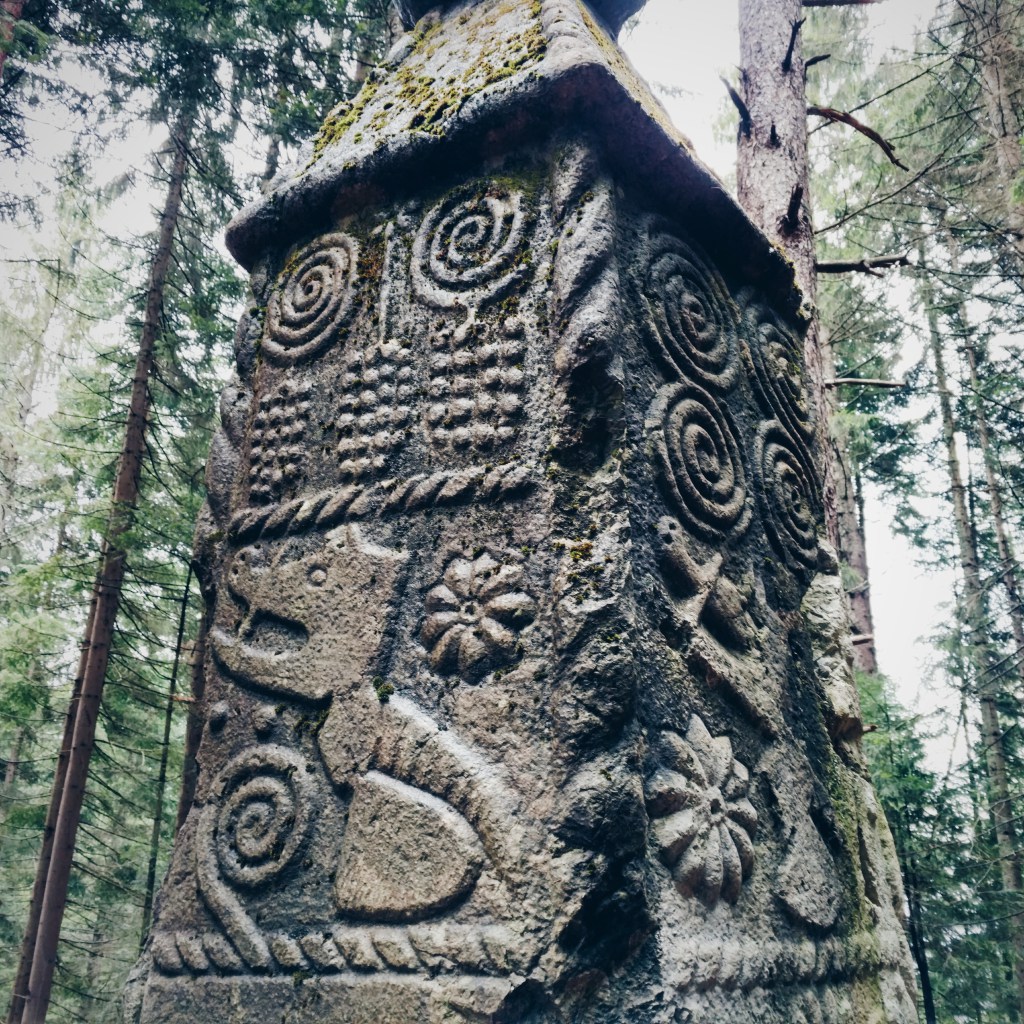 An obelisk surrounded by trees. Just one. In the middle of the forest.
So I forgot where exactly this beautiful peace of art was, sorry don't remember the name of the village, but it is somewhere between Olovo and Bijambare… Also, I'm not sure how old this obelisk is. Is it from the Roman Empire or after. Oh dear, did you know that I actually studied history of art?!! Wait… Bakići? Yes! Anyways, there's real nice, well marked hiking trail going up, definitely worth a little detour. (a Google search tells me that it's probably from the 14th century), check this page if you want to find out more.
Crepoljsko, really really really almost there!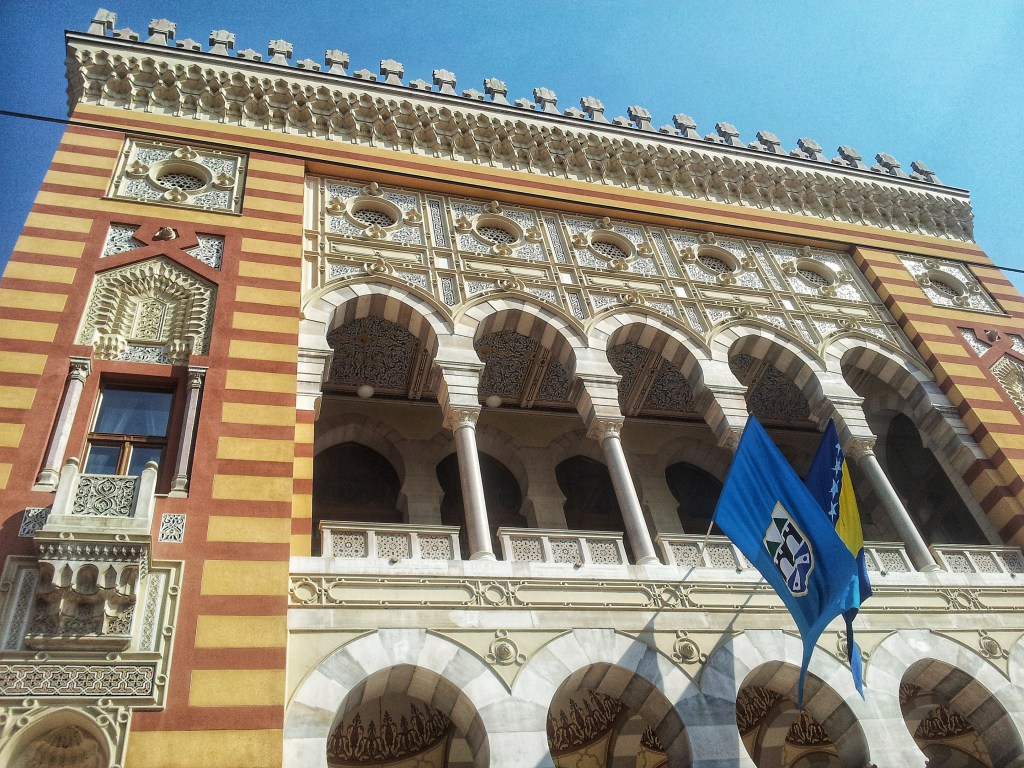 Made it!