Buško jezero
Getting back to trail after lazy week by the sea is the biggest challenge. Thanks to Tomas we have a comfortable ride to Buško jezero and after tasty meal (cooked on big camping stove) we continue the hike around the lake almost in the evening. We find a camping spot just before the big road and tomorrow's trail head. It is also accessible by car (it means more good food cooked at Tomas' stove) and it is popular with local foxes as well. They were not shy at all and we had problems with forcing them to go away. Fortunately, the night was very peaceful.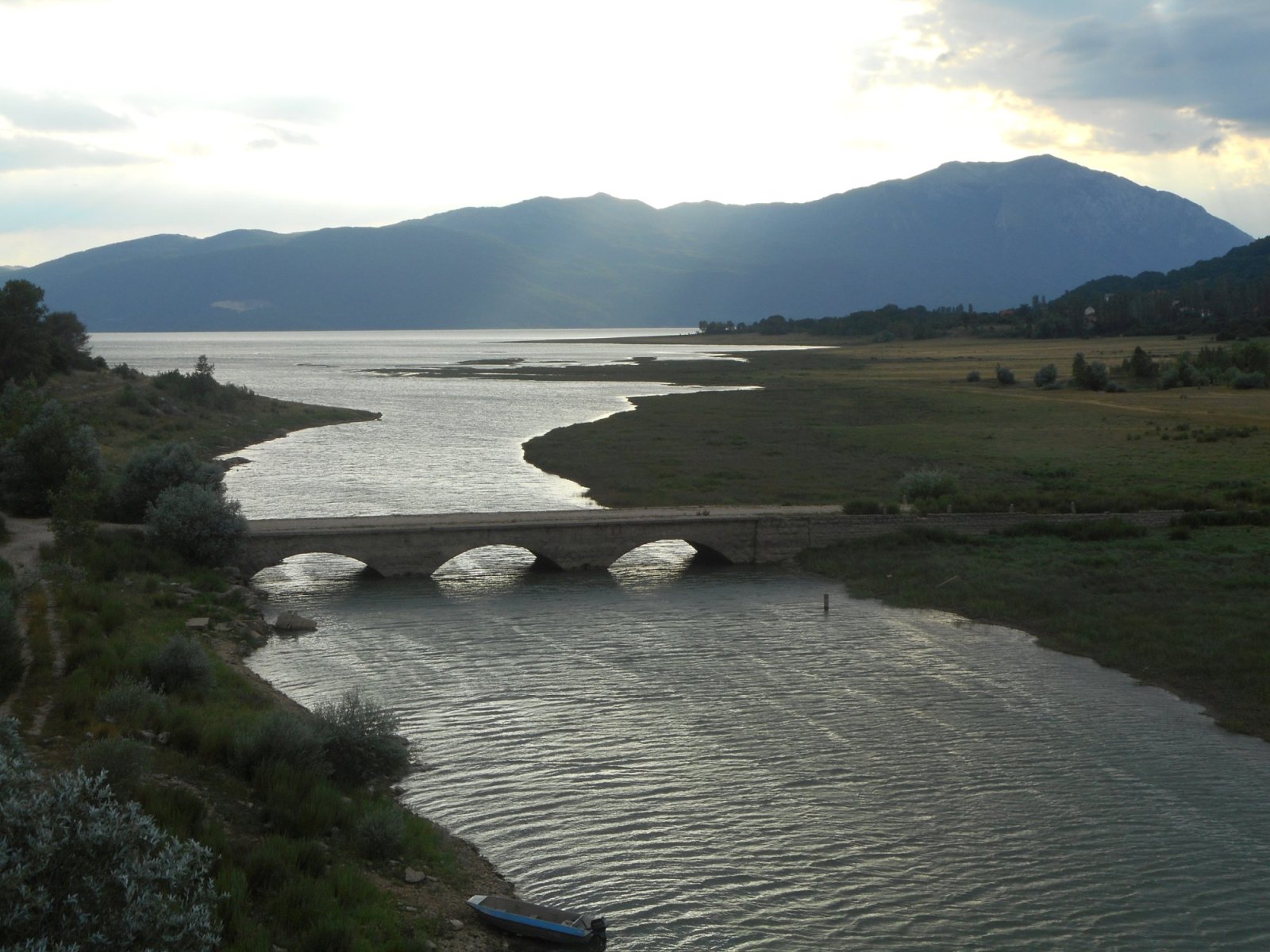 Old bridge and Konj mountain
<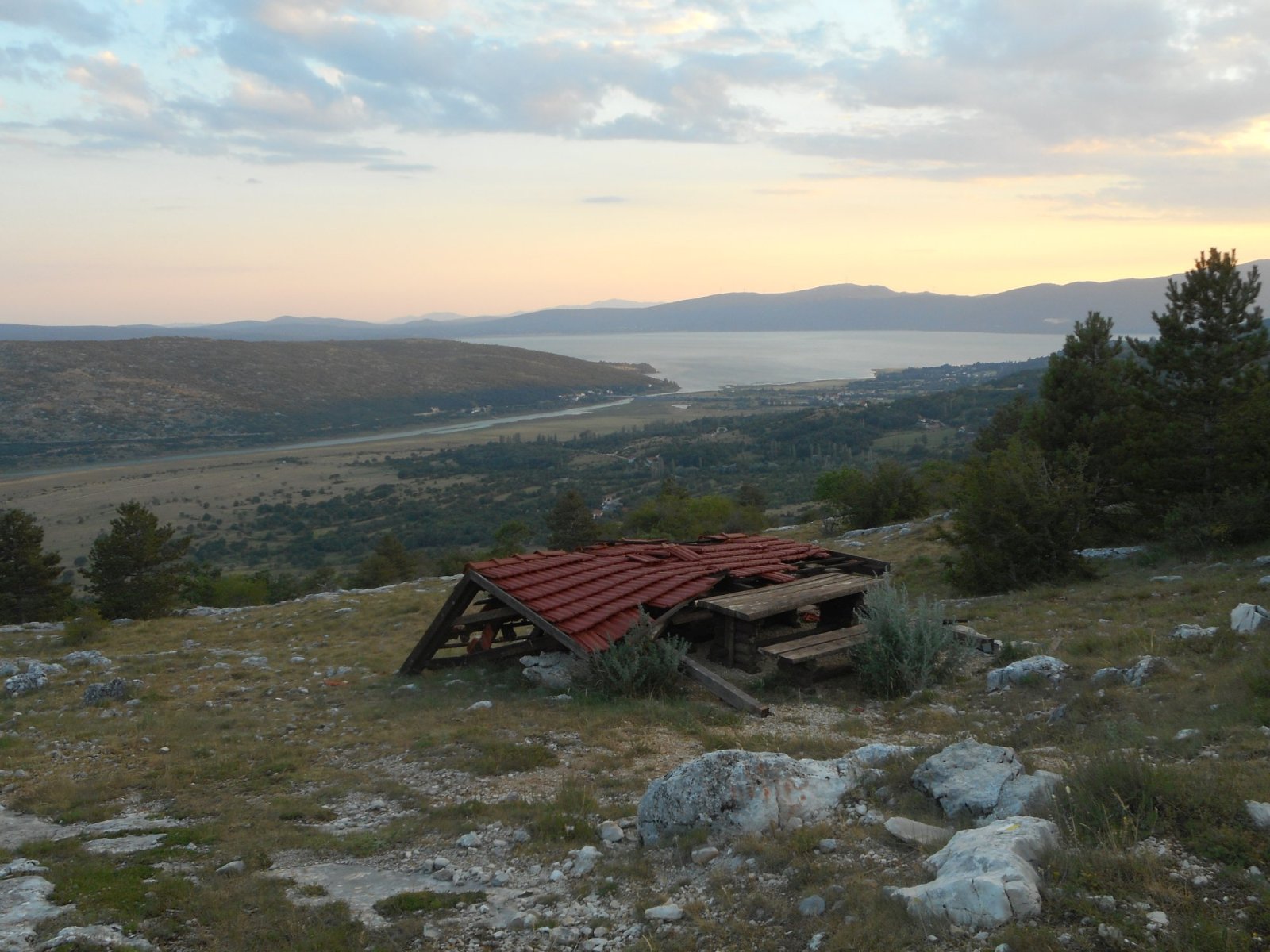 This could have been very nice spot for picnic... Last year it was still standing (found picture in Gerald's blog)
Orlov kuk
Hiking on the top of mountain plateau sounds fine, but not in such hot weather. At least the wind is blowing and there is a new road, probably due to construction of wind mills, so hike is easy (almost boring). There are Samograds (Big and Small) along the way, huge karst holes and Jakub is very keen on exploring them. We find a very tasty spring just before Bukovica, is it a sign that the water situation in BiH is better? Oh, how wrong I was. We enjoy cool air in the natural church cave and then pizza in the village. During first stages in BiH you don't have to worry about finding places with good food or drink. As it is still quite early, we decide to continue hike and do some kilometers from next section. Huge climb to Orlov kuk is beautiful at almost sunset. We hope to find some water in the small valley, there is usually a stream and we have additional 3 springs from outdooractive. This summer is really hot and dry, so no water in stream and we explore the valley for the springs, but no luck. On the other side, we find Klisac spring, but this is one is inaccessible, under heavy concrete block. We even tried to lift it, but no luck. Very demotivating to hear the water, but not be able to get it. We still have some water, 2l per person, but it is not enough for cooking. So we eat only bread for dinner and breakfast and we hope that tomorrow we find something. There is "just" one hill, Svinjar, before we hit the road with some houses. I text Tomas (he still kind of supports us with his car), so hopefully we meet tomorrow at the road with some water. The camping spot is beautiful, even with tables, just that water...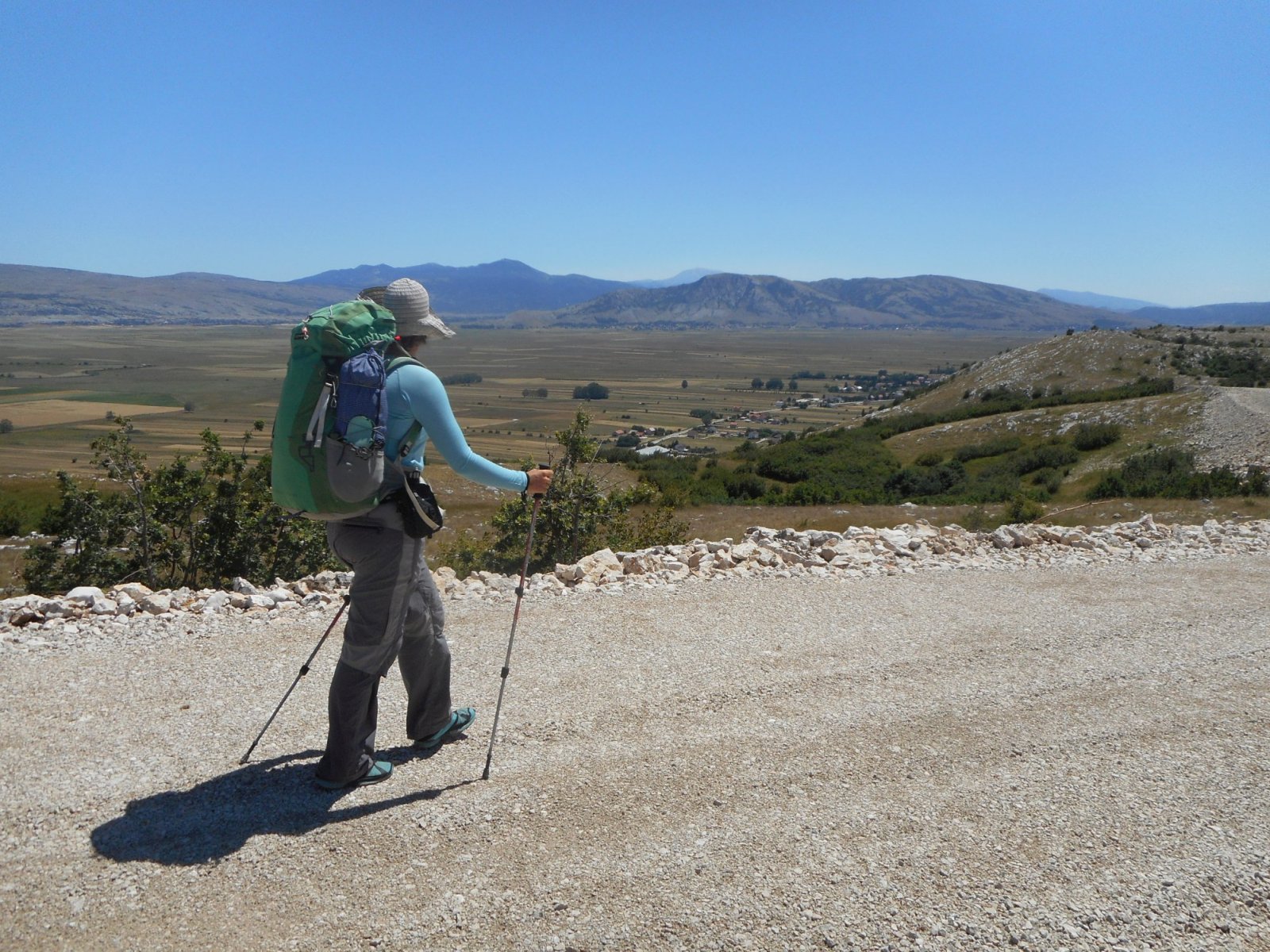 Hiking on the plateau, on the new road. Approaching mountains, yes (in the background)
One of Samograds, impressive karst holes on almost flat plateau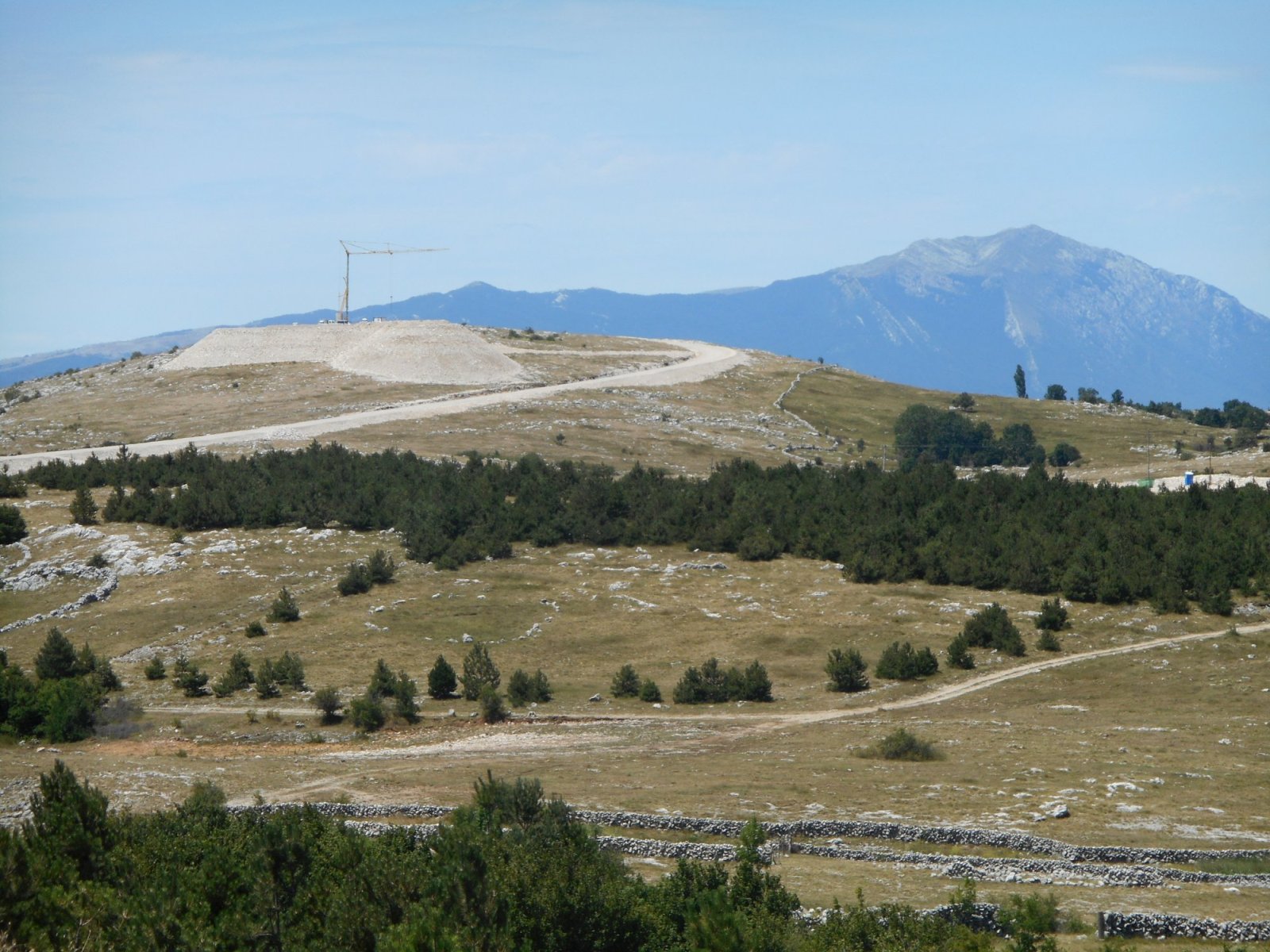 Windmill in construction? Reason for the new road we hiked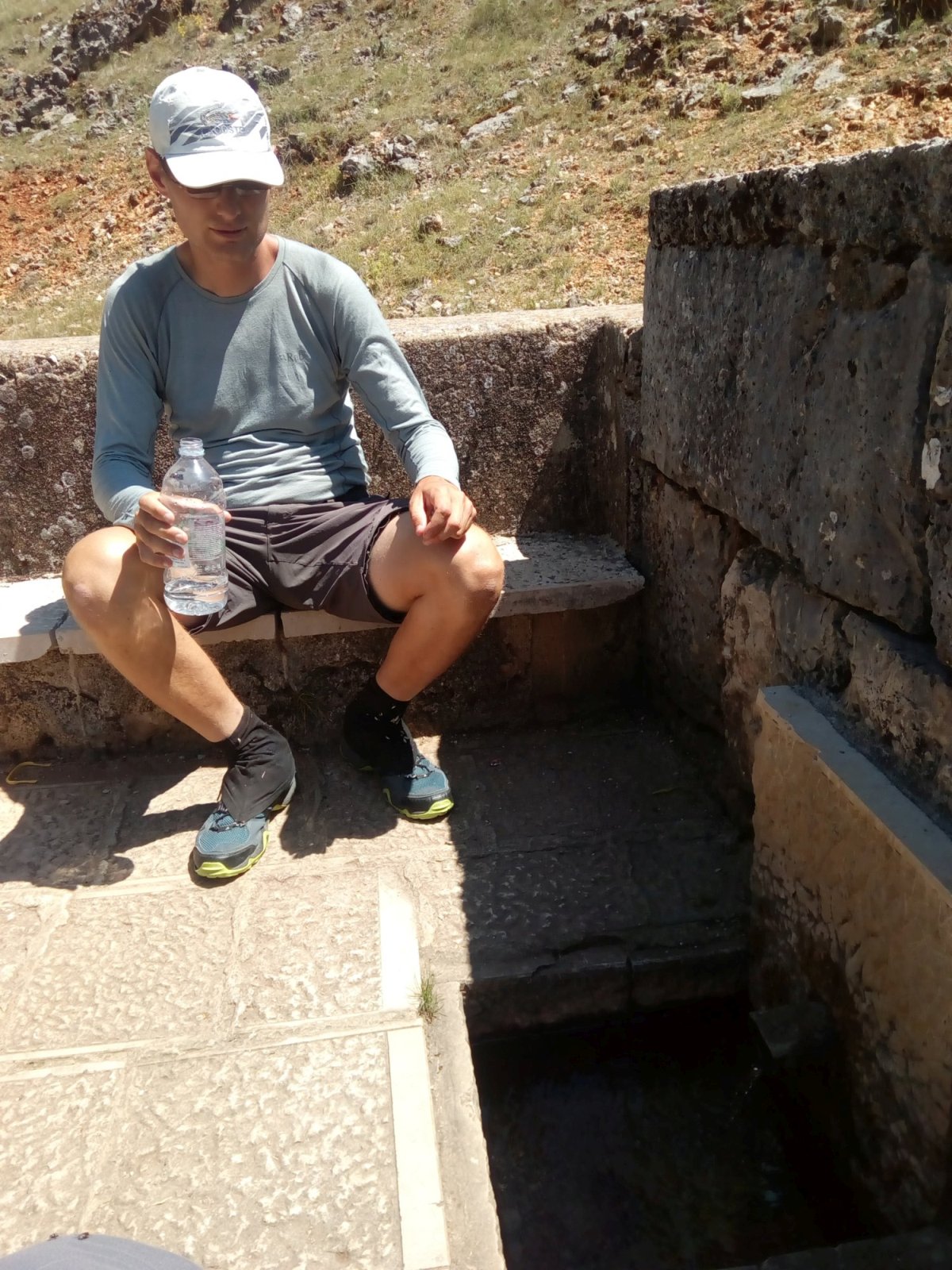 Spring before Bukovica, my hope that water situation is getting better
In front of cave, natural church - great place for a break
Orlov kuk with Maria and Joseph cross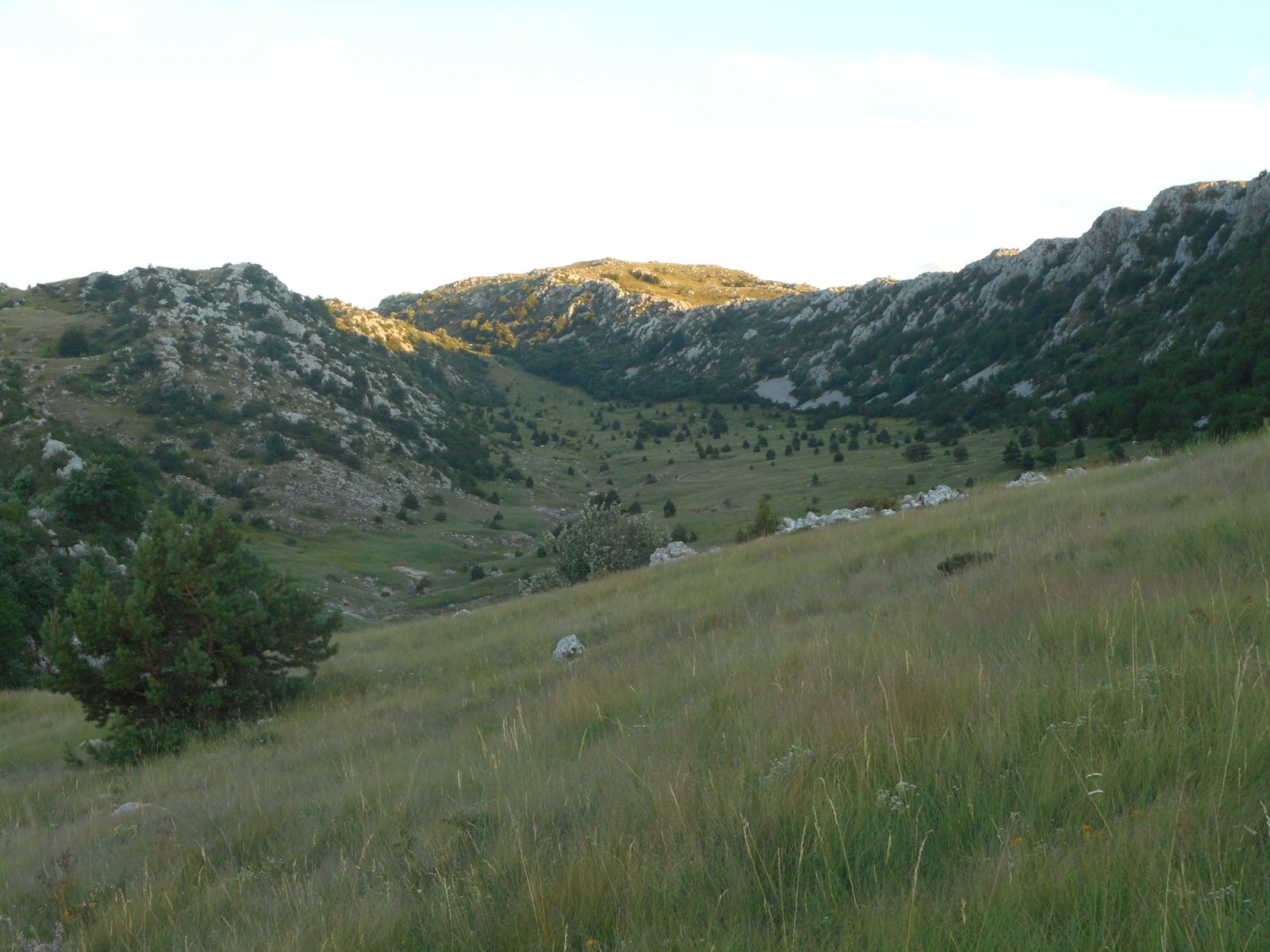 Valley under Orlov kuk, in dry summer we couldn't find any water. Our first dry camp
Svinjar + car trip to Masna luka
We hike a nice field road to the hut we saw already yesterday. Looks like being renovated, but no one is there. I am sure if someone was there, they would give us some water. So, despite my bad feeling, we take some water from their water cistern. I am sure they wouldn't mind, I hope so. Then we climb to Svinjar and enjoy views of Vran, our next hike. Descending down we meet Tomas and Katka, they didn't get my text about lack of water, and continue to the road together. My heel aches a lot, so we decide to take a half day off and use the car. Of course that we will return back to the same spot to continue our hike;). We ride along Blidinje lake, which turns out to be very muddy, so I am not sure if my feet are cleaner or more dirty after the washing. And we fall in love with restaurant Hajducki Vrleti. Very busy, but great food, enormous portions, great price. We also visit necropolis and Masna luka, magic place with monastery (wifi!), nice spring Jasle (finally I can wash my feet) and also big camping place next to the hut which is now overcrowded with probably all planinars (hikers) from Bih, Croatia, maybe also Montenegro? That just proves that people here are very social and they enjoy organized hikes with their clubs or federation of clubs. Oh, everything is so close when riding in car. For night we get back to Via Dinarica trail and find nice spot close to the road, right on the trail head. Still eating leftovers from the restaurant, very yummy.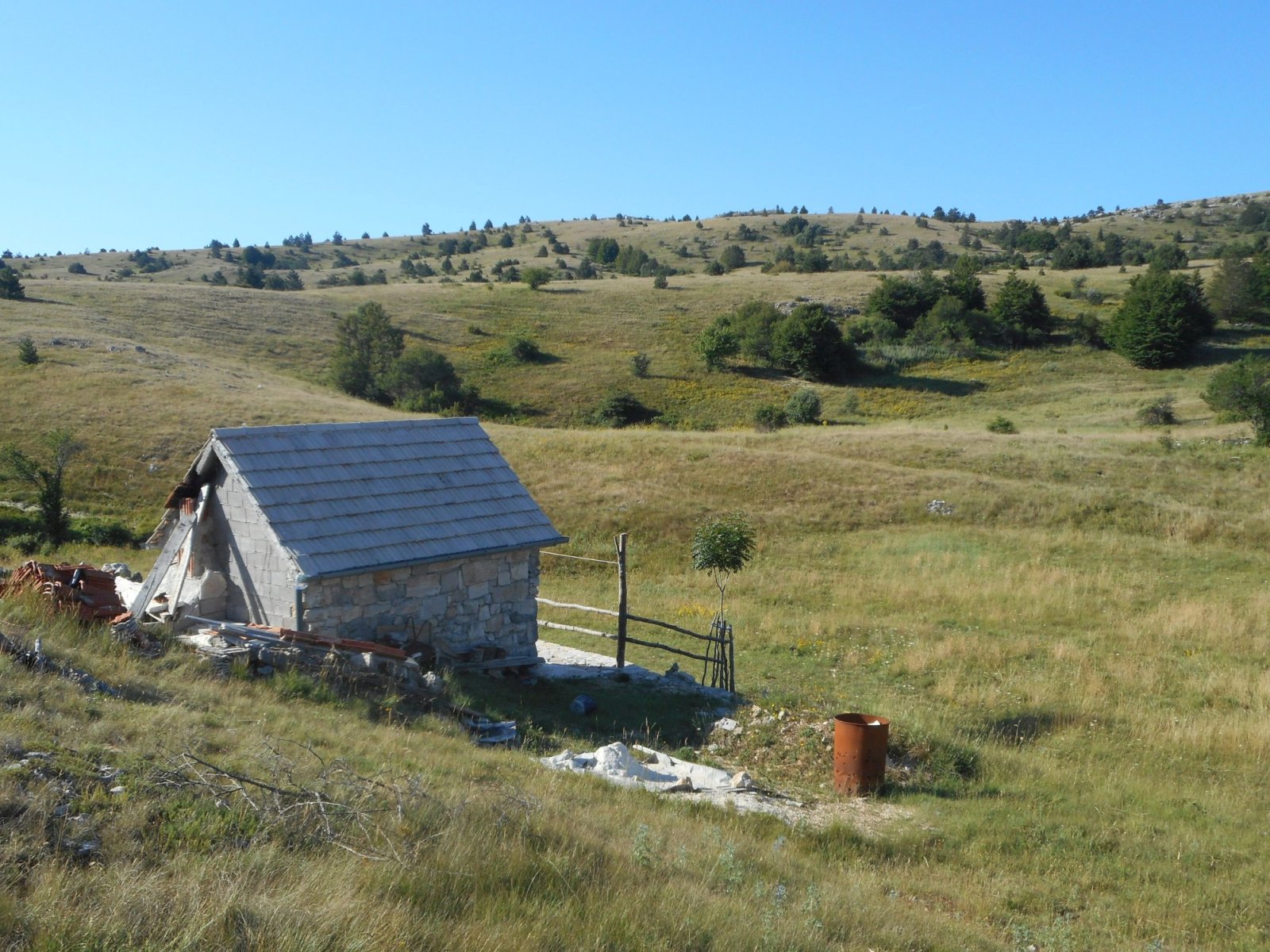 Hut under construction with water cistern
View of Pločno (Čvršnica) and Blidinje lake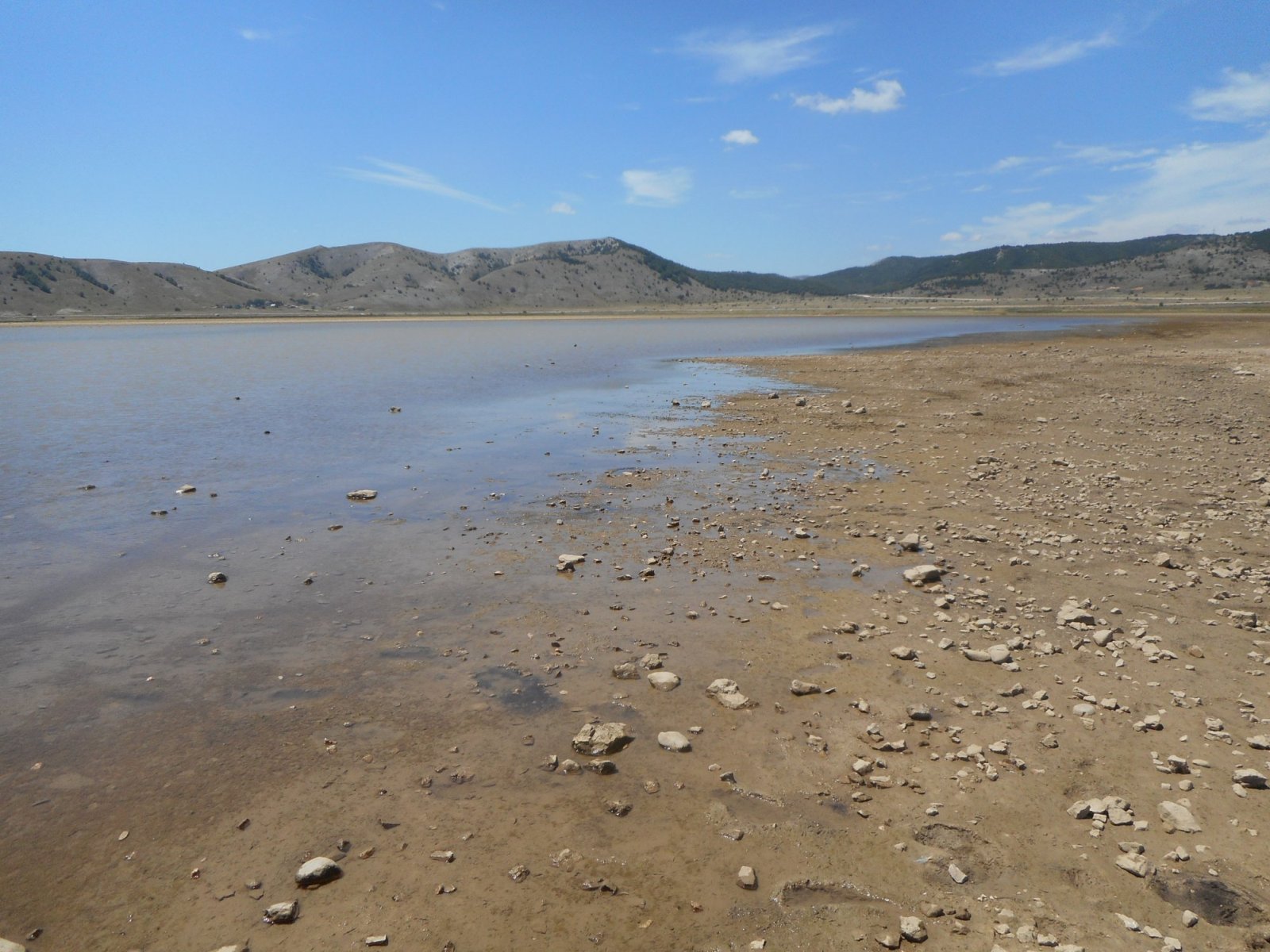 Muddy Blidinje lake
One of many Necropolis sites in BiH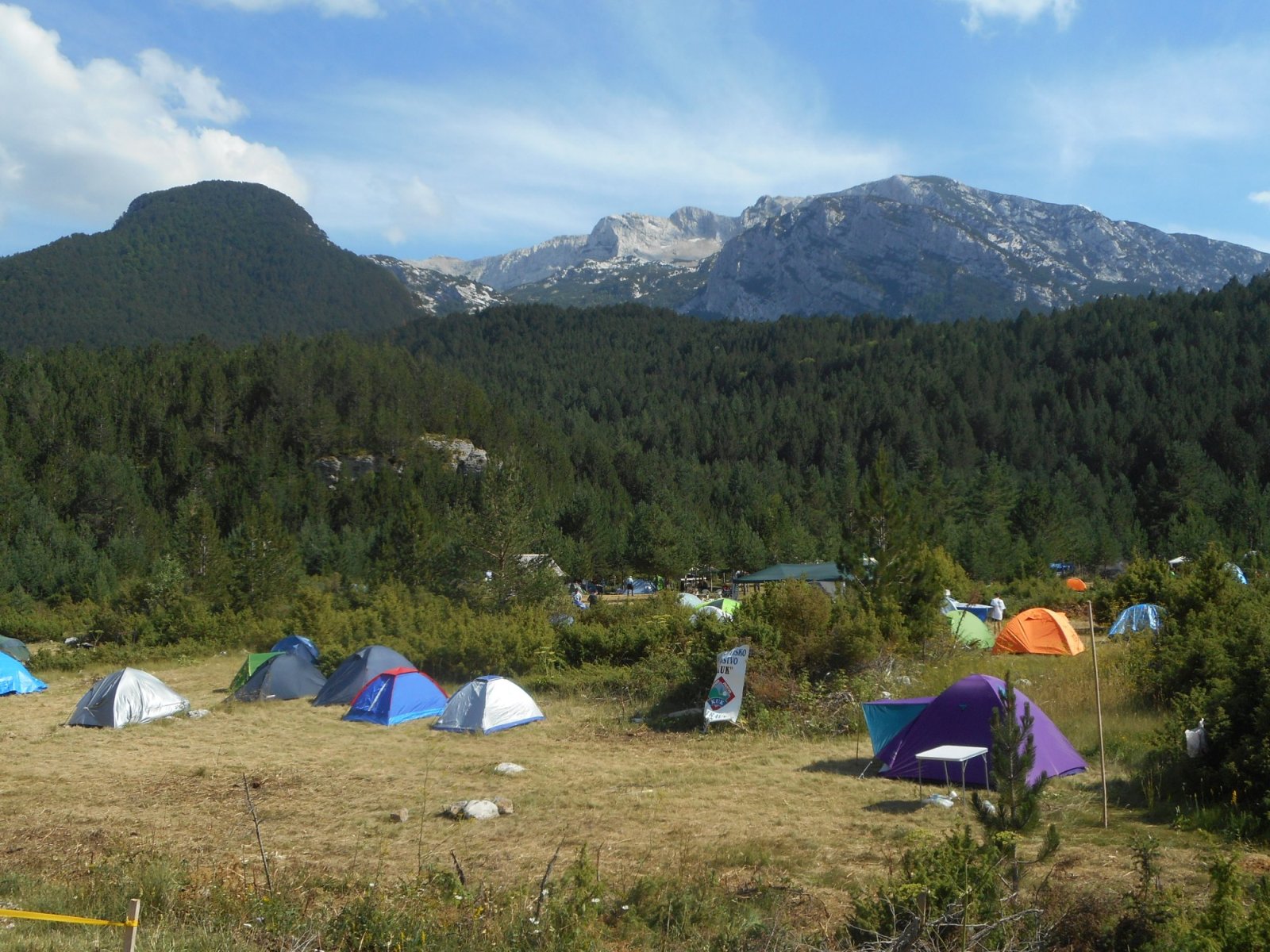 So many planinars! Busy campsite at Čvršnica foothills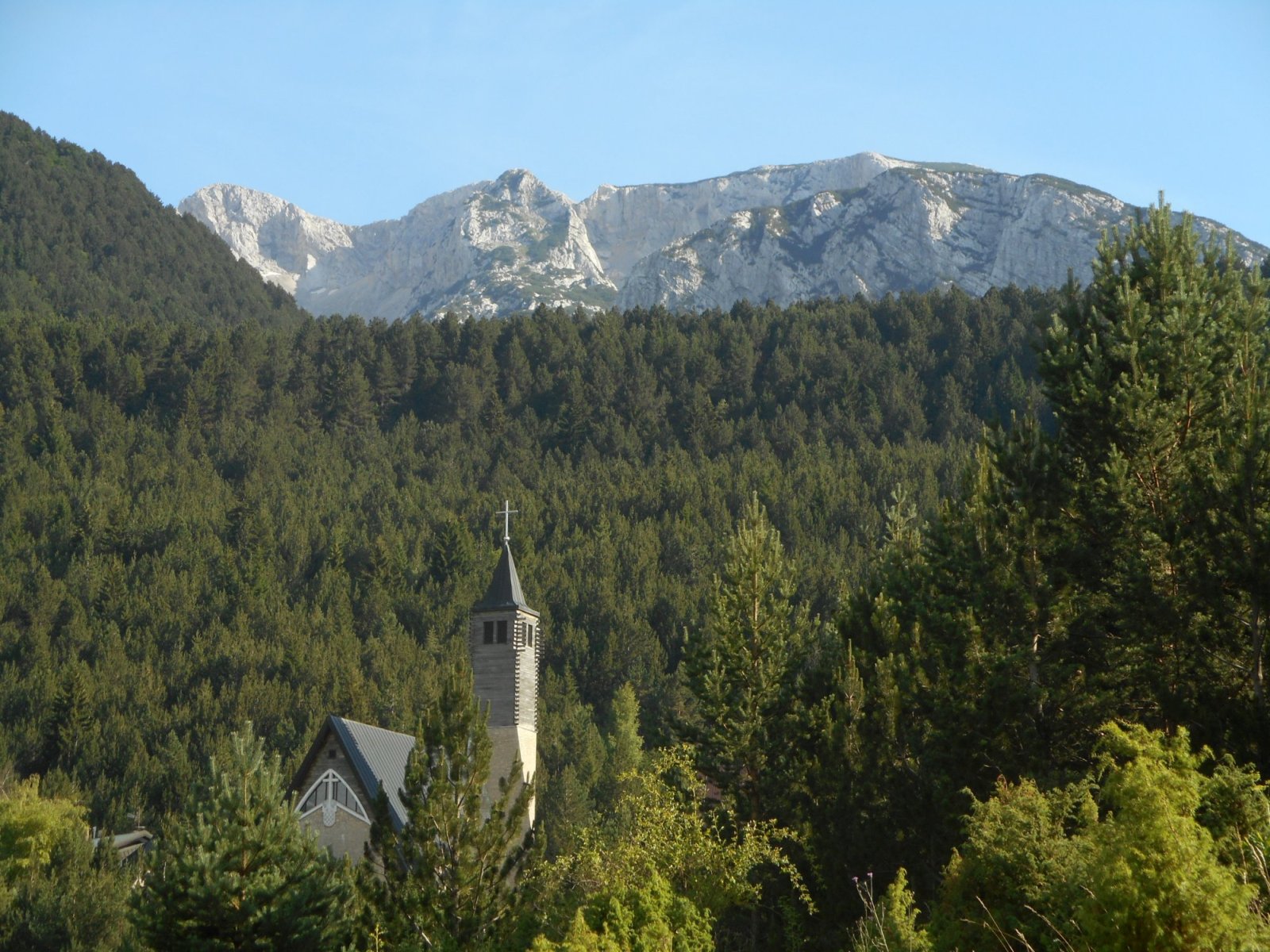 Lovely monastery at Masna Luka
Vran
Today we enjoy very light hiking. Tomas decided to stay one more night so we agree on meeting at Hajdučki Vrleti (our favourite restaurant). It means we take only few things and head towards Vran. Hiking through two little "villages" and then finally we start a climb. Thank you very much for the trail maintenance, without it the hike through dwarf pines would be very hard. And we find our first trail heart:) After Mali Vran and Vran we decided to hike off Via Dinarica and instead of descend we continue on the ridge towards Bijela Glava. This is a little bit more difficult, but worth it. In the end we skip the detour to Veliki Vran and rush ourselves down, towards the restaurant. It is even more busier than yesterday, but the food is still great. Then we ride by car to camp at Masna Luka. Jakub is crazy, he cannot stand breaking the continuity of the trail, so he hikes the missing kilometres on the road. I am ok with car ride, after such heavy dinner I cannot imagine walking. It is Sunday, so only few people stays in the camp. It is very difficult to resist their invitation for dinner, but after Hajdučki Vrleti it is impossible to eat something more. Tomorrow is going to be a tough day, we are finally in Čvršnica!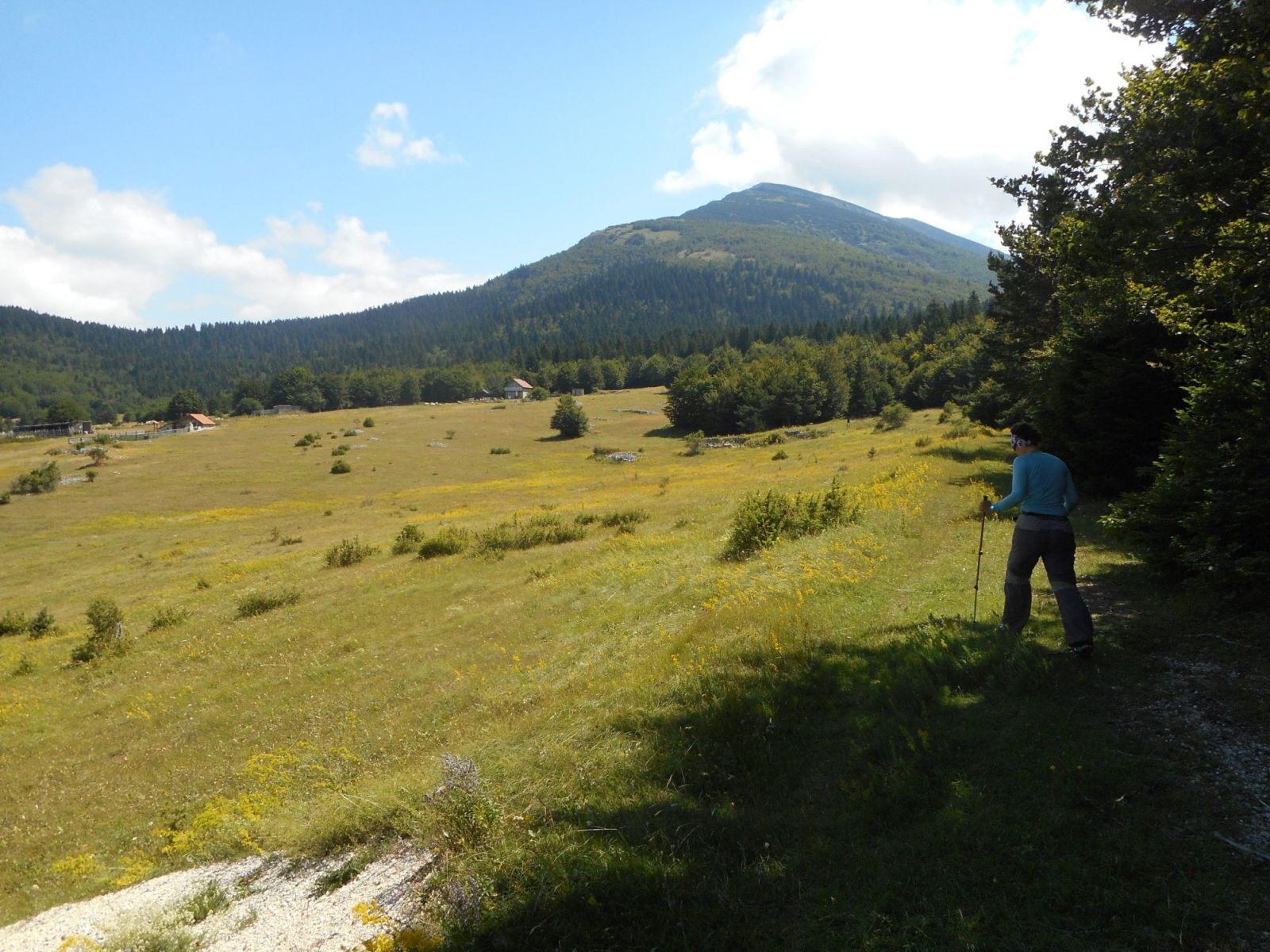 Light hiking through Omar, Vran behind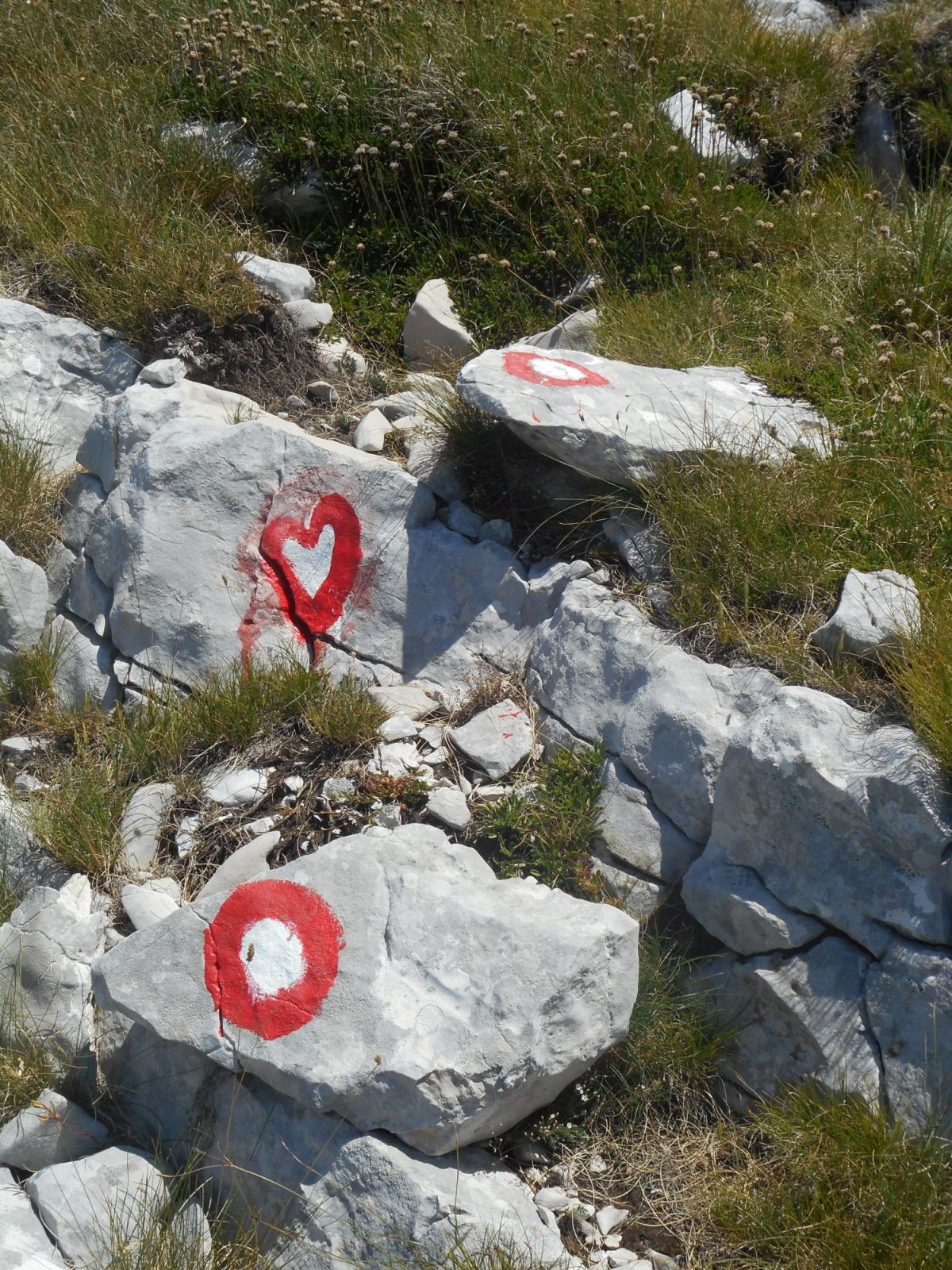 First trail heart, loving it :)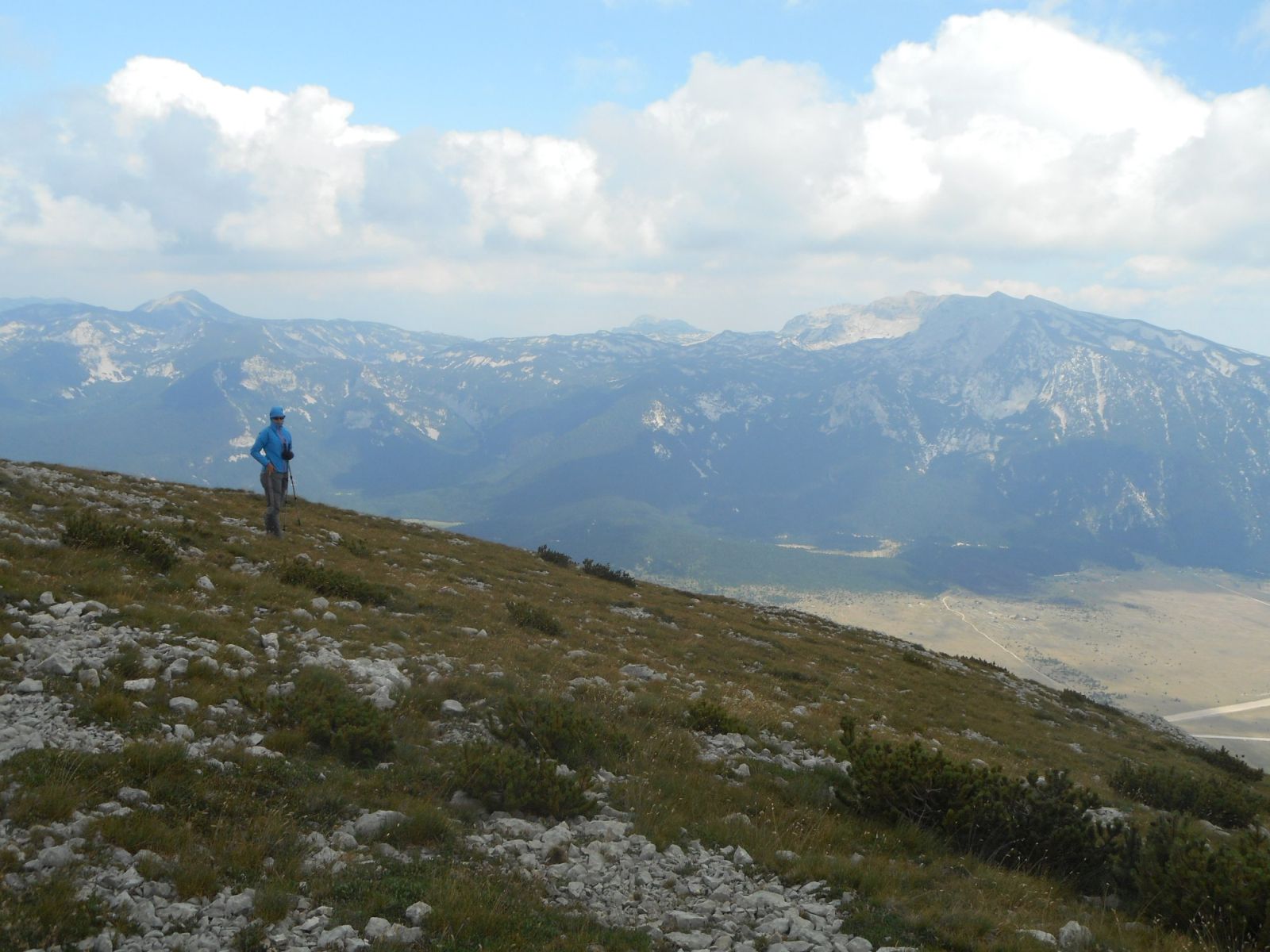 Little bit windy view of next section - Čvršnica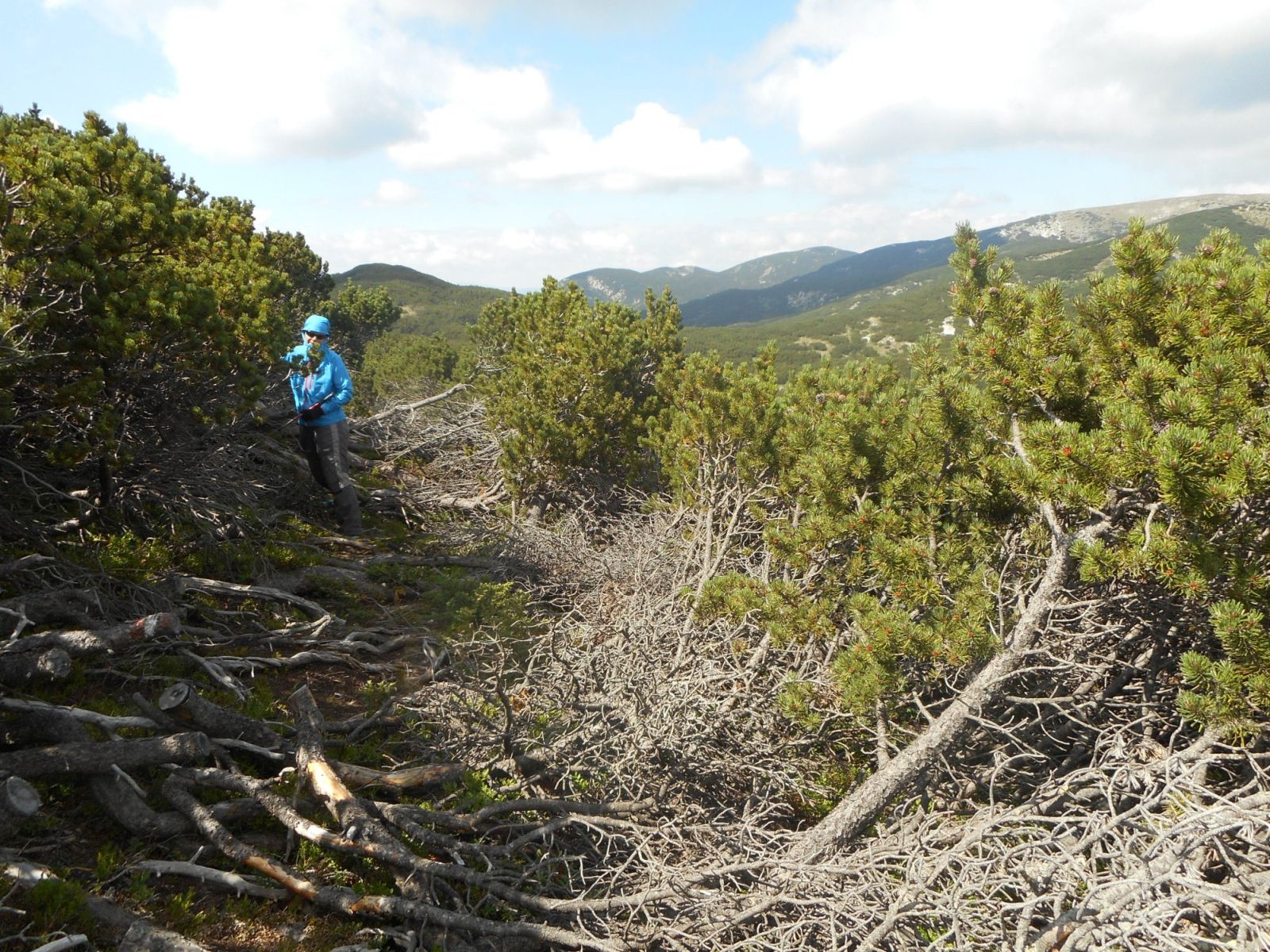 Thanks for the trail maintenance. On the ridge after Vran (not part of VD) it was a little bit more challenging.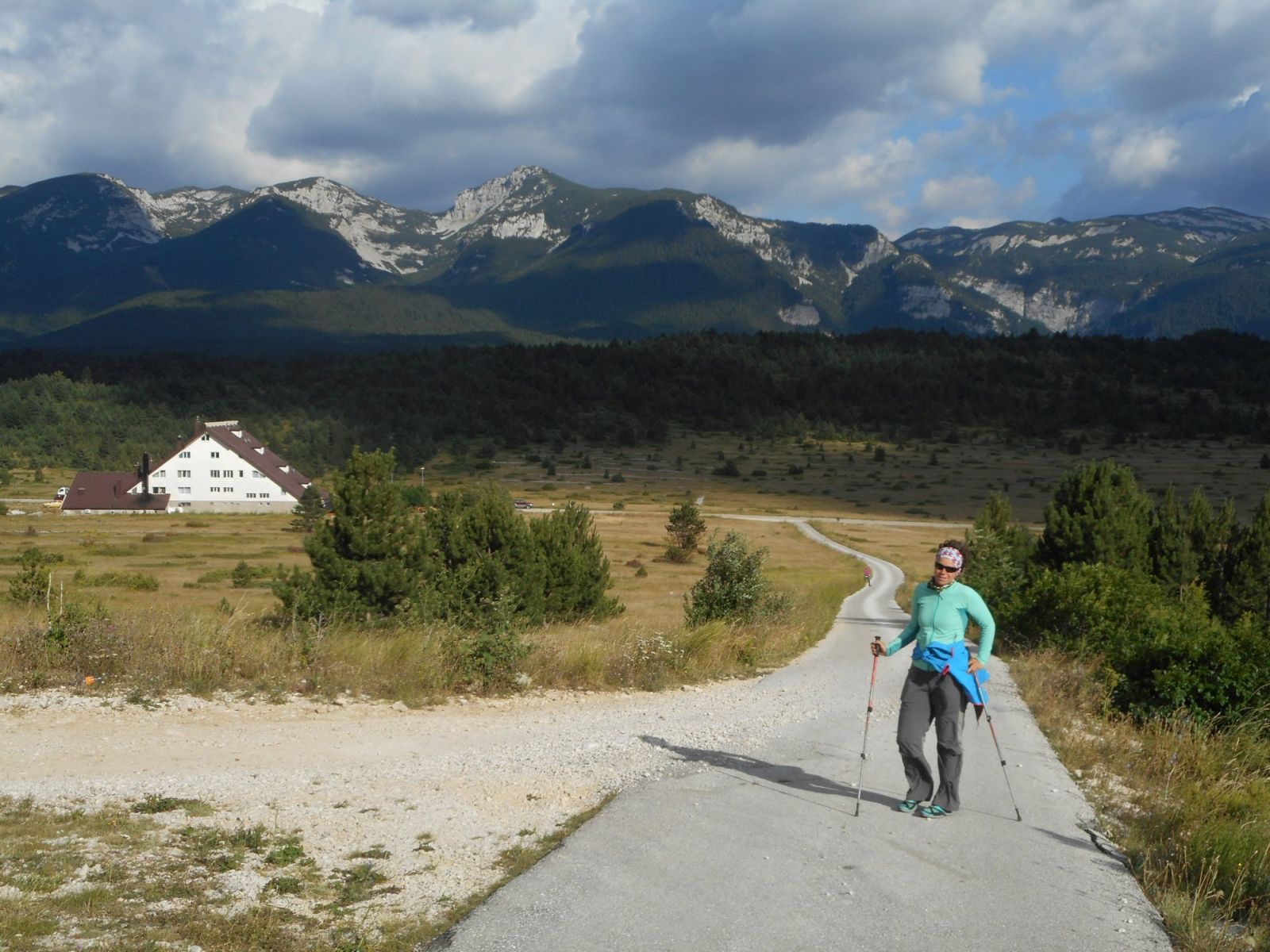 Rushing down to Hajdučki Vrleti, plenty of good food!
Veliki Vilinac
Tomas is heading back home today and we head into new mountain range. I was little bit nervous as we read not very encouraging reviews about this section, especially about the trailhead. Trail is difficult to find, not marked, not maintained... We were confused a lot as there are more options how to get into Čvršnica and some comments on Outdoor Active were contradicting the gps track. Then we realized that gps track has changed, so comments were outdated. This is one of big disadvantages in the Outdoor Active (which is otherwise very useful) - gps track can be updated, but there is no record of that. So we did a lot investigation and chose the trail starting at the monastery and headed to Boričevac where we joined official VD track (as of July 2017). Navigation was not a problem.
We made a detour to Pločno, the highest peak. We hiked an impressive eastern face, but the the top can also be reached by road from the other side as this is military area. We thought that the shabby buildings are no longer used so we freely wandered around looking for some shelter. In just few minutes a soldier came out and told us we shouldn't be there at all. Someone has seen us on the webcam and he is supposed to make sure no one approaches this area. Fortunately, we were out of webcam sight so he let us rest there. Our first meeting with army, even though he was friendly and spoke good English, was quite an intense experience for us. Then we returned to our backpacks and continued towards Veliki Vilinac. We had to cut off from our original plan of getting to next hut Plasa. We were lucky to find the hut open as local tourists were having party here (the hut is otherwise closed, you have to request it to be opened). More than 8 men, enjoying time in the mountains. They also made fire so we assumed that the smoke we smelled all day was coming from the hut. Or people in Balkan smoke so much that we can smell it in mountain? One of men in the hut lives in America, so apart from practicing our Bosniak language we speak also English. They are good source of local info, especially about landmines. They spent a lot of time in Prenj (our next feared section) and hopefully it was just a joke about putting them on the trails. We enjoy the lovely hut and view while Kubo needs to conquer another peak - Veliki Vilinac above the hut. Where does he take energy?
Enjoying pack-less hike to Pločno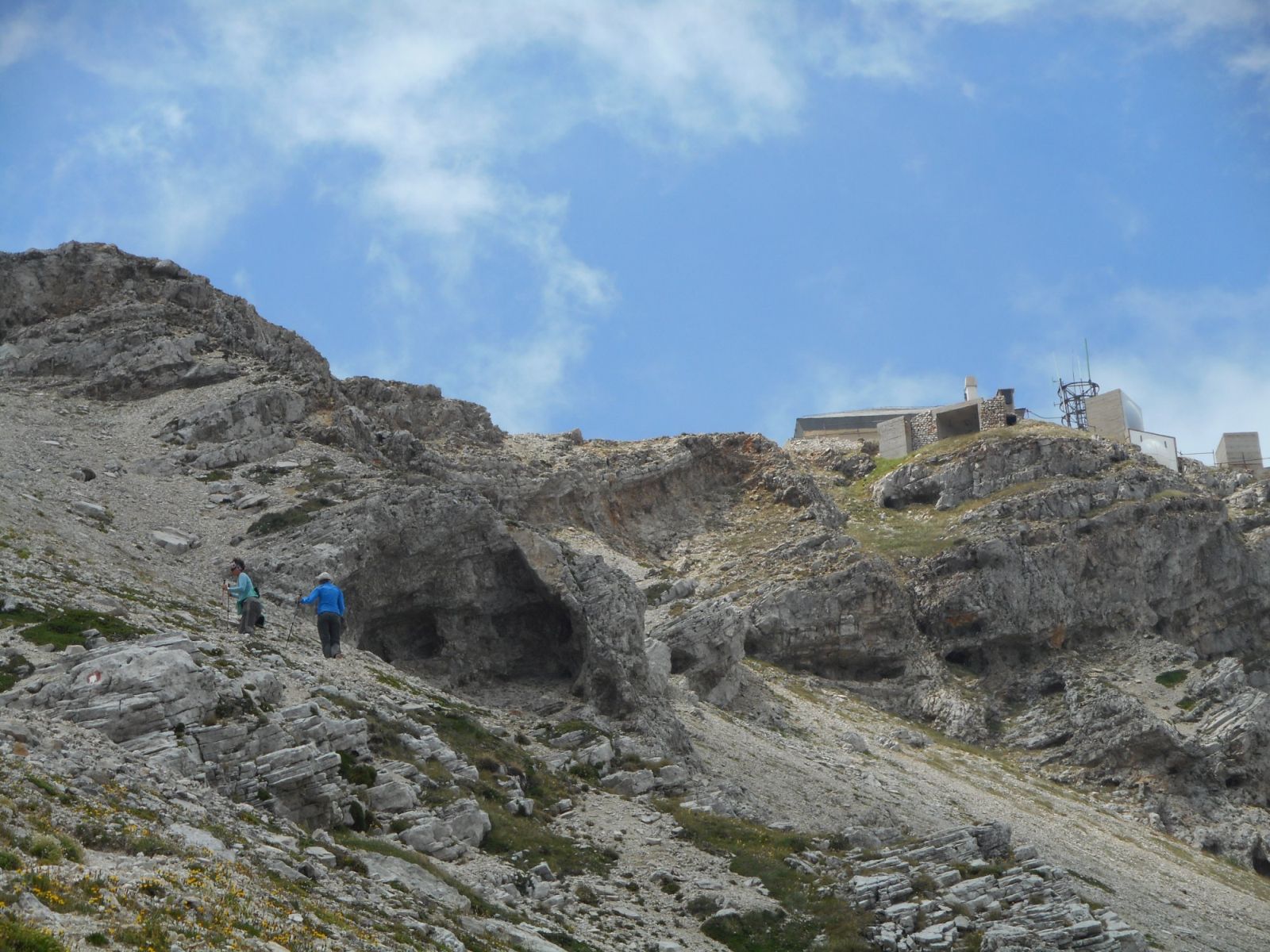 Interesting caves under the top of Pločno
From Pločno
Buildings on the top. I am not sure if taking photo of the is allowed, but this happened before our encounter with the soldier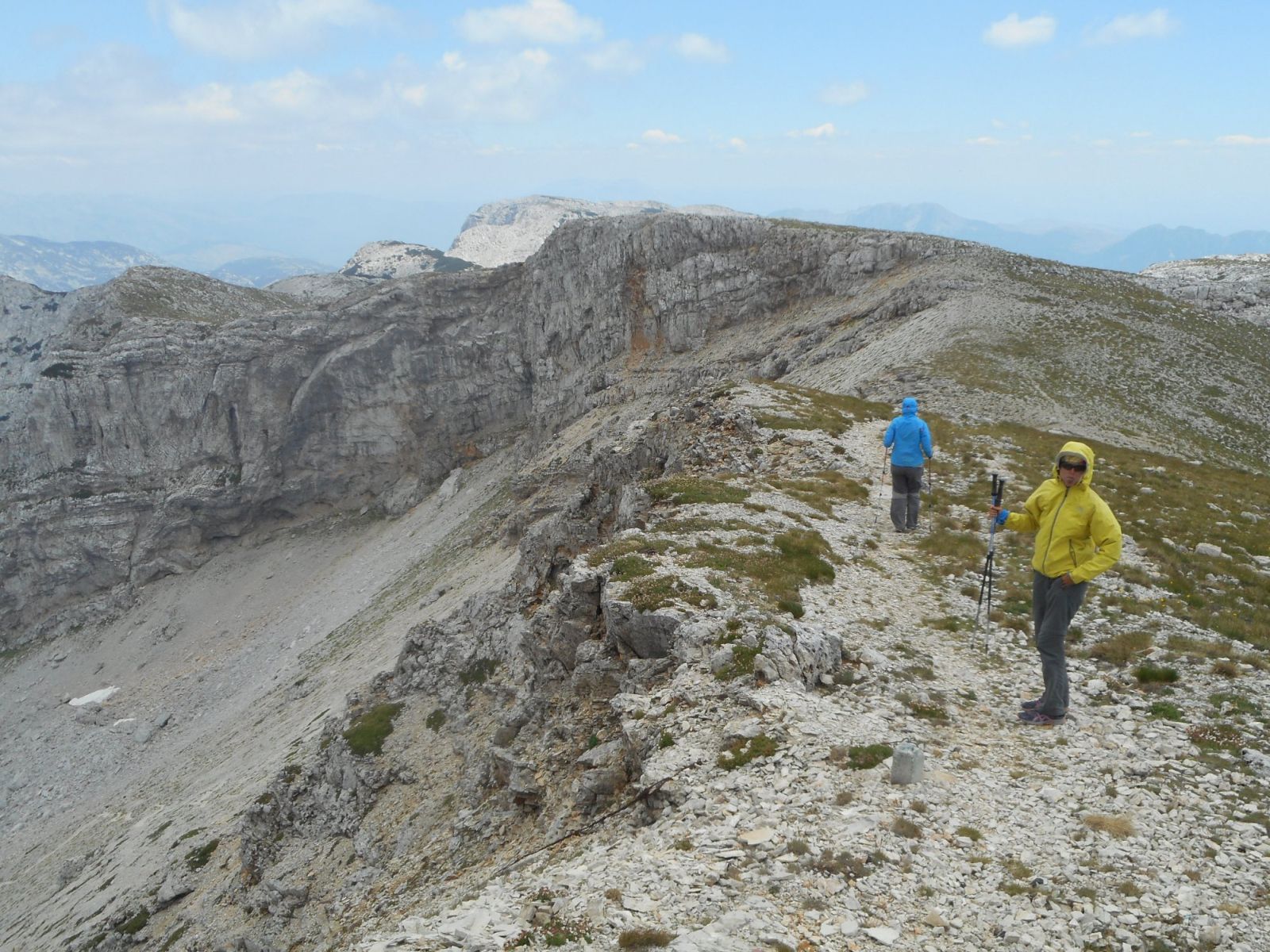 Steep slopes on one side, almost flat on the other
Sometimes we fail to keep on the trail.We should have stayed on the left side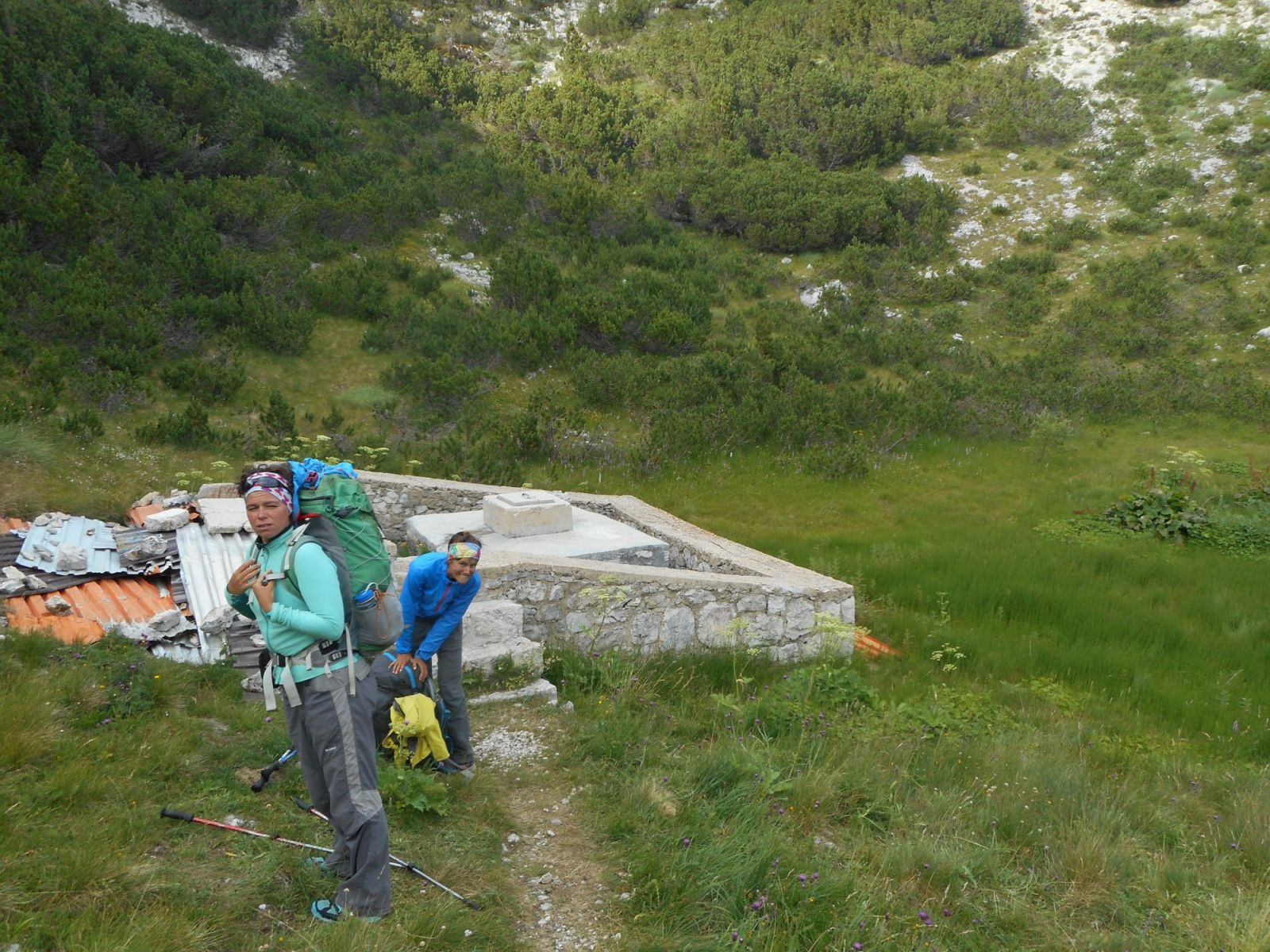 Proper, well maintained well under Veliki Vilinac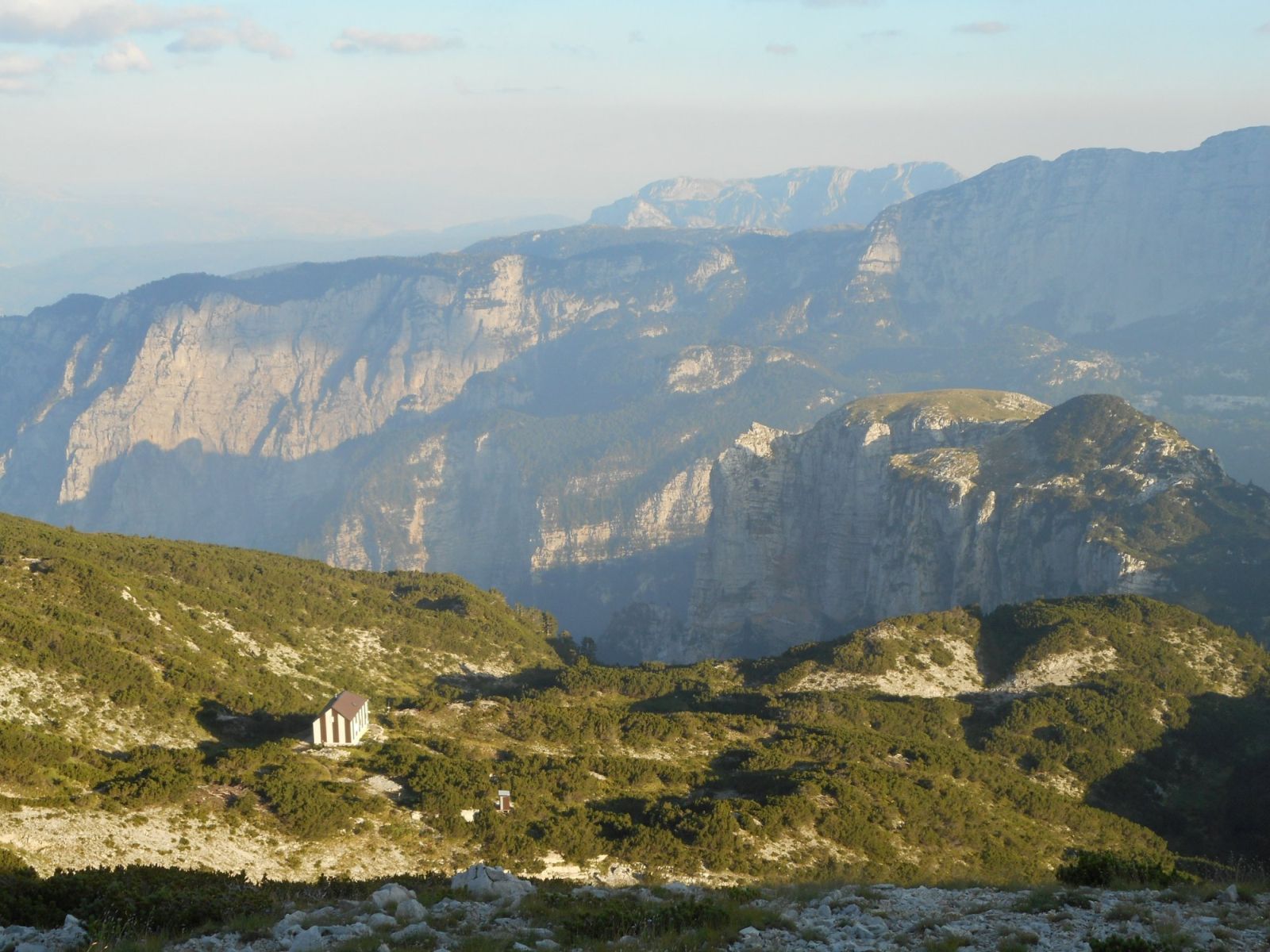 Hut Veliki Vilinac with impressive walls of Čvršnica
Hajdučka Vrata, Jablanica
We had our breakfast outside as the men were still sleeping on the benches in the kitchen after the party. Today, it should be easy - no climb up, "just" walking on the top of mountains and then 2000m descend to Jablanica. And some highlights of the whole trail - our first real mountain lake - Crvenjak (finally we can feel how it is to wash the face!) and Hajdučki vrata. Magnificent photo spot. Unfortunately, the smoke smell is getting stronger and finally we understand that it is a wildfire. Somewhere in front of us. We start planning escape routes, when we observe it. Fortunately, it is on the other side of the valley, but still very scary. Very smoky, but sometimes we see also roaring flames. Our first encounter with wildfire and I have no idea how to deal with it. Hut Plasa is closed with water cistern outside - plastic taste. So we try to find another spring - first is too green, second is non existent. After crazy descent on zig zags (always with view of the fire) we descend down, to the last spring next to some hut. Very rich spring from water hose. Time for real shower, yes!
Jablanica welcomes us with landfill (I thought the fire was coming from here), but the town itself is much nicer. Turkish cemetery, mosque, destroyed bridge (famous for Battle of Neretva), museum and some tourists. Bosniak family who left to America 20 years ago but still like to come here and show the history to their children. This is very typical and we often meet people who had to flee but still come back for visits. From local people we find out that the fire is on for 10 or 20 days? But no one cares/can do anything as the place is not approachable. We see one helicopter, probably monitoring the fire. Restaurant Ruža has good food and also some place for sleeping. Shopping is done easily in Konzum - still Croatian influence in BiH. This time, no rest day, we will continue tomorrow to Prenj as we would love to spend some time in Mostar (after Prenj section). Jablanica is quite busy in the evening, so we have to sleep listening to the music from the pubs around.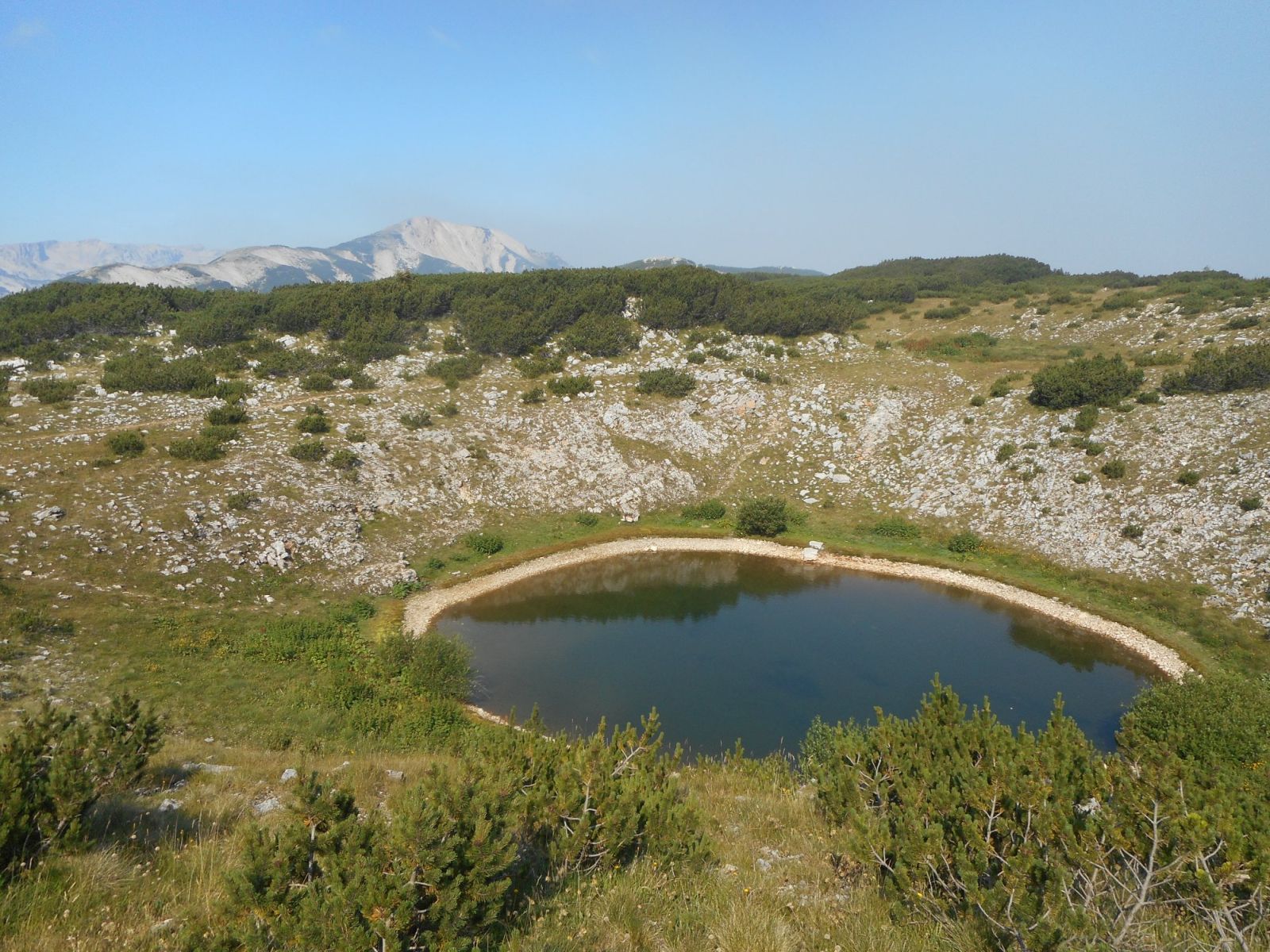 Crvenjak jezero - first mountain lake!
Hajdučka Vrata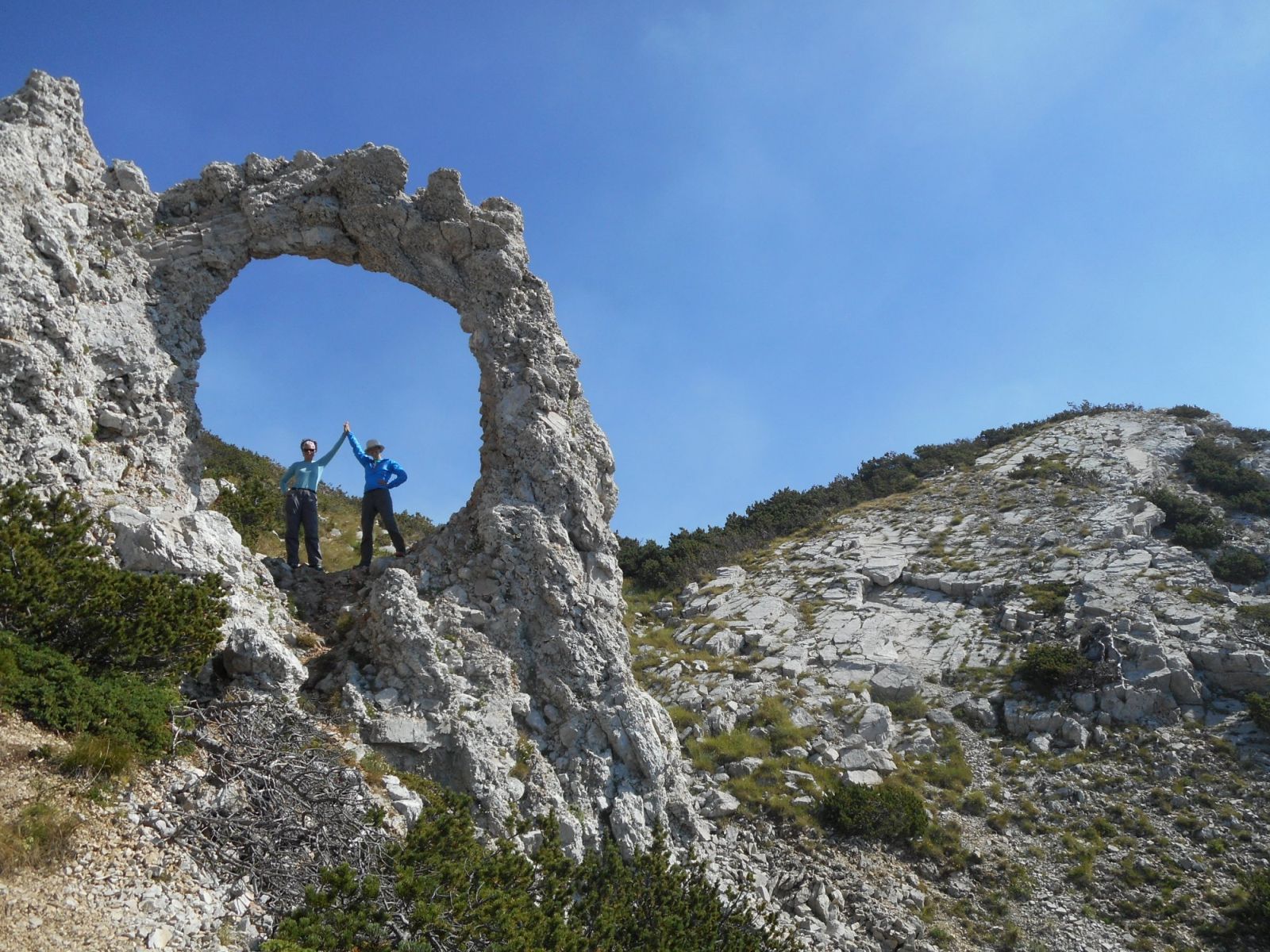 Hajdučka Vrata again
Getting close to the fire, bit nervous
Hopefully safe on the other side
Hut Plasa - closed, plastic water cistern available outside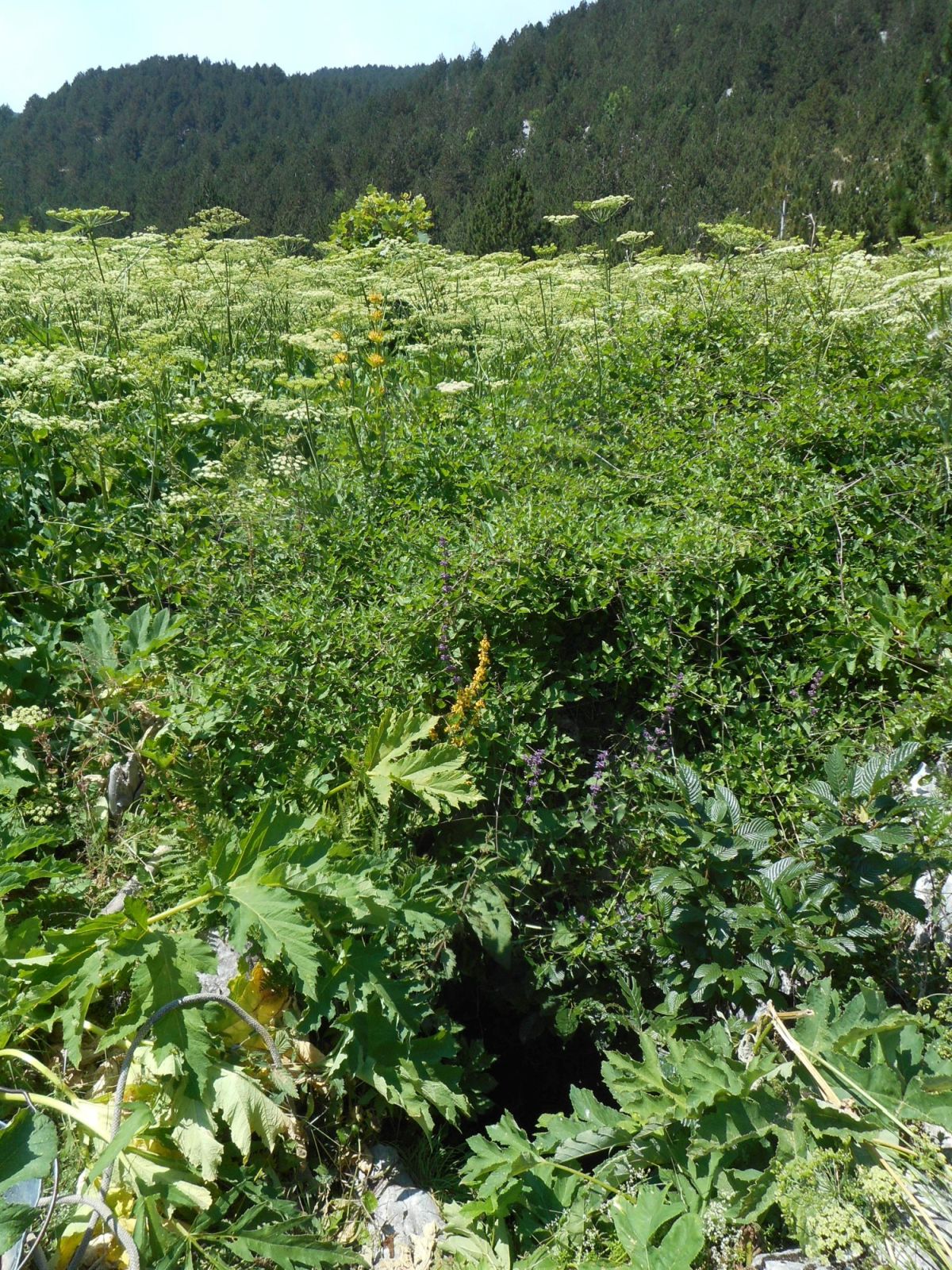 Spring number 1 - just green plants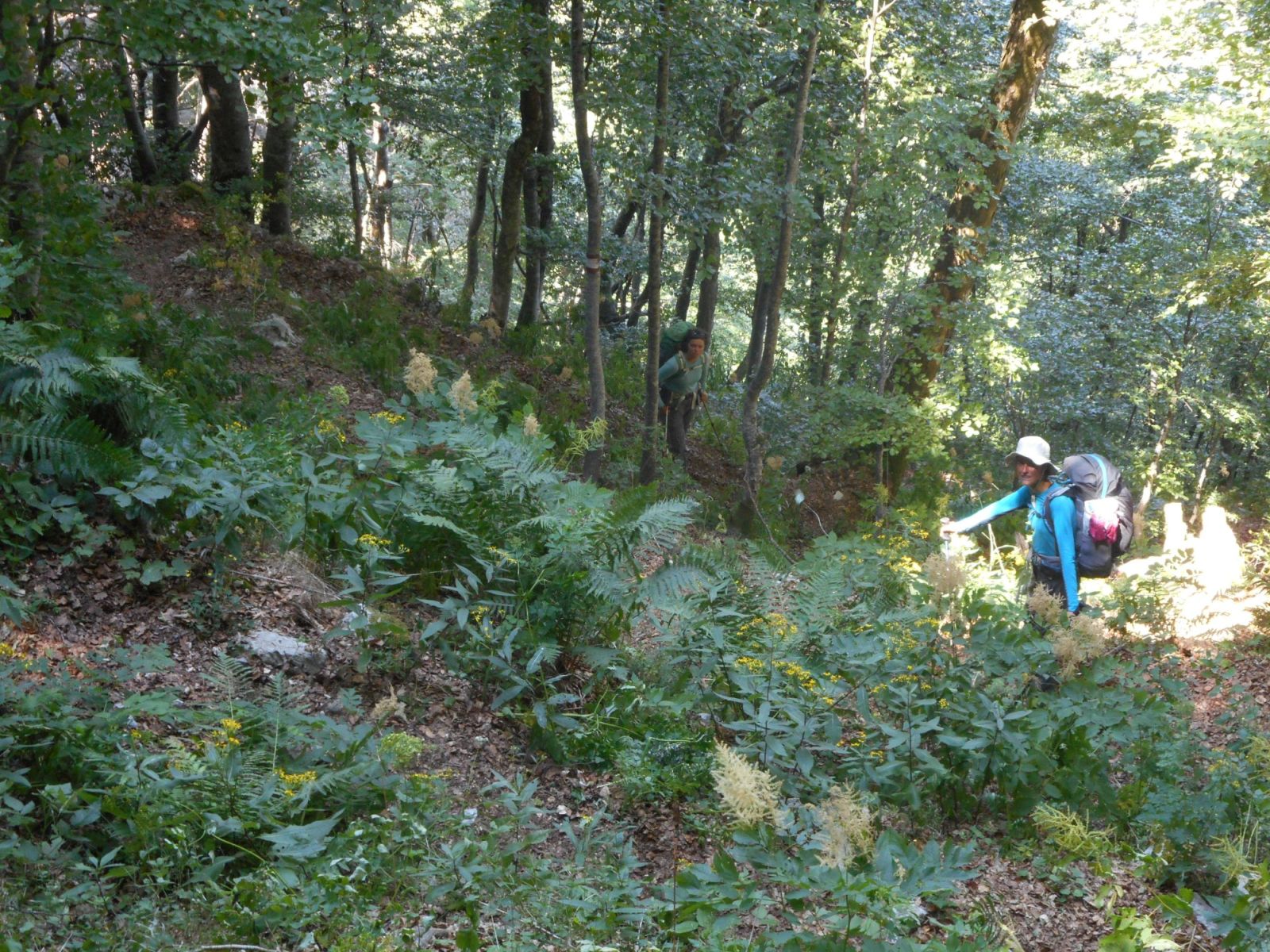 Crazy zig zag descend to Jablanica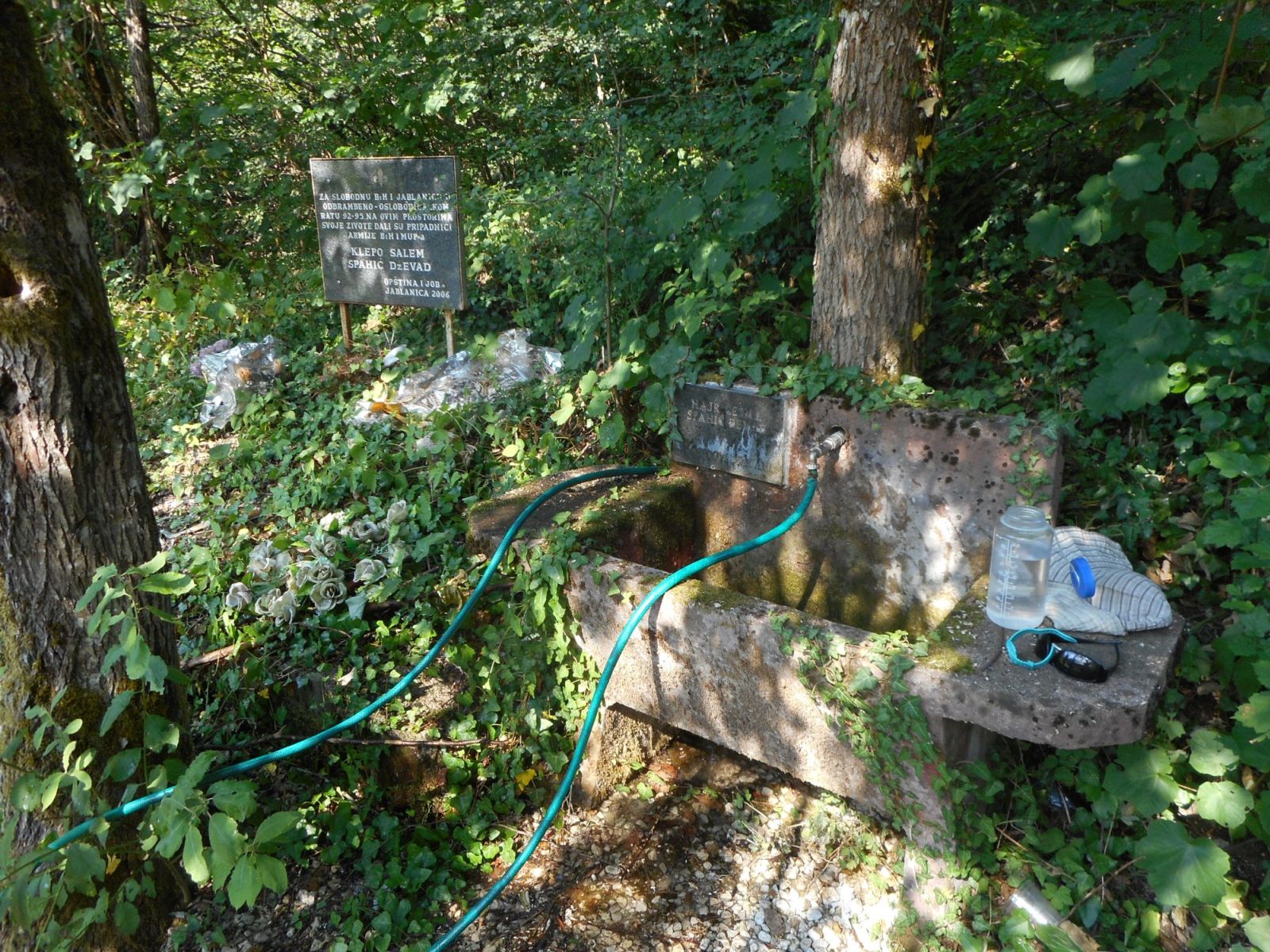 Time for shower!
Smoking mountain as seen from Jablanica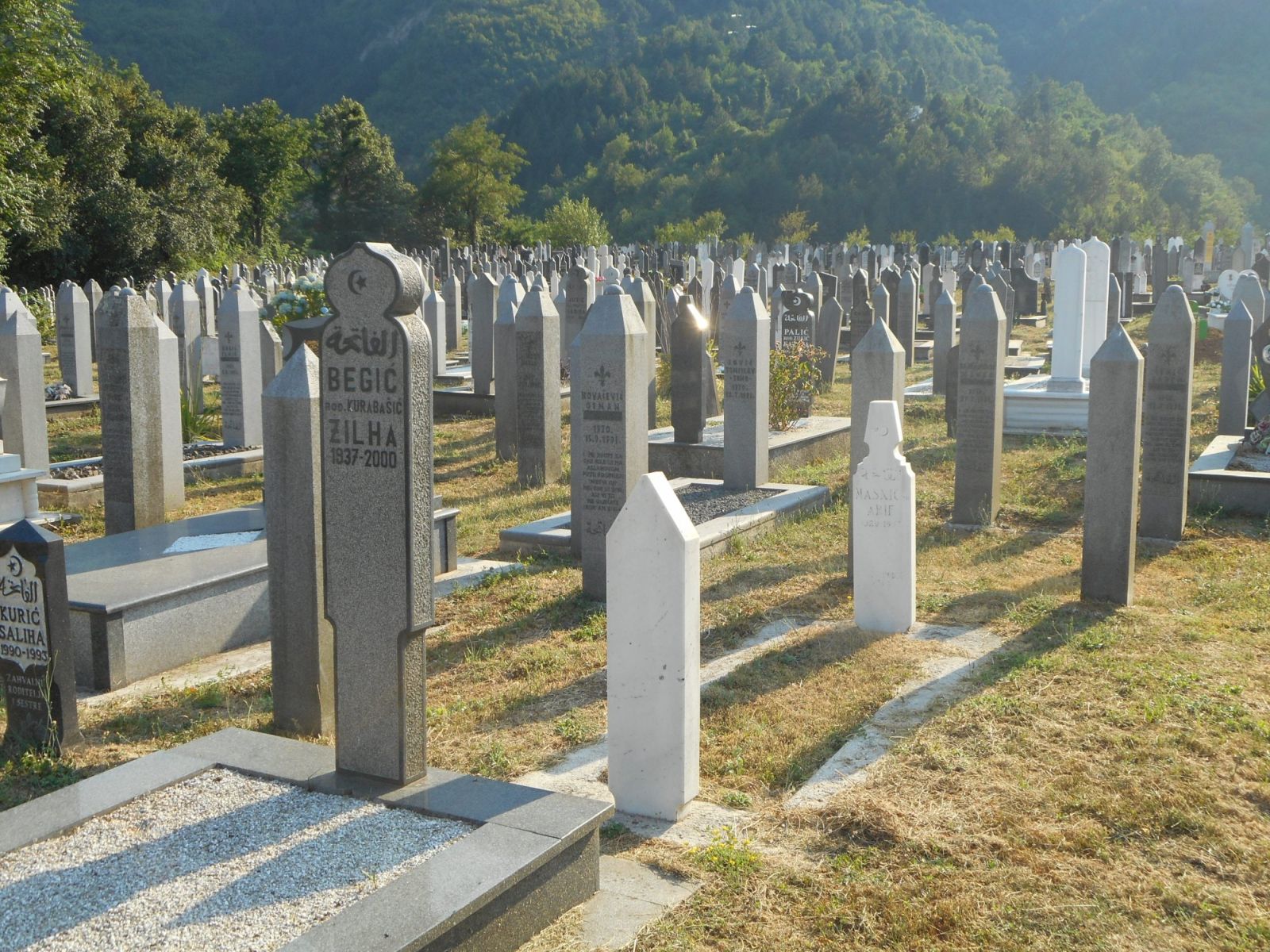 Typical sight in BiH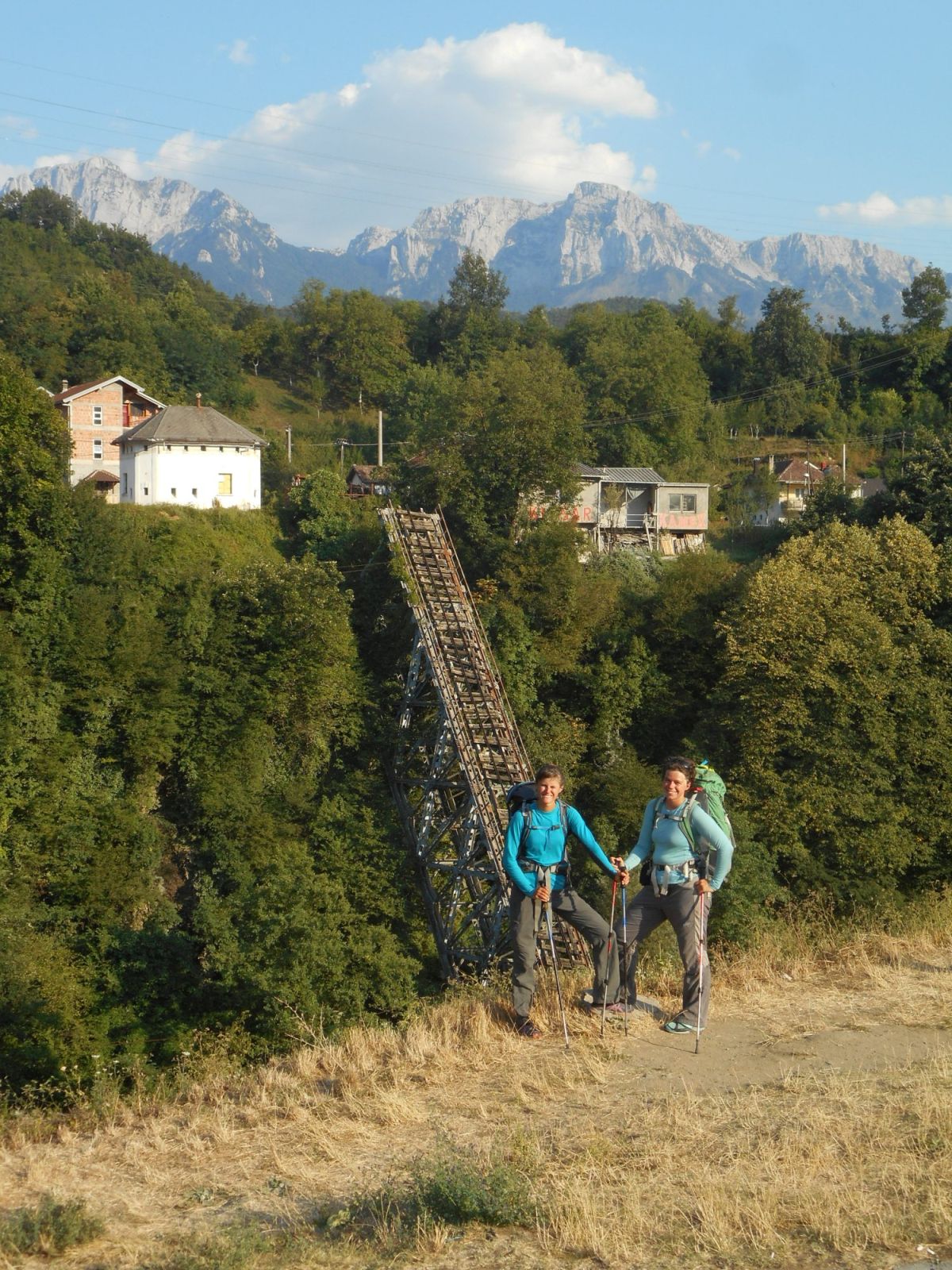 Destroyed bridge over Neretva, Prenj behind
Written by Lenka Syrovatkova