Are you wondering about the best food in Croatia and Herzegovina? Welcome to the last instalment of our Via Dinarica adventures, where we tell you all about what we ate during our week-long adventure in southern Croatia and Herzegovina. To learn more about the Via Dinarica and this section of the Balkans, read our posts about Sipan Island and things to do in Herzegovina!

Did you know that Herzegovina is the only place in the world with 'wine' in it? I had never thought about it before, until our guide Marko pointed it out, as we were walking towards an ancient winery during our time exploring the Herzegovinian section of the Via Dinarica. Marko explained that the word Herzegovina comes from Herceg, meaning duke - referring to the duchy of Stjepan Vukčić Kosača, a medieval lord who ruled over present-day Herzegovina - and vina, meaning wine.
Culinary Traditions in Herzegovina and Croatia
I am not sure whether it is true, or if Marko was just pulling my leg, but Herzegovina's wine making tradition does indeed stretch back millennia, since Illyrian times. The fertile karstic soil, combined with a hot and dry climate has encouraged the cultivation of vineyards and orchards. The region is also perfect for apiculture, and anywhere you look while driving around the region you'll find beehives stacked on the roadside or hand-painted signs advertising 'MED', honey.
The tradition of growing healing herbs is also widespread all across the Balkans - from Jezersko in Slovenia to Albania. Herbs are used to make beauty products and treat a variety of ailments, or they are turned into tea and syrups or used to flavour food. Animals grazing on the hills eat wild herbs, which lends their meat a delicate, herby flavour.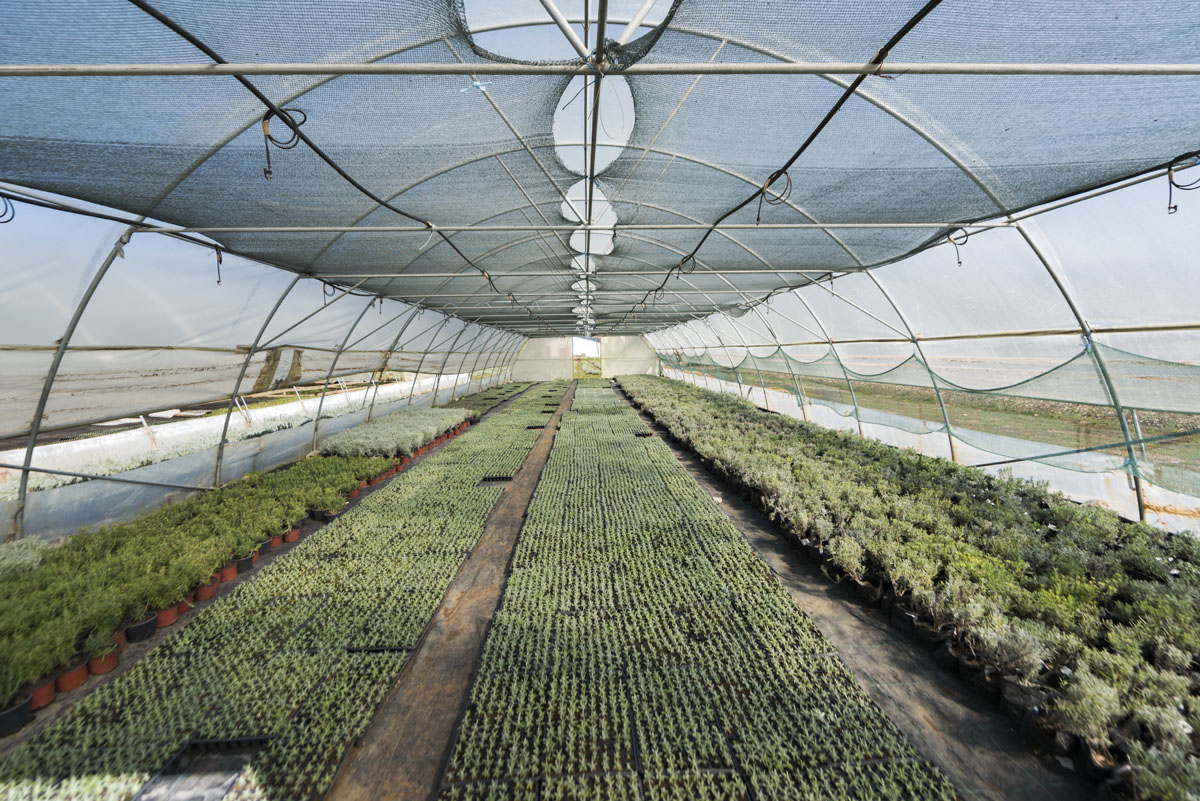 Along the Croatian coast, you'll find seafood and Italian-inspired dishes on most restaurant menus, paying homage to the territory and centuries of trading with the neighbours across the Adriatic. Fresh vegetables, delicious olive oil and homemade wine complete the picture - anywhere you'll go, you're likely to enjoy amazing meals.
Every village, every family in Croatia as well as Bosnia and Herzegovina has their own recipes and culinary traditions - be it a syrup, a special kind of preserved vegetables, flavoured rakjia, homemade cheese or whatever else.

Eating on the Via Dinarica

The Via Dinarica trails, three 2000-km long hiking trails stretching across the Dinaric Alps, were established in 2010 to bring sustainable tourism development to an area that still sees few visitors. The trails link family-run establishments like farmhouses, local restaurants and small producers, creating a network of places offering local experiences – and food is likely to be one of the highlights of your experience, as it was for us!

Here we've collected the best food in Croatia and Herzegovina among what we ate along the Via Dinarica - including some local tipples!
Best Food in Croatia and Herzegovina
1) Ćevapi
All along the Dinaric Alps, from Slovenia to Albania, you can't go wrong with a plate of Ćevapi, sausage-shaped meatballs cooked on hot coals. They are usually made with minced beef, pork or lamb, or a mixture, depending on the region. You can enjoy cevapi on a plate with a side-dish of chips or rice, or in a bread roll, with some extra soft cheese if you like. A similar specialty is pljeskavica, a burger-like beef patty that can also be enjoyed in a sandwich or on a plate.
2) Burek
Every bakery (or 'Pekarna') in Croatia and Herzegovina will serve burek, a local specialty made of baked fillo pastry stuffed with either meat, cheese or potatoes. Borek is a popular breakfast food, but it can really be enjoyed at any time of the day - it's especially delicious when freshly-baked.

3) Sač
A common method to cook meat in Croatia and Herzegovina is 'under the bell', a cast-iron dome known locally as sač. Most restaurants will advertise 'under the bell' dishes - meat (goat, lamb, beef, veal, whatever) is laid on top of potatoes and cooked under the sač for hours, until it stews to braised deliciousness and the potatoes are cooked in the meat juices. Served with a simple tomato and cucumber salad, it makes a wonderful lunch or dinner. Just don't forget to book it in advance, as it takes several hours to cook.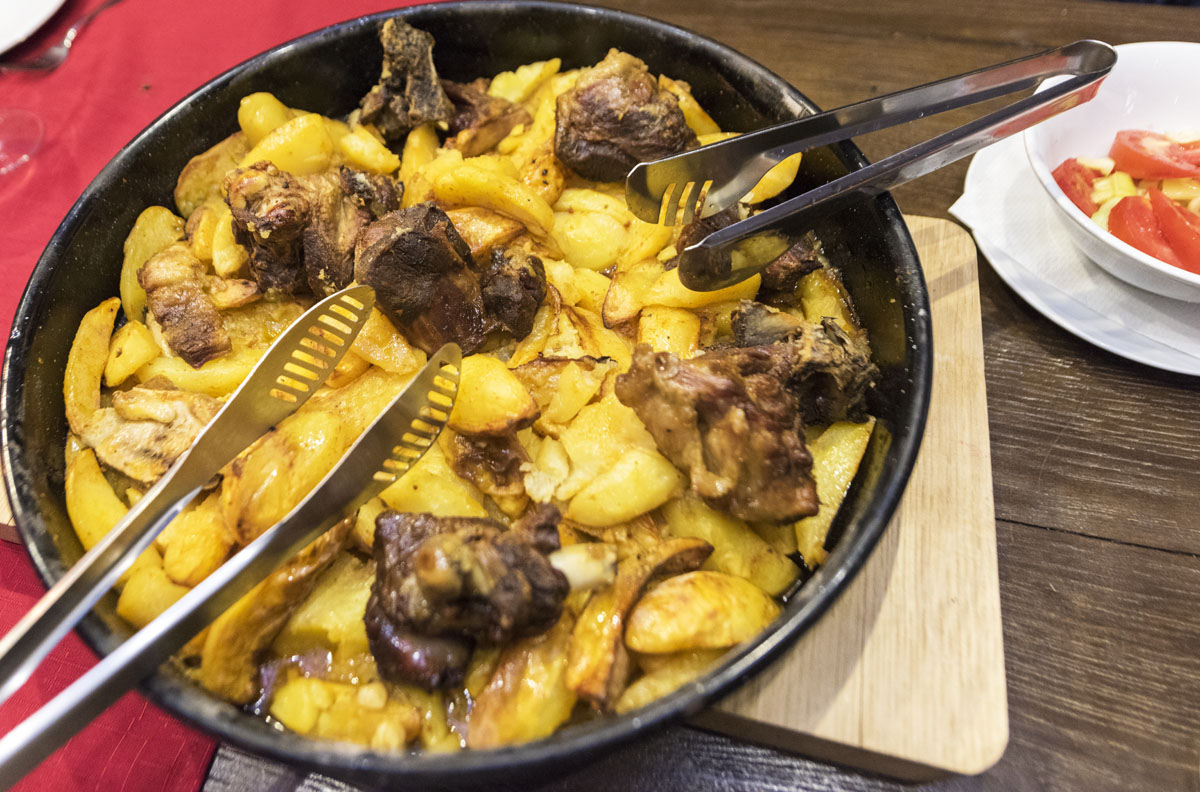 4) Cheese
We ate two kinds of cheese in Bosnia and Croatia - the most peculiar was sir iz mijeha, with a chalky and crumbly texture and a pungent flavour that comes from being aged in a sheep's stomach. We also enjoyed skripavac, a smooth medium-hard cheese that is usually preserved in olive oil.
The association Udruzenje Selo u Srcu (meaning 'Heart of my Village') near Trebinje organises tasting events showcasing Herzegovinian products, including cheese made by Miro, a local cheese maker and founder of the association.

5) Pršut
A product that will be often served to you when visiting a Herzegovinian or Croatian family is pršut, homemade cured ham. The word pršut has a similar pronunciation to prosciutto, Italian for cured ham. We tried pršut twice during our journey along the Via Dinarica - once on Sipan Island near Dubrovnik, during our visit with olive oil maker Miho Bender, and the other time at the house of a man called Risto in Tuli. Risto also took us to the room where all his hams are hung to air dry, and where in saw the largest ham of my life!

5) Black Risotto
The closer you'll get to the coast, the more Italian influence the food will have. Walk down the streets of Zadar or Dubrovnik, read the restaurant menus, and you'll feel just like in Italy - it's all about the pizza and pasta.
The signature dish of the Dalmatian coast is black risotto, flavoured with squid ink and often served with calamari, mussels or other seafood. It's a popular Venetian dish that somehow found its way across the Adriatic. We had black risotto several times during our trips to Croatia, so this time we decided to try something a little different - black pasta with buzara sauce, made with tomatoes and spices, from Restaurant Magellan in Dubrovnik.
6) Seafood
Seafood is the protagonist of most restaurant kitchens along the Adriatic coast - you'll be offered seafood pasta, seafood risotto, or just simple, grilled seafood platters - sometimes divided in 'first', 'second' and even 'third' class in terms of quality. Seafood is usually excellent, but prices can be steep in Croatia - and given that they're often quoted by the kilo, it's hard to figure out how much you'll actually be spending.
For excellent seafood at much cheaper prices, head to Neum, Bosnia and Herzegovina's only coastal town. This platter for two, plus wine and side dish, cost us only 40 euro! There are many things to do in Neum, and the town can generally be seen as a cheaper alternative to the pricey Croatian coast.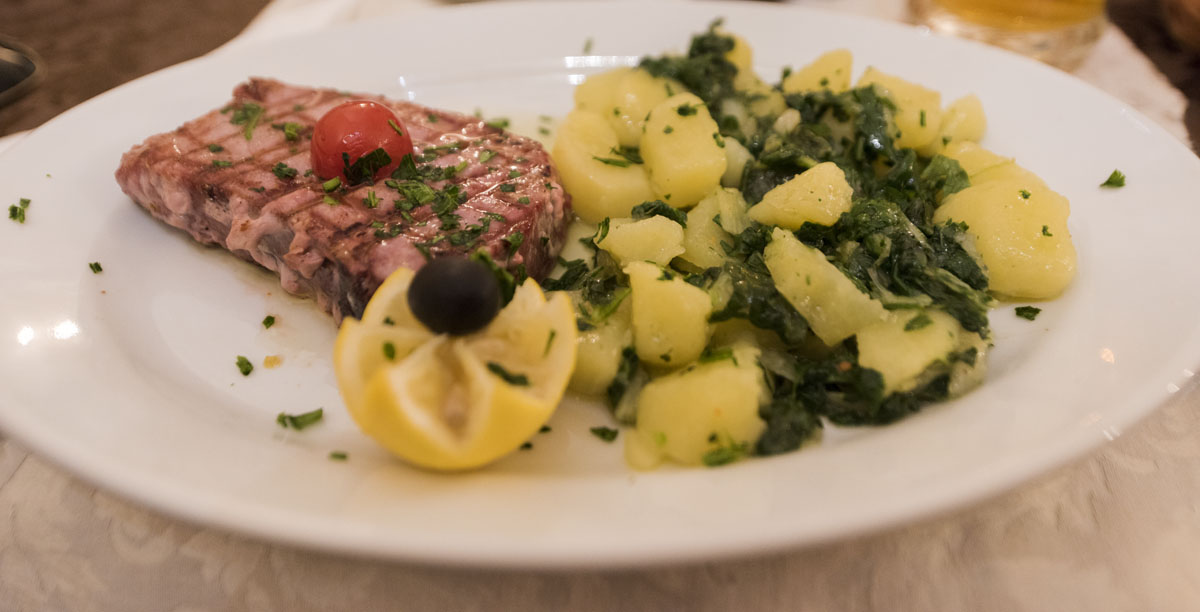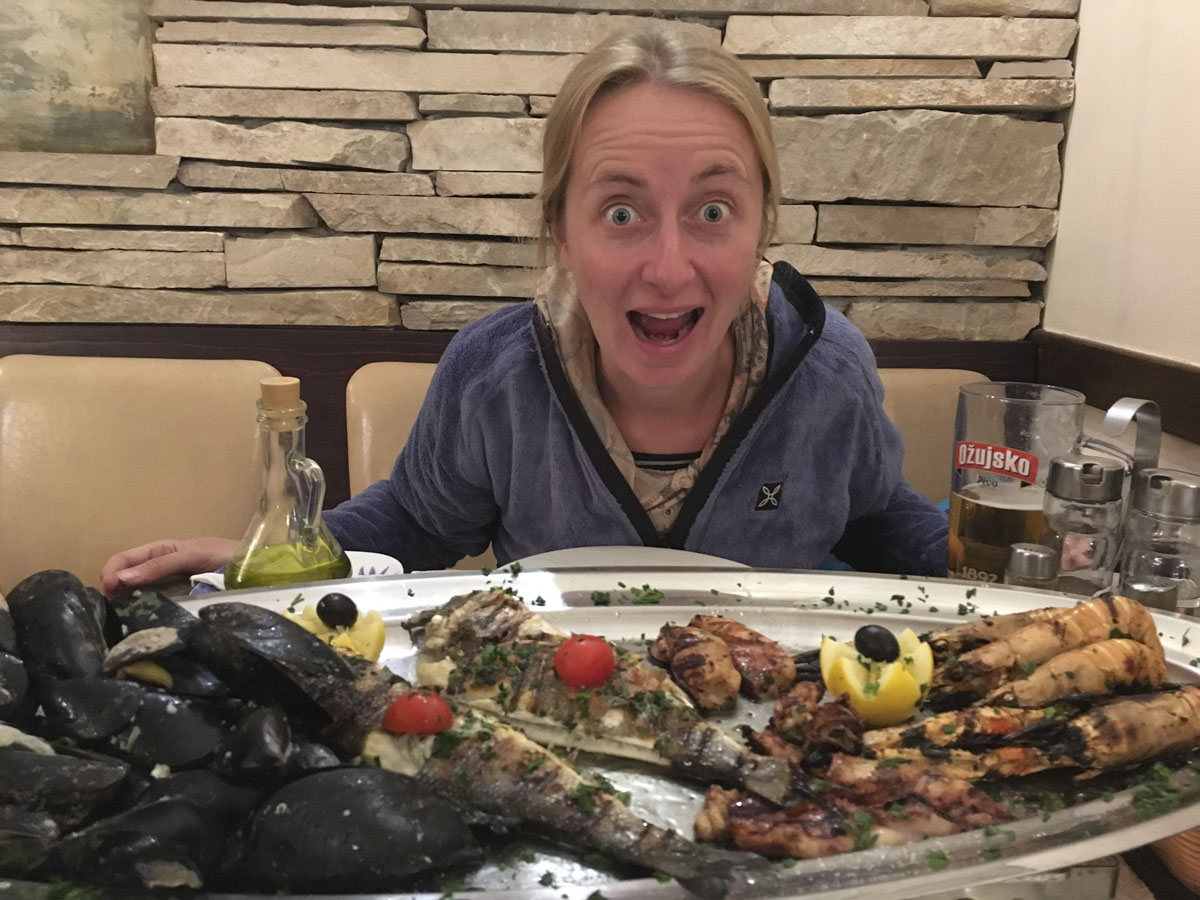 7) Wild Boar
During our stay on Sipan Island we were surprised to see wild boar on restaurant menus. Locals explained that boars roam the island and sometimes fall victim to hunters, ending up in stews and casseroles. You'll find tasty wild boar stews in restaurants throughout the island - and it's delicious! We sampled wild boar braised in red wine at Konoba Trisestre in Suđurađ, served with tasty dumplings to soak up the sauce.
8) Ajvar
Ajvar is another specialty you'll find all across the Balkans. It's a relish made with puréed vegetables (usually carrots, aubergine, peppers and garlic) blended with olive oil and often served as an accompaniment to grilled meat. Every family has their own ajvar recipe and - of course - everyone will tell you that theirs is the best! If you see farmer stalls while driving around, don't miss trying their ajvar. The one we bought at this stall in Ljubinje was the best we've ever had!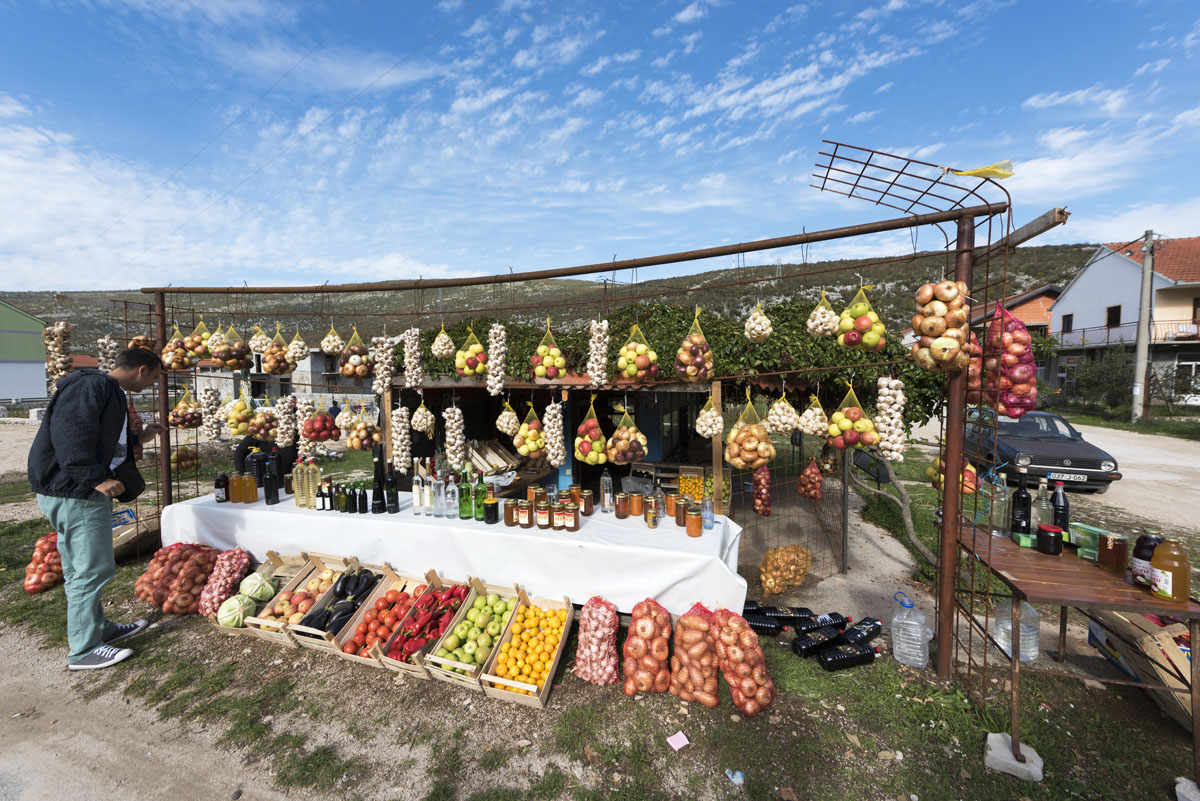 9) Wine and Rakija
Considering you're in a country that has 'wine' in its name, you can't possibly leave Herzegovina without trying some local wine, right? The main varieties of wine produced in Herzegovina are Blatina and Vranac, dry red wines typical of the Balkan region, and Žilavka, a fruity white wine similar to Riesling.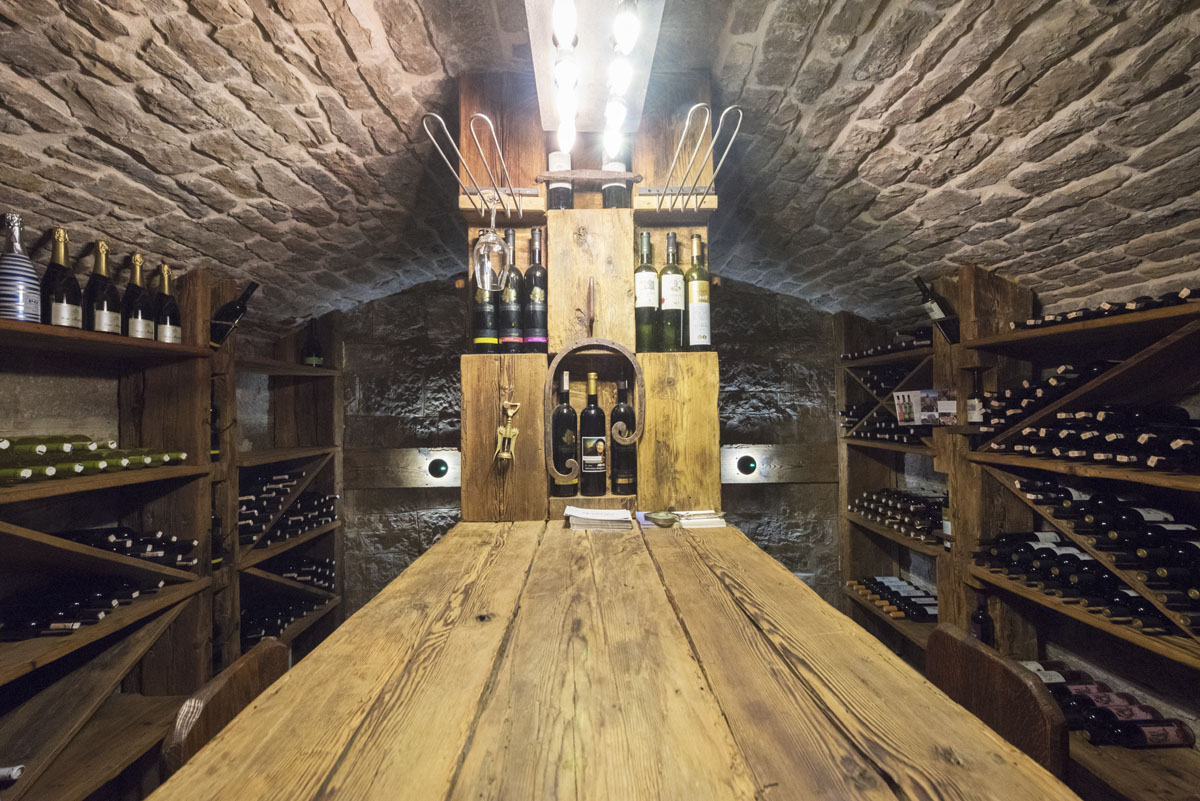 The winery of Tvrdos Monastery near Trebinje is one of the longest-running in the region, having produced wine since the 15th century, and one of the best places for wine tasting in its stone-walled cellar with barrel ceilings. Another option in Trebinje is Vukoje Winery, established in Austro-Hungarian times and especially renown for its tasty Žilavka.
If you visit a local home, you'll surely be offered rakija, a grape spirit similar to Italian grappa. Rakija seems to be popular as an aperitif, to accompany a meal, and as an after-dinner tipple... really, any time is rakija time! If you're not a fan of spirits, try rakija flavoured with herbs or honey. We had the BEST rakija of our lives from Baba Olga, a lady that sells honey and rakija from a roadside stall just outside Ljubinje. Just don't ask her for the recipe - naturally, it's secret!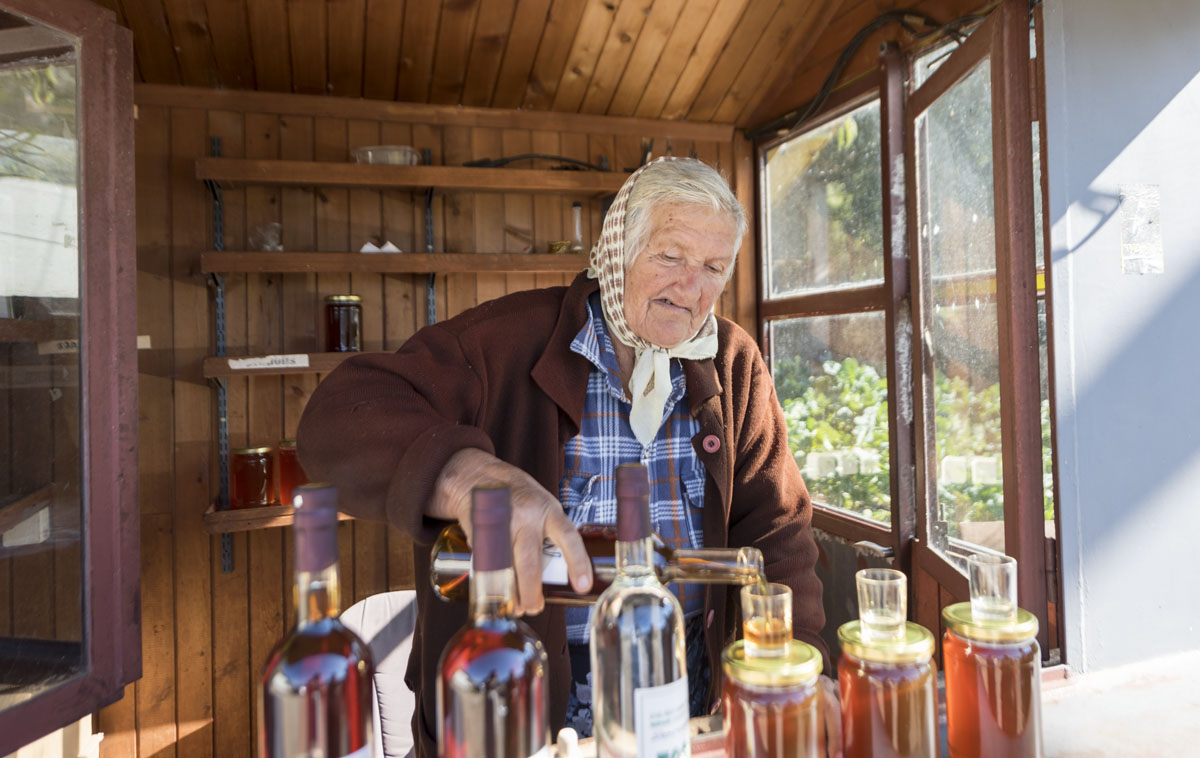 The project "Sustainable tourist development – From Herzegovina trails to Dubrovnik Elaphiti islands" is financed by the European Union under the IPA CBC Programme Croatia – Bosnia and Herzegovina 2007 – 2013.