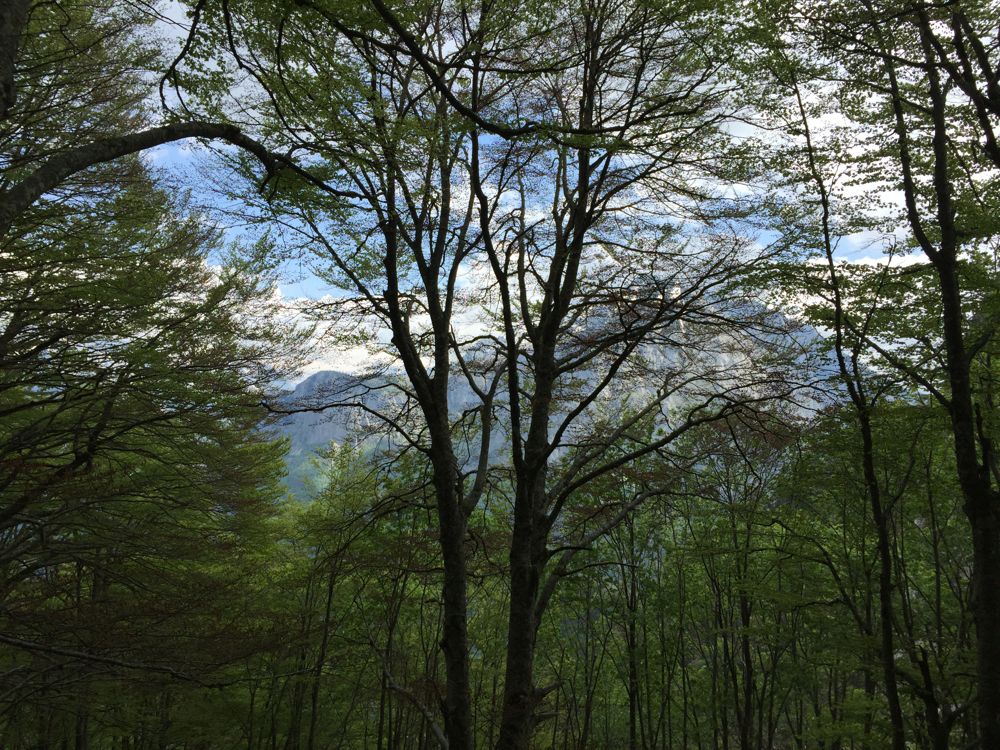 Sutjeska National Park may be the Yosemite of the Balkans, but the route from Donje Bare through Kovačev Panj could just as easily be compared to a temperate rainforest. This path takes you through vibrantly green forested meadows of aromatic wild spring onions (srijemuš), babbling brooks hidden by lush overgrowth, leaves as big as car tires and wildflowers that grow neck high.

I was recently part of a trail maintenance expedition along the Kovačev Panj route. This was a joined effort between Terra Dinarica and Green Visions, two organizations that cooperated with the Sutjeska National Park authority to clear and mark this trail, which is one of the least used along the Via Dinarica in Bosnia and Herzegovina due to its geographical remoteness as well as the fact that, before we updated its markings, it was easy to lose one's way in the dense forest of beech, oak and black pine trees. In fact, a group of tourists from Israel had recently done so – they began from the already well-marked portion of the trail that begins at the base on the main road of Sutjeska NP, and forged on past where the markings had left off. They got so lost that they had to be rescued, but our action put a stop to all of that.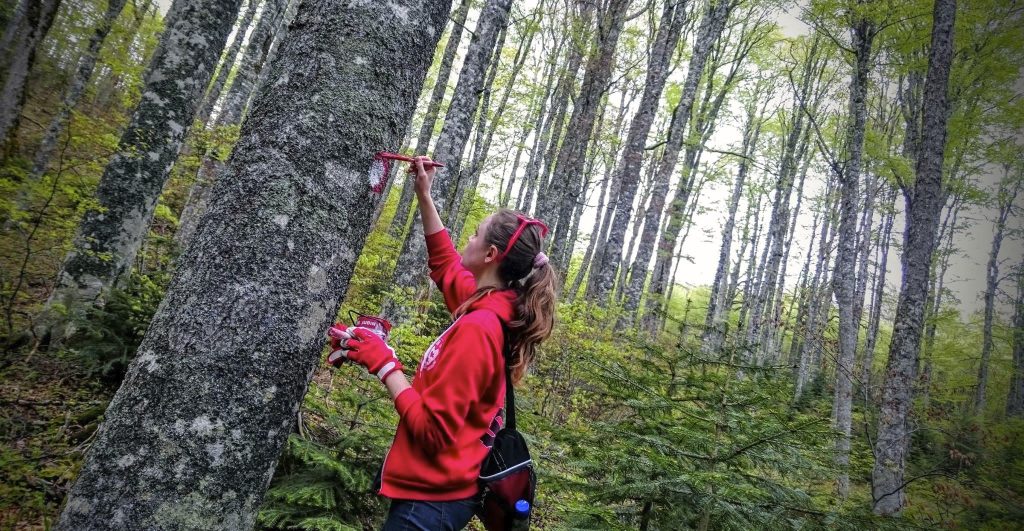 It was exhilarating to work together as we did – it's a great feeling to meet down-to-earth people who are passionate about a cause. Working together is an important theme of the Via Dinarica, which is fundamentally an initiative to build connectedness and mutual understanding between people and communities within and outside the region. In fact it can't help but do exactly this, because it is by nature a combined effort that relies on everyone involved, from the owners of guesthouses to the hikers themselves, from international supporters to all levels of governments in the region: the Via Dinarica belongs to no one while at the same time belonging equally to everyone who cares about it. And the more people who take ownership of it, the more sustainable and resilient it will be.

On this route in particular, teamwork was crucial because there was quite a lot of work to be done. Though not technically very long at 5.35 km, it takes around 3 hours to climb through the forest. The lower end had recently been re-marked on Earth Day by Terra Dinarica and volunteers from the Faculties of Forestry at Sarajevo and East Sarajevo Universities and from the U.S. Embassy in Sarajevo.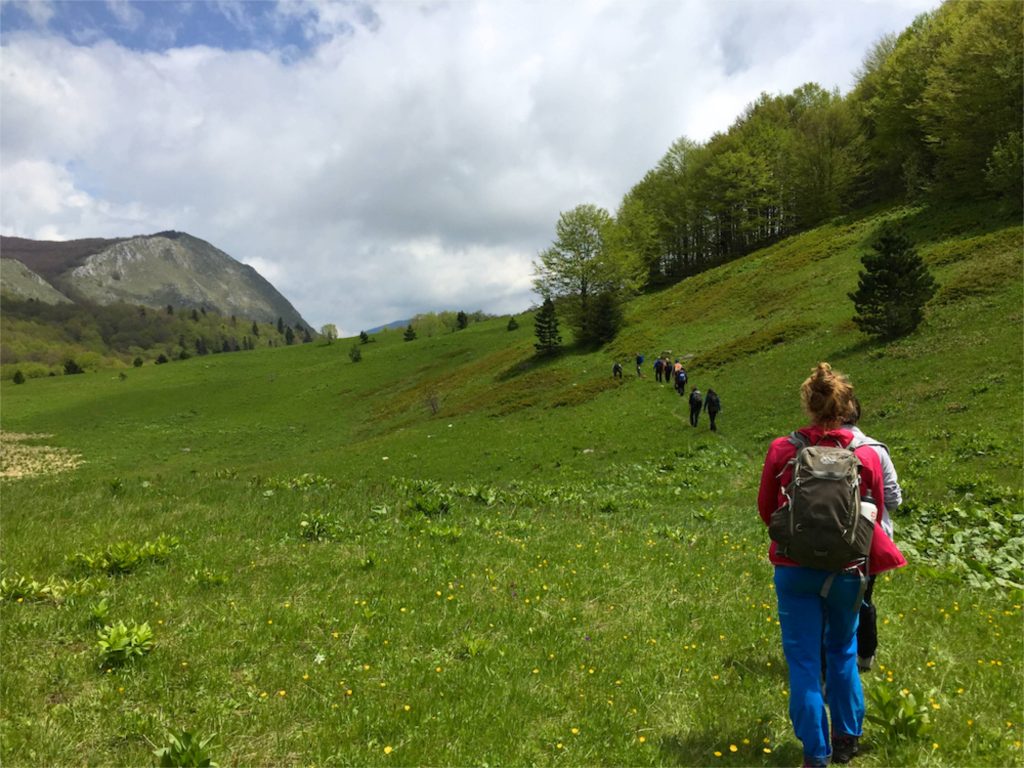 Our expedition started at the upper end, 1,490 meters above sea level at Donje Bare Lake, one of the many alpine lakes on Zelengora Mountain. At first the trail leads past a hunting lodge, which sits across from the destroyed stone remnants of a villa that was Tito's base for his own excursions to hunt wild boar and deer in the area. It them ambles East across open hills before turning Northeast, naturally following a gully down into a beech forest. Here, we began our work painting the red and white trail markings.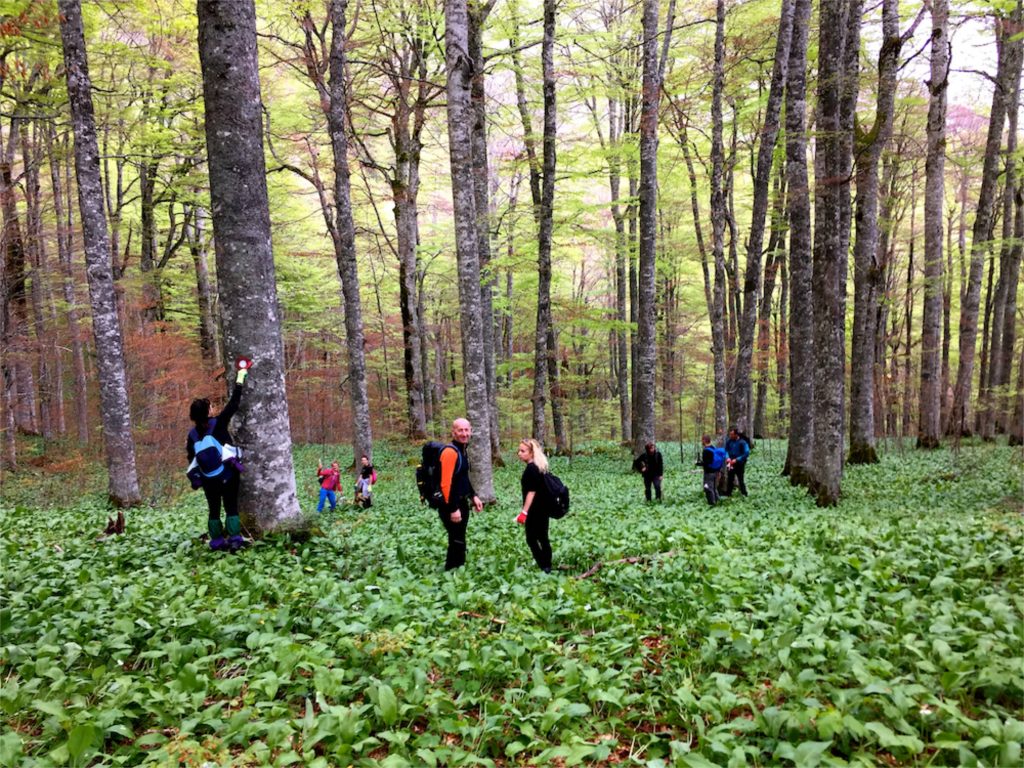 This trail has a certain peaceful, mysterious ambiance. The trees emanate a peculiar calmness as if they had been whispering secrets to each other in the breeze, and were surprised by our arrival, having never seen so many two-legged creatures together at once. So few people have visited in recent history that both flora and fauna had begun to encroach upon the trail – we encountered many trees that had grown or fallen over the path, and even passed a mound of fresh bear droppings on the trail itself, a sure sign of disuse, since the somewhat shy local brown bears tend to stay away from areas where their powerful noses pick up human scent.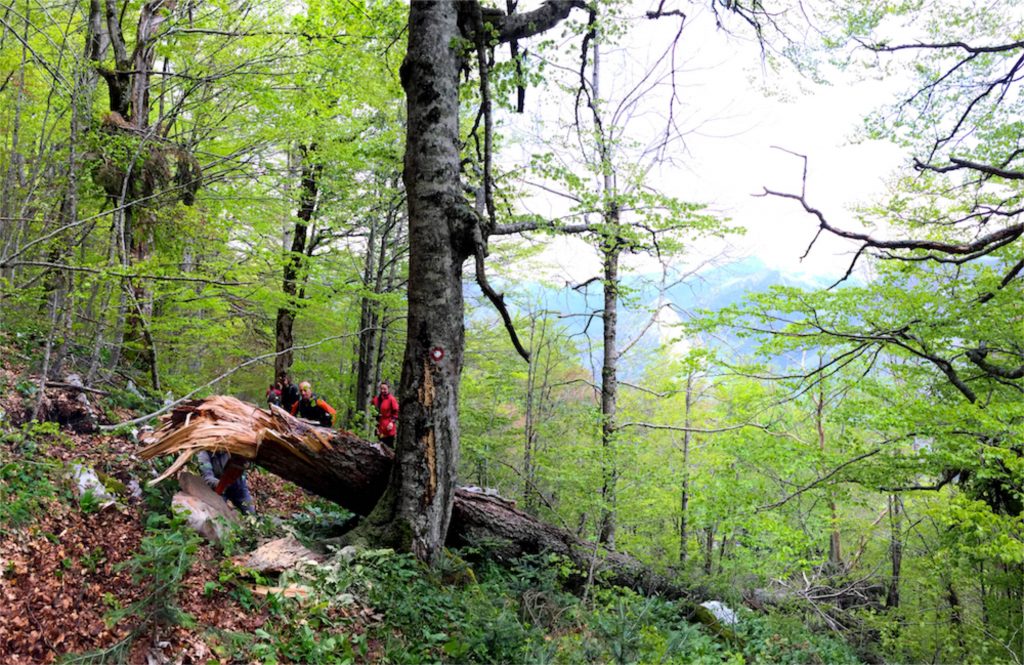 After a couple kilometers from Donje Bare, the trail opens onto a clear hillside that gazes over Sutjeska Valley. Across the way are the park's main mountains (in addition to Zelengora): Mt. Maglić, which rises to 2,386 meters, and Volujak at 2,336 meters. One enters this clearing gradually as the wall of trees begins to thin, so these monumental massifs first appear as distant shadows looming like sleeping giants behind the pine needles. One eventually emerges onto a hillside with a view worth celebrating. It depicts an ancient and powerful face of Bosnia and Herzegovina, the site of an unimaginable wealth of human and natural history. Enormous Illyrian Black Pines grow tall and wide here, observing their kingdom. They have withstood invasions and conflicts over time, including the WWII Battle of Sutjeska in 1943, but their sturdy, high-altitude nature means that many of them are over 200 years old.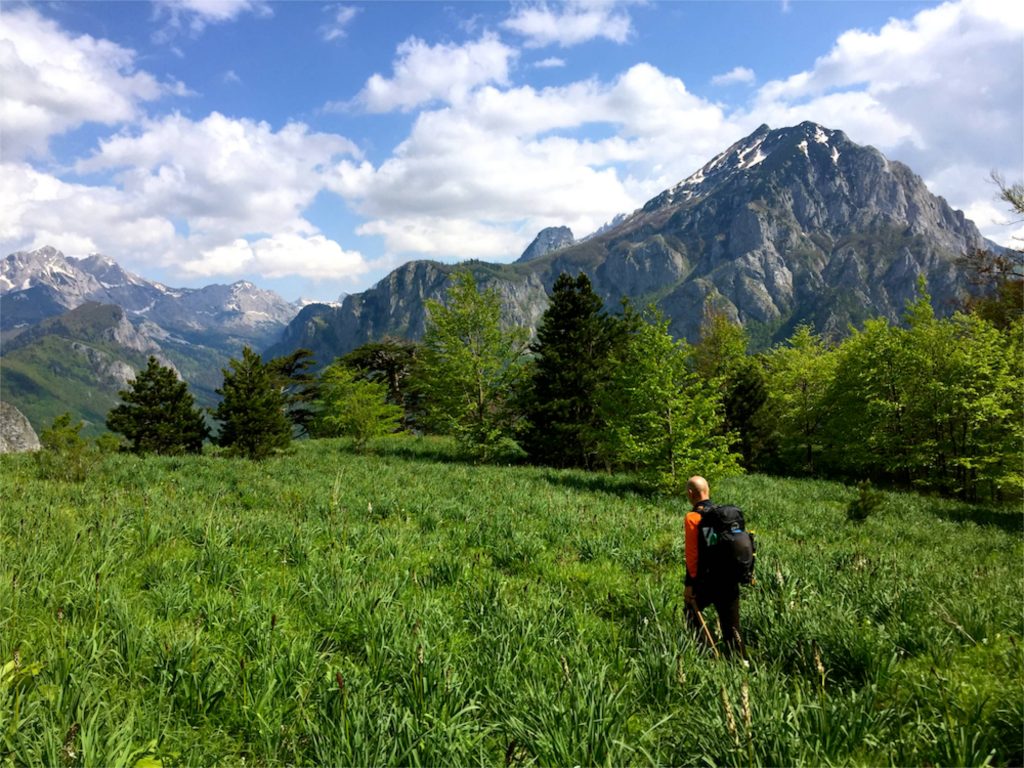 It is said that hiking makes you happier, and I truly believe this. It was also exciting to make this unique trail accessible, and I'm so grateful to be part of this project. Now, just go experience it for yourself!




Posted by Maggie Cormack on her blog, Backroad Balkans.
---