After a zero waiting for my border crossing permit in Adrijevica I hit the trail again. The hike from Trešnevik to
katun Stavna
goes over an road. It is a fast, but not very exciting hike. From the katun the hike gets way better! In about an hour the trail reaches an empty, Alpine landscape. Today's misty and I get treated on dramatic scenery.
Due to a late start I do not see any other hikers, but there are a lot of names in the trail register on the pass. The mountains on the other side of the pass are less dry, here they are less rugged and green. Here are also a few springs (until the chapel where there's a small lake).
The last few km's to the chapel mostly go over an unpaved road. At the chapel there are stunning views and there is also a pick-nick table and a small lake just down the trail. Here I stayed for the night. It's a bit windy at the saddle but I really liked the views, I ended up pitching my tarp as a sort of wind shield.
To Albania
Leaving the chapel is a fast hike over the same unpaved road, than a few km's after a crossing the roads suddenly disappears. From here there's no trail or signs until, way in, Albania.




For starters there are a few tracks to follow, but these disappear fast. Than there's only the GPS track left. It starts fine through green hills but after a while it hits a steeper area. Here there are lots of loose rocks and if not than there's slippery grass with hidden rocks beneath it. Be cautious out here, especially in wet conditions.




After this there's a forest. Again with no trails or signs. While kind-of-sliding-downhill and doing some bushwhacking I arrived in Albania, according to the GPS. And after some more kind-of-sliding-downhill and crossing a small stream I hit an unpaved road again. In the first village the marking returns and than it is a fast hike to Vermosh.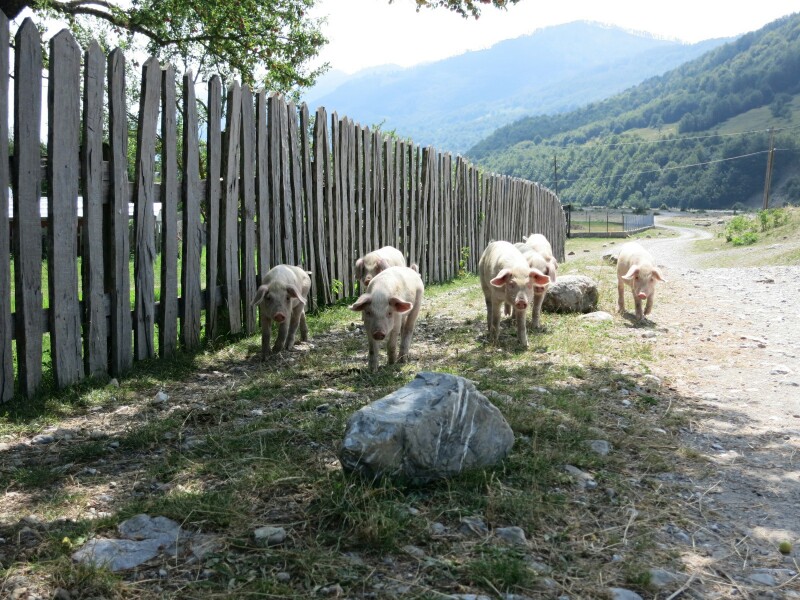 Albania Alternate
Just before Vermosh I leave the Via Dinarica. While turning on my phone in Montenegro, checking on news about the permit I got a message that my data bundle had expired. No data, no balance, no shop at the mountain, no internet, no permit…

So I'm hiking plan B.; the Albania Alternate. Meaning no more border crossings in this area. I printed hiking maps at the hotel in Andrijevica and even found Alternate GPS tracks online. With a little detour and if the weather is OK I will climb Maja E Jezerce, the highest peak of the Dinaric Alps. Even not really enjoying heights I cannot skip this one, can't I?

More pictures on Instagram. Support my adventures and buy me a carbonated and sugary soda pop.
This blog has been written on trail and on a mobile phone.
---