The Via Dinarica White Trail finds its way through the mountains of the Dinaric Alps. It crosses the highest peaks of every country and Maja Jezercë in Albania is the last in row.
I walk the other way around and started in Valbona. Maja Jezercë would be my first peak to climb. It's a quite demanding one, especially the south-east approach. This time of the year there is still a lot of snow and the weather is kind of unpredictable.

Will I be able to do it? That question has been on my mind for days now. Is it wise to do it? Alone, on Vibram FiveFingers, with a very heavy backpack in the first week of hiking..
Jep, only 5K
Many people advised me to skip Jezercë. It would be too hard to find my way and the conditions are not good. It would be dangerous if I would try it on my own. Are they really right, or just afraid?

Ok, I promised myself not to do steep snow-slopes and decided to find another route around Jezercë. By doing that, I could add useful information for other Via Dinarica hikers who are not really into climbing all the peaks. The most obvious alternative would be to follow the Peaks of the Balkan trail from Thethi to Vuthaj (Vusanje). That one goes straight into the valley after the Peja pass, but it seemed a bit of an too easy option. After a closer look on the map, there turned out to be a way in between. A partially marked trail that goes up to the lakes, Buni i Jezercës, north of Maja Jezercë. Perfect. A little extra climbing, lakes and a spectacular view. I had a plan!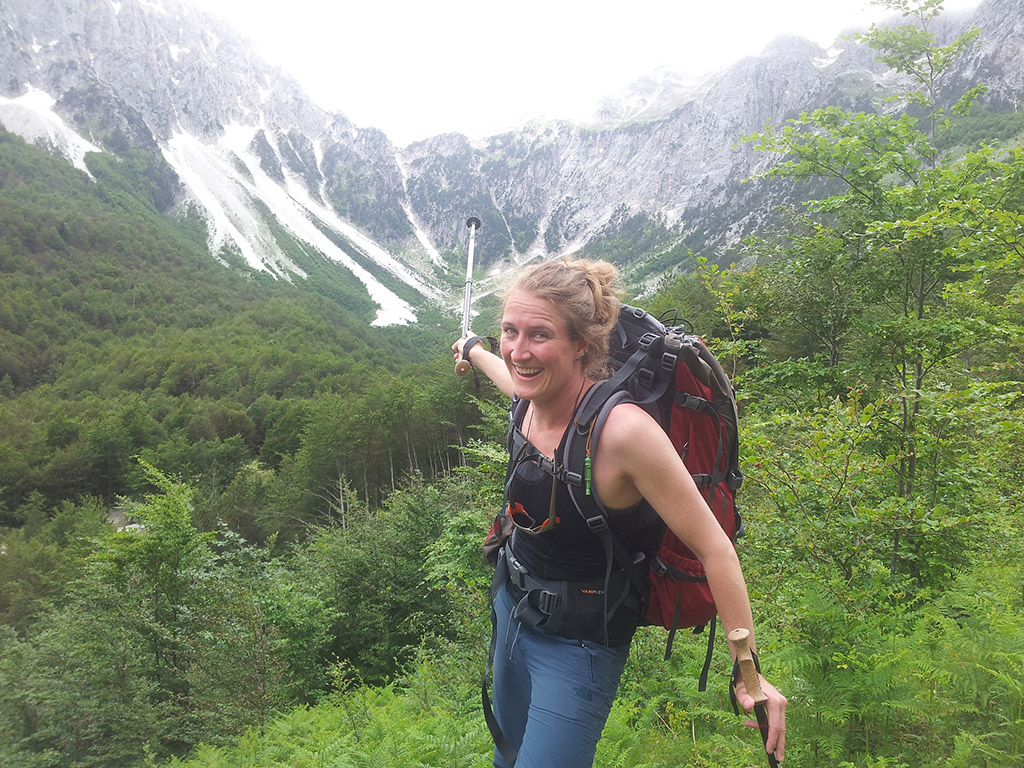 Up there is Maja Jezercë
During the first day on the trail, I bumped into group of Greek hikers from Thessaloniki who were about to have lunch in a cuet little wooden bar in Pragami. They invited me in and ordered a salad for me. Although it didn't feel like I deserved that, because I just started hiking one hour ago, I couldn't refuse. They insisted on sharing the table with them which was a very cheerful start of the day.
Lunch at Rrogami!
Their plan was to climb Maja Jezercë the next day. "Why don't you come with us?" Uhhhh… "I don't have the right gear." "We have that" "But I can't do it on my FiveFingers." "Alexandra! Do you have a exyra pair of shoes?" How could I possibly end up in this situation. I finally made up my mind NOT to go to the peak, then these people came along. I have to confess that it was a relief that there were no proper shoes for me. Although I try to be flexible, I had a hard time to switch. Somehow I didn't want to climb Maja Jezercë anymore. It was not about concurring a mountain, but about the experience of being there. And I had a great plan B.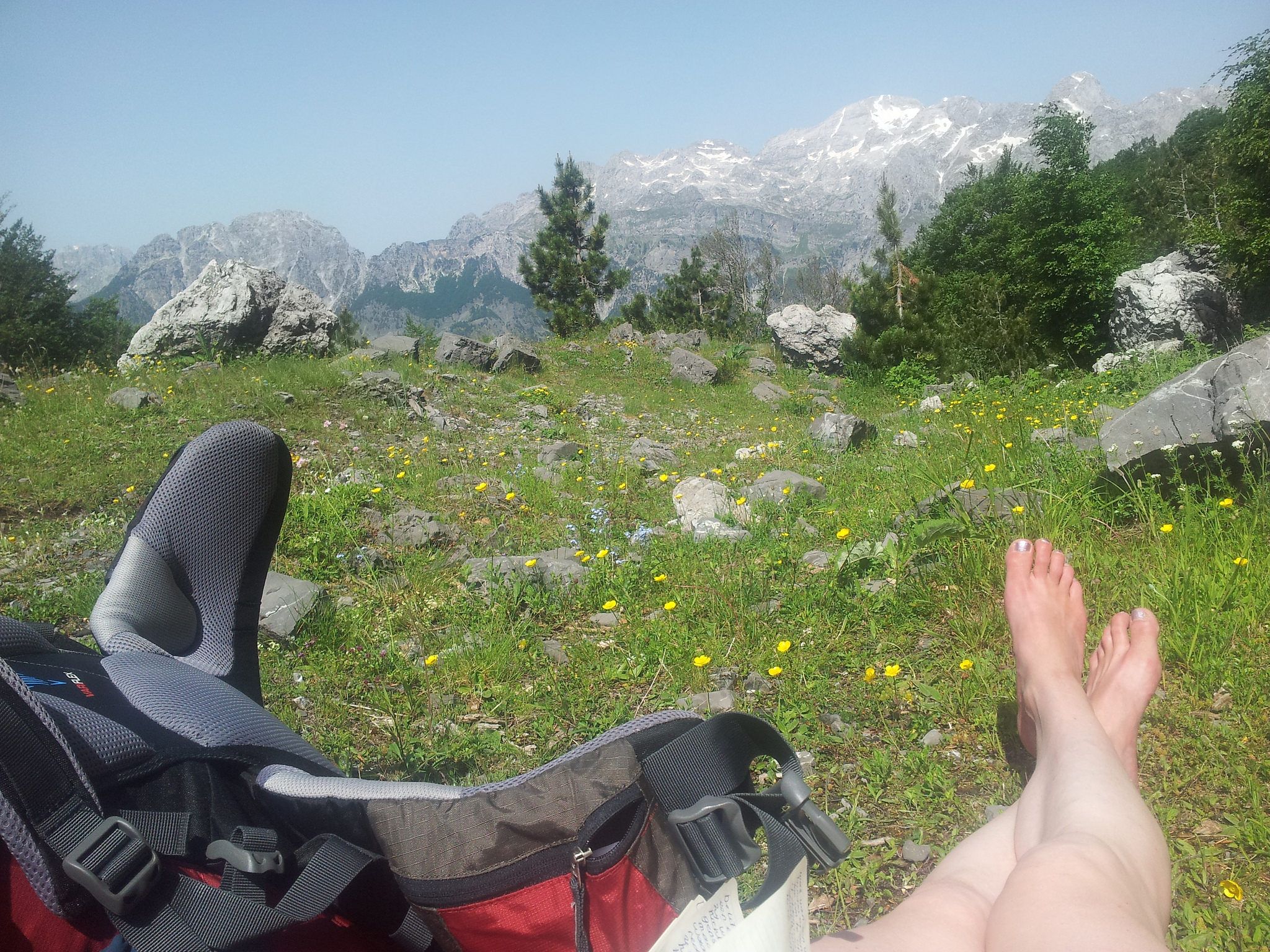 Taking it easy! Wow wow wow this is the Thethi National Park!
On the third day, (yes, I took my time) Maja Jezercë finally appeared. Hmm, it doesn't look that difficult. One more look on the map, but I made up my mind. It's not worth the risk. I ignored the grey trail on my GPS that turned right towards the peak and went on to the Peja pass. A breathtaking view on the Thethi valley and an impressive karst landscape on the other side. Wow!

The first day I met a few "Peaks of the Balkan" hikers, mostly between Valbona and Thethi. But here I was all alone. Just me and the mountains. And clouds..

Although it was still morning, it started to get darker and the clouds seem to rise up from all directions towards me. "If the clouds are coming in, you have to go down." is what a guide I met earlier told me. Hmm, I didn't want to go down. I wanted to see the lakes, so politely I asked the sun to come back.
Albanian bunker in the valley to Montenegro after the Peja pass
Well, if it's just clouds, it will be OK. As long as there is no thunder storm. I slowly continued, trying to ignore the strong wind and fact that it was getting colder. "I'm in the mountains, it can't be sunny all the time…" I thought. A little bit of rain won't hurt me.

But I still had to go up another 600 meters, right into these dark clouds. On moments like this I do wish that there would be someone else to discuss what to do. It would be easier. But I had to make a decision. I didn't want to let myself blown of a mountain, but I also didn't want to let my fears control the situation.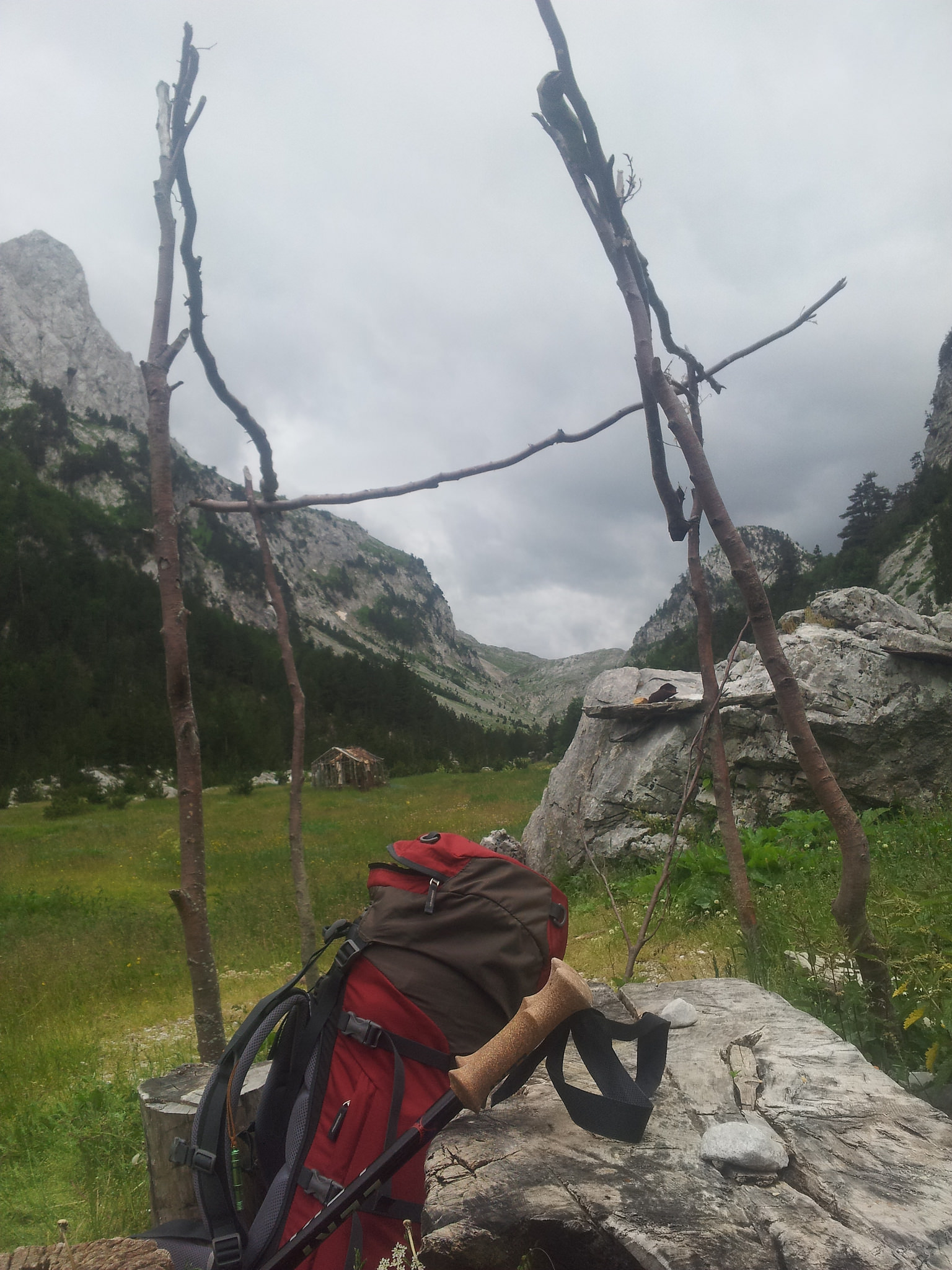 What to do next?
I waited and looked at the sky. Took another break, filled my bottle with water. Hesitated and waited a bit more. At the junction I gave it a go and took the path that traversed along the mountain, parallel to the Peaks of the Balkans trail, but a bit higher. I could easily go back. Suddenly a strong wind came around the corner and almost knocked me off my feet. "OK, that's it, this doesn't feel good." I was too insecure. Maybe it would have been a piece of cake, but I was afraid. I could still see the other trail below me, so I scrambled down the grassy stony hill until I was back in the valley. No Maja Jezercë, no Buni i Jezercës for me. Today.

For a minute (or actually an hour) I thought of camping in the valley and wait what the weather would be like the next day. Arhgg, it's so hard to make a choice. I felt so stupid, skipping the highest part. On the other hand, it would be even more stupid to continue going up while the weather was getting worse every minute.
Walking through the valley, leaving Jezercë behind…
I tried to let go of it all and went down. A long way down, Vuthaj was much further than I expected. My feet were tired and my moral was down. It felt like I lost the battle, however I actually won by not letting my pride get in the way. I tried to tell myself that, but I couldn't feel it yet.

Vuthaj was still another 2,5 hour and I wasn't sure if I could camp there. On my GPS a saw an Alpine hut named Zastan which was again a bit up, but much closer. This time I didn't need much time to decide and started to walk up on the 4 wheel drive track.
Alpine hut Zastan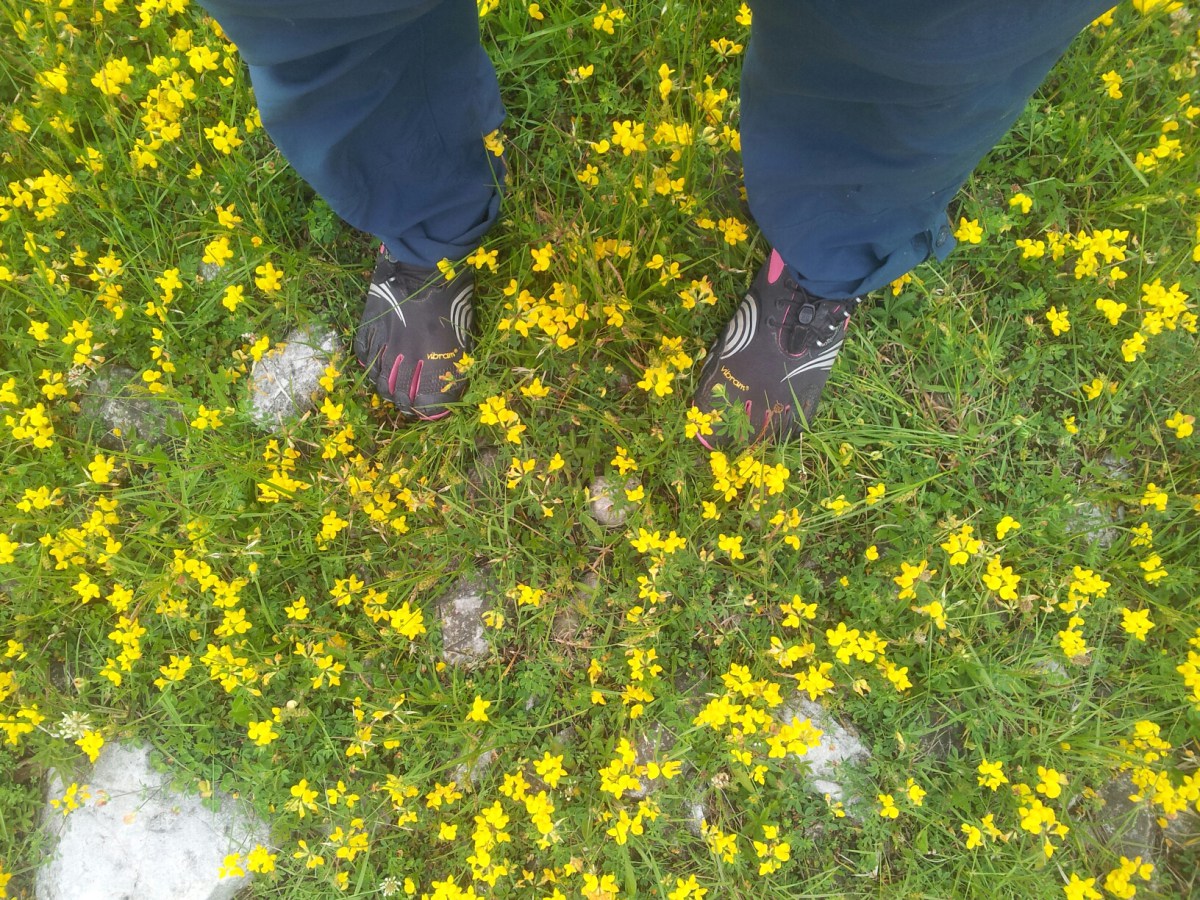 FiveFingers in the disappeared lake, Liqeni i Gjeshtarës
Once I saw the hut in the middle of an open space between high beautiful steep mountains, I could feel the smile on my face coming back. Optimistic with renewed energy I crossed the field and knocked on the door. Two women and a little boy were surprised to see a hiker. They looked at me if as I must be crazy or lost, but started to laugh as soon as they saw my shoes.

"Are you alone?" "Yes." "No friends?" "Not here." "Not coming? " "No, not today." "Why?" "Well, because. .." "Ok, you come in." The minute I entered the door, heavy rain covered the valley with a thick grey curtain. Showers, thunders and lightning went on for the rest of the afternoon, evening and night. Impressive how strong nature can be. And impressive how excellent my timing was.

They gave me a room, one they didn't use. I found out that a Alpine hut isn't the same as a Mountaineering hut. Here this family lives during the summer months with their sheep and cows. It was a very minimalistic, old windy building. I had to sleep on the flour, the window was broken and it was dirty, but it was perfect. I was still in the middle of the mountains and suddenly a guest in a rural shepherds household.
I love sheeeep!

"Come here for coffee." The lady said, next minute I sat in their warm cozy living/bedroom sipping a cup of Turkish coffee. We talked about their life and mine. About why I'm alone "No good, must be together". I tried to explain that it is a choice, it makes my adventure the way it is and I love it.

Maybe people here don't understand me, but they give me a friendly, warm welcome. And a cup of coffee :). They invite me in, let me stay and share their stories with me. Meeting people, sitting down with them is exactly what it is about for me. This is worth so much more than climbing a peak of a high mountain. This is what gets me high ;-).
Visit my page for more stories, photos, news...:)
---