We all ordered omelette's with cheese and varying versions of espresso's in a petrol station restaurant on the Drina River just before Sutjeska National Park. It had started. The prep work that we knew would need two months was cut to 2 weeks. Our budget was slashed by pretty much the same amount. But we had made our first step towards the unruly mountains of northern Albania. Trekking the entire Via Dinarica would finally move from an idea to reality in a few short days.

After the somewhat hairy road from Brod to Scepan Polje on the Bosnian side we entered Montenegro near the town of Pluzine. The border crossing is where the Tara River, which has carved Europe's deepest canyon, and the Piva River create the mighty Drina. These scintillating blue waters flow north and eventually find their way to the Black Sea, losing most of their blue somewhere near the Danube.

The long 12 hour drive spun us through the highlands of Durmitor National Park and south to Skadar Lake, southeast Europe's largest RAMSAR site. We crossed the border from Montenegro into Albania at Hani Hoti. I spoke my pigeon Albanian to the border guard. She loved it. We passed with a warm smile from a lady who had spent most of her life under the strong grip of Enver Hoxha's isolated communist regime. Albania has come a long way. The new road from Hani Hoti to Shkodra was a warm welcome for our kidneys. Just a few years ago this road more resembled Brazzaville than Europe.

After a short break in Shkodra to pick the brains of Oxfam Italia, and a good espresso to match, we headed towards the new highway to Kukes. I hadn't been to Kukes since the NATO bombing in 1999 where I worked as an aid worker for Save the Children. It was a poor and exceptionally closed place. We asked for directions north to Valbona in Kukes, twice. Both times we got friendly instructions in English on which way to go. Kukes was still poor but no longer as closed as it was.

We were delighted to find the road towards Bajram Curri, the far north's main 'city', to be paved. Our excitement didn't last for long. After a few clicks the road went rather schizophrenic. One patch would require kidney massages for us and new shocks for the jeep whilst another bit would be a narrow yet newly paved winding countryside road. It went back and forth like for the next 2 hours. By dusk we caught our first glance of the flickering lights of Bajrum Curri below the intimidating peaks of the Cursed Mountains, as they are called in the local language. As an aid worker in '99 we were forbidden to come here. It was too unruly and dangerous, with carjacking being the rule rather than the exception. We cruised through the town without incident and made our way, through the pitch darkness of night, towards the Valbona Valley National Park.

Another schizophrenic stretch of road and within an hour we had located our sleeping cubby, Hotel Rilindja (meaning rebirth in Albania). Coming from Sarajevo I think we all expected the greeting from our hosts to be a bit warmer. Alfred Selimaj, the owner, was a bit guarded. So too was the waiter. We scarfed down the fresh carrot salad with raisins and fresh trout from their fish farm. The next morning we caught our first glimpse of the peaks that guarded this exceptionally remote valley. We were awe-struck. After a chat explaining the who's, what's, when's, where's, and why's to our hosts Catherine and Alfred (and some strong coffee), we got the warm greeting we were waiting for…and the best was yet to come.

Hotel Rilindja was named so by the Selimaj family as a symbol of the rebirth of this poverty stricken valley. Both geography and politics kept these traditional mountain communities closed from the rest of the world for many centuries. The Selimaj family, and in particular the eldest son Alfred, was keen to open it up. Eco-tourism would represent the rebirth of Valbona. He was the first to open shop in the 30 kilometer long valley. There are now 600 beds available in Valbona alone.
We studied maps. Asked a million questions. Got a million answers. Catherine Bohne, an American gone local, was more than keen to share her extensive knowledge and passion about Valbona. I must admit that her energy was rather contagious. We fell in love with Valbona at first site. Catherine and Alfred decided to use our orientation day to show us a small stan (summer shepherds hut) that they were working with. It didn't take us long to figure out that these two remarkable individuals were on a mission and that they really knew their shit. From wildlife, politics, tourism publications, visitor demographics, maps, trail descriptions, local community involvement….they simply had their finger on the pulse of this community. It was music to our ears and an immediate confirmation that we were on the right track.

We met Salum, a more-than-enthusiastic 13 year old shepherd boy, at the trailhead so he could lead us to his stan. After a ten minute walk (or rather slow jog trying to keep up with the excited teenager) we reached their summer settlement. To our surprise it was a full house. The family had come to enjoy their summer holidays from Tirana. Salums uncle had a PhD in Forestry, his aunt taught at university. His first cousin spoke better English than me. So here we were, high on an Albanian hillside in the middle of nowhere with no electricity or running water, talking forestry ecology in English and Italian.
Grandma, in fine Balkan fashion, didn't hesitate to start rolling the dough to prepare us lunch. Elma, our seasoned photographer, bonded with grandma straight away. They spoke in hand and eye language as grandma made lunch and Elma captured her skills on film. After eating too much of the delicious burek me djath and fresh peppers stuffed with homemade cheese we skipped back down the mountain just before the skies opened up.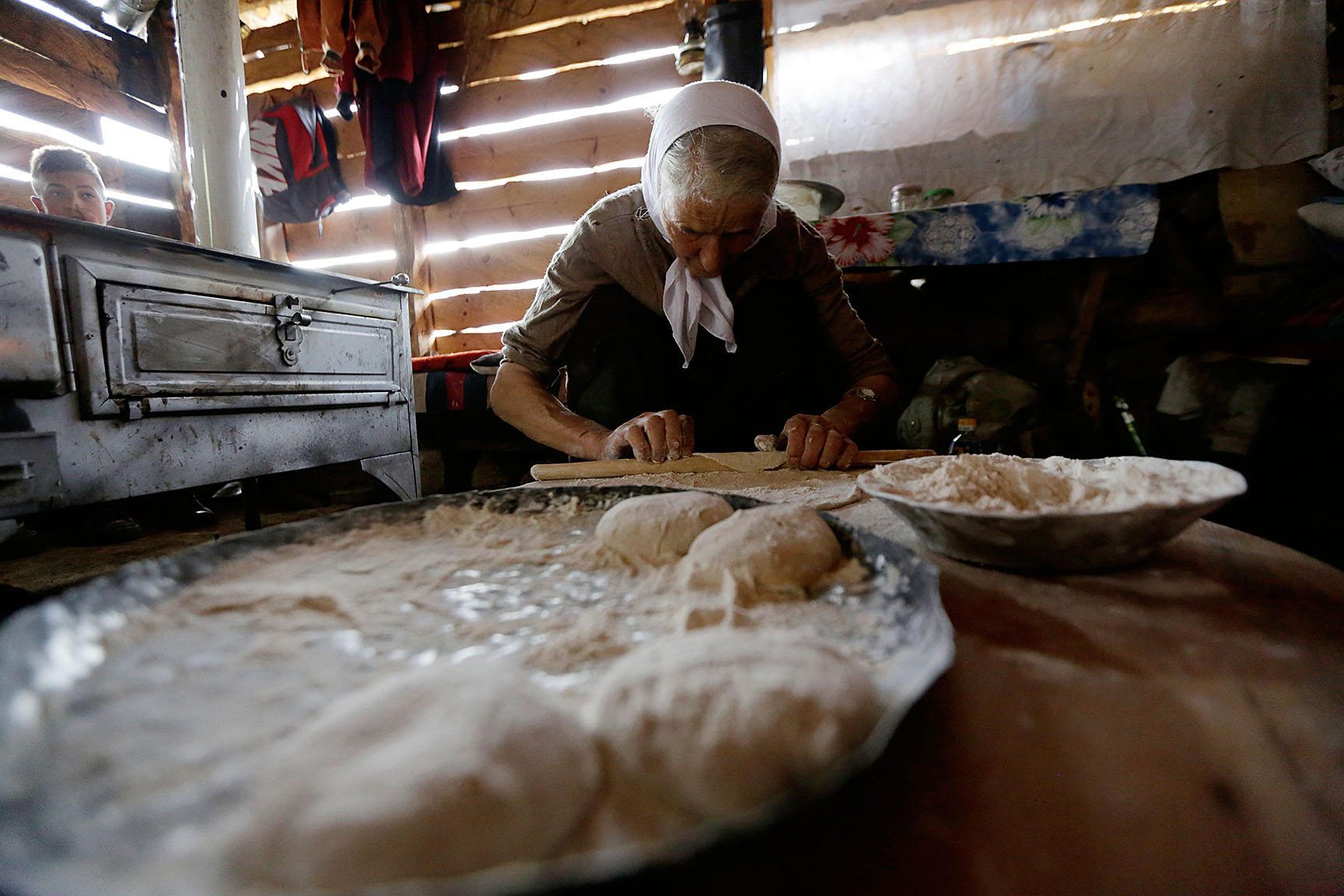 We ended the day at Alfred's home and their family guesthouse. We entered to find Alfred's aunt and uncle sitting in the large dining room area. We soon discovered they now live in Sarajevo and spoke our local lingo. I think it was the fifth language we used in Valbona that day. Although we had come to see the accommodation the conversation with Alfred quickly drifted to the high peaks above us. I could see that Kenan was drooling to start the hike the following morning. As Elma darted around the village taking many of the photos in the gallery on this post, Kenan sussed out which approaches would be best to conquer these rugged and raw cliffs.

We set our alarm clocks for a 5am wake up call. The very first of many steps would be taken tomorrow morning. One of a million.
---